Earn a coveted Star Wars badge through courage, valor, or $3.00 plus postage.
Buttons and patches have long been a very colorful and visual way to display your love of the Star Wars saga, and back in the days of the Official Star Wars Fan Club and Bantha Tracks magazine you had the chance to collect both. Let's step back a few decades and look at the buttons and patches available to kids of the first Star Wars generation.
BANTHA TRACKS: BUTTONS
Star Wars Buttons Sets A and B

First available to fan club members in issue No. 2 of the Official Star Wars Fan Club magazine came these two sets of buttons. Set A brought us seven 1 1/4" buttons featuring Ben Kenobi, Luke, Princess Leia, Chewbacca, Han Solo, Tusken Raider, and the main man himself, George Lucas.

Set B featured Darth Vader, Artoo, Threepio, Moff Tarkin, Stormtrooper, Jawa, and the official fan club circular logo. Often bootlegged, original versions of these 14 buttons are tough to find but well worth tracking down.
Caravan of Courage Button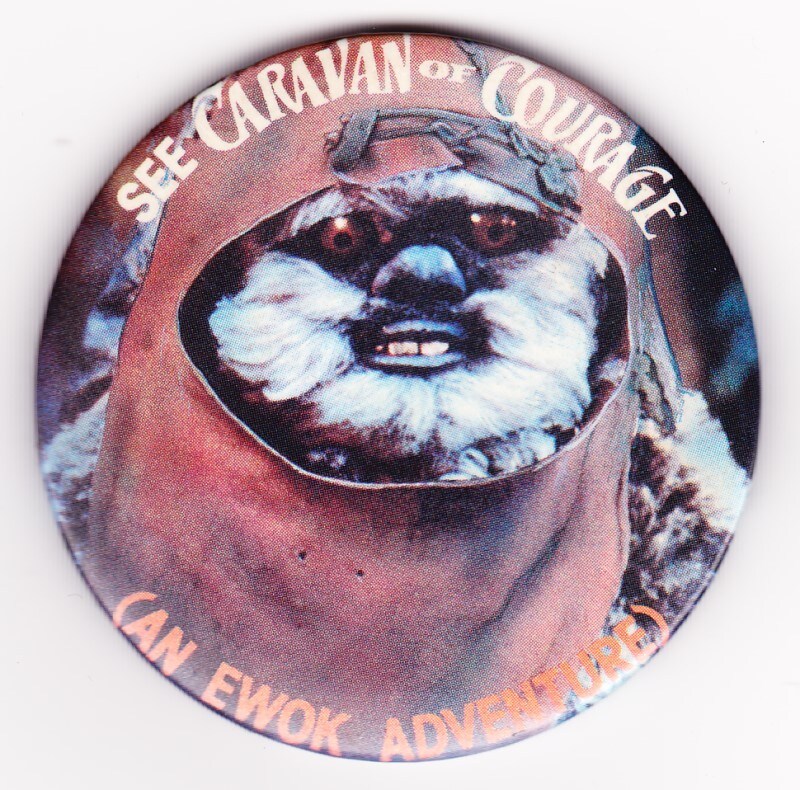 With the release of The Ewok Adventure, better known in the UK and Europe as Caravan of Courage, the UK arm of the fan club sent out this 2" button featuring the one and only Wicket W. Warrick to promote the coming of the TV movie to the UK and select European screens.
BANTHA TRACKS: PATCHES
Vader in Flames Patch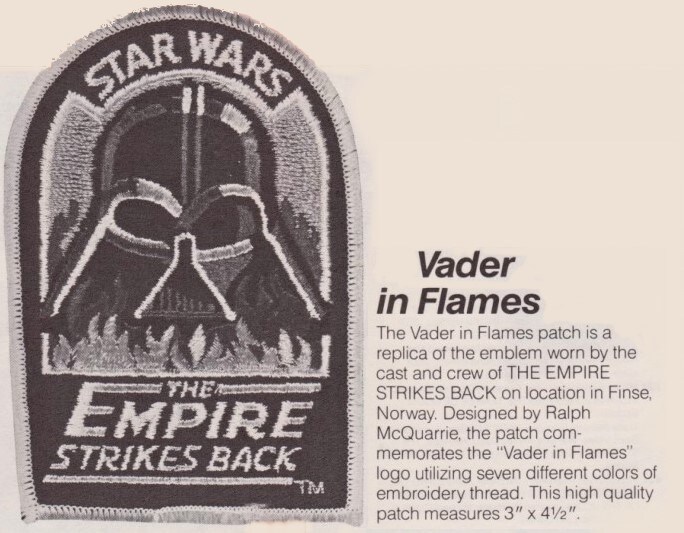 The iconic McQuarie "Vader in Flames" patch, as seen on much of the cast and crew clothing for The Empire Strikes Back (and also on my right arm, as I proudly wear this image as a tattoo), was first made available in Bantha Tracks issue No. 10. It retailed for $3.00 plus 50 cents postage, and in the days before Paypal and debit cards you had to pay by check or money order. NO CASH!
Star Wars: A New Hope Embroidered Patch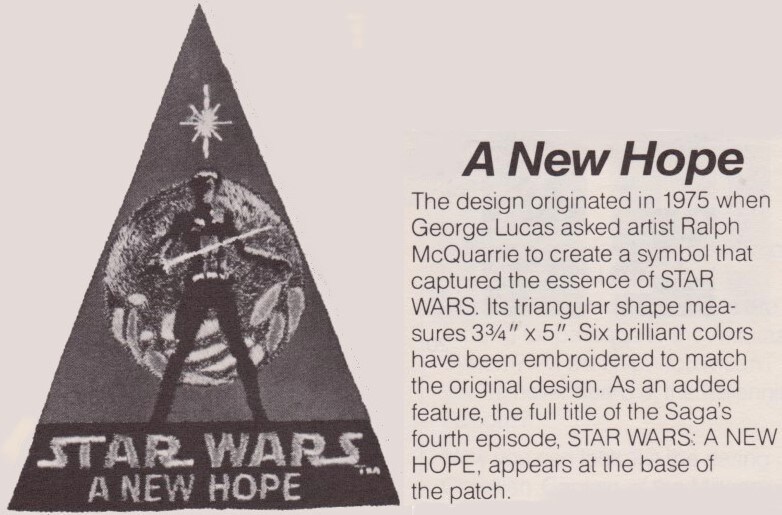 Available in Bantha Tracks No. 13 for $3.00 plus postage and packaging, this 1975 classic by McQuarrie was yours to sew onto whatever you desired. A sticker of this image had been available in the very first fan club kit back in 1978, so it was no surprise that it finally made it into a patch. The change from the sticker? The full title of the film, Star Wars: A New Hope.
Star Wars Logo Patch

The iconic logo of the greatest space fantasy ever could be yours for $1.25 plus postage and packaging.
Revenge of the Jedi Cast and Crew Yoda Patch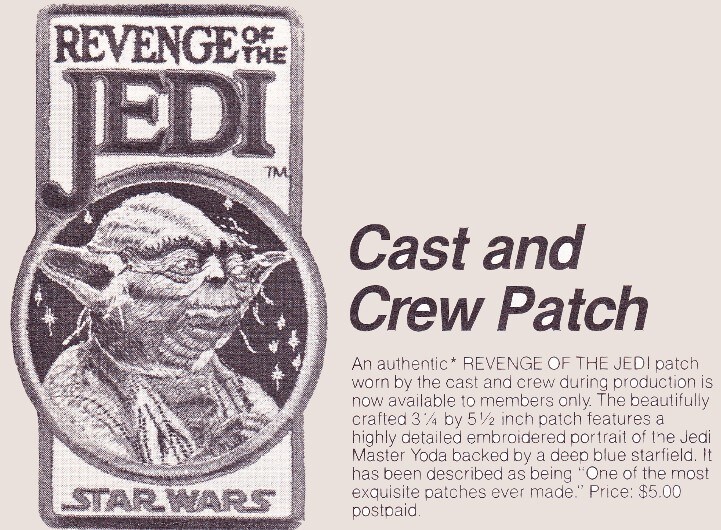 First seen in Bantha Tracks issue No. 19 for $5.00 including postage and packaging, this showed just how connected the magazine was with the fans of the time. In an age where merchandise of this kind was limited, the chance to own a cast and crew patch, one-sheet, or costume replica was gold dust.
Return of the Jedi Yoda Patch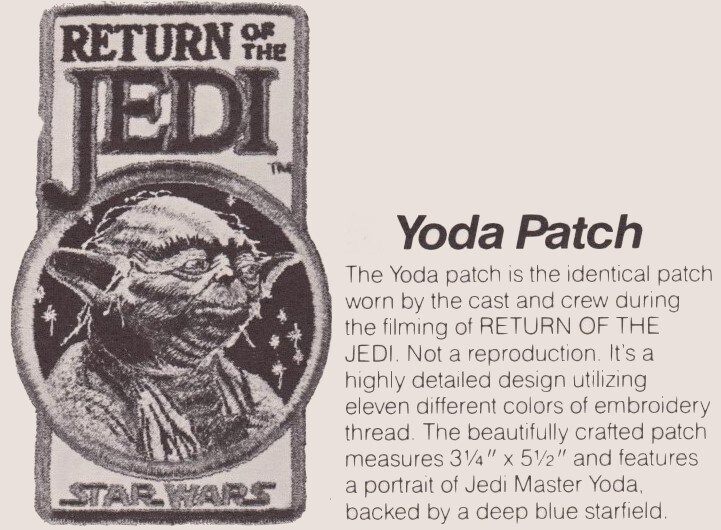 Landing swiftly after the first Yoda patch, this appeared in Bantha Tracks No. 20 and featured the amended Return of the Jedi logo. The ad went to great pains to stress that this was not a reproduction but the genuine article. $5.00 plus postage and packaging.
Raiders of the Lost Ark Logo Patch

This generously-sized replica logo patch appeared in Bantha Tracks No. 26. These days it might be difficult to impress just how intertwined Star Wars and Raiders were. To kids of that generation -- watching the credits roll on their shiny new VHS, BetaMax, Laserdisc, or Video 2000 -- the creative minds involved in making Raiders were about to embark on the final Star Wars movie, and so Indiana Jones became as much a part of the Star Wars legacy as THX, Wally B, and EditDroid. Back in the '80s this treasure could be yours for $3.00 including postage and packaging.
FAN CLUB KIT PATCHES
Official Star Wars Fan Club Patch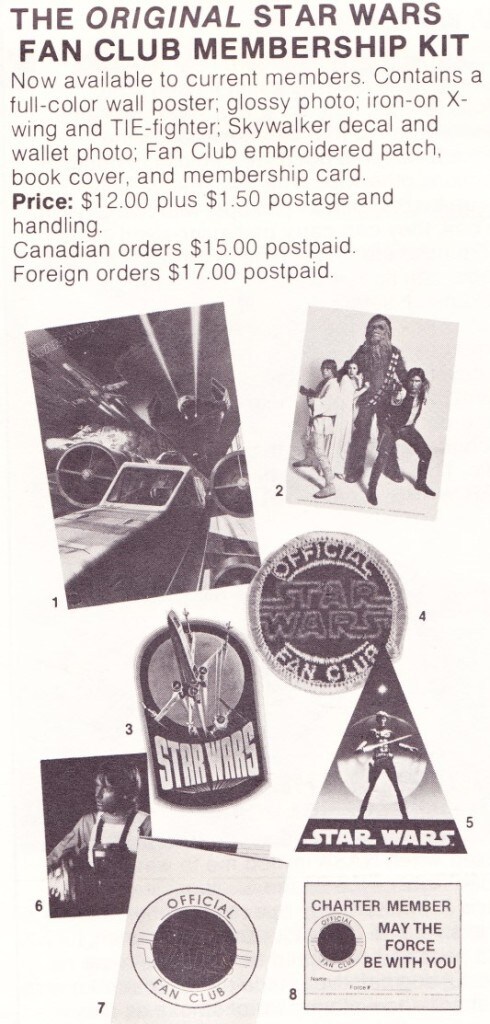 This was the original fan club kit from 1978 and made available again in Bantha Tracks No. 13 with a small 1 1/2" patch that displayed the Star Wars logo in red with the words "Official Fan Club" running in a ring around it. Seen regularly on fan club merchandise in the late '70s and early '80s, this is a mega blast of nostalgia for Bantha Tracks aficionados. The re-released fan club kit went for $12.00 plus $1.50 for postage and packaging, $15.00 Canada and $17.00 foreign.
The Empire Strikes Back Logo Patch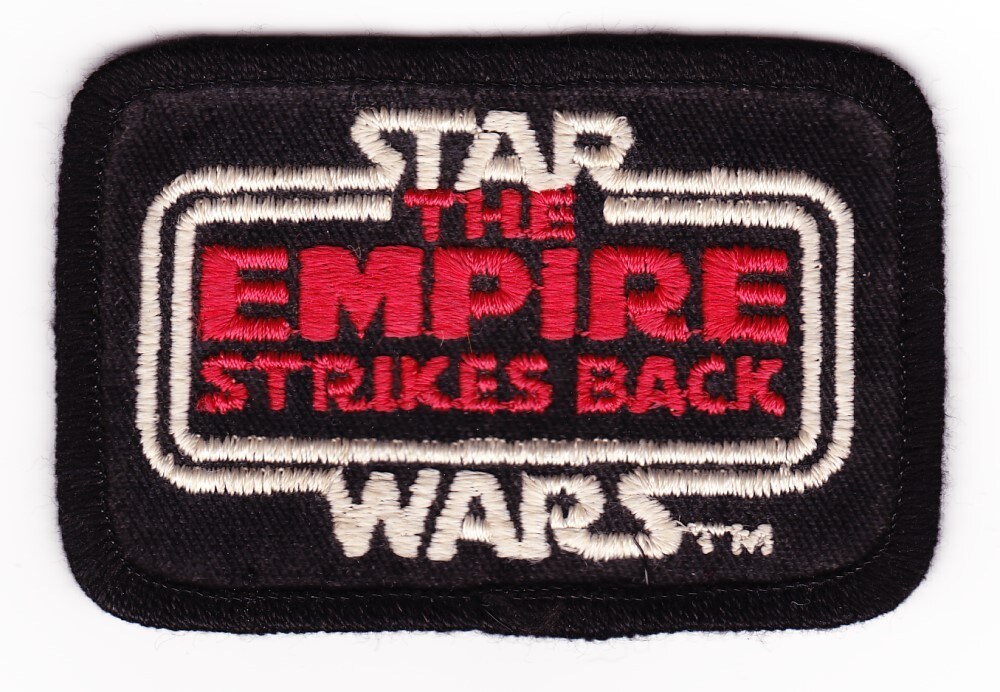 Made available as part of the Empire fan club kit which replaced the original kit in spring 1980, this was first mentioned in Bantha Tracks No. 8. This was a 2" wide patch showing the classic Empire Strikes Back logo, but squared off, not rectangular as many fans preferred. Renewals at the time were a mighty $4.00, and $5.00 for non-US fans, which even given the tides of inflation seemed like a bargain that Jabba the Hut would find hard to ignore.
Revenge of the Jedi and Return of the Jedi Logo Patches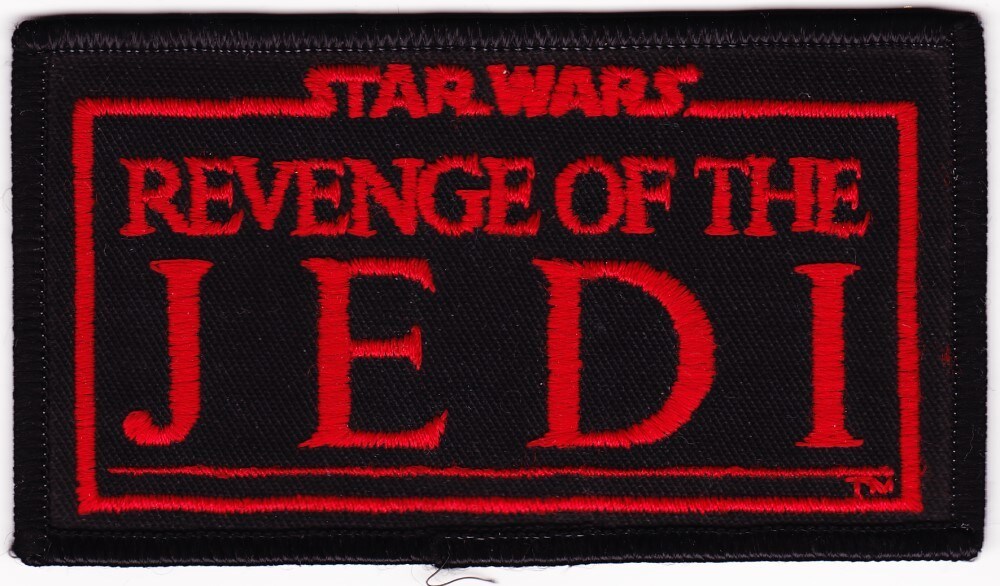 These were first detailed in Bantha Tracks No. 19 from February 1983, and was part of a set that included the iconic battle scene poster, six 10" x 8" color photographs, a Yoda decal, and a Jedi membership card. One in four patches showed the Revenge of the Jedi logo instead of the amended Return of the Jedi. I was fortunate enough to get a Revenge patch, which as a Star Wars-hungry 12-year-old learning about the saga every day, I knew was special and unique.
Indiana Jones and the Temple of Doom Logo Patch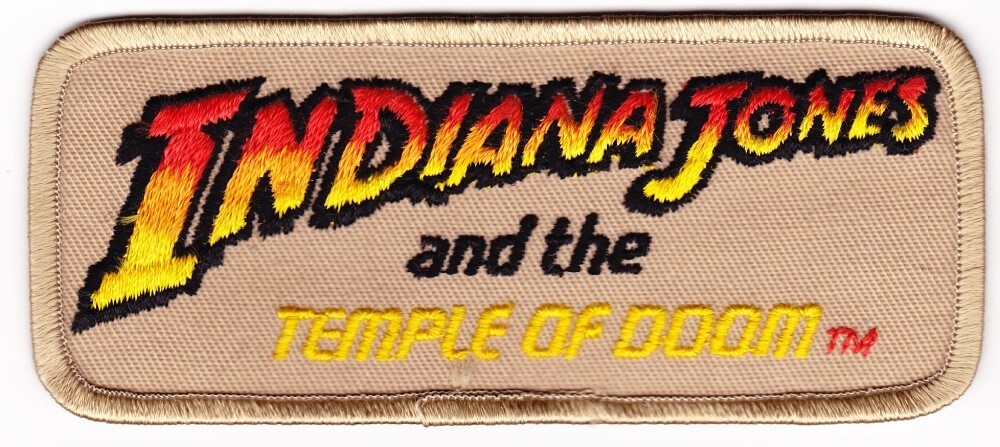 This was part of the 1984 fan club kit first mentioned in Bantha Tracks No. 24. The set included a black folder -- which was illustrated with the second Death Star in orbit above Endor by Star Trek design legend Rick Sternbach -- and a mixture of Star Wars and Indiana Jones 10" x 8" photographs. Much smaller than the Raiders patch released in May 1983, this further intertwined the worlds of Star Wars and Indiana Jones via the fan club and the collective efforts of ILM, Skywalker Sound, and the creative talents involved.
Lucasfilm Fan Club Patch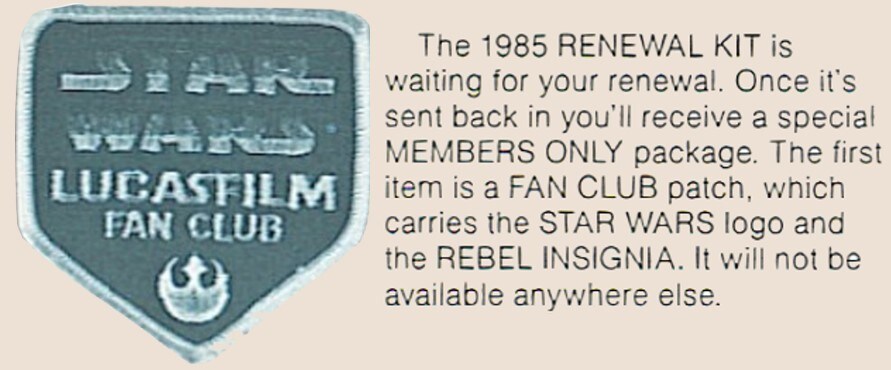 Summer 1985 brought us a refresh on the fan club membership kit, and along with it the last original Bantha Tracks patch. First described in Bantha Tracks No. 29, the patch showed us the classic Star Wars logo, but opted to use "Lucasfilm Fan Club" instead of the Star Wars specific Bantha Tracks name, most likely a move to denote a shift away from the galaxy far, far away and more towards Earth-bound Lucasfilm projects. Indeed, that same issue started a mega sale with special products reduced by 25-50 percent, as Indiana Jones, Labyrinth, Howard the Duck, and LucasArts new releases would become the focus over the remaining issues. With two Ewok movies and two animated series coming and departing during the final dozen issues and over a year between the 34th and 35th issue in winter of 1987, it seemed that the Star Wars fan club was slowly receding into the background as new Lucasfilm and ILM projects took precedence.
Thankfully, history tells us that wasn't the case.
Mark has contributed to Star Wars Insider for almost a decade, is the owner of Jedi News, writes for the UK's largest free newspaper The Metro and DeAgostini's Build The Millennium Falcon magazine, and co-hosts RADIO 1138. He's an honorary member of the UK Garrison, a friend of the Rebel Legion, and when he's not talking, tweeting, or writing about Star Wars he can usually be found sleeping, where he'll most likely be dreaming about Star Wars.