Ready for a last stand against Moff Gideon? Hasbro designer Emily Cantelupe on the newly-revealed playset inspired by The Mandalorian.
One of the most memorable locations in The Mandalorian is coming to our galaxy.
The Star Wars: The Vintage Collection Nevarro Cantina, a playset inspired by the key Mandalorian Season 1 watering hole, was officially revealed today at Hasbro PulseCon 2021. Throughout Season 1, the cantina served as a meeting place for bounty hunters, including the Mandalorian and Greef Karga, before ultimately becoming the site of Mando and crew's last stand against Moff Gideon. (It would go on to be rebuilt and repurposed in a clever way in Season 2.) Recreated in 3.75-inch scale, the set incorporates screen-accurate details, including destroyed windows, bar stools, and spotchka drinks, and comes packed with a Death Trooper figure on a Mandalorian-themed cardback. For action-figure photography, diorama building, or just play, the Nevarro Cantina looks to be a bounty worth adding to your collection. StarWars.com caught up with Emily Cantelupe, senior product designer at Hasbro, to discuss bringing the cantina from the small screen on Disney+ to our toy shelves.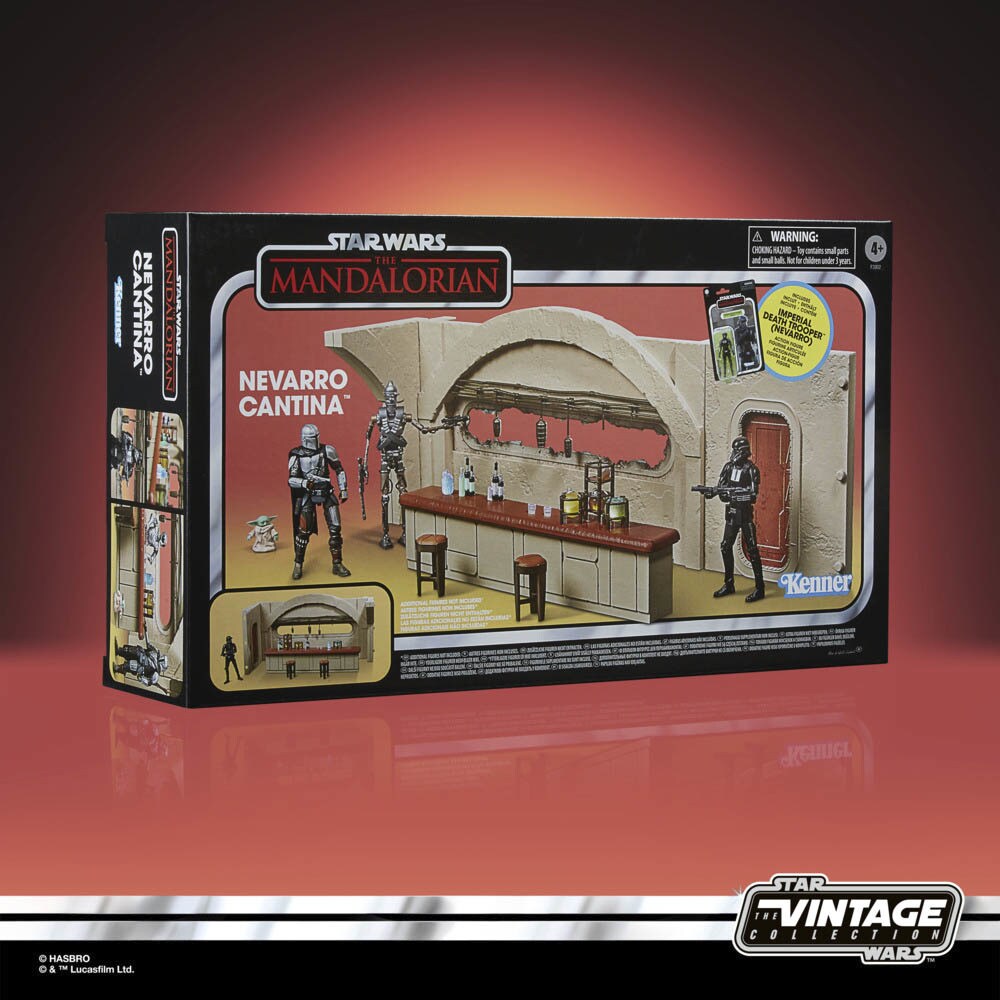 StarWars.com: What can you tell us about the decision to bring the Nevarro cantina to life as a playset?
Emily Cantelupe: Nevarro itself is the home base of the Bounty Hunter Guild and was so central to the plot of The Mandalorian from the very beginning of the series. Many pivotal scenes have occurred in this cantina across both seasons of the show! It was in this cantina that Din Djarin met with Greef Karga to accept the bounty that inevitably led to Grogu. It was in this cantina that we witness the epic battle between Grogu's protectors and Moff Gideon and his army of Imperial death troopers. Later in the show this cantina is even converted into the classroom where Grogu eyes his cookie snack!
One of the things that inspired us to create this scene as a playset product is all of those amazing different scenes which you could set up on your shelf in this location, and also how many action figures could be brought together in one scene. We look for our playsets to have great display opportunities by being locations where many characters can come together.
We also enjoyed the before and after moments that we could bring to life with the shootout battle against Moff Gideon's forces. We brought this into the playset by having a flippable window insert which can show a pristine, "before battle" window, as well as a battle-damaged window graphic. We also sculpted both pristine and damaged versions of the bar accessories so that both scenes could be displayed.
Our fans have been asking for a Mando-themed playset and we were so thrilled we had the opportunity to help bring this location to life!
StarWars.com: What kind of reference did you work from to create the Nevarro cantina in toy form? There are lots of great details included here, from drinks to the blown-out windows to the weathered walls.
Emily Cantelupe: As we develop toys we always refer back to the source material of the show, pausing to capture all of the incredible details of the set! We were also lucky to be able to work from great behind-the scenes-set photos from Lucasfilm. We have strived to bring to life all of these great details in the Nevarro Cantina playset. It has a variety of unique elements, my favorite of which was the blown-out battle-damaged window from the epic showdown and the "texture" of the playset's windows and the barware pieces.
StarWars.com: What's one aspect of the playset you're especially excited about?
Emily Cantelupe: I'm excited to share that this playset can be combined with a second Nevarro Cantina playset to create an even better full scene from the show! This will let you set up the front and back bar, and you can add to the bar stools, barwars, and doors to create the scenes.
Check out more photos of the Nevarro Cantina Playset below and pre-order yours starting 5 p.m. ET today at Hasbro Pulse, Amazon, and GameStop.