The second Death Star has been destroyed, but what happens next? Chuck Wendig's Aftermath is the first novel bridging the gap between Return of the Jedi and The Force Awakens.
By now, I hope you've all read or heard about our exciting new publishing program that was announced earlier this week: "The Journey to Star Wars: The Force Awakens." (And if you haven't, go read about it here.) We'll be releasing about 20 books this fall, some of which take place right after the end of Return of the Jedi. The books -- which range from activity books for kids to comics and novels for adult fans -- will contain hints about The Force Awakens, including new starships, planets, characters, and subtle clues about what happened to our heroes in the months following the Battle of Endor. Right now I'm excited to tell you about Del Rey's contribution to the program: the novel Star Wars: Aftermath.
I'm also excited to share with you that Aftermath will be written by Chuck Wendig, the critically-acclaimed author of Blackbirds, Mockingbird, Under the Empyrean Sky, and many other novels, as well as countless blog posts about the craft and business of writing. We're thrilled that he agreed to work on this epic new project with us.
The second Death Star has been destroyed. Rumors are flying that the Emperor and his enforcer, Darth Vader, are dead. A new government is forming to replace the Empire. But the galaxy is a big place, and the fallout of this cataclysm will affect different worlds in different ways. Does everyone accept the fall of Imperial rule? Has everyone even heard the life-altering news? What rushes in to fill the vacuum the Empire has left? And who will try to stop them? Those are some of the themes we'll be exploring in Aftermath, and as a lifelong Star Wars fan, just writing those words gives me chills. I can't wait for our first canon glimpse into the state of the galaxy after the Battle of Endor.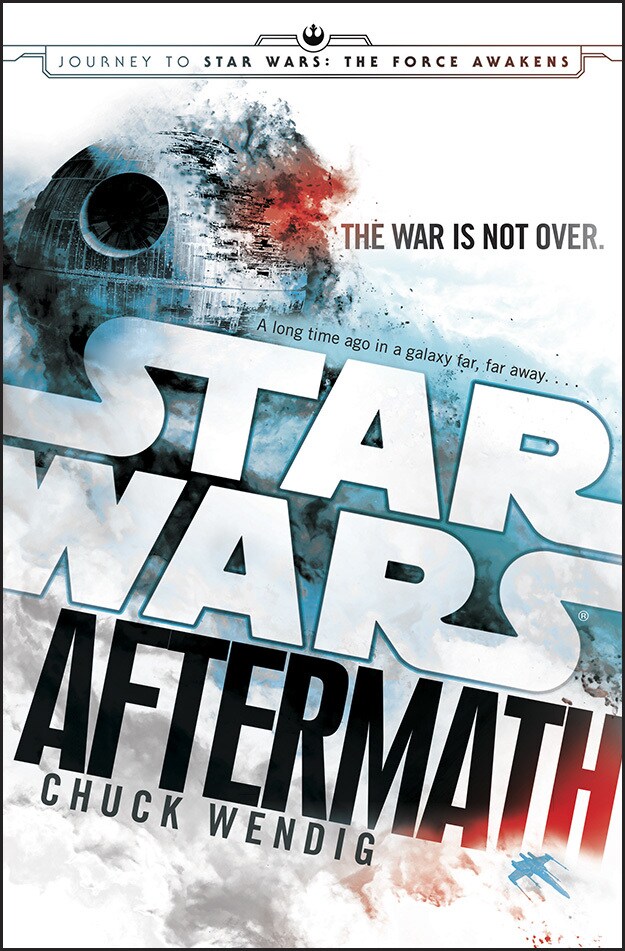 What's more, Aftermath will be the first book in a trilogy that begins to bridge the Star Wars timeline between Return of the Jedi and The Force Awakens. There is so much unknown between the Battle of Endor and the events of The Force Awakens, and we're excited to take our first step into that space.
Obviously I wish I could tell you more about the story, but I can't just yet. What I can reveal is that you will be introduced to a sweeping new cast of characters, along with a fan favorite from the films. And who knows what other familiar faces will pop up along the way? And once you've seen The Force Awakens in movie theaters, you may find that certain names and places in Aftermath have a relevance you never knew -- so keep your eyes wide open!
The one person more excited about Aftermath than the Del Rey team and I is Chuck Wendig! Chuck is a lifelong Star Wars fan himself, and it's been an absolute pleasure working with him thus far. We asked Chuck to share a few words about being asked to write this novel, and here's what he said: "My earliest -- and still one of my best -- movie-going experiences as a kid was being a four-year-old watching The Empire Strikes Back at a drive-in theater with my sister...My jaw dropped and I don't think I've found it, yet. Those movies opened up a world for me, and my love of storytelling comes from them and from the galaxy of smaller, connected stories, too -- from the toys to the games to the books. In fact, one of the first novels I ever read was the novelization of A New Hope. I have a son who will in a few short months be my age when I saw Empire, so to be involved with the Star Wars universe just as the new film is coming out -- it feels like not only something akin to kismet, but a great and powerful privilege."
Chuck isn't the only one feeling the weight of that privilege. This is a story unlike any we've told before. And it all begins in just six short months! I hope you'll eagerly await Aftermath's September release along with us until then. You can preorder your copy here.
In the meantime, stay tuned to starwars.com for other announcements about Aftermath and the rest of the Journey to The Force Awakens program! And if you'd like to learn more about Chuck, visit his site at terribleminds.com and say hi to him on Twitter at @ChuckWendig. May the Force be with us!
Jen Heddle is senior editor of Lucas Books.