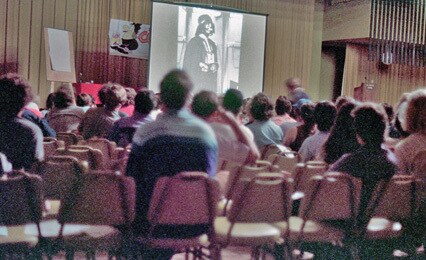 Geek Nation has left the building and San Diego Comic-Con International is but a jumble of memories… or an expensive reality as the boxes of goodies you shipped to yourself start arriving in the next few days.
If you've only experienced SDCC from afar, it's more like preparing for combat duty than a normal convention. Just the sheer size—the exhibit hall alone is 525,000-square-feet—and the crush of the crowd—tickets are capped at 125,000—make it a somewhat daunting experience, but one definitely not to be missed. And for Star Wars fans, there is an unbreakable link between the saga and the convention—one that helped both grow.
It was in 1976 that Lucasfilm's Charley Lippincott, head of marketing, advertising, and publicity, was desperately seeking ways to get the word out about George Lucas' little space fantasy that movie theater film bookers seemed to disdain. Charley, a fellow geek and comic book fan long before such things were fashionable, decided to go directly to the fans, and San Diego was a major stop. There comic-book artist Howard Chaykin and story adapter Roy Thomas talked about the story and previewed some art, and Charley showed some of the first production slides.
A year later when surprised reporters and commentators wondered how so many people knew to line up to see Star Wars on opening day, that didn't realize that the movie had gone viral well before the Internet was invented. And Lucasfilm returned to Comic-Con to share news about The Empire Strikes Back and Return of the Jedi.
I first started attending comic-Con in 1985, six years before it moved into its ever-expanding digs at the San Diego Convention Center. It was a cozy affair with about 6,000 attendees and a bizarre, cramped dealers' room, only half of which was well-lighted. The other part was not only dimly lit, but the ceiling seemed almost low enough to touch my head—and I'm only 5-foot-6! But I dug out a number of rare Star Wars posters that I'd been seeking, and I was hooked.
After joining Lucasfilm in 1996 for a "one-year job" to let fans in on some of the secrets of the Star Wars Trilogy Special Editions, Comic-Con was one of my most important stops. The sense of history, the ties between Lucasfilm and Comic-Con, was palpable. That's where I met and started friendships with many of the people who still run SDCC; I even discovered two photos of publicity head David Glanzer in Jedi-era editions of Bantha Tracks, the official Star Wars Fan Club newsletter. Once a geek….
It still took a while for the other movie companies, and then television producers, to catch on. But like the Lucasfilm executives before me, I kept returning to San Diego every year with treats for fellow Star Wars fans. One year it was the never-before seen cut scene of Luke interacting with his best friend Biggs at Tosche Station. The next breakthrough was getting Lucasfilm to actually have space on the exhibit floor, and to make a significant statement by gathering many licensees together in a kind of souk, much like you might find in Mos Espa.
My biggest thrill came in 2004. The presentation was in the cavernous 6,000-plus seat Hall H. I had producer Rick McCallum, actor Hayden Christiansen, and iconic actress/writer Carrie Fisher as onstage guests.
Then, with the time drawing to close, we screened a video I had developed. In chronological order, it showed a short montage from each movie before its name and logo spun into place onscreen. As it played out and people understood where it was going, I could feel the crowd's anticipation grow.  Then the screen showed some behind-the-scenes footage from Episode III, and the spin revealed…nothing! It was a fake-out…until the spinning elements started again to reveal Revenge of the Sith.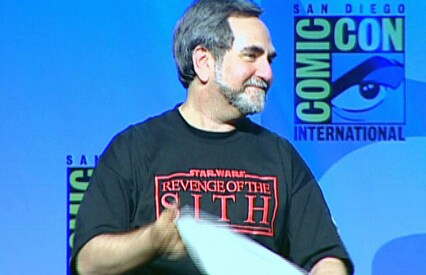 The crowd erupted into sustained cheers; I stepped out from behind the lectern, stripped off a large outer jersey, and revealed a black T-shirt with a retro Revenge of the Sith movie logo. I managed to say that the shirt had just gone on sale exclusively at the Star Wars Shop at the Lucasfilm pavilion when there was a stampede. I mean, I've cleared rooms before, but not like this! I was told later that it was like a tsunami washing into the exhibit hall, sweeping along hundreds of folks who had no idea why they were lining up—but happy to be there.
There's another reason for the close ties between Star Wars and Comic-Con. When Official Fan Club execs Dan Madsen, Jon Bradley Snyder and I started planning the first Star Wars Celebration, it was patterned after SDCC, albeit on a smaller scale. But the basic ideas remained intact: Multiple simultaneous panels, onscreen and behind-the-scenes celebrities, activities for every different type of Star Wars fan, and exclusive merchandise. Counting the upcoming Celebration VI next month in Orlando, we're just 13 years old compared to Comic-Con's 42. I hope we age as gracefully.