From Carrie Fisher to cosplay, Star Wars was everywhere at Indiana Comic Con.
For many Star Wars fans, March 13th to the 15th, 2015, will be a day long remembered, thanks to Indiana Comic Con. It was an exciting time for fans in the central United States, as the annual Con brought many fans together to celebrate the best in pop culture. With over 400,000 square feet and 150 booths of comics, cosplay, toys, action figures, comic book talent, and much more, the con was the place to be this weekend. From Star Wars Indiana, to the Droid Builders, to cosplayers, a Rebel princess, and even a few podcasters, Indiana Comic Con was another great example of Star Wars fans coming together to celebrate the Saga.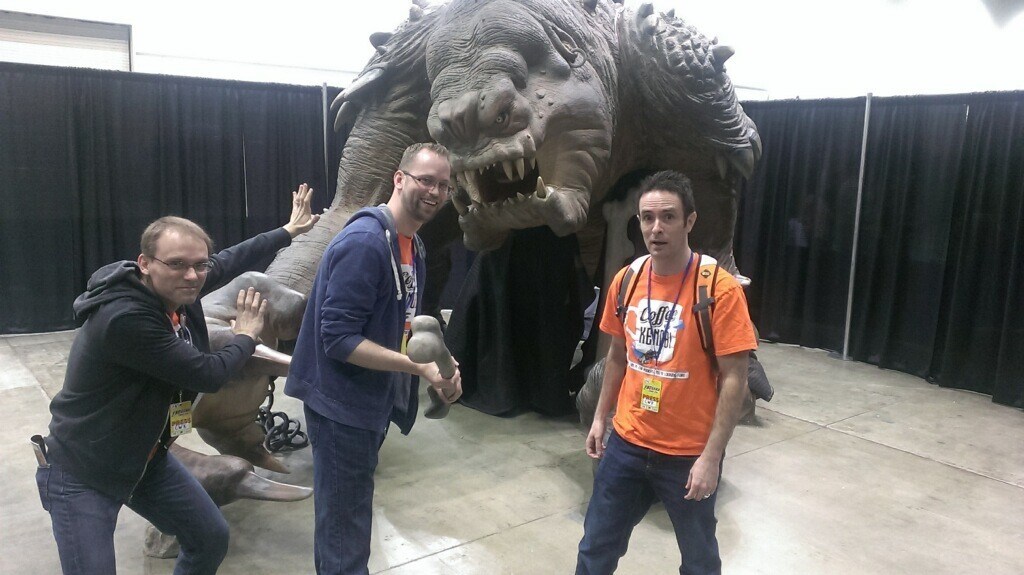 Indiana Star Wars (consisting of the Bloodfin Garrison of the 501st Legion and Mos Espa Base of the Rebel Legion) had a big presence, as Darth Vader and his troopers posed in front of a backdrop of the Millenium Falcon, to the delight of many fans. The line was consistent, as was the enthusiasm of the fans who couldn't wait to get a photo with Imperial officers, Rebel pilots, and an army of stormtroopers. The scene was similar with Roxy the Rancor, as the crew of Jabba's favorite monster "smiled" for fans and posed for pictures. The 700 pound, 17 foot long replica is an awesome thing to behold, and is a must see if you get the chance.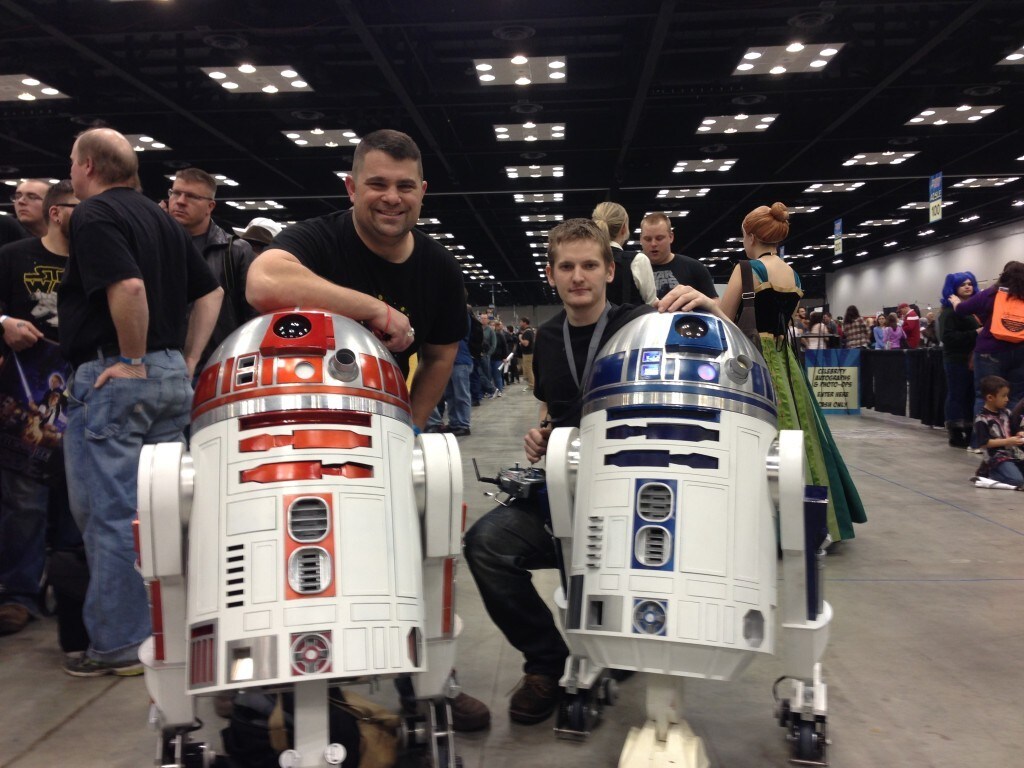 Alex King and Blake Buchanan from the R2-D2 Builders Club had stunning astromechs on display too. Alex had R2-M5 (nickname Rusty), and the little blue one looked pretty familiar as well. The guys told me what goes into building an astromech droid, and it was clear that it was a labor of love. A lot of time and energy goes into making a droid, and the results spoke for themselves. Both Alex and Blake told me  that a member of the R2-D2 Builders Club made R2-D2 for The Force Awakens using the same materials that they made on their models. Attendees loved Alex and Blake's droids, and took a lot of photos of the pair, which was fun too.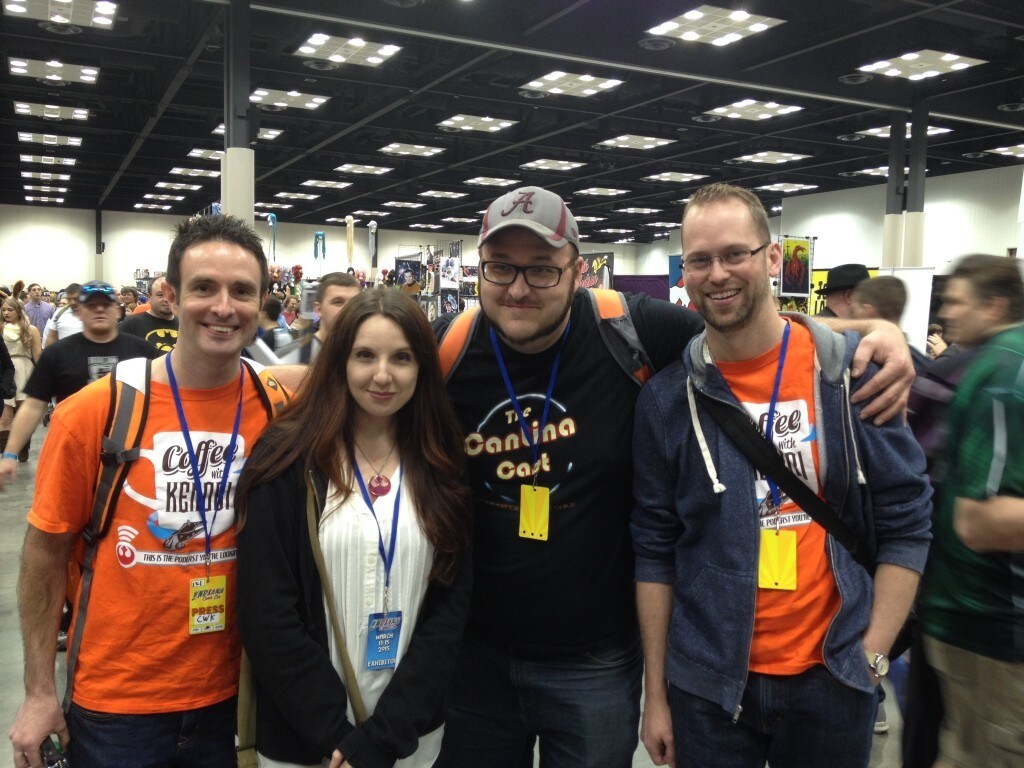 Star Wars podcasters were out in force as well; Joao Stinson from The Cantina Cast, Amy Ratcliffe from Full of Sith (and Star Wars.com), and both myself, Cory Clubb, and Tom Gross from Coffee With Kenobi got a chance to meet and broadcast from the convention, and it was the first time we had all met in person. After conversing for so long via social media, this helped to make for a day long remembered.
Tom Gross really enjoyed meeting Marvel's Princess Leia author, Mark Waid.  Tom told me, "I love how Star Wars is such a presence not only in cosplay, but with the new release of the Marvel Star Wars line, Star Wars was on the shelves and displays in the vendors as well.  It was fantastic getting to meet Mark Waid; hearing his views on Leia, post Death Star destruction, was really interesting and keeps me waiting at the mailbox for the next issue."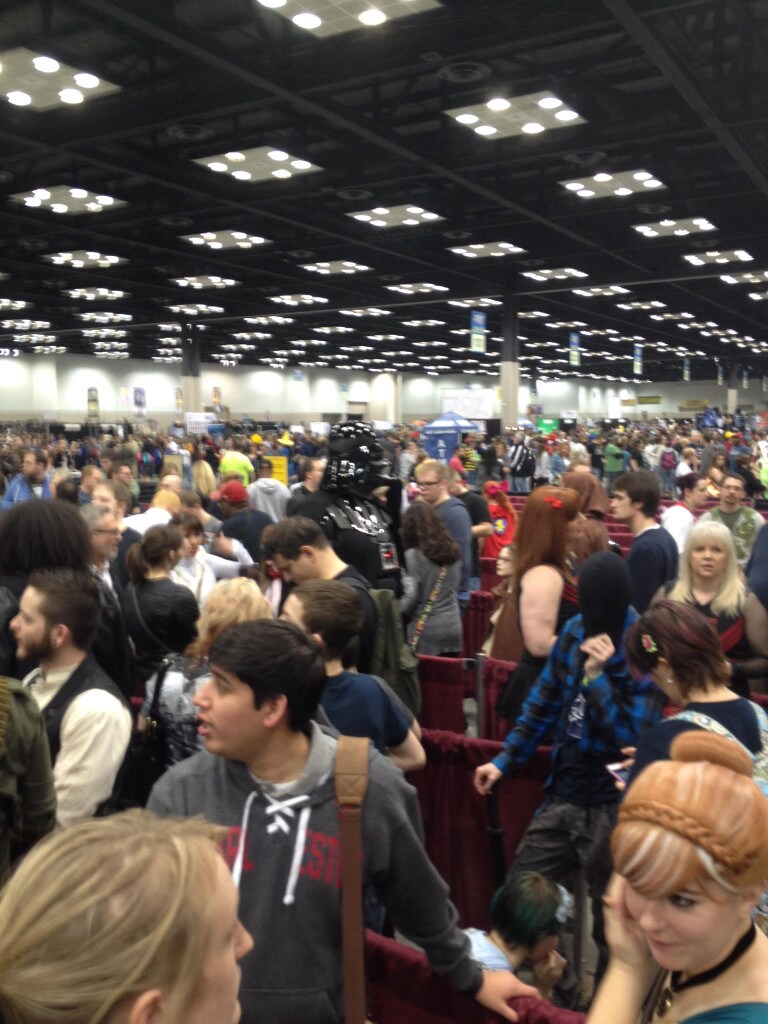 As Tom mentioned, Waid was there, signing copies of Princess Leia #1, which was especially appropriate, considering that Carrie Fisher was in attendance. The Princess was in top form, signing autographs and posing for pictures with her dog, Gary. Many who got an autograph were treated to a bonus: getting a glitter makeover from Fisher, as well as having her add some makeup . It was impossible to meet the actress who played Princess Leia without smiling.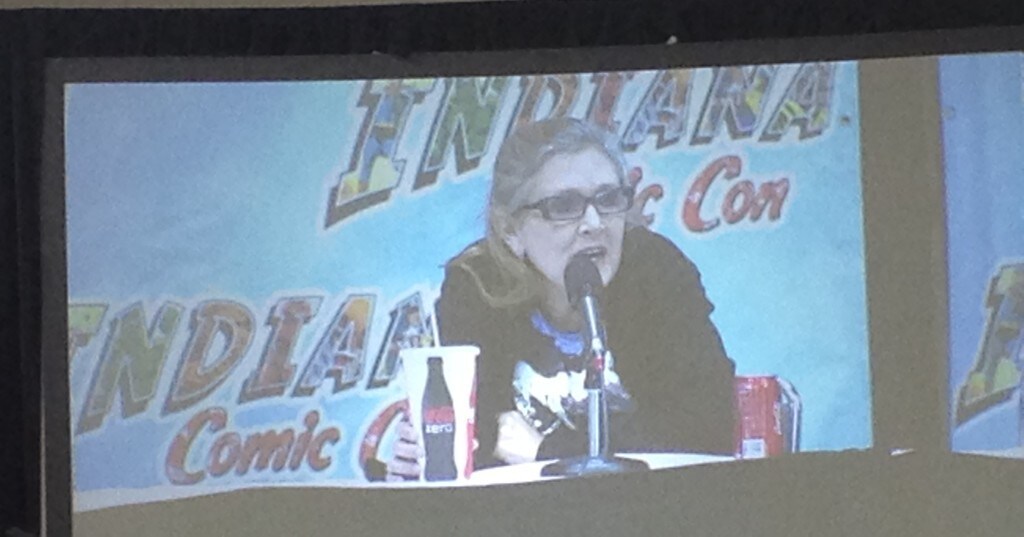 Her panel was equally entertaining. Hosted by Christina Blanch, Fisher talked about her history working on the films, writing professionally, and what it's like when people ask her about being Princess Leia. She kept the audience laughing throughout, and wowed everyone with her wit and wry humor. There is nothing quite like a sarcastic princess, and Fisher did not disappoint. Suffice to say, she is a must see if you ever get a chance to see her at a convention panel.
Cory Clubb and I got to meet Fisher, which was a surreal experience. Cory said, "Of course, meeting Carrie Fisher was a highlight, as it's not everyday you get to meet royalty!" He said it was the perfect moment of a day that included, "... great fun, good friends, and making lasting memories!" Joao Stinson had a similar experience. "Meeting Carrie Fisher, the princess herself, even just for a moment was mind blowing and something that I will talk about for years. But perhaps the best part of the day was meeting old friends for the first time and perhaps creating better friendships with acquaintances."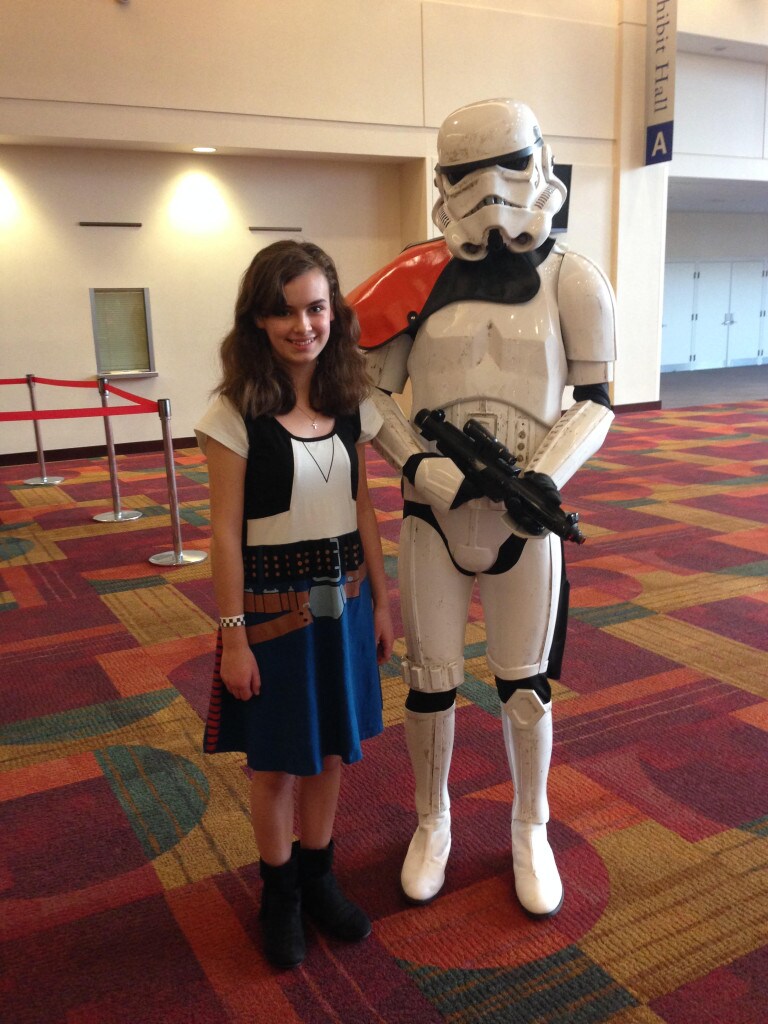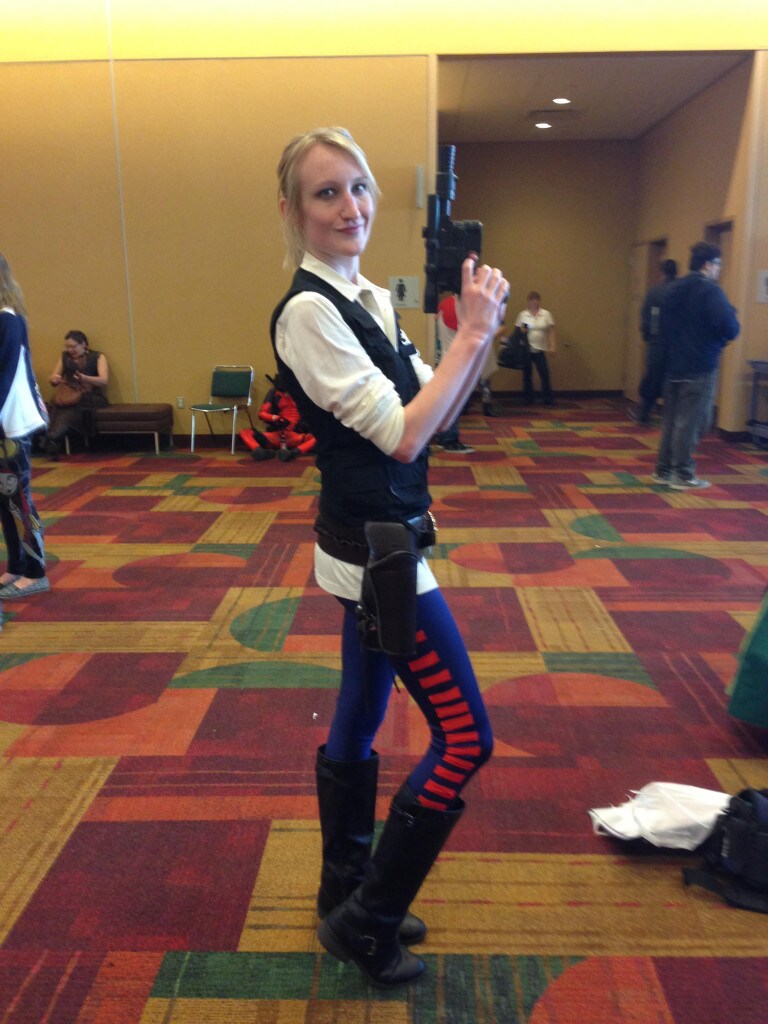 Even though this was the second Indiana Comic Con, the Force was certainly strong, as the Star Wars presence was palpable and exciting. It had everything a Star Wars fan could want at a convention, and helped to foster our beloved community. Fans of all ages had plenty to entice them as well; Carrie Fisher was the ultimate end to a great event, which helped form new friendships, foster existing ones, and get glitter dusted by a princess. Bring on Celebration!
Dan Zehr is a high school English teacher with an MS in Teaching and Learning, and is a  member of the Rogues (as Blue Leader), a network of teachers that incorporate Star Wars in the Classroom.  He also runs Coffee With Kenobi (with co-host Cory Clubb), a Star Wars Podcast that analyzes the saga through critical thinking, analysis, interviews, and discussion.