Incomplete was your training? Don't sweat it.
It's almost time to trek to Orlando, Florida, lace up your running shoes, and hit the course for runDisney's Star Wars Rival Run Weekend, beginning this Thursday! As you finish the last of your training runs, here are 7 things to remember heading into race weekend.
1. You're there to have fun. Scoring medals and clocking personal bests can be exhilarating, but when the going gets tough, remember -- this race is about having fun! Take a moment to look around you. You're running through Walt Disney World Resort, surrounded by other fans and friends who share your passions. Is there anything better?
2. Don't forget your well-worn running shoes! Race day calls for a pair of sneakers that have just the right amount of wear -- broken in but not busted. Because no one likes blisters from new shoes, especially when they're trying to get to the finish line.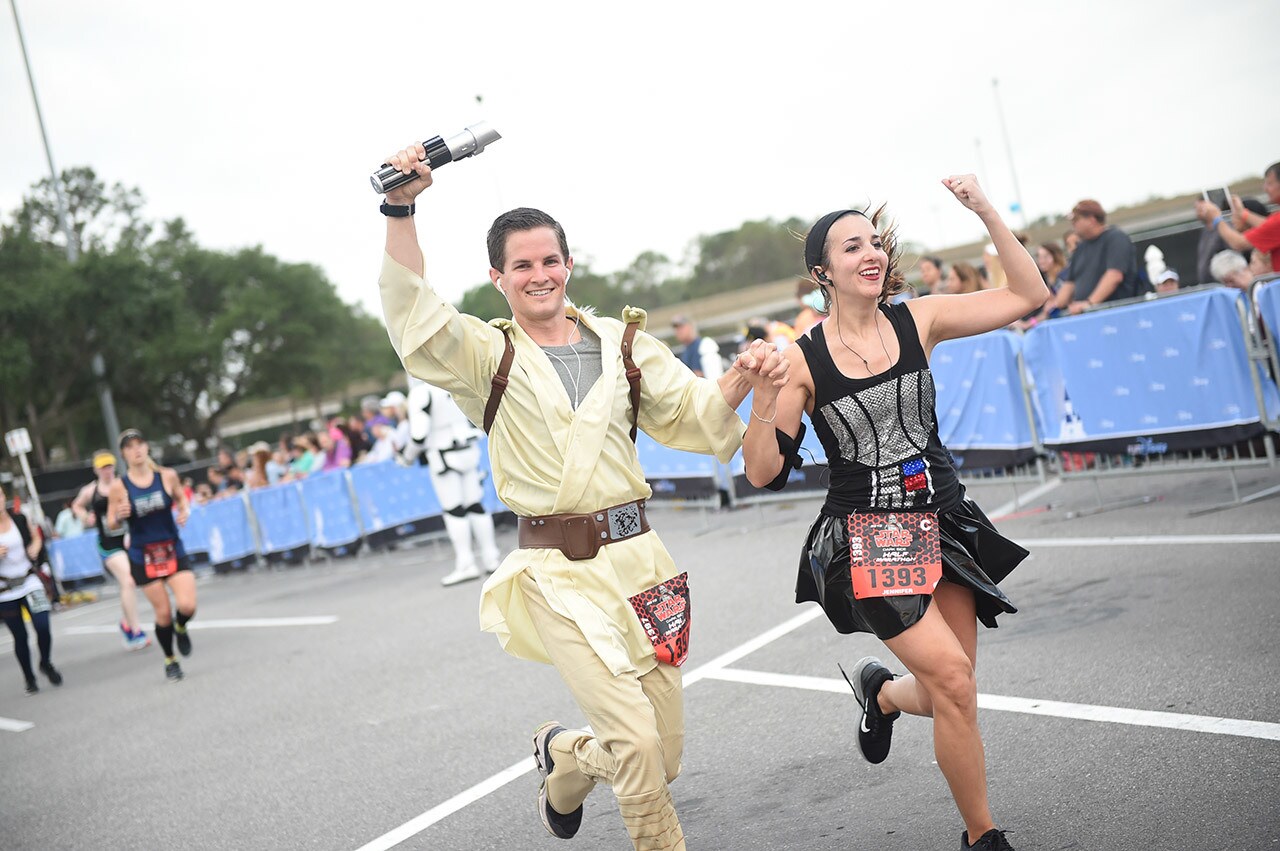 3. This isn't the time to try a new outfit. It's the same idea for your running gear, whether you've picked a costume or decided to go with the standard sweat-wicking shirt and shorts. A race is not the time to try a new outfit for the first time and discover that it rubs, sags, or is generally uncomfortable. Pack only your favorite gear.
4. If you need it for a training run, you need it for race day. I have a brief checklist of things I always grab before I head out on a run: one handkerchief for every 3 miles I'm planning to complete, a healthy dose of sunscreen of at least SPF 70+, headphones, my Garmin, and a water bottle for longer runs that don't have any fountains along the route.
5. Set a goal and try to meet it. If you want to try to clock a certain time, set your pace and try your best to achieve it. If you just want to finish, keep your eye on the finish line.
6. But as the great Jedi Masters have said, "You must have patience!" Be kind to yourself, whatever you've set out to accomplish, and remember that slow and steady will get you there. Don't overexert yourself. If you find yourself feeling sluggish at the starting line, or even partway through, there's no shame in walking.
7. Hold onto that feeling of accomplishment. Not an early bird? Starting your run at 5:30 a.m. is not going to be pleasant if you normally prefer to stay in bed for as much of the morning as possible. But when you cross that finish line, you're going to feel a sense of pride and accomplishment that will carry you through your day. And if you lay out your gear the night before, as well as anything you'll need to get to the starting line, you'll have a much smoother start.
Star Wars Rival Run Weekend takes place April 4-7, 2019 at Walt Disney World Resort.
Associate Editor Kristin Baver is a writer and all-around sci-fi nerd who always has just one more question in an inexhaustible list of curiosities. Sometimes she blurts out "It's a trap!" even when it's not. Do you know a fan who's most impressive? Hop on Twitter and tell @KristinBaver all about them.