Whether taking your younglings to Celebration or Comic-Con, here's what you need to know.
Are you a parent with children who love the galaxy far, far away? Parenting Padawans is an exclusive StarWars.com column that discusses the various questions and factors that come into play when introducing your younglings to Star Wars.
Comic-cons. Pop culture conventions. Fan celebrations. They're all essentially the same thing: a mass gathering of people who share a common interest and have come together to celebrate and delight in the things they love.
Are you planning to go to a convention this year? Are you planning to take your little ones? If so, we here at Parenting Padawans have you covered. We've put together a small(ish) list of things to keep in mind so your family comic-con outing can be an enjoyable experience. Whether you're feeling the Force at this month's Star Wars Celebration Europe or sampling the smorgasbord of pop culture on display at any number of other cons this summer, here are a few key tips to keep in mind as you plan your next great family adventure.
1. Have a goal. This is probably the most important thing to know before walking in the front door. If you're taking your kids, will the experience be about them? Or are they just along for the ride? Are you there to see celebrities? Listen to intriguing panel discussions? See cosplayers? Check out Artist Alley and the exhibitors? Introduce your younglings to the whole scene and keep it low-key? These are all worthy goals, but unless you're spending multiple days at the con, it's impossible to do everything. And with little ones in tow, it's important to have realistic expectations. Think about your purpose for attending the con and why you're taking the kids. What do you want them to get out of the experience? Always keep that in perspective, and try not to get too distracted.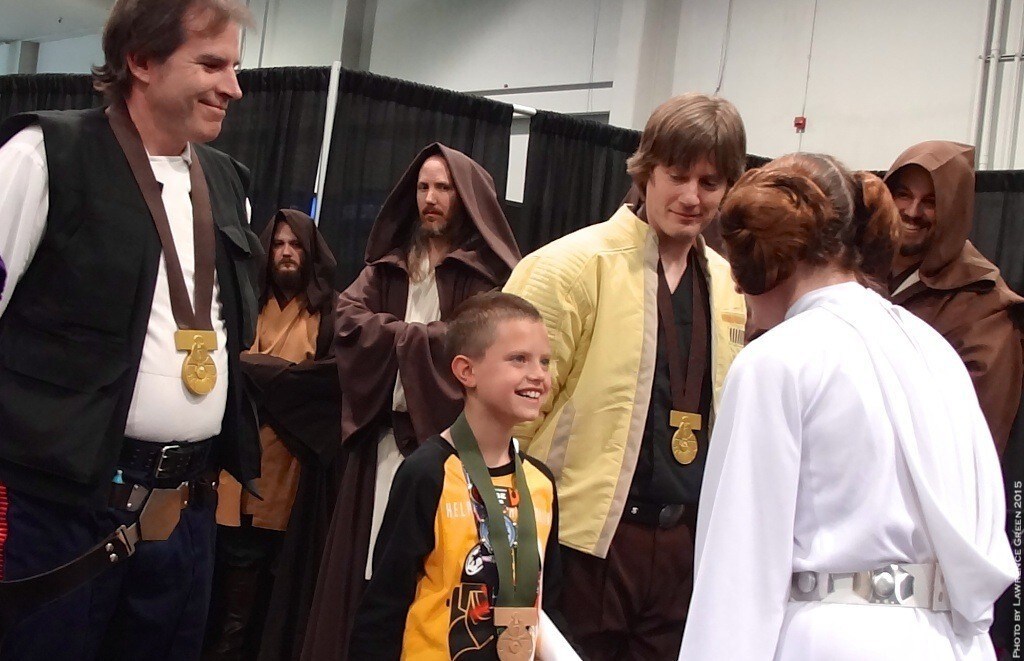 2. Do your research in advance. You don't need to go overboard and create a detailed schedule of must-do events (though that can't hurt), but at the very minimum, check out the show schedule online and see what panels and/or activities you really want to do. Don't waste time at the con trying to figure out what's happening when (and where). At many cons, you can probably just walk in and enjoy some awesome family-centric programming. For everything else, depending on the size of the con and the popularity of the panelists, you'll need to factor in line-waiting time. Don't expect to just show up five minutes before that incredible panel with your favorite star and get a great seat (or even get in the room). Spend some time with the schedule and roughly plan out your day. You'll be glad you did. (If you're headed to Star Wars Celebration, check here for details on the Family Area and other kid-friendly happenings.)
3. Don't spend the entire time in line. You may want some of those sweet exclusives, grab a brag-worthy autograph or photo, or sit in on a few hot panels, but long lines are not exceptionally kid-friendly. Come to think of it, they're not particularly adult-friendly either. Kids get antsy easily, and the amount of time spent waiting in line is inversely proportional to good behavior. Most cons (regardless of size) have an area set aside for kids and families. You'll probably find a plethora of art supplies, a relatively quiet place to sit down, and maybe even free snacks and water! (In the case of Celebration, you'll even find Jedi Padawan Training!) Make time to just chill out, recharge, and let the kids do something they actually enjoy. In my family, we typically follow a "something for you, something for me" routine, and it works out really well.
4. Pack snacks and/or lunch (if the show and venue allow outside food). I don't know about you, but my kids get hungry every 20 minutes. I'd rather pull a granola bar or banana out of my backpack than wait in a long line for mozzarella sticks. The lines (especially around lunchtime) can be prohibitively long, and your choices are relatively limited. Alternatively, leave the venue entirely, eat offsite, and get some fresh air and recharge.
5. Stay hydrated. I can't stress this one enough. Conventions centers (and their recycled air) are notoriously dry places, and there's never a water fountain when you need one. Carry a water bottle with you, and drink as much as possible. Even if a convention has a no-outside-food-and-drink policy, they almost always make an exception for water. My kids get thirsty every five minutes, and it's way easier to hand them a water bottle than walk clear across the convention center to find a water fountain.
6. Have an emergency plan. Let's face it; sometimes the unimaginable happens. With thousands of people all crowded into one place and jockeying for the same space, it is possible that you might lose track of your child. Make sure your little one has an ID card with your name and phone number in a pocket (or shoe) and knows your phone number. For older kids, it's a good idea to have a prearranged meeting spot if you get separated.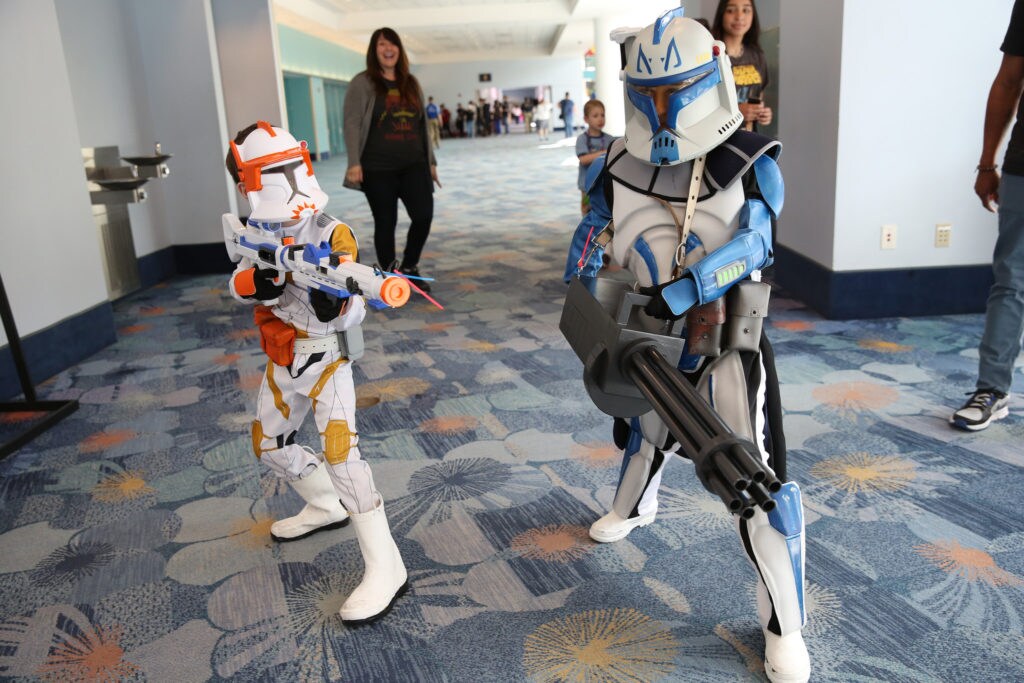 7. Choose a costume wisely (and know the consequences). This one requires some advanced planning. If your kid is showing an interest in cosplaying, then you'll need to start early on getting that costume ready (unless you're just planning on using a Halloween costume). There's no shortage of characters to cosplay, and there are some cons where I've felt like I was in the minority since I wasn't dressed up. Cosplaying isn't just for adults. Loads of kids do it, and most of them have an absolute blast. However, you should know that cute kids in cool costumes are camera magnets. You will be asked by random strangers if they can take pictures of (or with) your kids. If this makes you uncomfortable (of if you're not comfortable with images of your kids potentially ending up all over the Internet), then you should give this one some serious thought. Also, if you have little cosplayers with you, you should know that it will probably take longer than you anticipate to get anywhere. With a cute kid in costume, you can't simply walk uninterrupted from Point A to Point B. Be sure to budget in extra time for the paparazzi to take pictures of your little superstar.
8. Set a budget. Easier said than done, right? But seriously, it is incredibly easy to get overwhelmed with the amount of amazing stuff for sale. It happens to adults, and it sure as heck happens to kids. Whatever your budget for the show, make sure you clearly communicate that to your kids in a way they understand. They'll probably still get a raging case of the Grabby Gimmes, but -- unfortunately -- that's on you.
9. Don't over-promise. If your kids desperately want to see their favorite movie star or try their hand at a new video game that's being demoed at the con, make sure they understand that they're not the only ones. You will make every attempt to get in to that must-see panel, but it's not guaranteed. Under no circumstances should you promise your kids anything that you don't actually control. And crowds at comic-cons? No one controls those. Over-promising leads to frustration. And frustration leads to anger. And we all know where anger leads.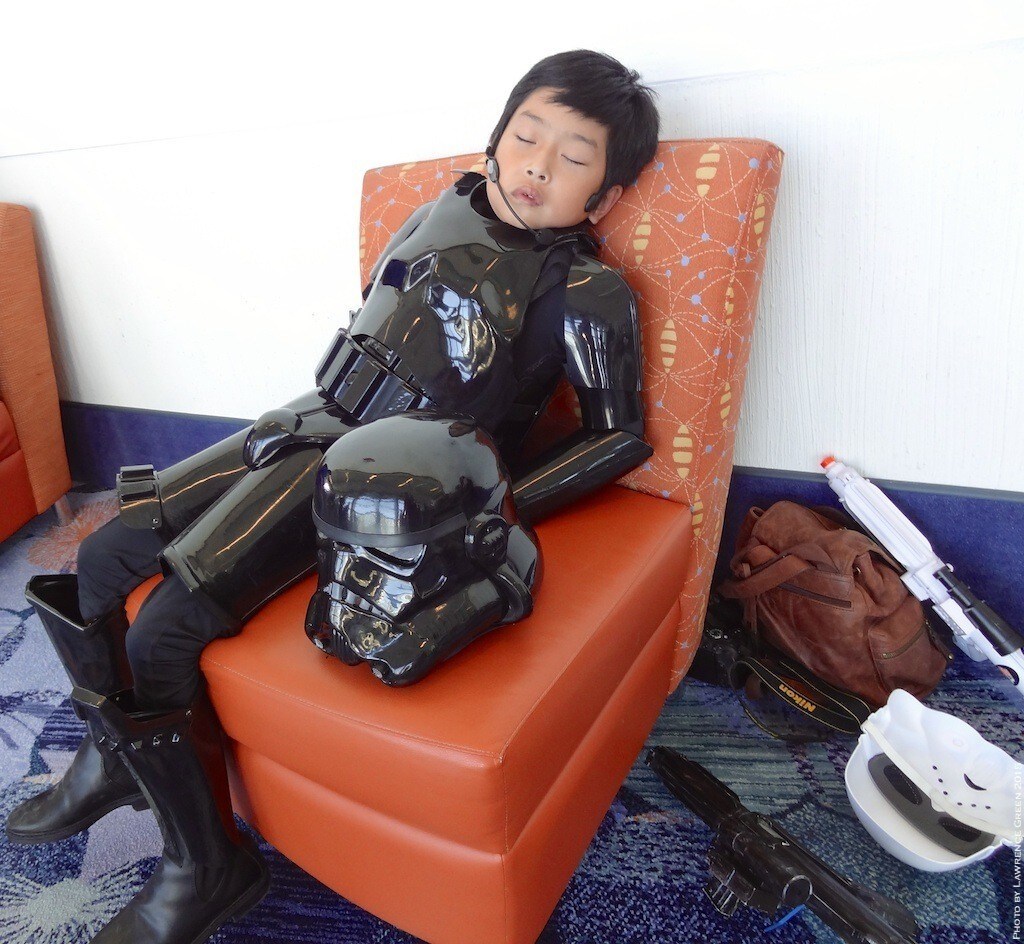 10. Listen to your kids and be flexible. If they want to sit, then find somewhere to sit. If they're hungry, pull out a snack (see #4). If they want to look at random colorful toys for sale, then go over and look at the random colorful toys for a little bit. If they want to go home, then pack it up and head out (or at least leave the venue and get some fresh air for a bit). Conventions aren't marathons. They shouldn't feel like a chore to outlast. Especially if you have kids. Believe me, nobody's happy when kids start to melt down. Relax, smile, enjoy yourself, see something new, and have a great time!
Jamie is a publishing/book nerd who makes a living by wrangling words together into some sense of coherence. He's also a contributor to GeekDad and runs The Roarbots, where he focuses on awesome geeky stuff that happens to be kid-friendly. On top of that, he cohosts The Great Big Beautiful Podcast, which celebrates geek culture by talking to people who create it. With two little ones and a vast Star Wars collection at home, he's done the unthinkable: allowed them full access to most of his treasure from the past 30 years, opening and playing with whatever they want (pre-1983 items excluded).