From Star Wars Rebels' cranky astromech to Sith cosplay, the Force was strong in San Diego last week.
Comic-Con International took over downtown San Diego last week. Tens of thousands of fans flocked to the city for the sake of comics, television, movies, cosplay, and more. While it's not Star Wars Celebration, the saga had a strong presence at the pop culture-centric convention. I saw it in costumes, toys, and displays. The enthusiasm for Star Wars never seems to lose momentum, but crowds seemed especially enthusiastic this year because new stories are on the horizon. We've seen a few peeks of Star Wars: Episode VII, and Star Wars Rebels will premiere on Disney XD in October.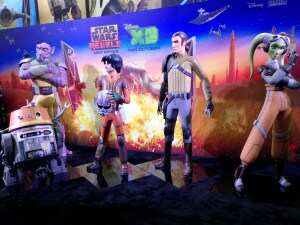 All eyes were on the animated series as Star Wars Rebels was featured in a handful of places throughout the convention center and parties. The Lucasfilm pavilion had statues depicting the entire crew of Ghost: Kanan, Hera, Ezra, Sabine, Zeb, and Chopper. I saw countless people swooping in to take advantage of the photo op, and I can tell Chopper is already popular.
Banners showcasing Star Wars Rebels featured prominently throughout the pavilion, and Del Rey gave away copies of John Jackson Miller's upcoming release A New Dawn. The book will focus on the characters from Star Wars Rebels and marks a new era in Star Wars storytelling as the first book in the in-canon Expanded Universe.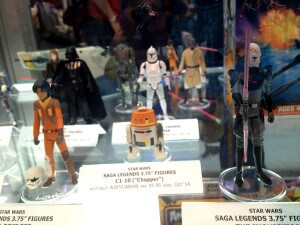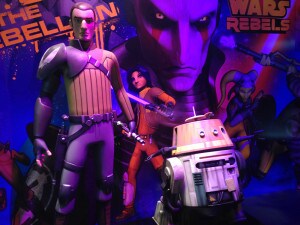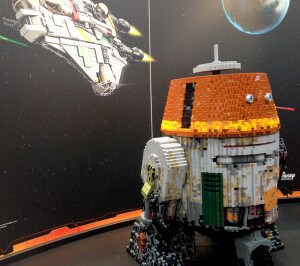 And Chopper! That droid gets around. When I wandered into the LEGO booth, there he was. I ran into him again when I browsed Hasbro's booth. He was featured as a statue alongside Kanan and as an action figure that will be released in the near future. I also encountered the actual model of Chopper built by Michael McMaster living it up at the Hitfix and Lucasfilm Star Wars Rebels party. Meeting Chopper started my convention off in the best way possible.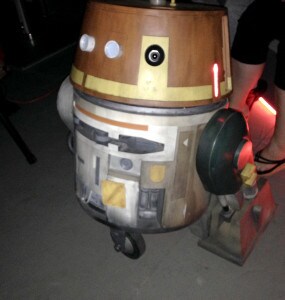 I'll take all my Chopper run-ins as a sign that I need a replica Chopper of my own.
The Force was strong elsewhere throughout the convention. Her Universe, WeLoveFine, and Black Milk Clothing showed off light and dark side fashions inside the Lucasfilm pavilion. All the companies offered stylish apparel and some teased future looks. Original geek haute couture designs were on display at the Her Universe Fashion Show on Thursday night, including an Asajj Ventress dress.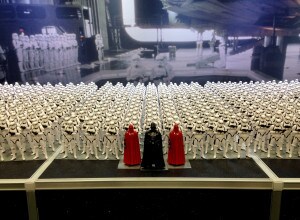 Kotobukiya had one of my favorite displays at Comic-Con. They lined up dozens of their stormtrooper figures behind Darth Vader and two members of the Imperial Royal Guard for a stop-you-in-your-tracks exhibit. A crowd of people surrounded the diorama every time I strolled by, and as far as I know, none of the figures fell over during the long weekend.
The vendor also previewed two kitchen related items: a C-3PO hard boiled egg shaper and a Darth Vader sandwich shaper. I'll be handing over my money for those products as soon as they're available. I love that I live in a time when I can stock my kitchen with so many Star Wars tools and gadgets.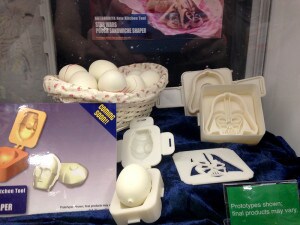 Last but not least, I was stunned by Star Wars cosplayers I met as I walked the convention floor. I spotted some fun mash-ups such as one that blended Star Wars and Firefly. Meet Jedi Jayne and Twi'lek Kaylee: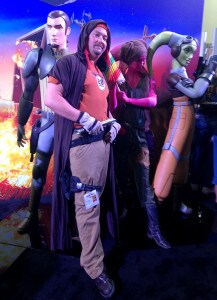 TK-6683 and LeeAnna Vamp debuted Jes Gistang costumes at the convention, Sith cheerleaders flooded the Lucasfilm pavilion, a man cruised around in a Star Tours StarSpeeder, and Darth Maul and Darth Vader donned business suits.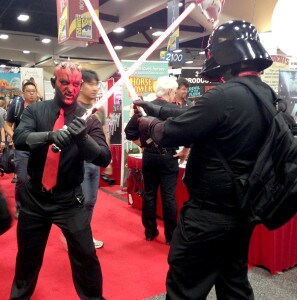 What were some of your favorite Star Wars encounters at Comic-Con?
Amy Ratcliffe is a writer obsessed with all things Star Wars, Disney, and coffee. You can follow her on Twitter at @amy_geek and keep up with all things geeky at her blog.