StarWars.com's master chef discusses how she dreamed up the out-of-this-galaxy recipes for Insight Editions' new book -- and tells us how to make Cirilian Noodle Salad.
For the past six years I've had the joy and honor of creating all of the StarWars.com recipes that families can use to share their love of Star Wars. One hundred and twenty plus recipes later, I still love when people tag me on social media so I can see their interpretations.
Part of the fun of creating inspired recipes is using the vast Star Wars lore to recreate versions of foods that would exist in the Star Wars galaxy. My favorite food scene isn't what you'd expect -- it's not Rey making Portion Bread in seconds (though I did that), nor is it Aunt Beru's Blue Milk (I did that, too).
My favorite Star Wars food scene is from 1978's Star Wars Holiday Special where Malla tries to stir, whip, stir, whip right along with Gormaanda, who's making Bantha Surprise for Life Day. I've always wondered what it would taste like and over the years would do my best to create various versions of my own. I was also intrigued by the whole idea of Life Day, the Wookiee holiday that celebrates family and togetherness with food and traditions -- something I wholeheartedly align with.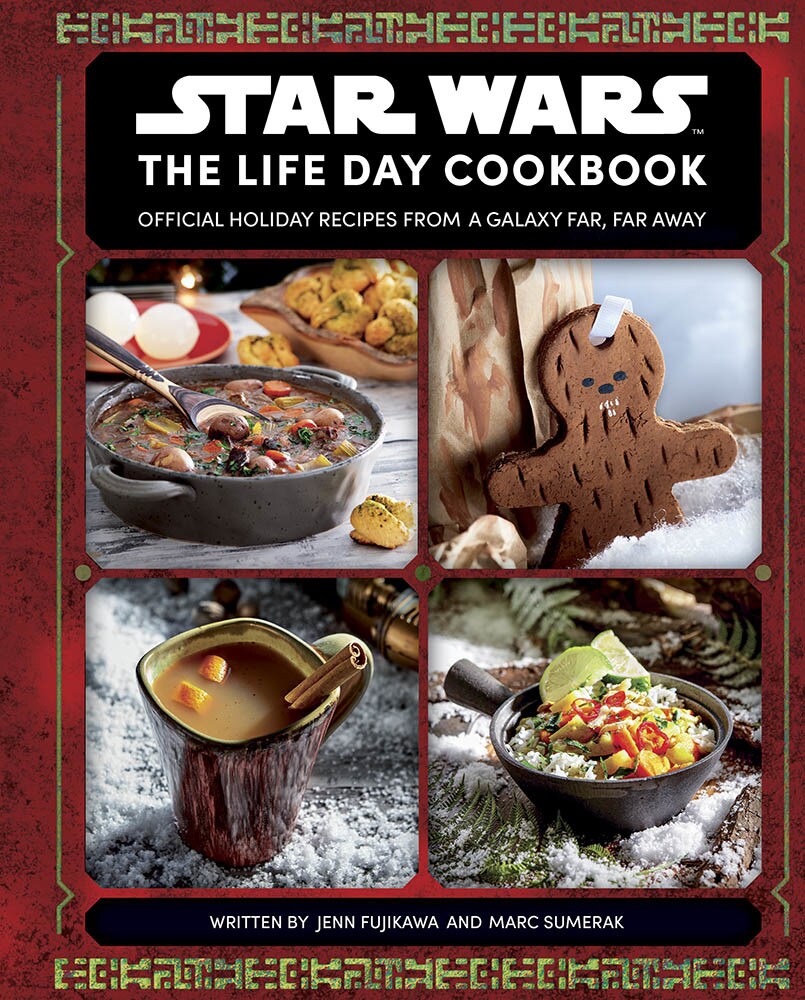 Being able to write Star Wars: The Life Day Cookbook: Official Holiday Recipes From a Galaxy Far, Far Away allowed me to dive deeper into Wookiee culture and play with the idea of how everyone across the galaxy would celebrate Life Day in their own way.
When creating the recipes, my goal was to incorporate real-world celebratory food with a Star Wars twist. Holiday latkes became Gloomroot Pancakes, using Gloomroot, the dark region of the Wookiee planet Kashyyyk as an inspiration for the dish. In the book Star Wars Life Day Treasury, kebroot tubers were part of the Alderaan winter banquet, which gave me the idea to make sweet potato holiday tamales, wrapped up as savory Kebroot Parcels. My co-author Marc Sumerak gave life to my recipes through his delightful descriptions of the food inspirations, as told from the point of view of Chef Strono Tuggs.
Using diverse ingredients is important to me, and I always try to create in-world food that will hopefully expose readers to new and exciting flavors. Pandan, a tropical plant used in many Asian dishes, is rich in both color and flavor. And since Hutts eat Klatooine Paddy Frogs, the Indonesian dessert dadar gulung (a bright green crepe with coconut filling) was the perfect stand-in. These flat green crepes are a fun callback to both the color and texture of those staples of a Hutt's diet, but much sweeter and more delicious.
I'm excited to share this recipe for Cirilian Noodle Salad. A typical salad of cabbage and veggies are topped with purple-hued rice noodles, whose color comes from the natural dye of red cabbage juice. The flavorful dressing is only part of the equation. This recipe gets its name from the drink Cirilian Sour Paste, served in Aunt Z's tavern on the Colossus in Star Wars Resistance. When it comes to serving, that's when the magic happens. Squeezing a lime on top not only packs a sour punch, but it's also interactive in that it magically changes the color of the salad before your eyes.
Being able to create Star Wars recipes is a dream come true, and I hope that families across the galaxy will enjoy these recipes as they celebrate Life Day together this holiday season.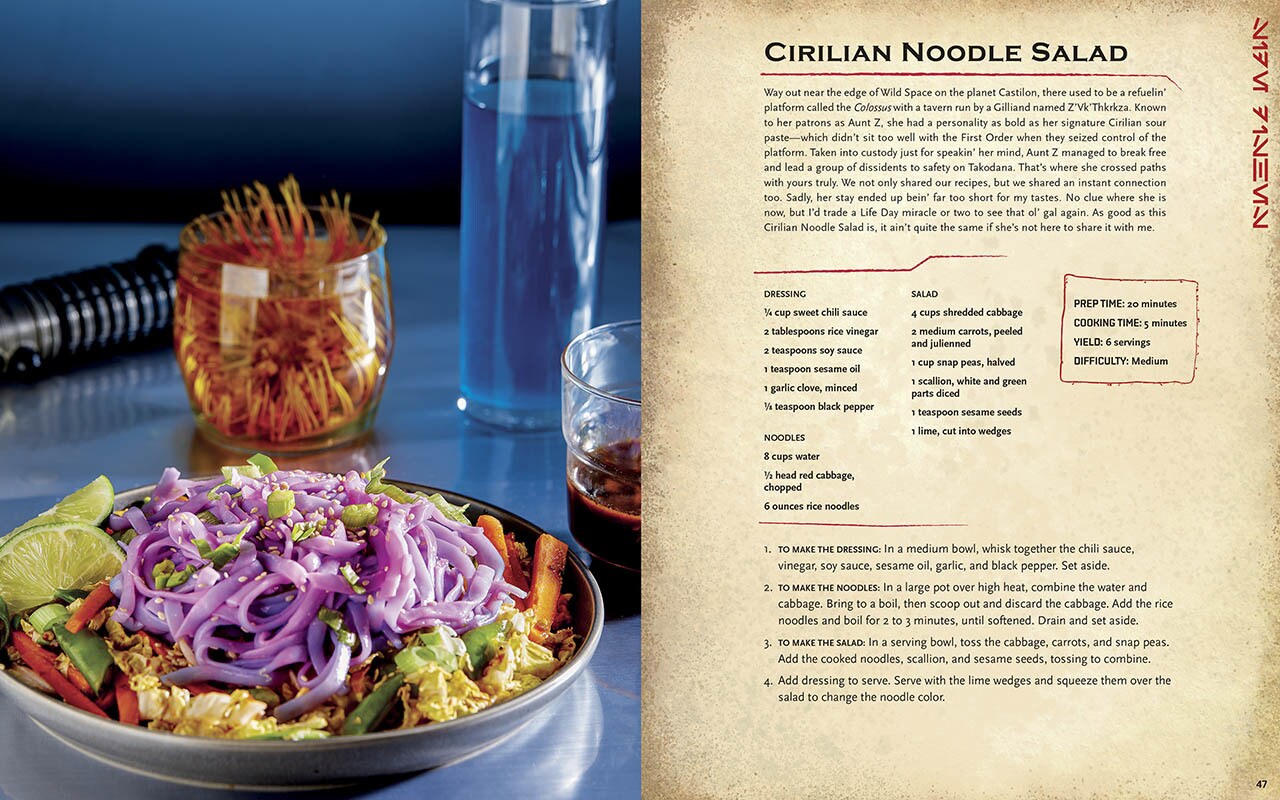 Cirilian Noodle Salad
Way out near the edge of Wild Space on the planet Castilon, there used to be a refuelin' platform called the Colossus with a tavern run by a Gilliand named Z'Vk'Thkrkza. Known to her patrons as Aunt Z, she had a personality as bold as her signature Cirilian sour paste—which didn't sit too well with the First Order when they seized control of the platform. Taken into custody just for speakin' her mind, Aunt Z managed to break free and lead a group of dissidents to safety on Takodana. That's where she crossed paths with yours truly. We not only shared our recipes, but we shared an instant connection too. Sadly, her stay ended up bein' far too short for my tastes. No clue where she is now, but I'd trade a Life Day miracle or two to see that ol' gal again. As good as this Cirilian Noodle Salad is, it ain't quite the same if she's not here to share it with me.
PREP TIME: 20 minutes
COOKING TIME: 5 minutes
YIELD: 6 servings
DIFFICULTY: Medium
DRESSING
¼ cup sweet chili sauce
2 tablespoons rice vinegar
2 teaspoons soy sauce
1 teaspoon sesame oil
1 garlic clove, minced
⅛ teaspoon black pepper
NOODLES
8 cups water
½ head red cabbage,
chopped
6 ounces rice noodles
SALAD
4 cups shredded cabbage
2 medium carrots, peeled and julienned
1 cup snap peas, halved
1 scallion, white and green parts diced
1 teaspoon sesame seeds
1 lime, cut into wedges
TO MAKE THE DRESSING: In a medium bowl, whisk together the chili sauce, vinegar, soy sauce, sesame oil, garlic, and black pepper. Set aside.
TO MAKE THE NOODLES: In a large pot over high heat, combine the water and cabbage. Bring to a boil, then scoop out and discard the cabbage. Add the rice noodles and boil for 2 to 3 minutes, until softened. Drain and set aside.
TO MAKE THE SALAD: In a serving bowl, toss the cabbage, carrots, and snap peas.
Add the cooked noodles, scallion, and sesame seeds, tossing to combine.
Add dressing to serve. Serve with the lime wedges and squeeze them over the salad to change the noodle color.
Star Wars: The Life Day Cookbook: Official Holiday Recipes From a Galaxy Far, Far Away arrives November 9 and is available for pre-order now.