Prep bantha fodder and mudhorn eggnog that would even impress Chef Gormaanda!
Get ready to stir, whip, stir, whip, whip, whip, stir! Just like Chef Gormaanda says, cooking can be fun.
Today, we're excited to share three exclusive recipes from the forthcoming book, Star Wars: The Life Day Cookbook: Official Holiday Recipes From a Galaxy Far, Far Away.  In-galaxy, each recipe has been collected by Chef Strono Tuggs, a.k.a. Cookie, Maz Kanata's one-time head chef now serving up delicacies on Batuu, and written for our galaxy by StarWars.com contributor Jenn Fujikawa and Marc Sumerak.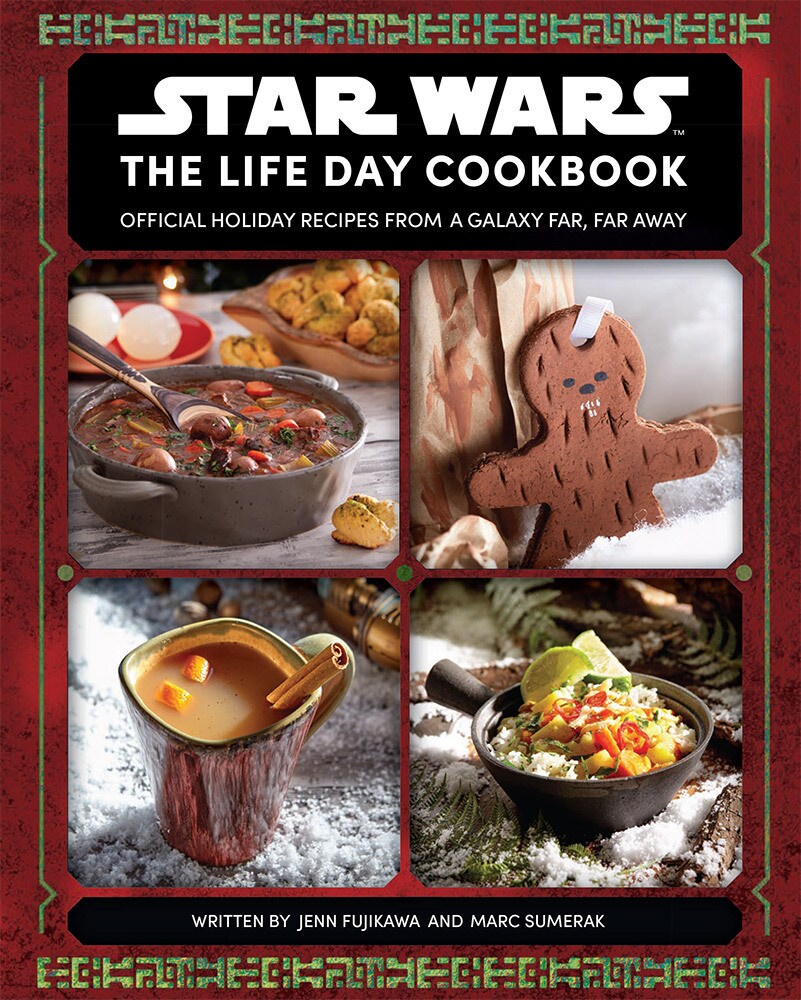 "Gormaanda was always one of my favorite parts of The Holiday Special because I loved watching Mala try her hand at cooking," Fujikawa tells StarWars.com. "So it was super fun to be able to make Bantha Surprise a reality."
Life Day comes but once a year, and this November you'll be ready to serve up a mouth-watering bantha stew, delicious bantha milk hot cocoa, and a special mudhorn eggnog that's out of this world.
Bantha Surprise
Traditional holiday meals tend to be some of the most difficult to prepare. The more complicated a recipe gets, the harder it is to know when to stir, when to whip, or when to beat. Back when I was younger, I found a recipe for Bantha Surprise on an ol' holovid of my favorite chef, Gormaanda. No matter how many times I watched that vid, I could never get the dish to come out quite right. And to be honest, I'm not sure Gormaanda could either. So instead, I tried to capture the spirit of that holiday classic in my own variation, usin' veg and spices native to Kashyyyk to create a hearty and nourishin' Life Day feast. Bantha is pretty versatile, so you can always make this recipe your own, just like I did, by addin' ingredients native to your world.
PREP TIME: 15 minutes
COOKING TIME: 1 hour 45 minutes
YIELD: 8 servings
DIFFICULTY: Medium
MEAT
¼ cup all-purpose flour
1 teaspoon salt
1 teaspoon black pepper
2 ½ pounds boneless beef chuck, cubed
STEW
2 tablespoons extra-virgin olive oil
1 large onion, diced
2 garlic cloves, minced
One 32-ounce carton beef broth
1 cup red wine
1 tablespoon Worcestershire sauce
1 tablespoon tomato paste
1 tablespoon dried rosemary
1 tablespoon dried thyme
1 teaspoon paprika
½ teaspoon salt
½ teaspoon black pepper
1 bay leaf
3 medium carrots, peeled and cut into 1-inch pieces
2 celery stalks, cut into 1-inch pieces
1 pound small red potatoes, scrubbed
2 tablespoons cornstarch
2 tablespoons minced fresh parsley, for garnishing
1. TO PREPARE THE MEAT: In a shallow dish, combine the flour, salt, and black pepper. Dredge the beef in the flour mixture. Set aside.
2. TO MAKE THE STEW: In a Dutch oven over medium-high heat, heat the olive oil until it shimmers. Add the onion and garlic, and cook for 1 to 2 minutes, until softened. Add the dredged beef and cook for 3 to 4 minutes, until browned.
3. Stir in the broth, wine, Worcestershire sauce, tomato paste, rosemary, thyme, paprika, salt, black pepper, and bay leaf. Bring to a boil, then reduce the heat to low. Cover and simmer for 30 minutes. Add the carrots, celery, and potatoes. Cover and simmer for 1 hour, until vegetables are tender.
4. In a small bowl, make a slurry by combining the cornstarch and some stewing liquid. Pour the slurry back into the pot and simmer for 10 minutes, until the stew has thickened. Discard the bay leaf. Garnish with fresh parsley to serve.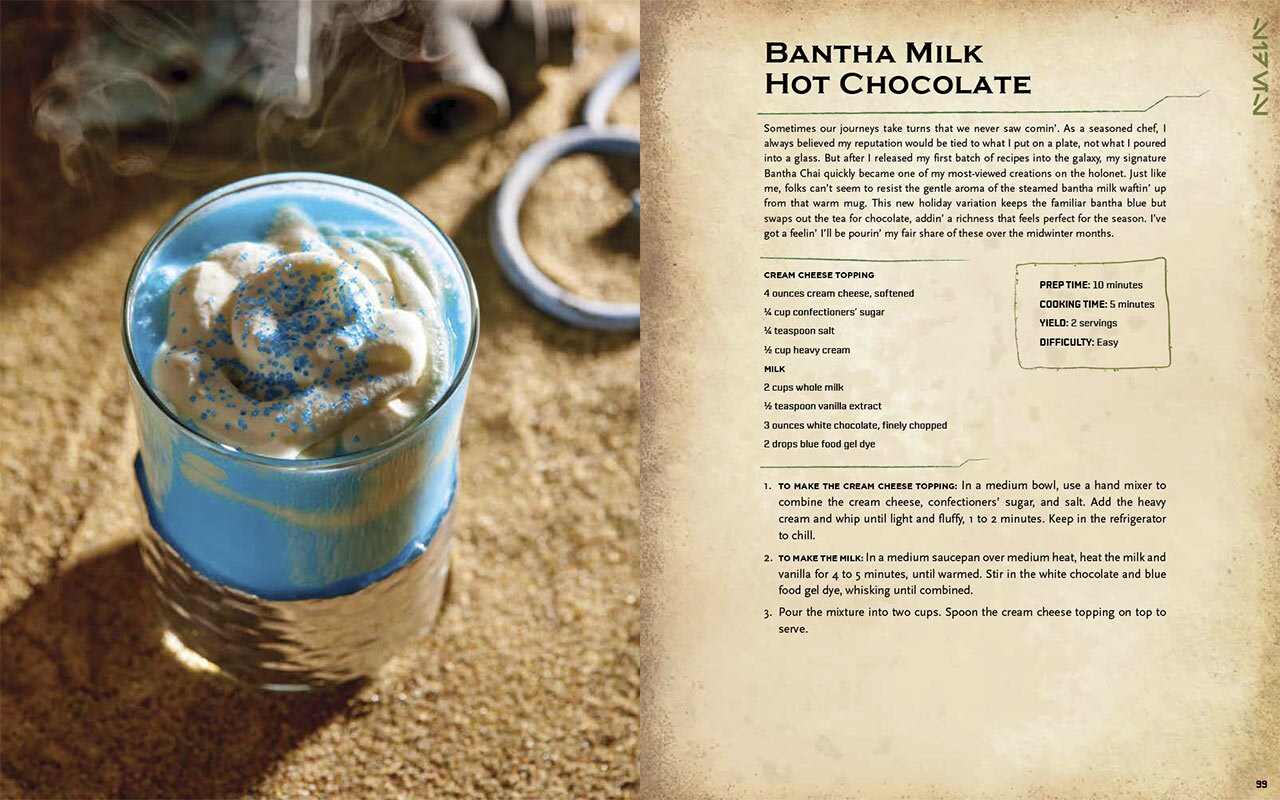 Bantha Milk Hot Chocolate
Sometimes our journeys take turns that we never saw comin'. As a seasoned chef, I always believed my reputation would be tied to what I put on a plate, not what I poured into a glass. But after I released my first batch of recipes into the galaxy, my signature Bantha Chai quickly became one of my most-viewed creations on the holonet. Just like me, folks can't seem to resist the gentle aroma of the steamed bantha milk waftin' up from that warm mug. This new holiday variation keeps the familiar bantha blue but swaps out the tea for chocolate, addin' a richness that feels perfect for the season. I've got a feelin' I'll be pourin' my fair share of these over the midwinter months.
PREP TIME: 10 minutes
COOKING TIME: 5 minutes
YIELD: 2 servings
DIFFICULTY: Easy
CREAM CHEESE TOPPING
4 ounces cream cheese, softened
¼ cup confectioners' sugar
¼ teaspoon salt
½ cup heavy cream
MILK
2 cups whole milk
½ teaspoon vanilla extract
3 ounces white chocolate, finely chopped
2 drops blue food gel dye
1. TO MAKE THE CREAM CHEESE TOPPING: In a medium bowl, use a hand mixer to combine the cream cheese, confectioners' sugar, and salt. Add the heavy cream and whip until light and fluffy, 1 to 2 minutes. Keep in the refrigerator to chill.
2. TO MAKE THE MILK: In a medium saucepan over medium heat, heat the milk and vanilla for 4 to 5 minutes, until warmed. Stir in the white chocolate and blue food gel dye, whisking until combined.
3. Pour the mixture into two cups. Spoon the cream cheese topping on top to serve.
Mudhorn Eggnog
On a visit to Arvala-7 awhile back, I was barterin' with some Jawas over a slightly used hypersonic oven when somethin' far more interestin' caught my eye. Although those pint-size pack rats usually deal in scavenged tech, they happened to be in possession of an item that was unmistakably organic—a big, furry egg unlike anythin' I had ever seen before. Turns out, it was from a local beast called a mudhorn, and the Jawas prized it as a rare delicacy. Never got that oven I came for, but I did manage to leave their sandcrawler with that egg. It cost me an entire cargo pod full of random appliances, but as soon as I cracked open its yolky center, I knew it was worth it. The egg became the perfect base for a thick, frothy batch of this nog, which kept me merry through an entire season.
PREP TIME: 20 minutes, plus 30 minutes to chill
COOKING TIME: 15 minutes
YIELD: 6 to 8 servings
DIFFICULTY: Medium
2 cups whole milk
1 cup half-and-half
1 ½ teaspoons vanilla extract
1 cinnamon stick
½ teaspoon salt
4 large egg yolks
1/3 cup granulated sugar
4 large egg whites
1 tablespoon confectioners' sugar
½ teaspoon ground nutmeg
¼ teaspoon ground cinnamon
1. In a double boiler over medium-high heat, heat the milk, half-and-half, vanilla, cinnamon stick, and salt. Bring to a simmer, 8 to 10 minutes.
2. In a blender, combine the egg yolks and sugar. Blend until light in color, about 1 minute. Temper the egg mixture by blending in ó cup of the milk mixture, then slowly pour in the rest. Blend to combine.
3. Pour the blended mixture into a large saucepan. Cook over medium heat for 2 to 3 minutes, until just thickened. Let cool slightly, then transfer to a medium bowl and chill in the refrigerator until cold, about 30 minutes.
4. In a large bowl, beat the egg whites until soft peaks form, about 1 minute. Sprinkle in the confectioners' sugar, beating until stiff peaks form, about 4 to 5 minutes. Fold the egg whites into the cooled milk mixture until just combined.
5. Pour the eggnog into serving cups and sprinkle with the nutmeg and cinnamon to serve.
NOTE:  This recipe contains raw egg. Because of the slight risk of salmonella, raw eggs should not be served to the very young, to the ill or elderly, or to pregnant women.
Star Wars: The Life Day Cookbook: Official Holiday Recipes From a Galaxy Far, Far Away arrives November 2, 2021 and is available for pre-order now.