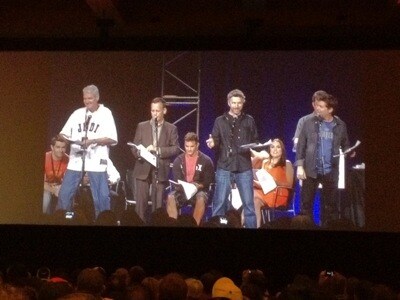 There was a lot of speculation as to what Smuggler's Gambit would be about.  As one fan told me, "all I know is it's a radio show written by Kyle Newman so you know it's gonna be awesome."  And indeed it was!  Kyle Newman began the evening by telling us a little bit about how Smuggler's Gambit came about.  Newman said that what we were about to see was a, "Han Solo (original trilogy era) radio drama for all ages."
Jimmy Mac from The ForceCastwas also onstage acting almost like a conductor of an orchestra.  During the show, it was really cool to watch him work.  He played sound cues (like Chewbacca's voice or a blaster firing) while the show was happening.  For this special evening, Newman brought together a talented group of actors who also happen to be on The Clone Wars.  As Newman put it, he simply "borrowed Dave Filoni's cast."  Speaking of the Smuggler's Gambit cast, here they are!
David Collins as Han Solo
Ashley Eckstein as Ryder Thorne
Sam Witwer as Ro Kurota
Matt Lanter as Luke Skywalker
Dee Bradley Baker as Prince Xixor
Clare Grant as Princess Leia
Matthew Wood as Bib Fortuna
Daniel Logan as Boba Fett
Tom Kane as the narrator, announcer, and Imperial Lieutenant Kane
Tom Kane began the performance of Smuggler's Gambit with his incredible announcer voice saying, "A long time ago in a galaxy far, far away…."  I got chills hearing it.  Now I don't want to ruin it for you all so I won't give the entire story away.  Instead, I'll give you some of the highlights!  The story centers around Han Solo and Chewie as they try to find a safe place for the Rebels to hide.  (Dave Collins did a spot on performance of Han Solo!)  There's a bounty hunter named Sweeper who works for Jabba the Hutt.   It's a battle of wits between Princess Leia and Han.  On their journey, Han and Chewie run into a mysterious woman named Ryder Thorne who has a "very special job" for them.  They also meet an ambitious guy named Ro Kurota who is a "local smuggler but soon to be the galaxy's most famous bounty hunter."  Prince Xixor makes a chilling appearance and what happens next is a really fun Star Wars adventure.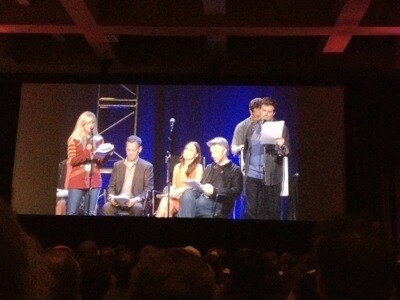 Kyle Newman said they recorded it so hopefully it'll be available for download sometime in the near future.  There's just something really neat about listening to the drama unfold with just the sound of the actor's voices and sound effects.  I was tempted to close my eyes and just listen as Smuggler's Gambit was being performed.  But all the actors were giving such great physical performances (with their face and body language) that I didn't want to miss it!
After the performance, questions were taken from the audience.  One fan asked Kyle Newman what inspired him to write this radio drama.  Newman explained how much he loved the Brian Daley Star Wars NPR Radio Dramas. You can find out more about how Brian Daley inspired him in Kyle Newman's post on the Star Wars Blog.
Matthew Wood piped in and suggested that Kyle write a Ben Quadinaros radio drama to which Newman jokingly entertained the idea.  Going back to the question, Newman shared that he's never written anything like this before.  Although, he does have 20-30 Star Wars stories already mapped out.
Then one young female fan, Alessandra Robinson, stepped to the mic and sweetly asked, "can you have more girls in the next radio drama?"  To which Ashley Eckstein replied, "I love you."  Cheers erupted amongst the crowd.  Newman told the young fan that if they do another radio drama at Celebration VII in Florida, he will give her a line to perform onstage.  I couldn't see the young girl's reaction but I'm sure she can't wait until the next Celebration!
At the end of the evening, someone mentioned that Dee Bradley Baker will be turning 50 next week!  Kyle Newman immediately got everyone to stand and sing happy birthday to a very touched Baker.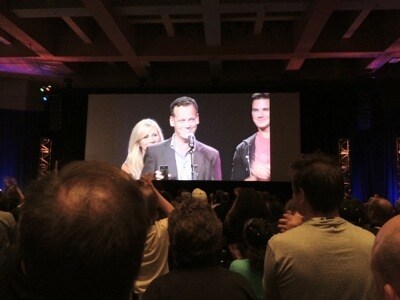 Smuggler's Gambit was such a treat to see performed live!  The great dialogue, the acting, and the sound cues brought the whole story to life in a way that people like myself have never experienced a Star Wars story before.  It was particularly special to hear a Star Wars radio drama that was written by a fan for the fans.  Not to mention the actors are all fans as well!  Which is truly what SWCVI is all about---bringing fans together to celebrate our love for Star Wars.