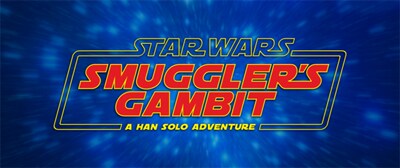 It was the late 80's and Star Wars was officially dead.  Bantha Tracks had vanished in the sand and Star Wars quickly turning into a fading franchise.  During those dark days of fandom I was desperate to get my hands on anything Star Wars to keep the magic alive.  Thankfully I discovered the Star Wars NPR Radio Dramas by Brian Daley!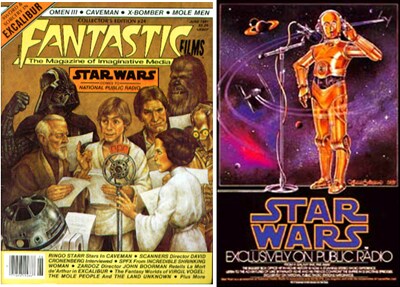 Brian's lovingly crafted audio iterations of A New Hope and The Empire Strikes Back were no mere retellings of the films that I knew so well; they breathed a life of their own and stood proud on their own artistic and technical merits.  But most importantly, they explored corners of the galaxy that I had never experienced before and even brought to life scenes that, until then, were things of folklore.  In fact, those radio dramas were my first real awareness that the world George created was more than just a series of films.  He was the author of a tale that transcended medium.  And it proved to me that Star Wars would never die.
CUT TO:  April 2012.  I had booked my flight for Celebration VI in Orlando.  Having attended Celebrations II, III, IV, V, and Europe I could not break the tradition!  But I wanted to do something at Celebration VI for fellow fans, something fun, and something that I knew the fan in me would love to experience… And that's when it hit me – I should create an audio drama!

I immediately solicited the help of my frequent collaborator and fellow Star Wars aficionado F.J. DeSanto to craft a 30 page "Radio Drama" titled Smuggler's Gambit in the spirit of those Brian Daley NPR classics set during the Original Trilogy just after the events of A New Hope.  We scripted it be to a fun, fast-paced story for all ages, featuring classic characters like Han, Luke, Leia, Chewie, R2, and Boba as well as a handful of new characters, that could be performed LIVE on stage.  We presented it to Mary Franklin at Lucasfilm who thankfully became its champion!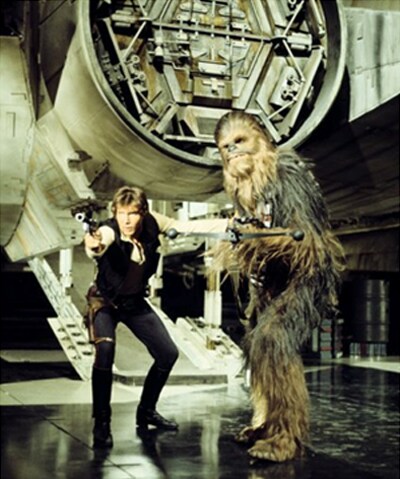 The script was now out of the way, but who could play these iconic characters…?  That question took about three seconds to answer.  I am such a massive fan of
The Clone Wars
Animated Series and the wonderfully talented cast (and family) that Dave Filoni has assembled to bring it to life.  I thought it would be a blast to have them flex their muscles in a different era… one unfolding some twenty plus years later… I mused, "How fun would it be to see Anakin Skywalker himself, Matt Lanter, bringing Luke Skywalker to life?!"   So I drafted a wish list of my favorite
Star Wars
talents, which Mary promptly got endorsed.  And miraculously, within an hour of reaching out them, they all said "yes"!  I was ecstatic. 
Smuggler's Gambit
was a go!
So without further ado here's the official cast of Smuggler's Gambit:
David Collins was a no brainer for the role of "Han Solo" after I heard his interpretation of the legendary smuggler on the recent Forcecast Holiday Special.
Ashley Eckstein steps up to the mic as "Ryder Thorne" – a conflicted upstart hustling her way through the outer rim who suddenly finds herself in way over her head on a deal...
Sam Witwer will be voicing "Ro Kurota" a brash, young smuggler turned bounty hunter eager to make a name for himself.
Matt Lanter as "Luke Skywalker".  Nuff' said.
Dee Bradley Baker, the vocal chameleon, will play notorious Black Sun crime lord "Prince Xixor" as well as "Sweeper", an unsavory face from Solo's past.
Clare Grant will bring some serious spice and wit to the role of "Princess Leia"
Matthew Wood will lend his pipes for "Bib Fortuna" (a role he played onscreen in The Phantom Menace but now gets to voice!)
Daniel Logan will be appearing as none other than "Boba Fett"!
And the incredible Tom Kane will be wearing many hats including "Imperial Lieutenant Kane", our "Narrator" and the program's "Announcer"!
Jimmy Mac, of Forcecast fame, will not only be producing the show but has crafted over 100 sound cues that will play LIVE during the production!  In addition, Paul Bateman from RalphMcQuarrie.com designed a dynamic logo that embodies the story's exciting, fast-paced, early EU vibe that we are aiming for.
AND there is a full POSTER on its way!  So stay tuned.  But in the meantime, here's a tease of the script's first page that includes the show's opening crawl:

NARRATOR
A long time ago in a galaxy far, far away...
MUSIC:
STAR WARS MAIN THEME (LOUD FOR 25 SECONDS THEN FADE DOWN, PLAYING UNDER…)
NARRATOR
Several months have passed since the Rebellion's surprise victory over the Empire at Yavin IV and the destruction of the DEATH STAR.  With the location of their secret base revealed, the Rebels are now on the run, dangerously adrift in space.
Realizing the Imperial armada is determined to quash the growing insurgency at all costs, PRINCESS LEIA, youthful leader of the Rebel Alliance, orders a covert galaxy wide search for a new hideaway to continue the Rebellion.
Spearheaded by former smugglers HAN SOLO and CHEWBACCA the Wookiee, a small reconnaissance team has been dispatched to ABROSSOS VI in hopes of securing new refuge.  But Han and Chewie, not exactly team players, are still unsure of their place in the Alliance…
I truly hope that
Smuggler's Gambit
excites fans to discover (or revisit) those classic NPR radio dramas.  
Star Wars: Smuggler's Gambit – A

LIVE

Audio Adventure
will take place one time only at Star Wars: Celebration VI on Saturday August 25 at 6pm on the Digital Stage!  I hope you all adjust your calendars accordingly to join the fun!!!
Star Wars Celebration VI is coming to Orlando, Florida on August 23-26. Join the party that brings together fans of all ages to celebrate the pop culture phenomenon that is Star Wars.