Read a full report and see photos from the reunion that kicked off Celebration Orlando in historic fashion.
Star Wars stars and creators from across the history of the saga came together for "40 Years of Star Wars" -- an emotional, funny, warm, and powerful panel that kicked off Celebration Orlando today. The surprises were many: George Lucas, unannounced, emerged to rapturous applause when introduced by Lucasfilm president Kathleen Kennedy and remained onstage throughout. Harrison Ford, also unannounced, received a long standing ovation as he made his first Celebration appearance. Billie Lourd, Carrie Fisher's daughter, offered a loving tribute to her mother including a line-for-line reading of A New Hope's "You're my only hope" monologue. And the festivities closed with the right-stage curtain pulling back to reveal John Williams and the Orlando Philharmonic Orchestra, playing "Princess Leia's Theme" in tribute to Carrie Fisher, followed by more Star Wars classics.
Hosted by Warwick Davis, the panel opened with a video looking back at Star Wars, from interviews with fans in 1977 to references in The Simpsons, and would feature more Star Wars legends: Dave Filoni, Ian McDiarmid and Hayden Christensen (making his first Celebration appearance since 2002) together, Billy Dee Williams, Peter Mayhew, Anthony Daniels, and Mark Hamill, in addition to Kennedy, Lucas, and Ford. All reminisced, told stories, remembered absent friends, and celebrated Star Wars. Here are the highlights.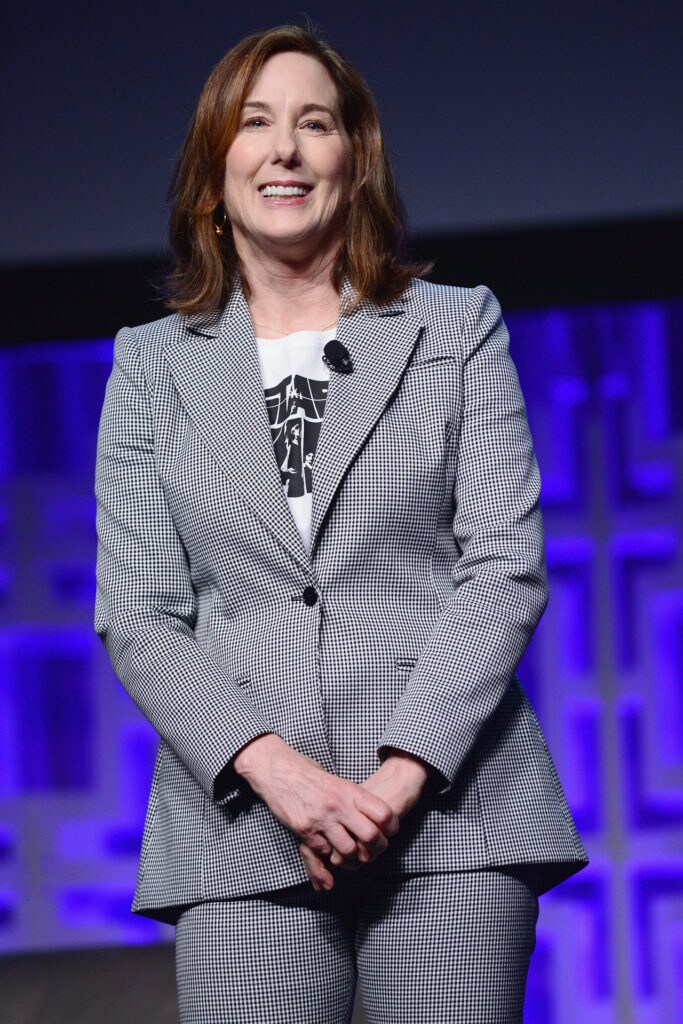 1. Kathleen Kennedy thanking fans and introducing the maker. The first guest introduced by Warwick Davis, Kennedy took the moment to reflect on the galaxy far, far away, her time at Lucasfilm, and what the fans mean to everyone working on Star Wars. "I'm sure, like me, you can't quite believe that it's been 40 years," she said. "What I've experienced has really exceeded my wildest dreams…Your passion, your dedication, and your love of Star Wars -- you have no idea how that inspires us every single day." Then came time to introduce the man who dreamed it all up. "The greatest honor for me is to acknowledge the man whose collective genius has brought us all together today." The crowd stood up, giving a raucous ovation to the Star Wars creator, chanting "Lucas, Lucas!" A great moment for fans.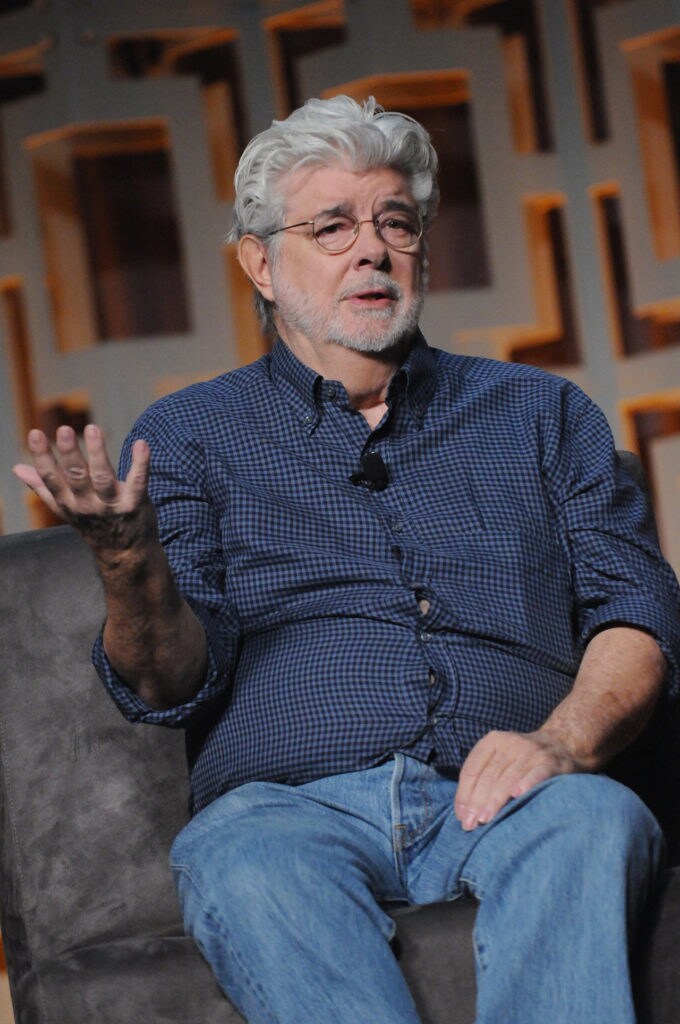 2. George Lucas reflects on the origins of Star Wars. Davis asked if there was one single moment where Star Wars came to him. As Lucas explained, it wasn't so simple. "There was a moment, but it was an idea," he said. "The idea was more, 'I would like to make an action movie that was more like a Saturday matinee…but imbue it with mythological motifs.'" Lucas also recounted how Star Wars was a tough sell. THX 1138 wasn't really a hit, and the studio didn't like his then-unreleased American Graffiti. But, after an early screening, Alan Ladd at 20th Century Fox loved American Graffiti and wanted Lucas' next movie, whatever it was. It was Star Wars.
Lucas would also reiterate his intention with Star Wars. "It's a film for 12-year-olds," he said. It's about, "'This is what we stand for. You're about to enter the real world.'" He centered its themes around "what you should pay attention to": friendships, honesty, trust. "Those are things that it was meant to do. And obviously, the real thrill is when I see the fans."
3. A young Warwick Davis' letter to George Lucas. Davis was cast as Wicket the Ewok when he was only 11 -- the dream of essentially every 11-year-old at that time -- and read aloud a note he penned to Lucas following production on Return of the Jedi. "My name is Warwick," it read. "I hope you remember me. I helped you make the new Star Wars film last year." The point of the letter? To ask for toys, of course, specifically an Ewok and Jabba the Hutt. The letter was shown on the big screen, and on the next slide, fans saw a beaming young Davis, Star Wars toys proudly on display.
4. Dave Filoni names the most important lesson he learned from Lucas. When Lucas decided to bring Star Wars to TV animation in the form of Star Wars: The Clone Wars, Dave Filoni was hired as supervising director and shepherded the series. He worked closely with Lucas throughout the show's entire run, and was something of a Padawan to Lucas' Jedi Master. "I'm really lucky," Filoni said. "I would say the most important lesson there is, he would always tell me, 'Don't be afraid.'" It would have been easy to be overwhelmed working onStar Wars, to not want to break it, Filoni said. But Lucas encouraged new ideas and new experiments. They used a new program to make The Clone Wars, they told new kinds of stories, they introduced new characters. "Make no decision out of fear," Filoni reiterated.
TV, in turn, was rewarding for Lucas because of all the opportunities it offered. "It's a great experimental cauldron because there's not that much at stake," Lucas said. You can put out a lot of stories without all the financial risk of a movie, and the stories of The Clone Wars were more interesting in "long form." "We were trying very hard, and I think we succeeded, to do a feature-quality TV show," Lucas said. "We were able to bring in great characters like Ahsoka that we would've never been able to have."
5. Liam Neeson sends a video message from the...Jar Jar Binks set? In another surprise, Liam Neeson sent a greeting to fans. "I've been very honored to play Qui-Gon Jinn in The Phantom Menace," he said, and then jokingly noted that he was on location making a movie...about Jar Jar. "Spoiler: he went to the dark side."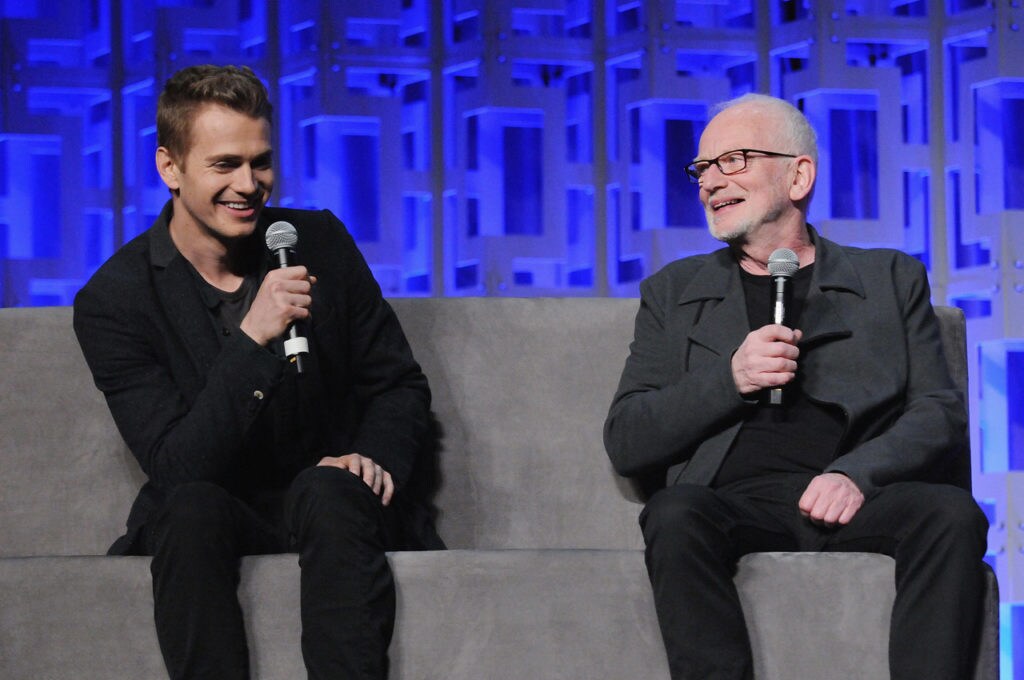 6. Sith Master and apprentice, reunited. Ian McDiarmid and Hayden Christensen took the stage together to a jubilant ovation. (The announcement that Christensen was coming to Celebration was met with great enthusiasm by fans online.) Of all his evil moments, McDiarmid named the opera scene where Palpatine first starts to truly tempt Anakin in Revenge of the Sith as his favorite. "[Lucas] wrote that scene originally [set] in another office…and then he said, 'I think we should go somewhere else for a change.'" That led to the opera setting that afforded a different interplay between the actors. "Hayden and I could really sit down and, from my point of view, anyway, have a really evil chat."
Christensen recalled that he had one issue while shooting lightsaber duels in the prequels. "I had been conditioned from a very young age to make the [lightsaber] sound effect…but it was a difficult habit to break," he said. "George would come over and say, 'That looks really great, but I can see your mouth moving. You don't have to do that -- we add the sound effects in afterwards.'"
McDiarmid saw some of the rehearsals for Christensen's duel with Ewan McGregor's Obi-Wan in Revenge of the Sith, and he was always impressed. "I used to say they should take their sabers and get on the road to show what brilliant fighters they were."
7. Mace Windu strikes back. Samuel L. Jackson also sent video greetings, and had a lot to say about the purple-saber wielding Jedi he played...and hopes to play again. "It's been a real honor and privilege being part of the Star Wars community," he said. "We know Jedi can fall from incredible heights and survive…I'm not dead!" He encouraged fans to get on board. "Mace Windu is awaiting his return, let's make it happen," he continued. "See you soon, on-screen, I hope."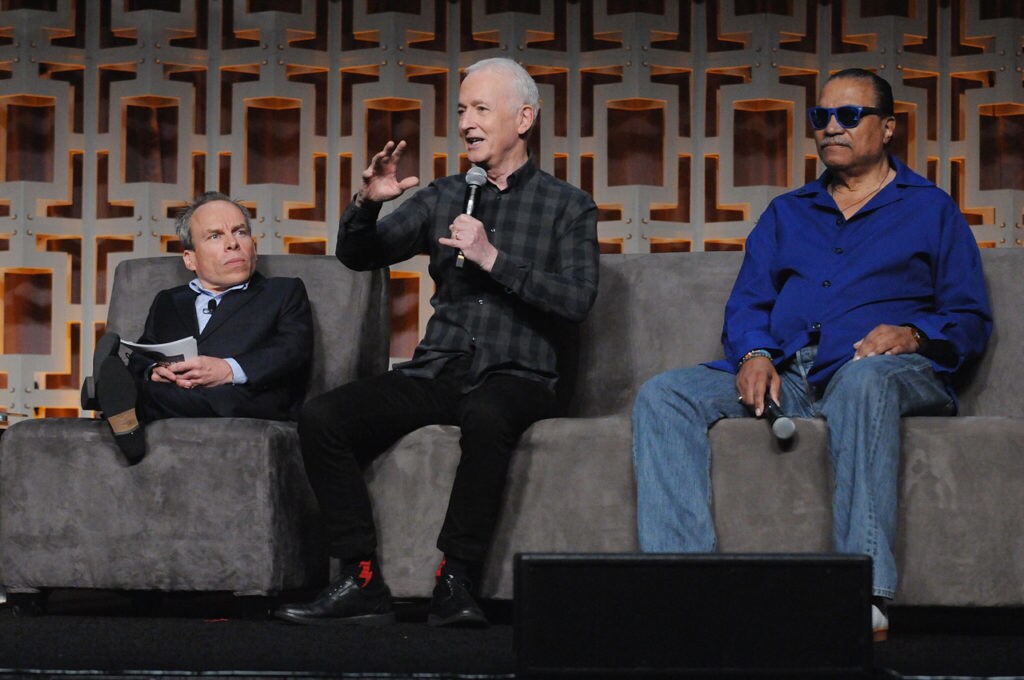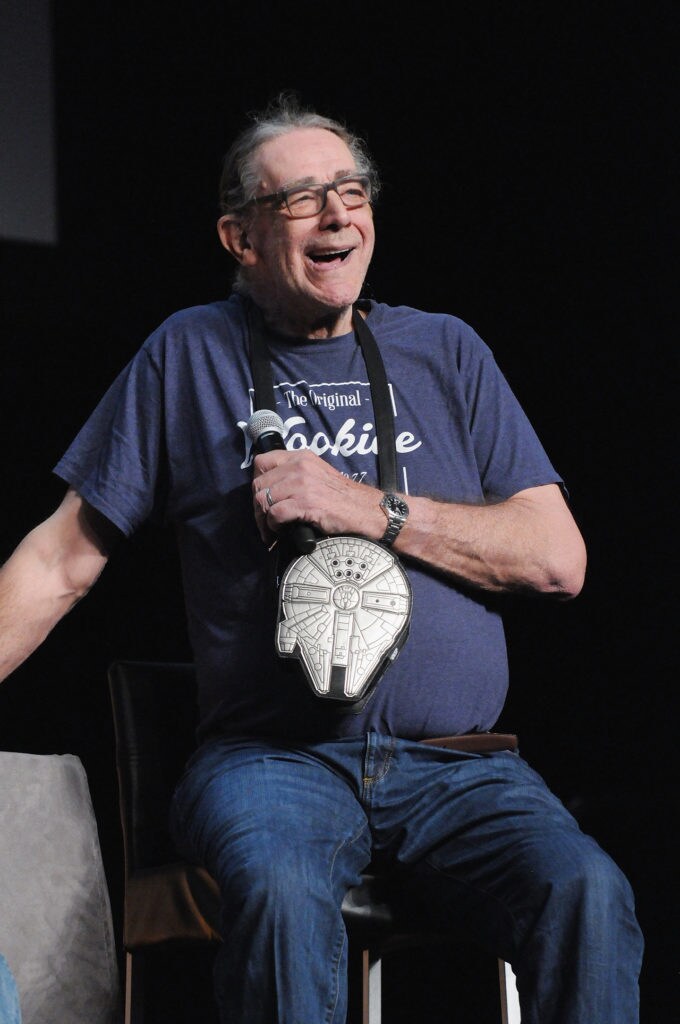 8. Learning how C-3PO, Chewbacca, and Lando Calrissian came to be. Anthony Daniels, Peter Mayhew, and Billy Dee Williams all came out for discussion together, and looked back on the beginnings of their characters with Lucas. Regarding Threepio, Lucas said to Daniels: "The key to the construction of you was the face. The face had to be absolutely neutral so you could act, and the acting would come through, and it wouldn't be counter to what your face was doing." He noted that once Daniels was in the suit, the character came alive. Ironically, of all potential Threepio faces, the one selected was Daniels' least favorite.
Mayhew said of the walking carpet he brought to life: "There's a lot of Chewie [in me]. The way I looked at it was that it was a mime character…I think it worked very well." He also said of Carrie Fisher, "She's a hell of a rebel, but she's also a beautiful princess."
Lucas confirmed that the idea for Chewie came from his own furry companion. "The stories are all true," he said. "I had a large dog named Indiana," he said, that would sit in the front passenger seat alongside him. "I loved that image."
Williams was already a Lucas fan when the chance to be in Star Wars arose. "I was a fan of THX 1138," he said. "That's when I got turned onto George Lucas. At that particular time, there were all these wonderful young filmmakers changing the face of cinema. George was certainly at the helm of that period." Joining the saga, then, was a no-brainer. "When I had the opportunity to work with George Lucas, I thought that was like going straight to heaven. It was a wonderful, extraordinary experience that I'm very happy to have had." Williams had certain goals for Lando. He wanted him to be unique, new. "I didn't want to do a stereotypical, cliché kind of character. I wanted to do something special with it. Something larger than life."
9. Lucas cast the original hero roles -- Han, Luke, and Leia -- with actors who seemed to have the bond of old friends."I wanted to have the chemistry of them working together built-in," he said. He looked at potential Luke Skywalkers for a year, along with the other characters, and finally whittled the list down to three favorites for each. They were then mixed and matched until Mark Hamill, Harrison Ford, and Carrie Fisher were cast. But there was another reason Hamill was chosen. "That and the fact that he's shorter than I was."
10. Mark Hamill and Harrison Ford. 'Nuff said. Hamill took the stage, bearded and sporting a sharp black-leather jacket, to great applause. Following him a few minutes later was Harrison Ford, garnering a long, long standing ovation. Both spoke about what Star Wars has meant and means to them. "It's really moving and nothing I've ever taken for granted," Hamill said of hearing the impact on fans' lives. "I'm really just stunned at the passion that has lasted all these years."
Ford talked about his time as a young actor, working as a carpenter to make ends meet before finally getting cast in Star Wars. For Ford, Star Wars resonated because of the story. "You can have the most brilliant cast in the world, but they have [to have] a story to tell," he said. "It was a brilliant invention of a mythology that has sustained interest for over 40 years. And that's made up whole-cloth by George. And an actor without a story to tell might as well go home."
11. Remembering Carrie Fisher. The panel closed with very moving tributes to Star Wars' princess. "She could hold her own against anything. She wore a dress through the whole thing, but she was the toughest one of the group," Lucas said. "It really shows the level of her talent, and at the same time, she was fun to be with...We'll all love her forever and ever."
Poignantly, Kennedy discussed Fisher's legacy. "She will not only be remembered forever by those luckiest to know her, but she will be remembered forever by those not yet old enough to say 'May the Force be with you.'"
Fisher's daughter, Billie Lourd, was the last to speak. Wearing a Leia-like white dress, she discussed her mother's impact, her talents, her honesty about her problems, and about how much she loved Star Wars. "Nothing about her was a performance. She loved you, she loved these movies," Lourd said. And she loved Leia.
A tribute video to Fisher was then played; it featured interview clips of Fisher and her friends, as well as behind-the-scenes footage, and fans were wiping away tears. You can watch the video below.

The panel closed with the previously mentioned performance by John Williams, capping what became a celebration of both 
Star Wars 
and its princess. For those in attendance, it was fitting for the magic given to the world by both.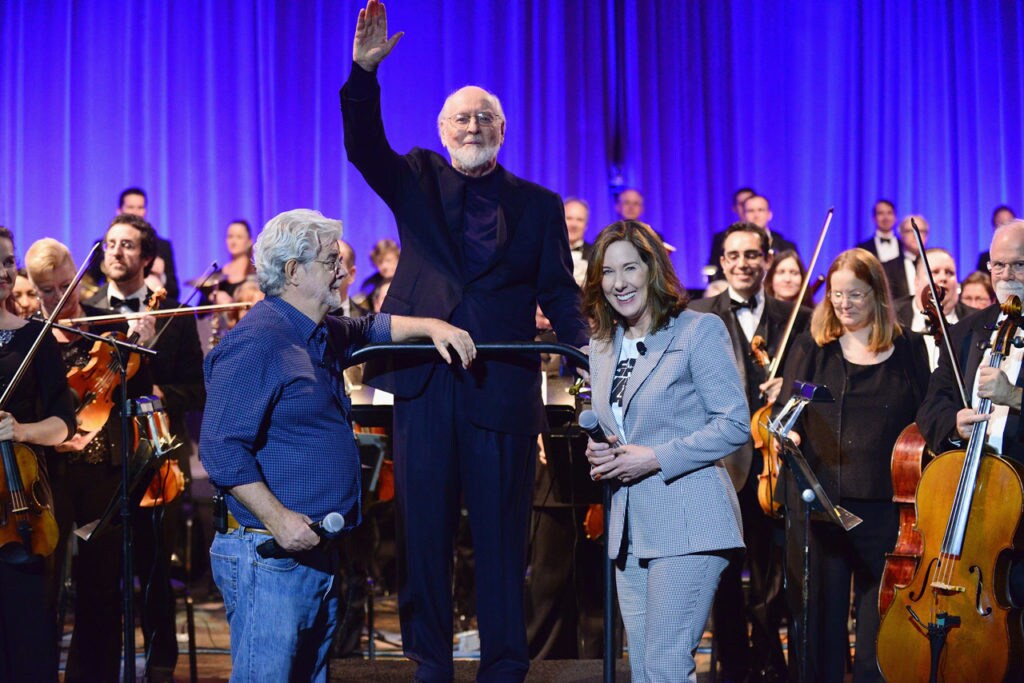 Special thanks to RTS. Visit their official site, YouTube channel, and Facebook page.
Dan Brooks is Lucasfilm's senior content writer and editor of the StarWars.com blog. He loves Star Wars, ELO, and the New York Rangers, Jets, and Yankees. Follow him on Twitter @dan_brooks where he rants about all these things.