Get all the big insights from director J.J. Abrams and the cast of Star Wars: The Rise of Skywalker.
Right now, many Star Wars fans are cackling with glee -- much like the Emperor.
Star Wars Celebration Chicago kicked off with our first look at the beyond-highly-anticipated Star Wars: Episode IX -- now revealed as Star Wars: The Rise of Skywalker, the final film of the Skywalker saga. In a panel hosted by Stephen Colbert (who immediately won over the crowd with the brilliant in-joke, "I just flew in from Dagobah, and boy are my S-foils locked in attack position."), fans were treated to discussions about the making of the film with director/writer J.J. Abrams, Lucasfilm President Kathleen Kennedy, Daisy Ridley (Rey), John Boyega (Finn), Oscar Isaac (Poe Dameron), Billy Dee Williams (Lando Calrissian), Kelly Marie Tran (Rose Tico), Anthony Daniels (C-3PO), Joonas Suotamo (Chewbacca), and Naomi Ackie (Jannah). (R2-D2, BB-8, and new droid pal D-O also made appearances.) It was a revealing, emotional talk -- here are 13 things we learned.

1. The film's official name is Star Wars: The Rise of Skywalker, and its teaser is both thrilling and shocking. Really. 
The panel ended with the debut of a teaser for the film, featuring mysterious words from Luke to Rey, an emotional shot of Leia embracing Rey, and an ending that left the crowd roaring.
Following the teaser, Emperor actor Ian McDiarmid took the stage to a raucous ovation. "Roll it again," he said in full Palpatinie voice. Thankfully, they did.
2. The filmmakers continue to work on the movie, and can't wait to share it with the world. "The thing I think about all the time is the responsibility we have," said Kathleen Kennedy, seated next to J.J. Abrams. "And we have it with all of you, and it's something that we talk about every minute that we're involved making these movies and this one in particular." In a video shown at the beginning of the panel featuring outtakes and interview clips from throughout the history of the Star Wars films, George Lucas states, "I think of it more as three three-act plays." Kennedy referenced that in discussing their approach to the film.
"We've immersed ourselves in everything George [Lucas] created, talked about it endlessly, and we're so excited," Kennedy said. "I think what you're going to end up seeing, you're going to be so happy with. We're incredibly excited to show it to you. And this guy sitting next to me, he cares more than anybody I know."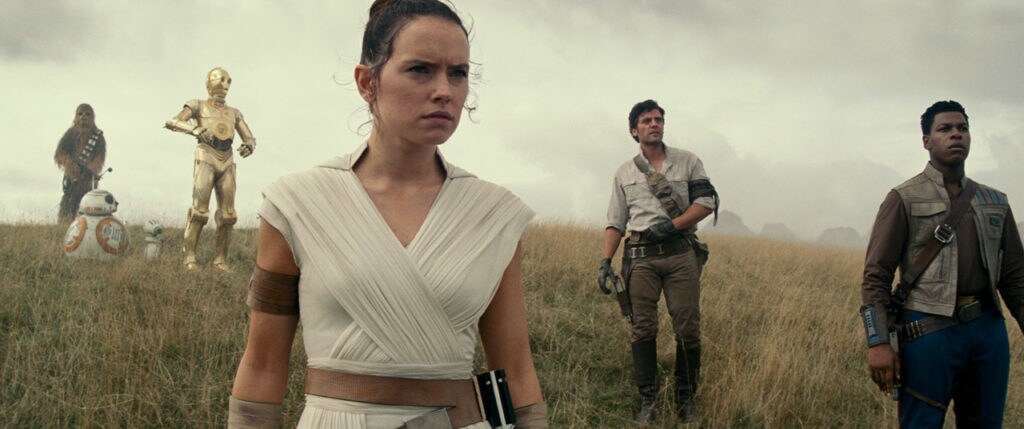 3. Some time has passed between Star Wars: The Last Jedi and The Rise of Skywalker. Abrams confirmed that movie doesn't pick up right were Episode VIII left off. "What I'll say is, in this movie, this is an adventure that the group goes on together. One of the great things about the movie, and getting to work on it, was the dynamic between the characters. They are just the most wonderful together, and that's what I'm excited for you all to see."
4. A real-world feel was important to Abrams. From building sets to shooting on location in England and Jordan, capturing locales and effects in-camera was paramount. "We tried to keep it as real as possible, as physical as possible."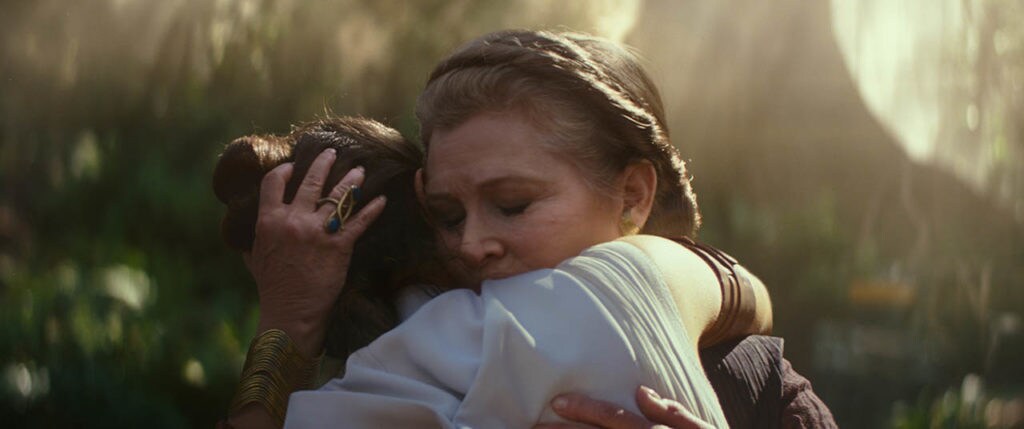 5. Carrie Fisher's presence in the film is especially meaningful for all involved. Though Fisher passed away following work on The Last Jedi, she is featured in The Rise of Skywalker thanks to unused footage from The Force Awakens. "Every day it hits me that she's not here, but it's so surreal because we're working with her still," Abrams said. "Princess Leia lives in this film, in some ways that are really mind-blowing to me."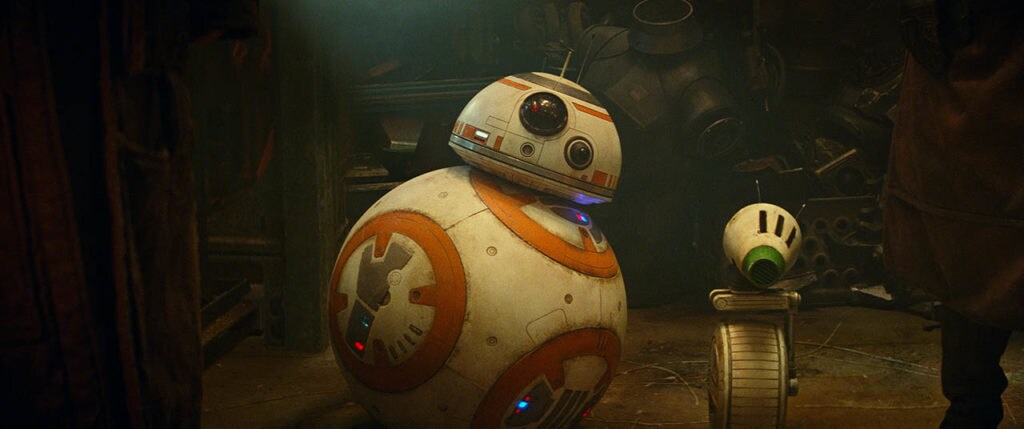 6. BB-8 has a new friend. Meet D-O, an adorable, single-wheel droid debuting in The Rise of Skywalker; he rolled out on stage to join his fellow cast members. "When we did the film, we never had D-O exist quite this way," Abrams said. This version was created solely for Celebration. "This, really, was built for you," he said.
Fans were also introduced to Klaud, a tall, yellowish slug-like alien, via a still from the movie also featuring Greg Grunberg's Snap Wexley character. "When we made Episode VII, I felt like there was no way we could top what was created in terms of creatures," Abrams said. "When you see this movie, you'll see that Neil [Scanlan] and the whole creature team did it."
7. Just who is Jannah? "All I can really say is the original group is going on this epic, epic adventure together, and Jannah crosses paths with them," said Naomi Ackie, making her Star Wars debut in The Rise of Skywalker as Jannah. Colbert asked the actor if her character just might be the daughter of a smooth-talking scoundrel named Lando. "Listen, Lando is a very charming man. So he could have children all over the universe," she teased.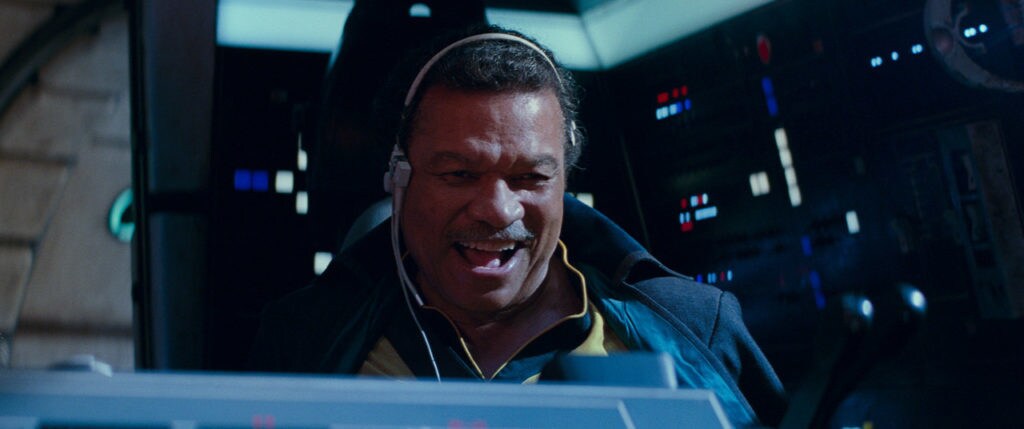 8. "Lando never left me." Billy Dee Williams received a standing ovation upon taking the stage, and expressed his joy at returning to the role of Lando Calrissian. "I'm a very lucky person," he said. "I didn't expect to be in this little adventure. But I got lucky and I ended up working with somebody that I have tremendous regard for, J.J. Abrams…I regard this as a true highlight in my life." When asked how he got back into character, Williams was succinct, with a line that drew great applause: "Lando never left me," he said.
9. Finn has found his place. While John Boyega couldn't say much about his character, he did note that he thinks Finn has reached an understanding of who he is. "On this adventure, I just think Finn has found his identity within the Resistance," he said. Boyega noted that the costume was also integral to this, and Finn's new duds look completely Resistance and unique for the character.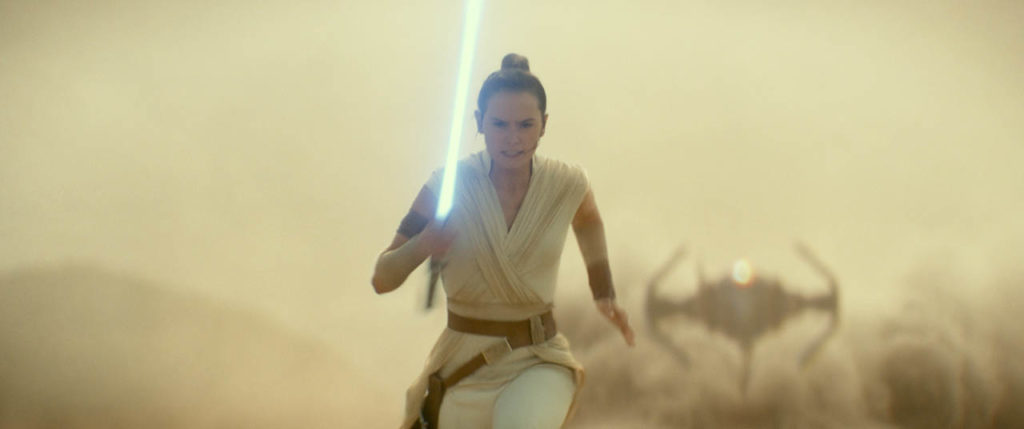 10. Will we see Rey employing some new Force powers? "There are some extraordinary things that the character and Daisy did in this movie," Abrams said.
11. Welcome back, Rose. Actor Kelly Marie Tran received a thunderous ovation -- clearly an emotional moment for the actor. "I was grateful to Rian Johnson for so many things in [Episode] VIII," Abrams said. "The greatest thing for me was casting Kelly Marie." Tran talked about how narrating the Cobalt Squadron audiobook, a pre-The Last Jedi tale about Rose and her sister Paige, helped inform her performance in The Rise of Skywalker, but was non-comital on whether she and Finn share a kiss again in The Rise of Skywalker. "Finn's a very eligible bachelor," she said. "Much like John Boyega..."
12. Is Poe a better pilot than Han Solo? Colbert raised the near-blasphemous question to Oscar Isaac. "No one can pilot the Millennium Falcon like Han," he said. "However, Poe can fly anything. I'm just saying Poe is the better Uber driver."
13. Check out the new teaser poster...
After the panel, a teaser poster -- featuring the movie's official logo -- was released. December can't get here soon enough.
Visit StarWars.com's Star Wars Celebration Chicago hub for all the latest Celebration news.
Dan Brooks is Lucasfilm's senior content strategist of online, the editor of StarWars.com, and a writer. He loves Star Wars, ELO, and the New York Rangers, Jets, and Yankees. Follow him on Twitter @dan_brooks where he rants about all these things.
Site tags: #StarWarsCelebrationChicago2019, #SWCCPanel