With a story rooted in
 real-world history and classic
Star Wars
themes, 
Studio La Cachette's new short strikes a universal chord.
"Meet the Visionaries" is a StarWars.com series of interviews with the directors of Star Wars: Visions Volume 2, now streaming on Disney+.
On a rainy night, gleeful stormtroopers pile into an extravagant performance hall. The staff seems to welcome them with warm smiles. But backstage, Loi'e, a dancer from a horned alien race, prepares a set of tracking devices. She and her team gather before the show begins. "To the ones we've lost," they say as the curtain rises. This is the setup of Studio La Cachette's "The Spy Dancer," a stunningly animated French entry from the world-spanning anthology Star Wars: Visions Volume 2. The short was directed, designed, and co-written by experienced animator Julien Chheng.
You may recognize Studio La Cachette as the animation house behind the Emmy-award-winning series Primal and the Love Death + Robots episode "Sucker of Souls." Across projects, its animation and storytelling sensibilities consistently blend exhilaration, charm, and awe. "We share a strong love for 2D animation and the energy and emotion you can convey with a simple line stroke," Chheng, who also co-founded the studio, tells Starwars.com.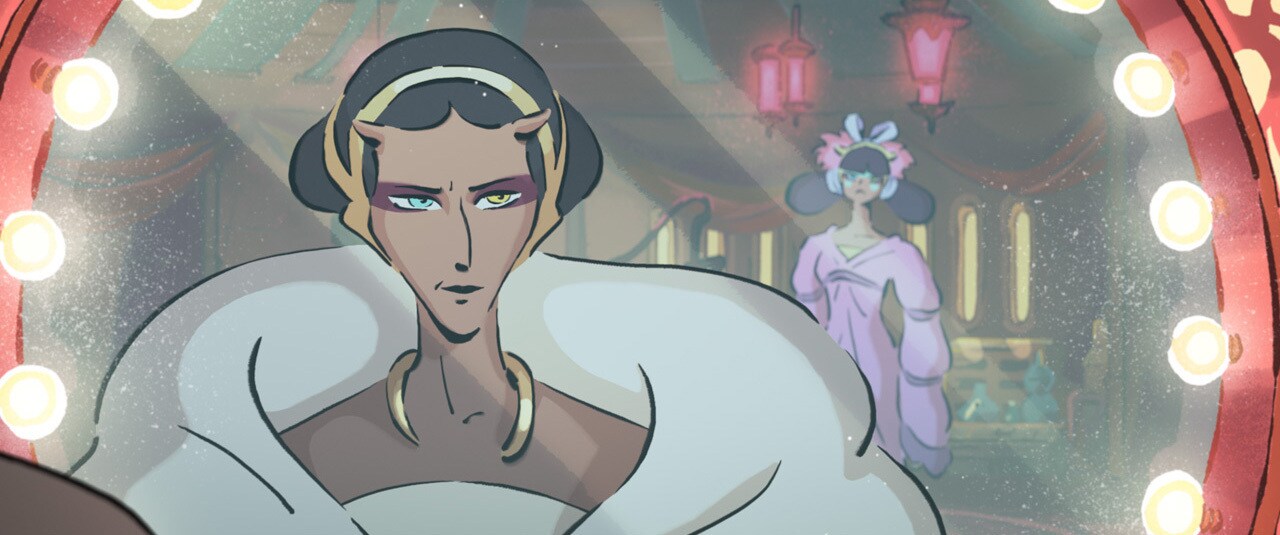 A lifelong artist, Chheng operates from a philosophy that a drawing is good when it looks simple but has more to it. This core idea resonates throughout "The Spy Dancer." Visually, this means the staging and stakes are always clear, but still impactful. On a narrative level, the film can be summed up with a single sentence: A dancer who has lost her son spies on the Empire while performing in the cabaret. But within that straightforward premise, Chheng and his team deftly weave abundant historical inspiration and emotional complexity. "I like when a story is subtle but direct, with a sense of scale, drama, and strong emotions," Chheng says.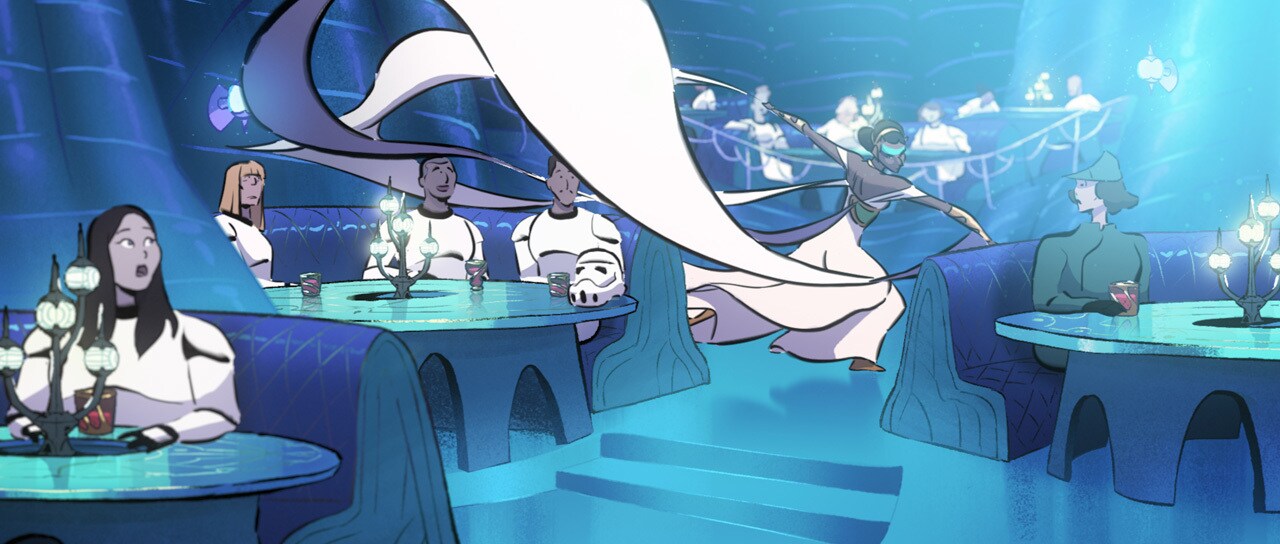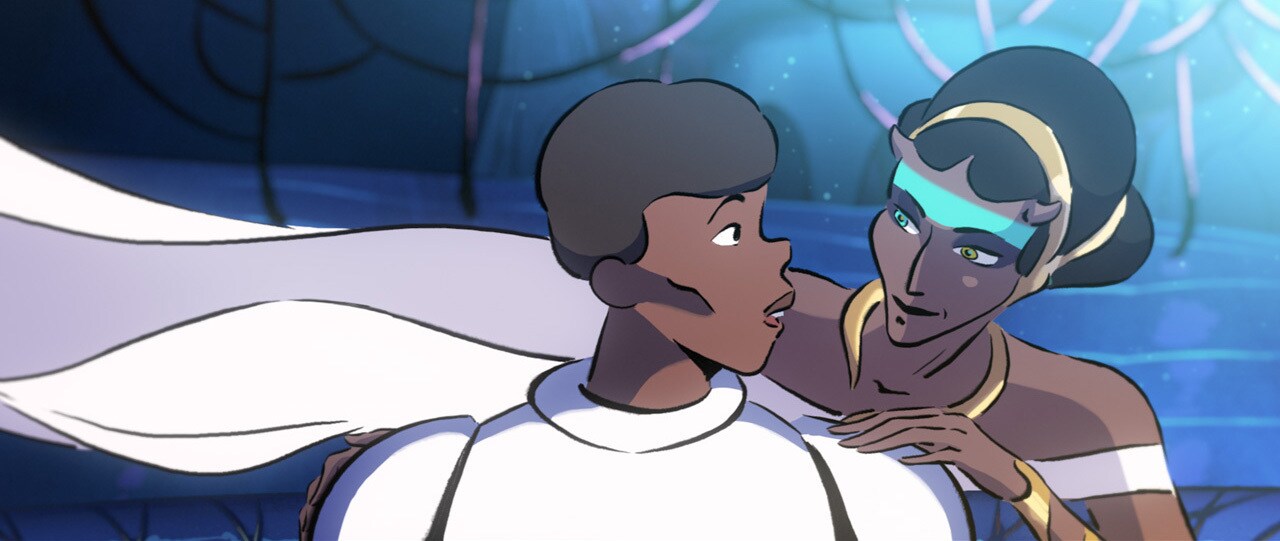 In the short, Loi'e begins her dance, flowing through the room while secretly placing trackers on the Imperials. But there's a complication. Up in the rafters, she sees the Imperial officer who took her son from her 20 years ago. She chooses to forgo her mission for the opportunity to assassinate him. She stops short, however, later realizing it's not the man who abducted her son. It is her son — now a full-fledged Imperial officer. For this twist, Chheng intentionally called on the strength of Star Wars' history of iconic family reveals, and also took inspiration from young Anakin being separated from his mother in the prequels. "To me, it was important that we create such a twist and do our best to make the reveal work throughout the story," he says. "I always wondered how it would feel for a kid to be separated from his mother and how she, in turn, would accept such a separation. Everything was already there in the Star Wars saga, and it made me think about how we could do something original based on those concepts."

This aspect of the short is a major reason why it has enjoyed a great reception and resonated with many since its release. "A lot of people connected with the story and characters in a way specific to their own history and culture," Chheng says. "I had nice feedback from people from Argentina or Cambodia, where part of my family is from. These are countries that have suffered from the most cruel of wars. I also had great comments from mothers worldwide that identified with Loi'e. As mothers, they felt they would also do anything to get their children back on the right track. Those reactions were all emotional for me."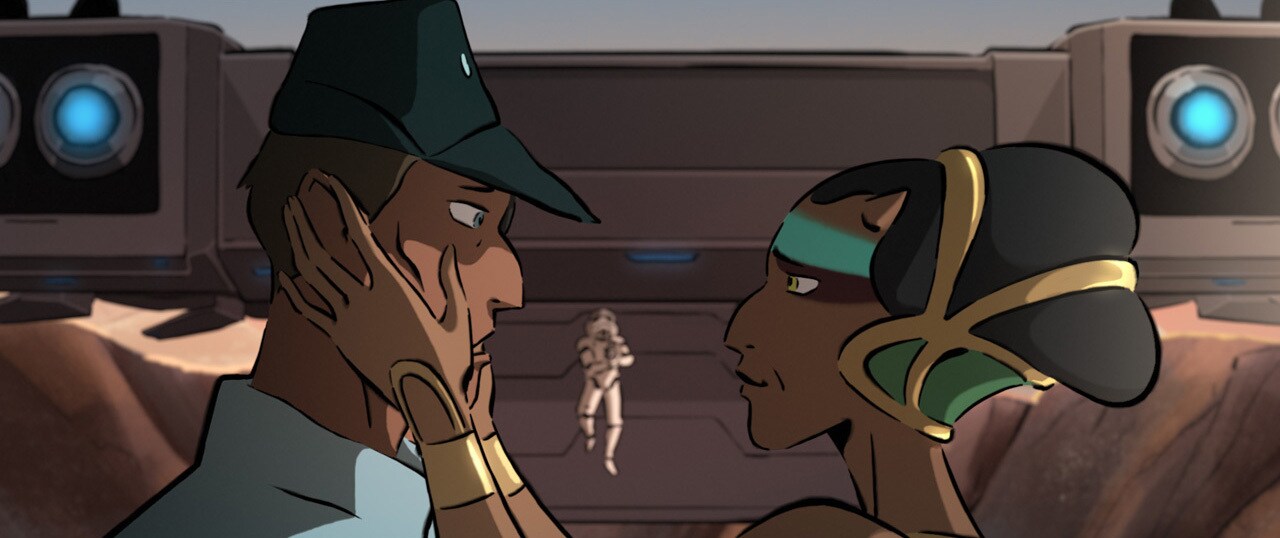 In the short, when Loi'e confronts her son with knowledge of who he truly is, he tries to attack her while spewing Imperial ideology. Instead of fighting back, she embraces him. Hugging her son for the first time in decades. "Maybe it's indirect, but in the far back of my head, I also wanted to speak to my family's history," says Chheng. "During the Khmer Rouge, the regime was very harsh and cruel. They would turn family members against each other and enroll sons into their ranks. It's a very painful history that we share now, but it's also the story of wars everywhere in the world. I like that this film has given me the opportunity to speak, in subtext, about invasions and war."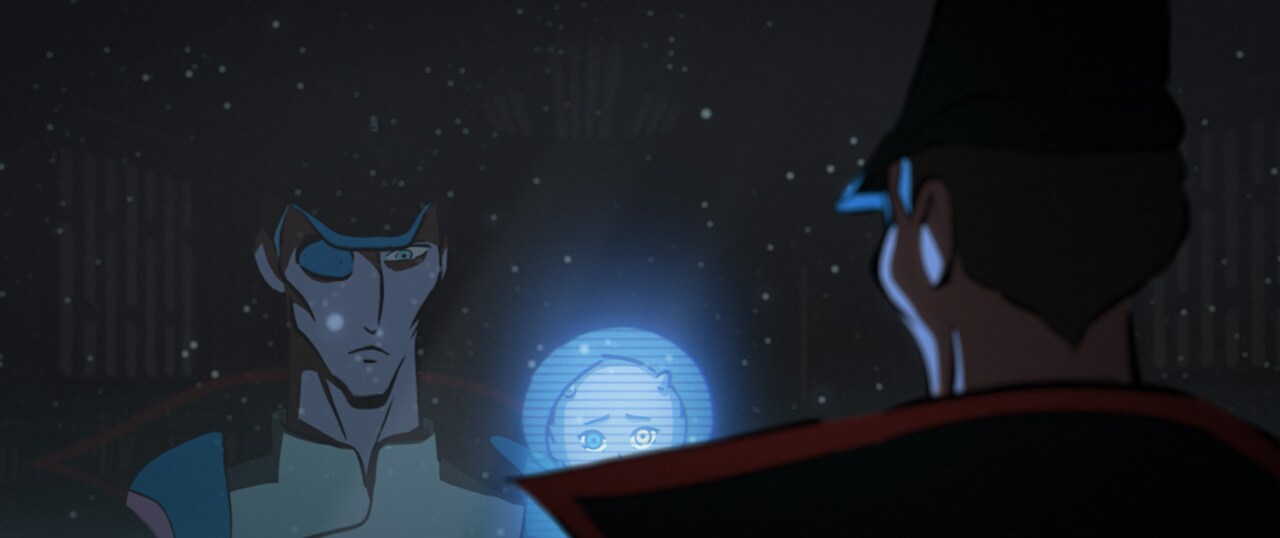 "The Spy Dancer" ends with Loi'e and her son separated again. When her friends ask what happened, she responds not with despair, but with hope. "All these years, I thought he was lost," she says. "Now I have a way back to him, and he has a way back to me." Back on his ship, her son removes his cap, allowing us to see the scars where his horns once were. He stares at his reflection, and the last shot we see is his hand dropping down — holding firmly a tracker given to him by his mother. "When you have the credits rolling, I always like to have the audience still questioning themselves about what they saw, reviving the story, and projecting themselves in the next steps the characters are going to face," Chheng says.

It is obvious on every level that Chheng and his team poured a lot into their film. As new viewers continue to connect with Loi'e's story, they're sure to discover even greater depths under Studio La Cachette's "simple" line strokes.