How the Star Wars: Visions Volume 2 directors' respective expertise informed an acclaimed new short.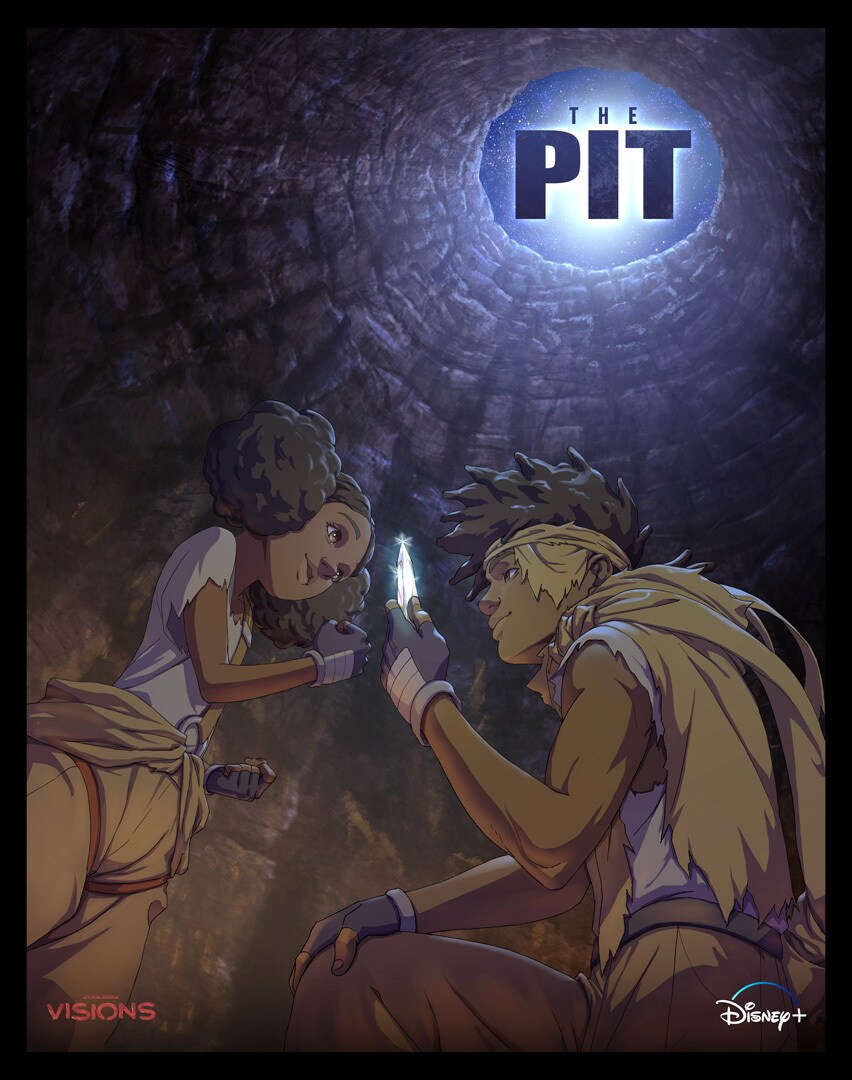 "Meet the Visionaries" is a StarWars.com series of interviews with the directors of Star Wars: Visions Volume 2, now streaming on Disney+.
On an unspecified desert planet, a group of Imperial prisoners is forced to mine out a cache of a valuable resource: kyber crystals. The group includes the elderly, children, and everyone in-between. When they finish the job a celebration ensues, but as the enslaved look up, they see their stormtrooper overseers intend to abandon them in the massive pit with no easy way out. We follow the efforts of a young man, Crux, climbing up to hopefully rally a nearby community to help save his people. This is the story of "The Pit," a moving short that comes as part of Volume 2 in the multi-national animated anthology series Star Wars: Visions.
"The Pit" is one of the rare Visions shorts brought to us by a pair of directors — in this case, Lucasfilm veterans LeAndre Thomas and Justin Ridge — and through a partnership with D'ART Shtajio, a Black-owned Japanese animation studio that folds in both Eastern and Western influences. Since its debut, "The Pit" has received a warm response. "I didn't know how people would take it since it's such a different Star Wars movie. But a lot of fans have said it's their favorite Star Wars thing that they've seen," Thomas, who also wrote the "The Pit" (see his discussion with Lucasfilm on the story's origins), tells StarWars.com. "It's super humbling and heartwarming to hear."
"With anything Star Wars, you never know what the reaction is going to be," Ridge adds, laughing. "But very grateful it's been positive."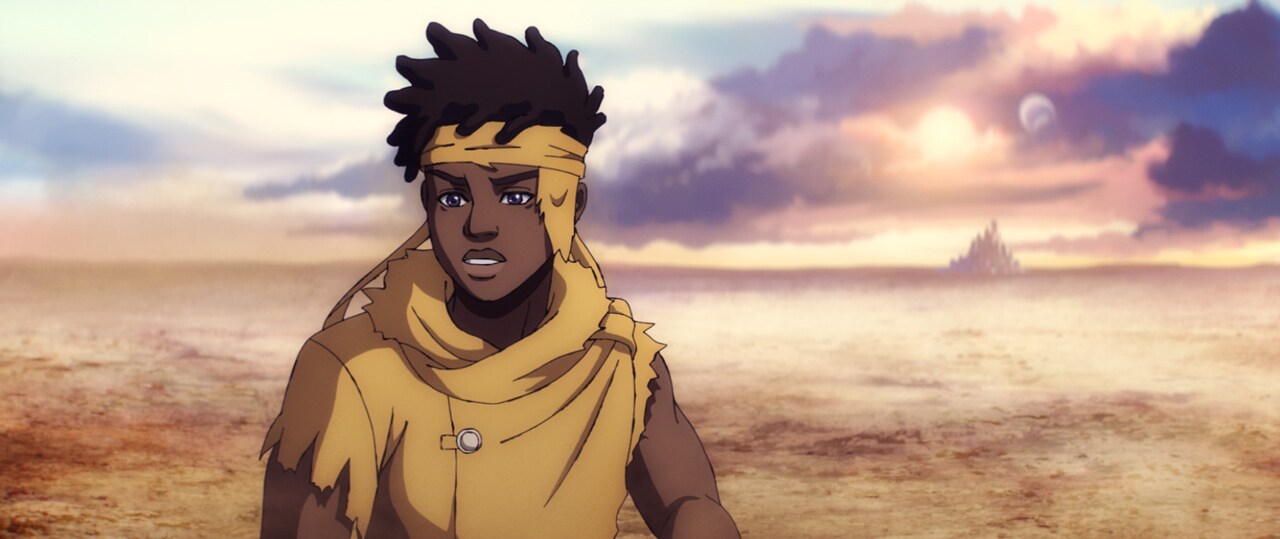 While ultimately a hopeful story, "The Pit" has a notably dark story beat. Crux eventually makes it out of the pit and into a nearby city center, where he tries to enlist the help of passersby. But he is soon apprehended by stormtroopers — who kill him by throwing him back into the pit. "[Crux's death] was always part of the script from the first draft. It wasn't something we wanted to do — to make an emotional beat that heavy and kill a character, particularly a character of color," Thomas says. "We made sure we weren't including any graphic imagery. There aren't any lightsaber fights in this movie. There are blasters, but only one is fired, and it's a stun at that. We took that very seriously."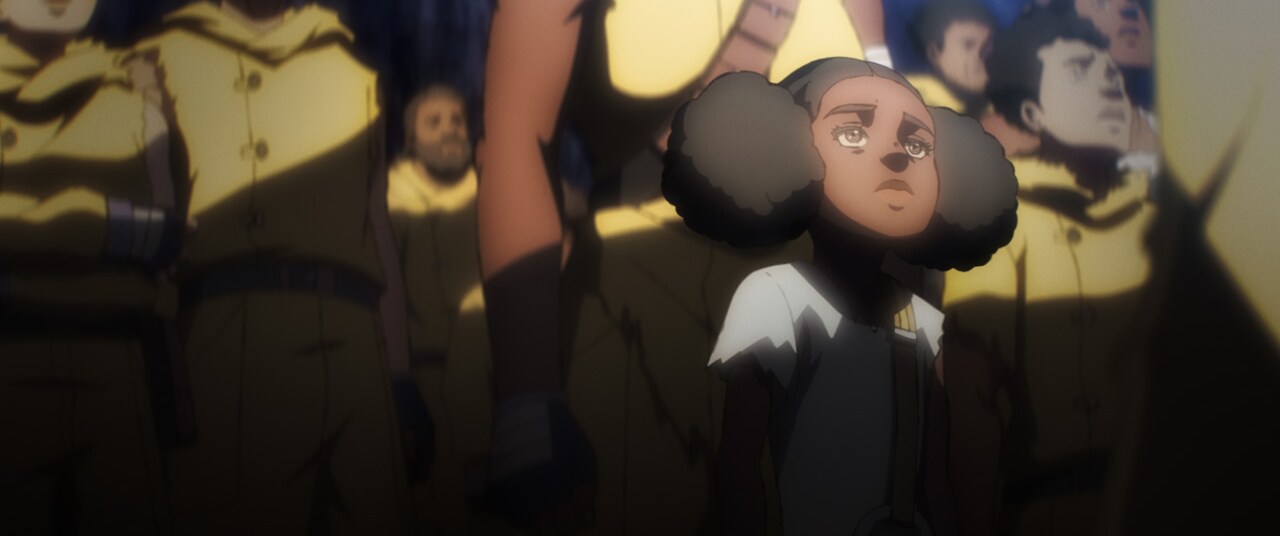 Crux dies, but "The Pit" continues. In time, his efforts and philosophies reach his people (particularly a young girl named Livy) and the nearby townsfolk who eventually overwhelm the stormtroopers and rescue the trapped prisoners. Crux's mantra to "Follow the light" becomes a rallying cry for his people. "Again, it doesn't make us happy, but [Crux's death] served a purpose and made the film a story that's honest and connected to the real world."

While experienced in live action, "The Pit" was Thomas's first time directing animation. "It was an adjustment, but something that I embraced," he says. "There is so much you can do with the medium, and luckily I had Justin by my side."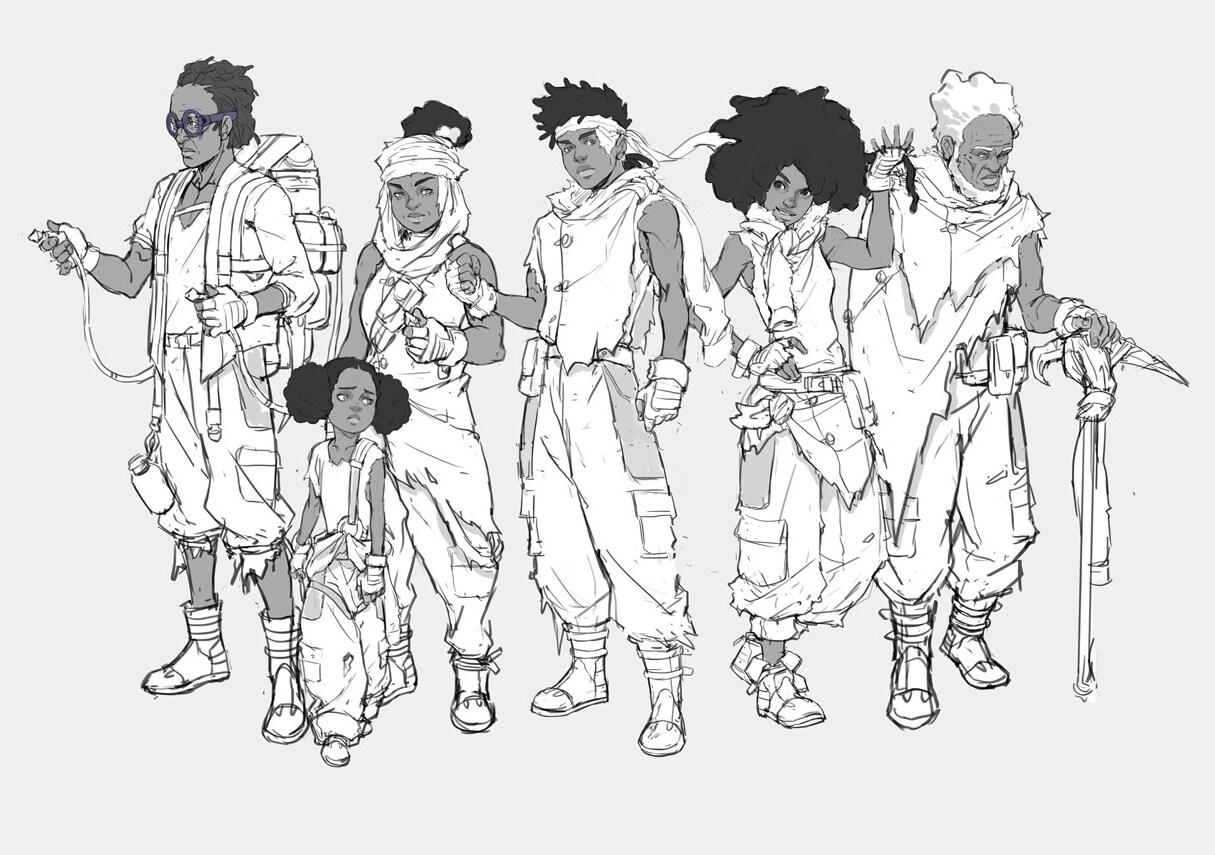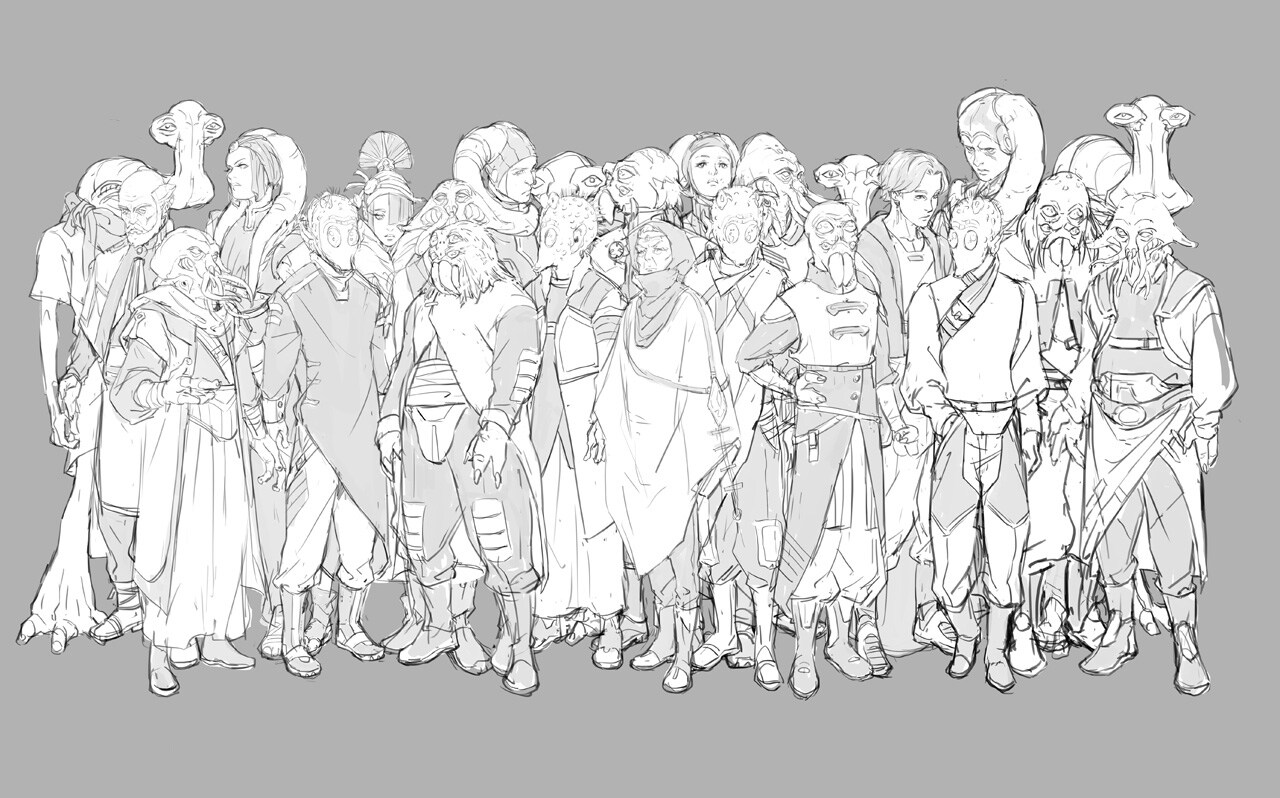 In addition to his creative vision and story sense, Thomas brought his experience with coaching performances, having learned lessons from his short film Mirror. "I got to work with a lot of kids for Mirror, and one of the things I learned is to not direct down to them," he says. "Treat them like you would any adult. Working with Jordyn Curet, who plays Livy in the movie, I approached it the same way.
"She's very talented and came with such a serious approach that I didn't need to do much handholding with her. She knew the tone the story represented, and we could have adult conversations about what we were trying to do."
For the other half of the directorial collaboration, Ridge brought his vast experience with the medium and technical know-how. You may recognize Ridge's name as the supervising director and executive producer for Star Wars Resistance and from over a dozen animated projects inside and outside of Star Wars (Star Wars Rebels, Avatar: The Last Airbender, Ferdinand, Cat Scratch, and more). "My role was to hear LeAndre's vision. It was like, 'Well, these are the puzzle pieces; how do we make the complete puzzle?'" he says.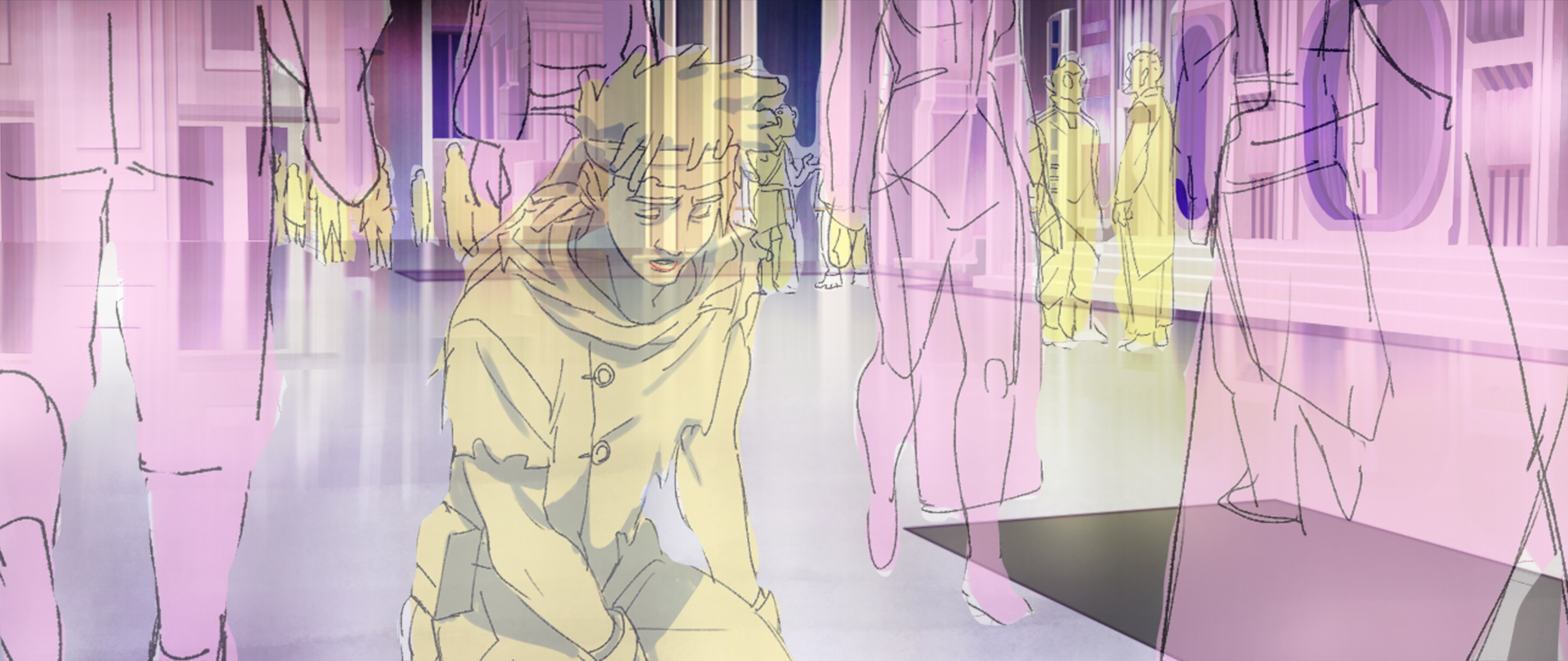 "Animation is difficult no matter how you do it," Ridge continues. "You don't want to break the animators. But you don't want to water it down to be like, cheap Saturday morning animation. How can you tell that story the best way possible, but still have it sustainable for everyone?"

When Crux makes it to the nearby city, the audience sees lively shots of a city square full of various species. Alongside the other shots of large crowds in the film, these moments had the potential to become overly taxing and expensive in a medium like animation. But with the expertise of Ridge and studio D'ART Shtajio alike, the team worked toward creative solutions. "Through shot selection, you don't have to show something, but you can hear it instead," Ridge explains. "That lets us experience the reactions without worrying about the extra animation. To me, that's exciting to figure out." Ridge is quick to credit D'ART Shtajio for its part.
"D'ART Shtajio pulled off an amazing short with the amount of characters on screen. They did a good job at going off of the storyboards and knowing what and how much to animate the characters," he says. "You get the idea that there's a lot of people, but you're not over-animating."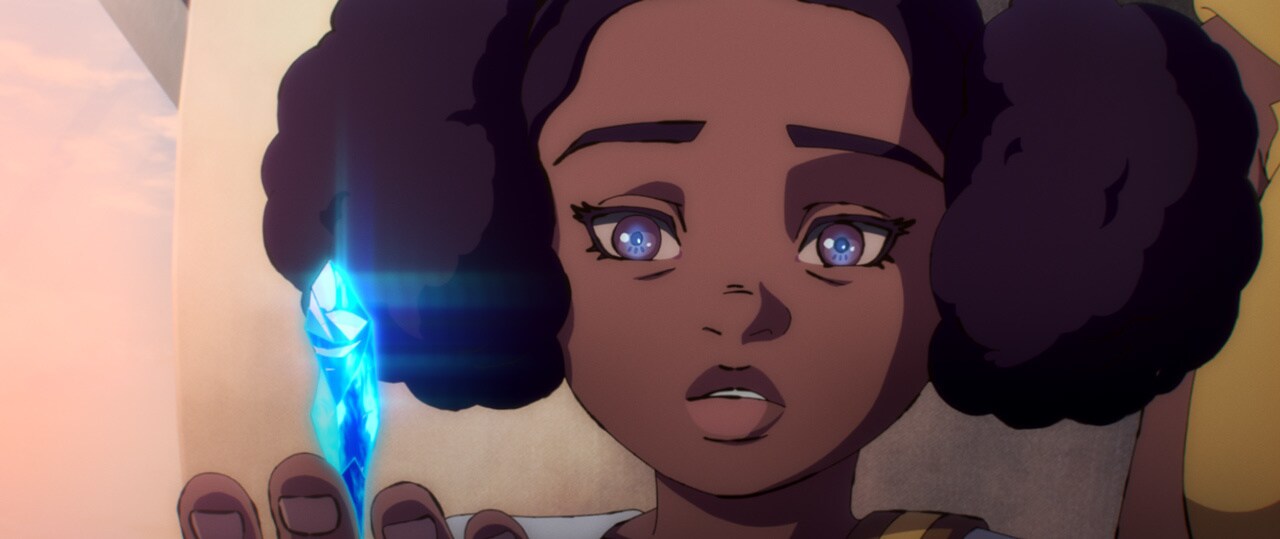 The film ends with Livy, the young girl who had been inspired by Crux, clutching a kyber crystal in her hands. In her open palm, it begins to shake. It floats up and a light takes over it, reflecting in her eyes. "We wanted people to embrace a different take on Star Wars, that maybe isn't as high octane, and maybe more emotional and connected to the real world," Thomas says. "In my opinion, that's where George Lucas started when he wrote the first Star Wars in the '70s. I want us to go back to that when we can. Challenging audiences, and imploring them to dig deeper is something that I hope people can take away from this movie."

"Audiences are more savvy these days," Ridge says. "Being able to tell more mature stories, and emotional themes through the lens of Star Wars is very potent. Having the chance to tell those stories is an honor."