Get a first look at variant covers featuring the galaxy's newest detective duo.
There's a new team in the galaxy.
Star Wars: The High Republic: Trail of Shadows picks up following the tragic events at the Republic fair, as depicted in the novel Star Wars: The High Republic: The Rising Storm. Jedi Knight Emerick Caphtor and in-demand private eye Sian Holt are on the case, and in Trail of Shadows #2, they'll become partners.
StarWars.com is happy to offer a first look at stunning variant covers for issue #2 from artists David López and Meghan Hetrick, as well as the previously-seen main cover, all depicting the investigative duo in action. Check them out below, along with the official synopsis!
Trail of Shadows #2, from writer Daniel José Older and artist David Wachter, arrives November 10. For more on Trail of Shadows, check out StarWars.com's interview with Daniel José Older and Lucasfilm Publishing creative director Michael Siglain.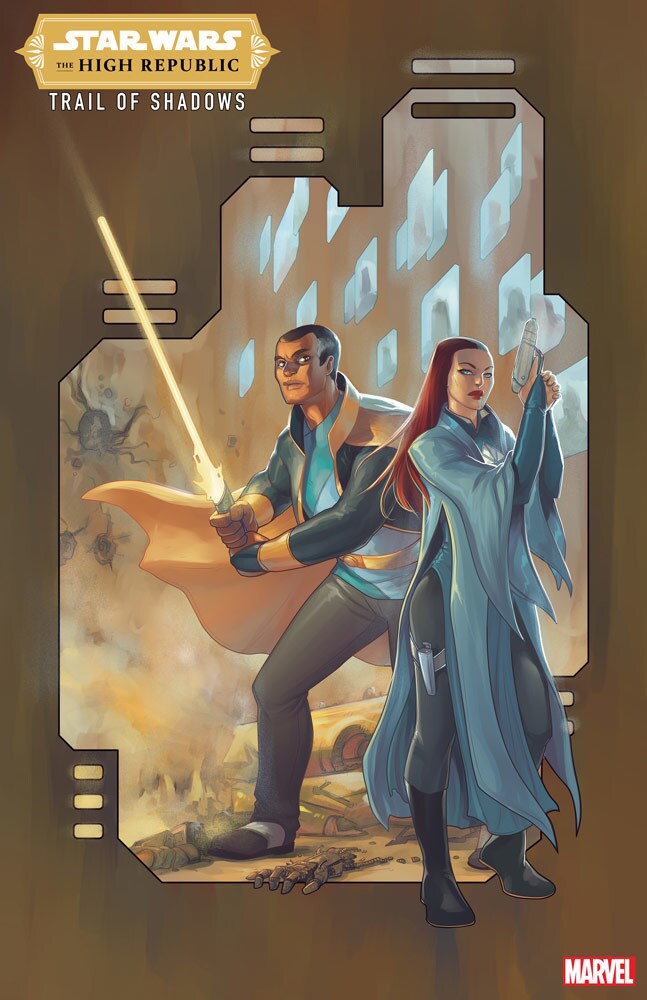 STAR WARS: THE HIGH REPUBLIC: TRAIL OF SHADOWS #2 (OF 5)
Written by DANIEL JOSÉ OLDER
Art by DAVE WACHTER
Cover by DAVID LÓPEZ
VARIANT COVER BY DAVID LÓPEZ
VARIANT COVER BY MEGHAN HETRICK
EMERICK AND SIAN FACE TOTAL AN-NIHIL-ATION!
As dead ends and loose threads mount in Jedi Master Emerick Caphtor's investigation, he's called to Coruscant, where Chancellor Soh introduces him to his new partner: private eye Sian Holt.
Together, they must go undercover to infiltrate one of the most crime-riddled and dangerous planets in the galaxy.
Will Emerick's duty to the Republic get in the way of Sian's personal vendetta? Time's running out to close this case…and what do the Nihil have to do with any of this?!
Visit Lucasfilm's official hub for all things 
Star Wars: The High Republic 
at 
StarWars.com/TheHighRepublic
.