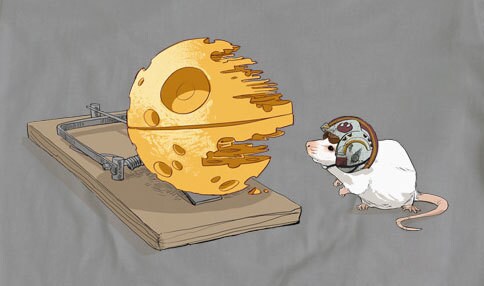 The fans have spoken, the guest judges have made their picks, and at last the winners of WeLoveFine's first-ever Star Wars T-Shirt Design Contest are here!
Hundreds of t-shirt designs were submitted during the month of May, with designs ranging from dramatic to irreverant, from heartfelt to hilarious. In the end, only five prizes and five honorable mention slots were up for grabs, and the ten designs that made the cut really capture the creativity, action, and iconography of the films we all know and love: The Force is strong with these tees!
Depicted below are the Grand Prize winner (the top-rated tee by YOU, the fans!) and the two Judges' Pick designs, chosen by guest judges Daniel Logan (young Boba Fett) and MTV's My Life As Liz star Liz Lee! To see more winners, including the two Runner-Up designs and the five Honorable Mentions, visit the Star Wars Design Contest winners page at WeLoveFine.com!
Grand Prize Winner! - $1,866 cash prize
"It's A Trap" by Brian Kesinger: "Having worn many hats within the animation industry, my artistic travels have led me to my current position as a story artist at Walt Disney animation studios. I hope to share my learning experience with you and maybe even offer some inspiration as a way of giving back to the community of artists who have given so much to me."
Get this shirt now at WeLoveFine.com: Mens | Womens
Judges' Pick: Daniel Logan - $400 cash prize
"Select Bounty Hunter" by Julien Bazinet: "My name is Julien but pals and gals mostly call me Baz. I'm a game artist and tee design enthusiast with a passion for gaming and popular culture in general. I'm also always on the lookout for new and exciting projects or collaborations."
Get this shirt now at WeLoveFine.com: Mens 
Judges' Pick: Liz Lee - $400 cash prize
"Snowy Ride" by Mike Adams (Pixhunter): "I am a 41-year-old movie geek from Huntington, West Virginia. A long time ago, in a galaxy far away, I worked for a couple of years as a graphic artist for a local t-shirt company, but moved on to other pursuits. I found the shirt a day business in the summer of 2011 and have fallen in love with the mash-up/parody styles. You may have seen my designs featured on RIPT Apparel, Qwertee, TeeRaiders or OtherTees."
Get this shirt now at WeLoveFine.com: <Mens | Womens