In 2014, we decided to partner with one of the world's biggest forces for change – UNICEF. UNICEF is a driving force that puts children first, helping them to survive and thrive around the world. We're proud that in 2014, the Star Wars: Force for Change initiative raised over $4.2 million dollars that will support UNICEF's innovative and lifesaving work. Disney also committed $1 million to launch the initiative. UNICEF has a network of 12 Innovation Labs that are creating sustainable solutions to critical issues facing children around the world in the areas of child protection, nutrition, water, health, sanitation, and education. Our partnership with UNICEF supports programs that engage and empower youth around the world. Here are some of the results UNICEF has already delivered for children through programs which have been supported by Star Wars: Force for Change:
Engaging and Empowering Youth via U-Report
U-Report is an SMS-based tool that allows young people to speak out on issues that matter to them, while at the same time enabling government and community leaders to identify trends and problems in real-time. U-Report examples include:

In Liberia, U-Report was quickly mobilized as a response to the Ebola outbreak. Already, more than 39,000 Liberian youth are registered to the free mobile-based service and engage daily around Ebola-related questions such as signs and symptoms of Ebola, proper hand washing techniques, safe burial practices, and stigma around survivors.
In Zambia, more than 75,000 youth use U-Report to get free counseling services about HIV/AIDS. Oftentimes, youth may feel more comfortable anonymously texting their questions about HIV/AIDS rather than talking in person. Using U-Report, youth can text their questions for free. Results show that those enrolled in the program increase their likelihood of going for HIV/AIDS tests by 30% and that there's a demand from youth to know the facts and get access to information.
In Uganda, more than 288,000 users successfully got the national government to change legislation. When the parameters to apply for a grant did not realistically meet the resources accessible to the applicants, they voiced this problem via U-Report and within weeks, the policy was changed. Currently, U-Report is live in 12 countries and has more than half a million youth registered worldwide. In 2015, with the support from Star Wars: Force for Change, UNICEF will expand U-Report to 20 countries, reaching over 1 million users.
Creating Agents for Social Impact with By Youth For Youth (BYFY)
UNICEF's By Youth For Youth is a youth empowerment program that prepares adolescent boys and girls to become more involved and active members of their communities. BYFY advances an innovative approach to youth empowerment, helping them take an entrepreneurial approach to social change by adapting the hands-on, learn-by-doing elements of a business. BYFY builds resilience and professional readiness, empowering young people in the most marginalized communities to identify and analyze issues and to develop and lead projects in the form of interventions or social ventures that address these issues. Ultimately, the BYFY program enables youth to acquire entrepreneurship and life skills to lead and make change in their own communities. BYFY has been operating in Kosovo since 2011, where it has reached tens of thousands of youth. With the support from Star Wars: Force for Change, UNICEF looks forward to replicating this program to three new countries in 2015.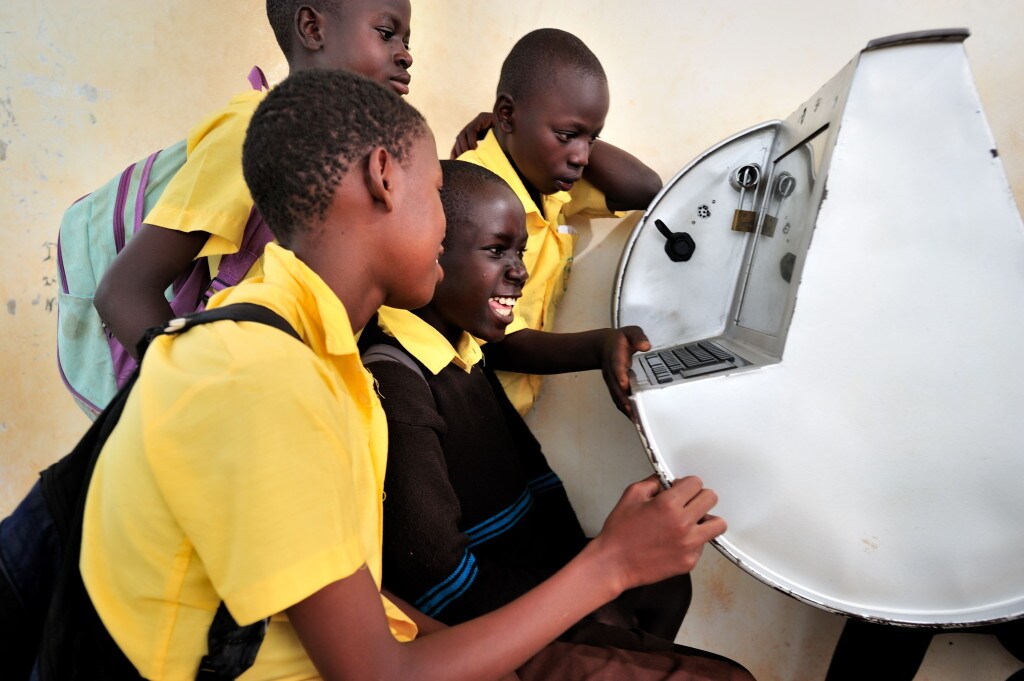 In addition to the expansion of U-Report and BYFY, Star Wars: Force for Changesupport will enable UNICEF to achieve even more:

Two new Innovation Labs — in Tanzania and Costa Rica – will be established toempower and connect youth to create solutions to their own pressing problems
The UNICEF Innovation Fund supporting 30 projects around the world will launching 2015 with funding from Star Wars: Force for Change.
Thanks to Star Wars: Force for Change, tens of thousands of youth around the world will be able to have the tools and skills to inspire social change and become leaders in their own communities – developing solutions that save and improve children's lives.  The hope is to have millions of young people engaged in sharing their voices and needs through the initiative.
Site tags: #StarWarsBlog, #ForceForChange