StarWars.com speaks to Lucasfilm's Lynwen Brennan and BB-8 co-creator and puppeteer Matt Denton about an exciting new digital series.
FIRST is the world's leading youth-serving nonprofit advancing science, technology, engineering, and math (STEM) -- fields incredibly important to creating the Star Wars universe.
Through robotics, FIRST empowers young people to learn, grow, and positively affect the world around them, which is why Disney and Lucasfilm are teaming up with FIRST as part of the Star Wars: Force for Change philanthropic initiative. The collaboration was announced at Star Wars Celebration Chicago and -- in addition to providing a $1.5 million in-kind donation and mentorship resources -- as revealed during the Triple Force Friday livestream event, Lucasfilm and Disney are supporting FIRST with the launch of a new digital series: Galactic Builders, powered by Star Wars: Force for Change. The series debuts today on YouTube.com/StarWarsKids and StarWarsKids.com, kicking off a weekly run of four episodes, and will show kids how technology and robotics play a key role in making Star Wars stories and products come to life.
"Lucasfilm and FIRST are a great match," says Lucasfilm general manager Lynwen Brennan. "Our hope is that the Star Wars movies will help inspire the next generation of innovators, to work with their teammates and have fun exploring robotics and pushing technology. We hope it will be a first step in their journey into engineering and computer science careers and maybe even lead them to being part of the Lucasfilm team someday."
Over 600,000 students are part of FIRST's global robotics community. They work in teams to build robots that they then put to work at competitions, fostering an environment of creativity and cooperation. Galactic Builders gave a few FIRST teams the opportunity to discuss engineering and robotics with makers from Hasbro, Lucasfilm, Walt Disney Imagineering, and Industrial Light & Magic. FIRST students host the series and ask the spokespeople how they intersect technology and robotics with their work in the Star Wars universe -- from making the just-revealed Ultimate Interactive D-O App-controlled Droid toy, to talking to the co-creator of BB-8, to getting a behind-the-scenes look at robotics in Star Wars: Galaxy's Edge, to learning about motion capture for droids. Then, the FIRST participants get to show off their creations.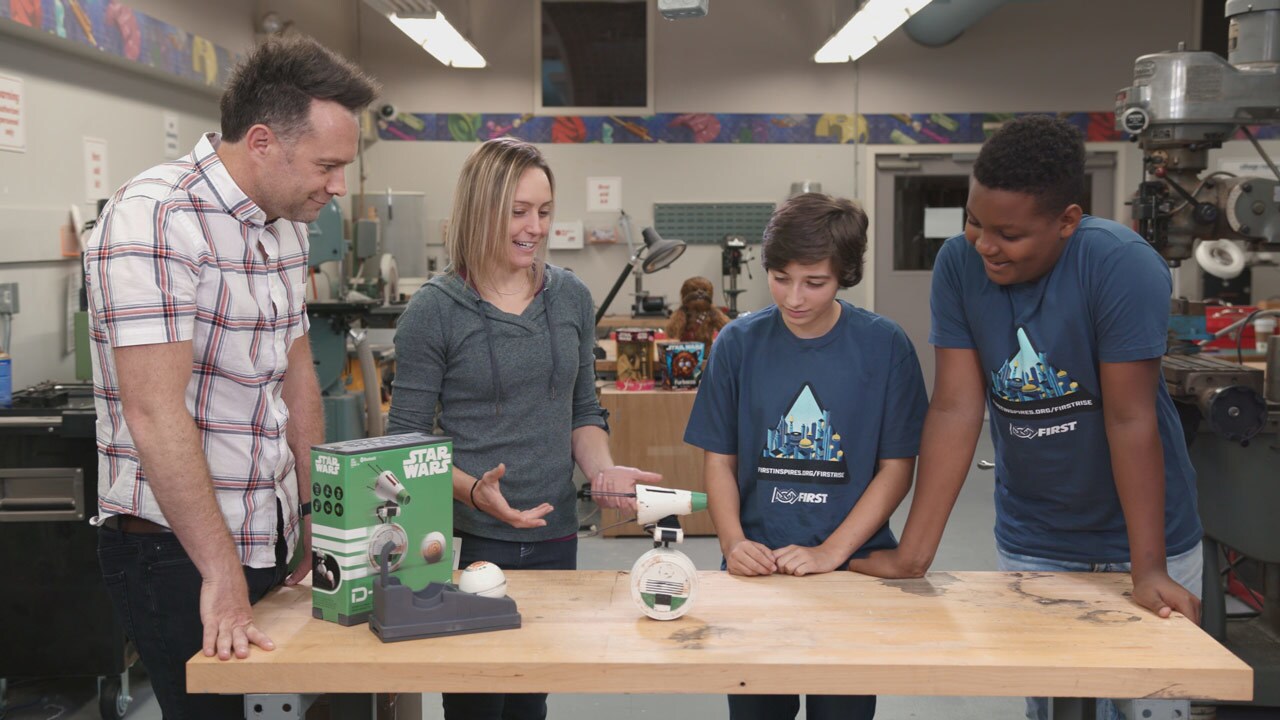 One episode features Matt Denton, an engineer, robotics expert, and co-creator of BB-8. He developed a passion for STEM in general, and robotics, specifically, in part because of Star Wars. "I came out of the cinema when I was eight or nine years old and had just watched The Empire Strikes Back, and I couldn't get over the scene on Hoth," he tells StarWars.com. "It flicked something in my head that spurred my interest in walking machines, per se, and robotics. And I was a huge fan of LEGO Technic when I was younger; I was always building things out of LEGO [bricks]. When I got home from the cinema I tried to build a LEGO AT-AT."
Engineering and robotics are close to Denton's heart; it's his background. He's thrilled to see Force for Change supporting FIRST and his enthusiasm in sharing what he does with Star Wars speaks to an important aspect of FIRST. As Galactic Builders showcases, the organization encompasses different roles for students in K-12. Parents, mentors, and volunteers can get involved and help future generations take a step towards careers in science, technology, engineering, and robotics.
Talking with the FIRST students from the Thunderbots and the Citrus Circuits was a joy for Denton. "It's always a huge pleasure, to be honest. It's very nice being able to tell people about another area of engineering that they might not have thought about, in films and entertainment," he says. "I think that gets people a little bit excited. They probably see the glamorous side of it -- not that it's all glamorous -- but it is different. Working in film suits me because the creative side of my brain fights the engineering side all the time. I think it's quite good for kids to see that there are alternatives. It doesn't have to be straight engineering if they have a creative streak. That, I think, is pretty important."
Denton added that he could have spent all day asking the FIRST students questions about their work. He loved finding out what each little piece on their robotic creations did. And ultimately, he was quite impressed --some of the things the kids built, he wasn't sure how they even did it. "I would honestly be a bit worried, if say, I picked two engineers who worked with me on Star Wars and said, 'Right, we're going to go against this group of kids.' Everything they've come up with is really good."
Watch the first episode of Galactic Builders below!
Galactic Builders debuts Thursday, September 26, on YouTube.com/StarWarsKids and StarWarsKids.com for a four-episode run, with new episodes released every Thursday.
Amy Ratcliffe is passionate about Star Wars and coffee. She always has her nose stuck in a book. She's the author of Star Wars: Women of the Galaxy and a co-host of the podcast Lattes with Leia. Nerd out with her on Twitter at @amy_geek.
Site tags: #StarWarsBlog, #ForceForChange