In the late '70s and early '80s, Lyons Maid ice cream was strong with the Force.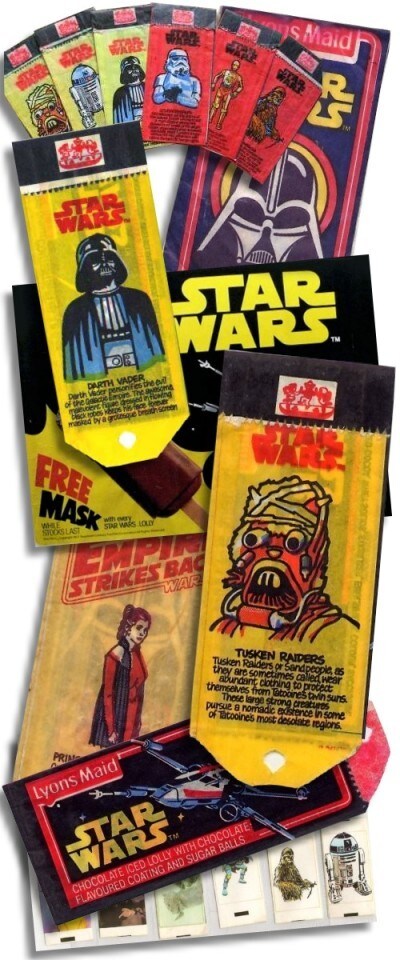 Being a kid in the '70s here in the UK was, in a word, brilliant. We had Grange Hill, Chopper bikes, flares, and Green Flashes, 8-tracks in the car, Judge Dredd in
2000 AD
and
The Hitchhiker's Guide to the Galaxy
on the radio. ELO and Wings toured the world while the Sex Pistols caused scandal wherever they went, and the Bee Gees notched up what was then the biggest selling album in music history with
Saturday Night Fever
. Oh, and Ipswich Town won the FA Cup, beating Arsenal 1-0 (and my beloved West Bromwich Albion in the semi-finals), and the nation was still buzzing after the Silver Jubilee celebrations of '77. But being a kid, and a hungry one at that, one of the best things about the late '70s was the food. Monster Munch, Secret Agents, Pacers, Space Invaders, Spangles, and of course, Lyons Maid ice cream. And being a
Star Wars
kid in '77 who was hungry for anything to do with the galaxy far, far away, the
Star Wars
tie-in with Lyons Maid ice cream was a scoop.
Lyons Maid were as big a name in '70s Britain as Pot Noodle and Wimpy's. Lyons, who first started making ice cream in 1894 for a very seasonal British market, shipped their product across the country by train. By 1954, after the World War II and the banning of ice cream production due to rationing the popularity of ice cream continued to grow, bolstered by the introduction of the frozen ice lolly and Lyons Maid developed its business, expanding and buying up smaller regional companies, increasing their market share and reach. Their first Star Wars promotion in 1977 -- prior to the release of the film here in the UK -- caused quite the stir.
Star Wars (1977)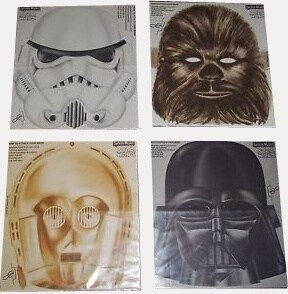 An extremely rare item in 2014, they were a must-have back in '77. The masks were given away free with a selection of six ice lollies -- C-3PO, Chewbacca, Darth Vader, R2-D2, Stormtrooper, and Tusken Raider were wrapped around a chocolate iced lolly with chocolate flavor coating, tipped with starry white sugar balls -- all with the image of an X-wing on the reverse and came stored and folded, with a horizontal fold across the center of the card.
While there were six lollies to buy, there were four masks, so kids had the choice of C-3PO, Chewbacca, Darth Vader, and Stormtrooper. Measuring 8 x 7.4 inches, the holes had to be punched out and string attached (a job for mom or nimible-fingered kids raised on Blue Peter) and presto, you suddenly became a hero of the Rebellion or an agent of the Empire for just 10p.
The Empire Strikes Back (1980)
Speaking of Empire, the hot summers of the late '70s shifted a lot of ice cream and lollies and by the time The Empire Strikes Back arrived in the UK on 21st May 1980, just a day after its Royal Premiere, the thought of some much needed refreshing ice cream was almost as tantalizing as the film -- and Lyons Maid obliged with a series of ices to tie in with the film.
Empire is notorious for having far fewer tie-ins than Star Wars, the thought of a successful follow up that was an equal to its predecessor still being a foreign idea 34 years ago, but Lyons Maid were savvy and quickly put their plans into place and by late spring we were treated to a second wave of products.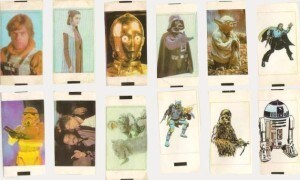 This time around the permanent image was of Darth Vader from Ralph McQuarrie's classic "Vader in Flames" artwork gave us six different characters: Boba Fett, Darth Vader, Lando Calrissian, Leia Organa, Han Solo on Tauntaun, and Master Yoda. And all came wrapped around a toffee and mint flavor lolly with chocolate coating, covered in tiny sugar balls. It was useless to resist...
This series didn't give away masks. Instead the 1980 Empire series gave kids the chance to collect a series of 12 unnumbered stickers or transfers which included Luke Skywalker, Stormtrooper, C-3PO, Han and Lando, Master Yoda, Carbon Freezing Chamber, Darth Vader, and Han and Luke on Tauntaun stickers and R2-D2, Chewbacca, Boba Fett and Lando Calrissian transfers.
By the time Return of the Jedi came around, Lyons Maid were no longer working with the Star Wars license, and as such no new promotions hit the UK. It wouldn't be until 1997 and the release of the Star Wars Trilogy Special Edition that Lyons Maid, now part of food giant Nestle since its sale in 1992, would release another Star Wars product, that being the ever-delicious FAB ice lolly in an eight-pack box and Fruit Pastille lollies in a four-pack. Perhaps the heady and innocent days of 1977 and 1980, when stickers, transfers, and masks would excite most kids has passed, but for nostalgia freaks like me and many others, ice cream has never tasted as good.
Mark Newbold is the daily content manager of Jedi News and has been involved in websites since 1995. He has been contributing to Star Wars Insider since 2006 and is the co-host of the UK-focused podcast Radio 1138.