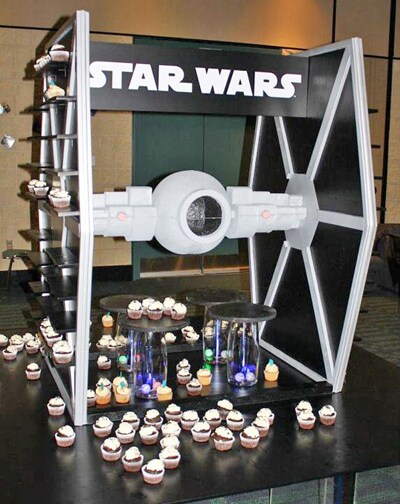 There are a bunch of people who assume that I've built my collection over the years through the generosity of Lucasfilm or licensees. "You mean they don't automatically send you one of everything?" Nope. I go out hunting at retail or online and pay full price for nearly everything. Oh, now and then over the years a licensee that I've built a strong relationship with or helped with some project will be very kind and send me product or give me a healthy discount. I appreciate that a lot, because being a collector who likes nearly everything produced worldwide doesn't mean that I can afford everything.
But sometimes it helps being in the right place at the right time and having friends who are thinking about you. It was around midday on Sunday, August 26th, the final day of Star Wars Celebration VI. Things were just as busy for me and at the Rancho Obi-Wan Experience exhibit as they'd been for the entire show. Someone told me that Matt Shell, who works in Lucasfilm publicity, had been looking for me and would stop back. Matt had visited Rancho Obi-Wan for the first time not that long ago with Rob Wynn, head of Lucas Video Productions, to tape a Celebration "Join the Party" spot for starwars.com.
Matt swung by and started talking about some giant TIE fighter, a thousand cupcakes and needing to quickly find a home or else a trash compactor would find a new victim. I'm sure I gave Matt a very puzzled look. "Haven't you been in the VIP Lounge?" he asked. No, I didn't even know where it was. But what was this about cupcakes? "Cupcake Wars!" he exclaimed. Now I was even more puzzled. I absolutely love cupcakes, but I'm not a foodie, rarely watch television, and probably have never seen a show on the Food Network—until now.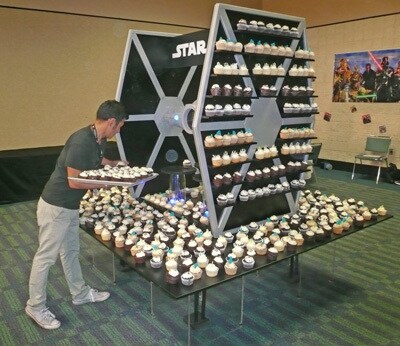 Luckily, Ashley Eckstein wrote a blog post here Friday that explained it all, since she was a judge on the show that aired Sunday night. Four cupcake baking teams competed against each other for a grand prize of $10,000 and a trip to Celebration VI to share their small, delicious, and beautifully iced cakes with Star Wars fans. What I didn't fully understand until I watched the show Sunday night was how the TIE fighter fit in. (If you missed the show, you can catch it again on Food Network Tuesday, Sept. 11 at 8 pm ET/PT.)
After two of the teams were eliminated in bake-offs, the last two teams had two hours (!) to bake and ice 1,000 cupcakes with Star Wars themes. And they also had to come up with dynamite displays to show off their creations. Two carpenters came in to do the work based on each team's design. Except no way were they carpenters. They were magicians! What they came up with in two hours (and I believe everything I see on reality TV shows!) would have taken me two months—and then wouldn't have looked one-tenth as good.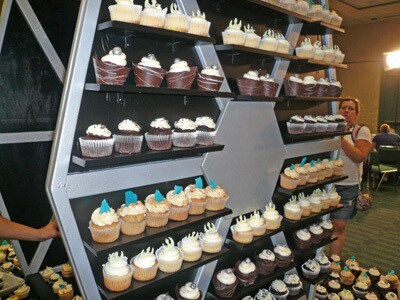 The team of Janell Brown and her assistant Kristen Cold from One Sweet Slice in South Jordan, Utah decided on a TIE fighter and the other team picked the Millennium Falcon. I knew this would be a tough one for Ashley and the other two judges, but in the end, the ladies from Utah won. There was a well-attended party Friday afternoon in the VIP Lounge (my invitation clearly had been intercepted and destroyed by an Imperial agent), and from the photos I've seen of the filled display (courtesy of Dunc, webmaster of www.clubjade.net) everyone had a tasty time.
I was quickly following Matt to the Lounge as he told me the back-story. When he heard that the TIE fighter display would have to be destroyed, and he remembered that a large truck was returning to Northern California with all of the Rancho Obi-Wan items, an idea struck him. When I first saw the display—and then tasted some of the amazing cupcakes still on the wings—I knew I had to save the display for all of fandom! (Well, excuse me for rationalizing!)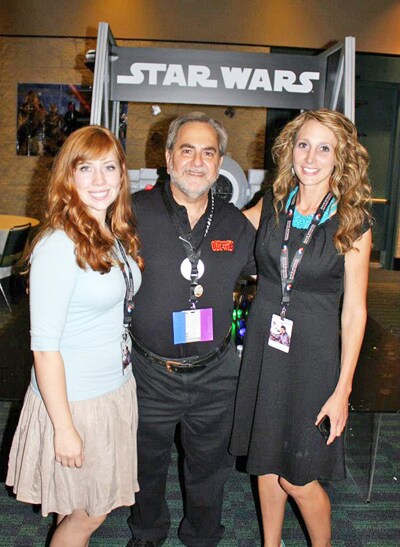 And Janell and Kristen were also happy that since the cupcakes couldn't be preserved, at least the display would be somewhere to commemorate their victory. That's Kristen on the left and Janell on the right (photo by Chris Gereke). Maybe they're smiling because I asked how much it would cost to air-ship a thousand cupcakes to Rancho Obi-Wan!
Steve Sansweet is chief executive of Rancho Obi-Wan, a non-profit membership museum that houses the world's largest private collection of Star Wars memorabilia. To find out about joining or taking a guided tour, visit www.ranchoobiwan.org. Follow on Twitter @RanchoObiWan and https://www.facebook.com/RanchoObiWan.