Author Gina McIntyre shares some of her favorite scoundrel-starring images from the new book.
How did a space cowboy -- with a walking carpet of a best friend -- become one of the world's most beloved heroes? That's what Gina McIntyre explores in her new book Star Wars Icons: Han Solo, a beautiful tribute to our favorite scoundrel. Filled with rare and never-before-seen photographs and images, as well as exclusive new interviews with Harrison Ford, Mark Hamill, J.J. Abrams, and more, McIntyre follows Han's evolution from the development of the original Star Wars all the way to 2018's origin tale, Solo: A Star Wars Story. There's never been a Star Wars book like it; thanks to a team up between publisher Insight Editions and Sideshow Collectibles, Star Wars Icons: Han Solo is available now, exclusively at Sideshowtoy.com. To celebrate its release, McIntyre has shared some of her favorite images from Star Wars Icons: Han Solo with StarWars.com, along with her own personal commentary.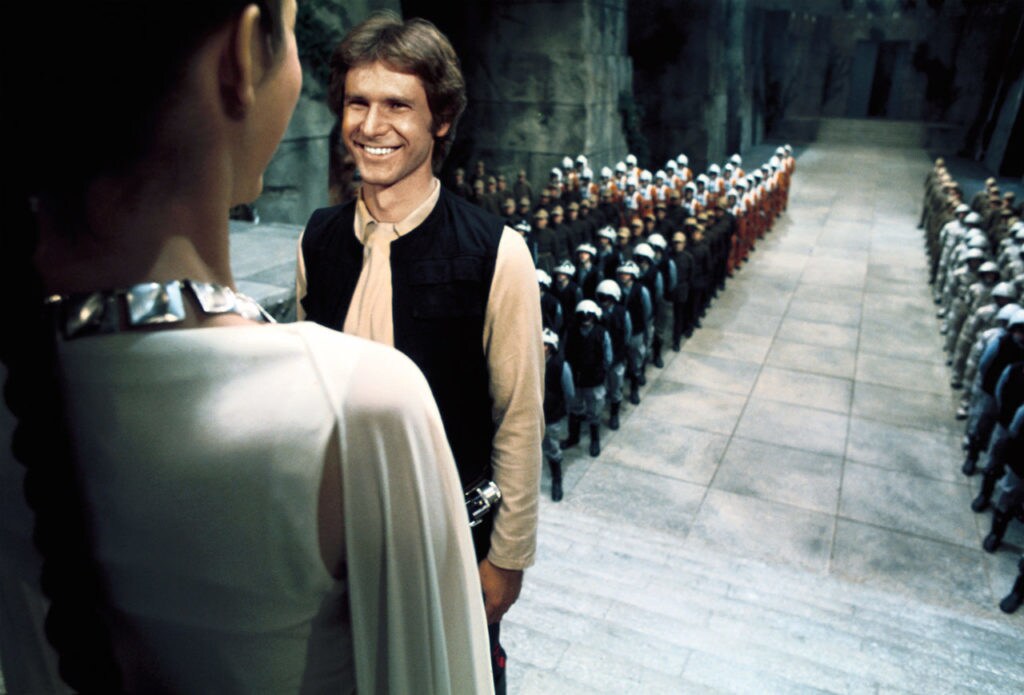 "In Star Wars Icons: Han Solo we really wanted to capture how Han was brought to life on the set of A New Hope through Harrison Ford's performance, the hectic, ambitious nature of the production, and the camaraderie among the lead actors. This image really captures the energy at Elstree Studios, Harrison's off-the-charts-charm, and his irresistible chemistry with Carrie Fisher".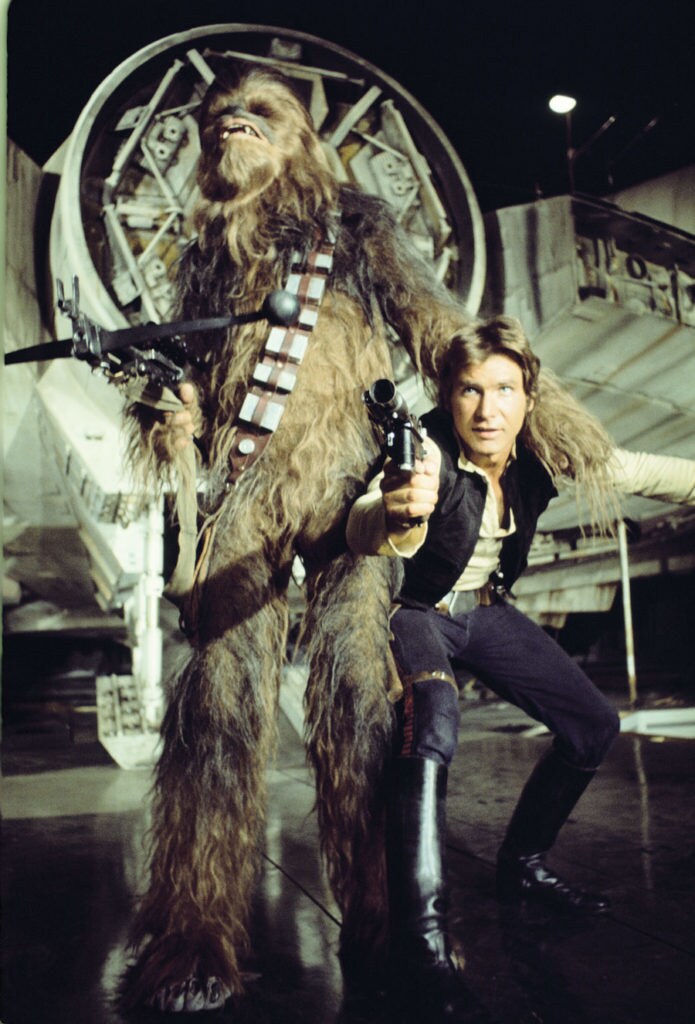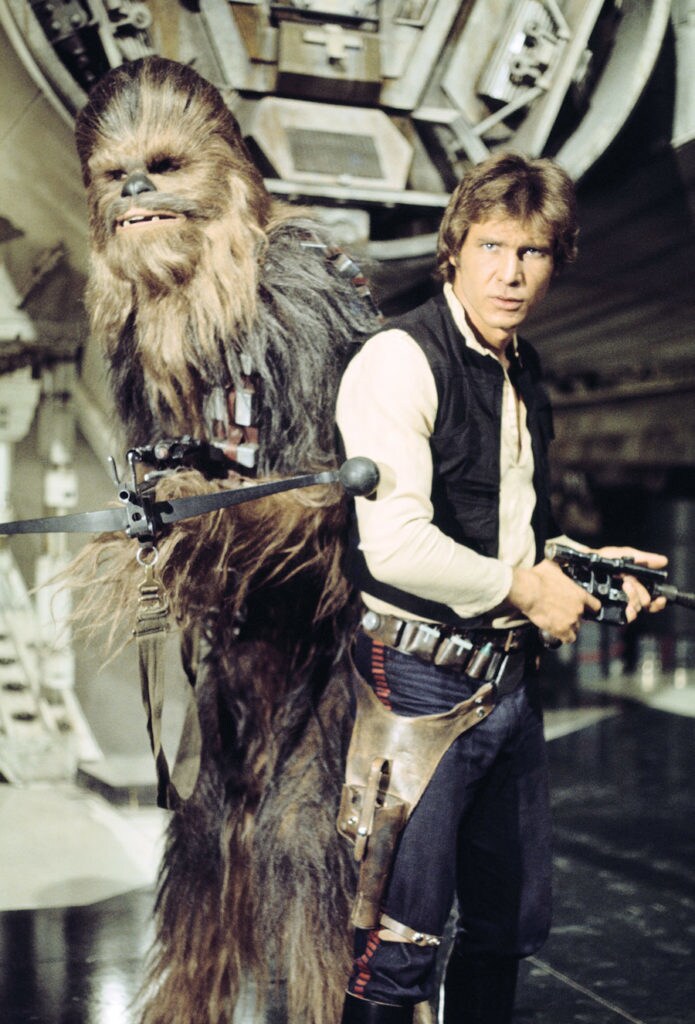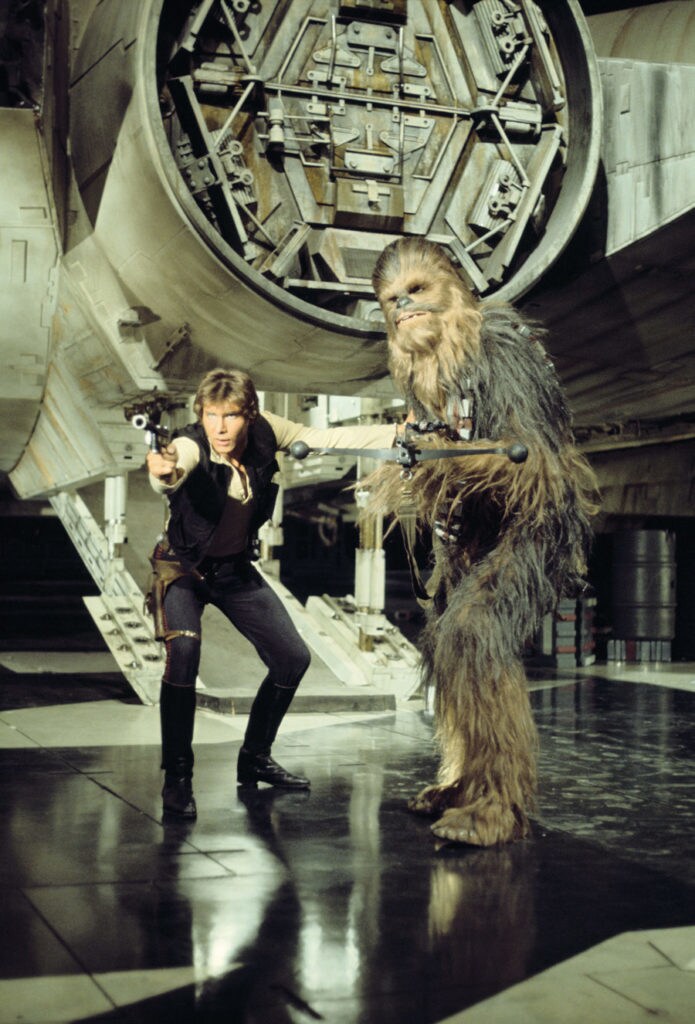 "This photo shoot of Han and Chewie spawned the classic image of the two characters side-by-side that would later be used on countless items of merchandise. It was so iconic that for the 'Chewie, we're home' scene in The Force Awakens, J.J. Abrams staged the duo's entrance to look just like the classic image. These rejected pics from the photo shoot show that not every pose was an instant classic, though!"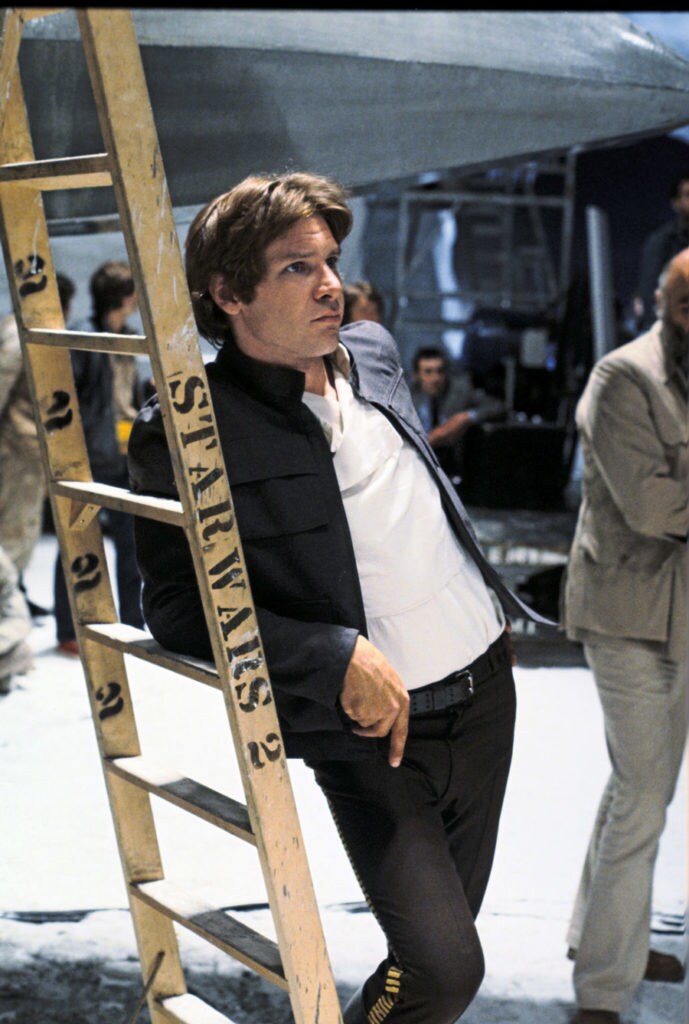 "I love the fly-on-the-wall vibe of this shot from the set of The Empire Strikes Back (or 'Star Wars 2' as it says on the ladder). With this book, we really wanted to explore what it takes to craft a Star Wars character on set, and candid moments like this really transport you back to the shoot. The pressure was on for the sequel, and the production was much more grandiose and less frenetic -- I think this comes across in this image of Harrison, surrounded by technicians as he waits to shoot a scene on the immense Echo Base set."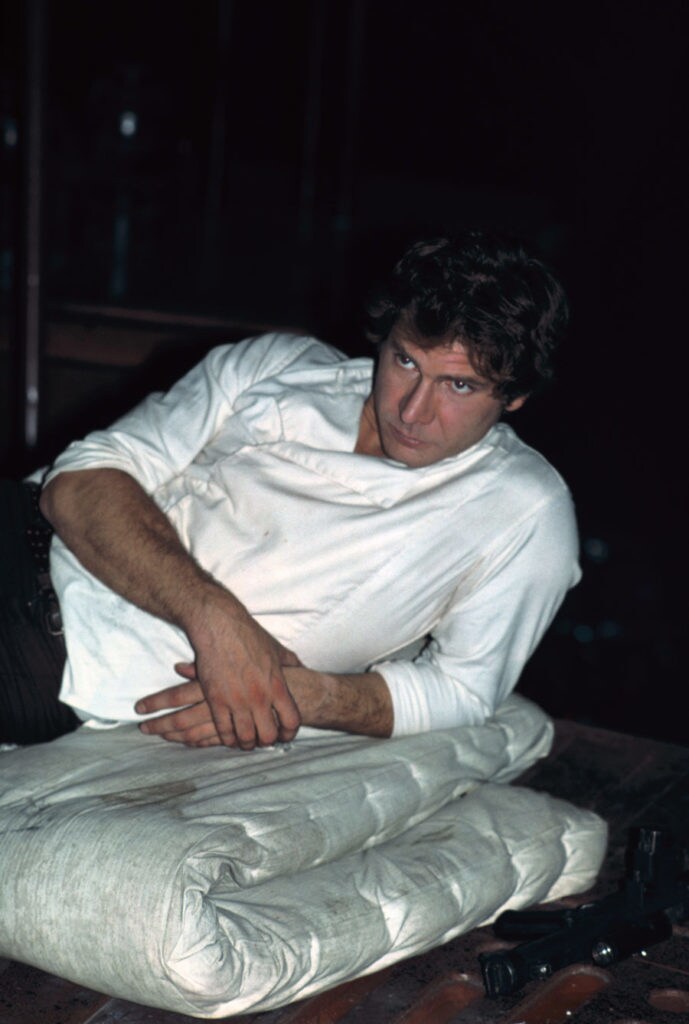 "Nothing defines Han Solo's character quite like the 'I love you/I know' exchange with Princess Leia in Empire Strikes Back. Filming the scene was notoriously challenging though because of technical difficulties with the carbon freeze chamber set and, as a result, tensions were high. This shot of Harrison Ford resting on a mattress as he takes in the unfolding difficulties perfectly sums up the mood in a single image. Who said making movie history would be easy?"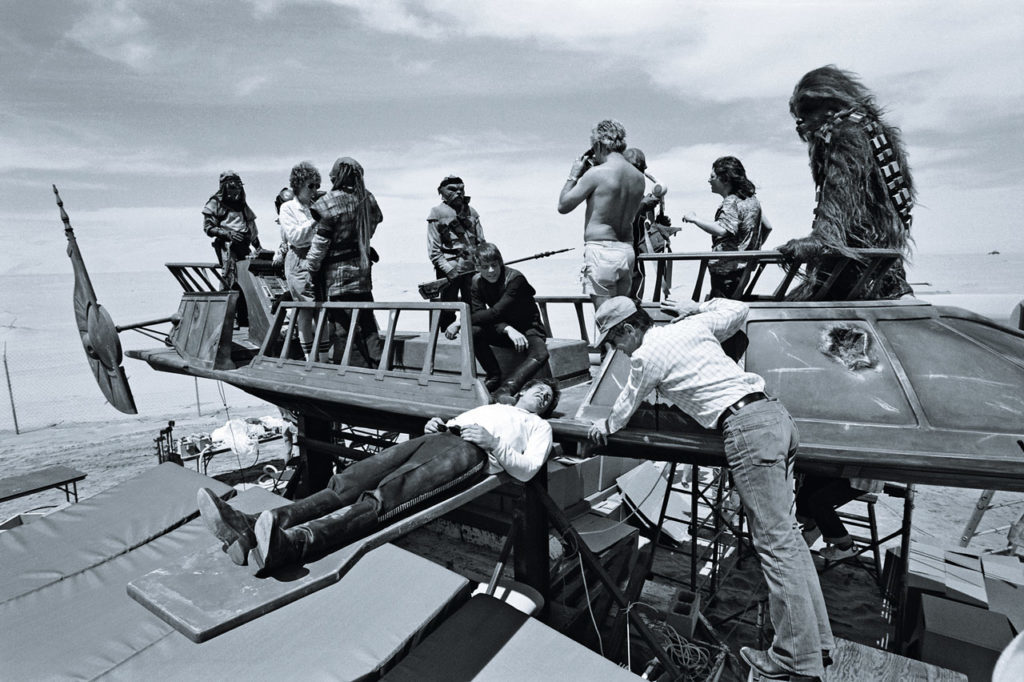 "On Return of the Jedi there was a tremendous amount of pressure to deliver a sequel that would conclude the series in a satisfying way. Naturally, that required finding a way to bring back Han Solo -- his rescue and the subsequent fight at the Great Pit of Carkoon became the focal point of the opening act of the film. This shot gives a sense of the enormous scale of the sequence. Action scenes can be tedious to film, however, and the actors often find themselves with a lot of downtime as cameras are repositioned and lighting is adjusted. Here, Ford is seen between takes lying down on the plank of a sand skiff."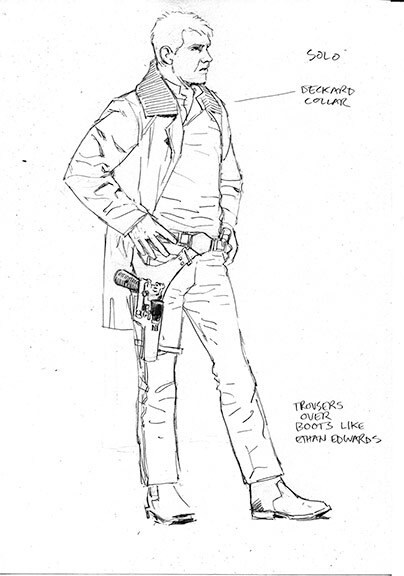 "The Force Awakens costume designer Michael Kaplan first met Harrison Ford on Ridley Scott's Blade Runner, back in the early '80s. In Scott's film, Ford played replicant hunter Rick Deckard, wearing a costume designed by Kaplan. When it came time to design outfits for an older version of Han Solo, Kaplan took some inspiration from Blade Runner, as seen in this sketch by Glyn Dillon which makes reference to a 'Deckard' collar."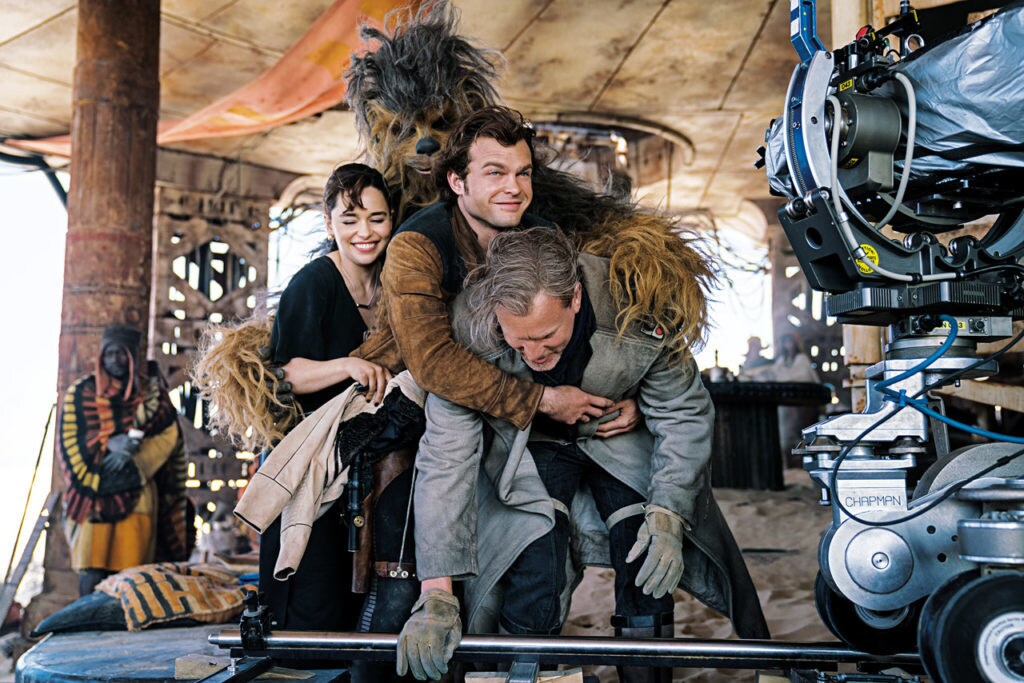 "The Force Awakens might have brought Han's story to an end, but Solo: A Star Wars Story gave us a rousing look at the smuggler's younger days. Here, Emilia Clarke, Joonas Suotamo as Chewbacca, Alden Ehrenreich, and Woody Harrelson are seen sharing a laugh on location in Fuerteventura, Spain, which stood in for the planet Savareen during the shoot. The spirit of this image feels very much in keeping with the film itself -- lively and upbeat and emotional."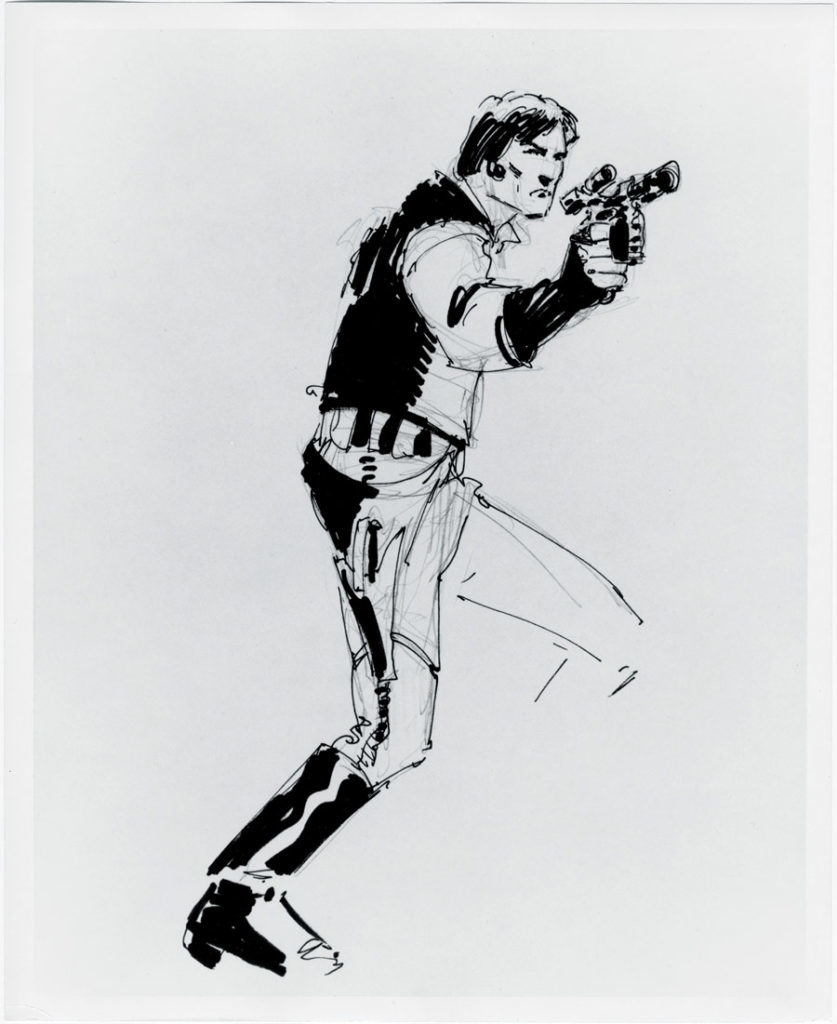 "Lucasfilm's Pete Vilmur kindly donated this amazing piece to the book -- a sketch of Han created by legendary artist Howard Chaykin for the original Star Wars Marvel Comics series. Comics are fertile ground for Han Solo stories and the early Marvel stories are filled with great Han and Chewie adventures."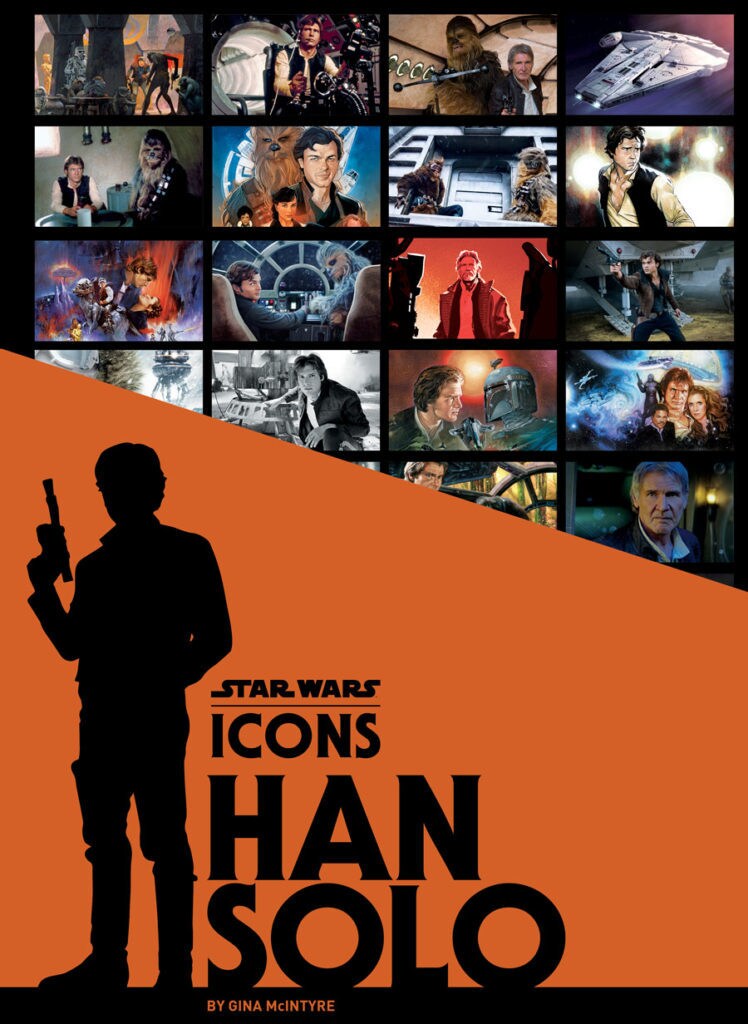 Star Wars Icons: Han Solo is available now at Sideshowtoy.com.
For more on Star Wars Icons: Han Solo, check out StarWars.com's interview with Gina McIntyre.
See more of Star Wars Icons: Han Solo on The Star Wars Show!

Dan Brooks is Lucasfilm's senior content strategist of online, the editor of StarWars.com, and a writer. He loves 
Star Wars
, ELO, and the New York Rangers, Jets, and Yankees. Follow him on Twitter @dan_brooks where he rants about all these things.