Get a special sneak peek at a new book celebrating the galaxy's greatest scoundrel.
Han Solo. The name alone evokes an almost instantaneous response from Star Wars fans: Cool. Loyal. Hero. Nerf Herder.
Indeed, there are few characters in movies or fiction at large that have come to mean as much to us as Han.
As revealed earlier this week on The Star Wars Show, a beautiful new tribute to our favorite scoundrel, Star Wars Icons: Han Solo by Gina McIntyre, is coming November 13. Published in the US by Insight Editions and in the UK by Ilex, the tome covers Han's entire journey in great detail; complemented with arresting imagery and photos, McIntyre charts the character's history from George Lucas's first explorations in the mid-'70s to Harrison Ford's performance in the original trilogy and The Force Awakens, up to the high-adventure and personal origin tale in Solo: A Star Wars Story. It delves into his role in novels, comics, and video games, and features exclusive new interviews with Harrison Ford, Alden Ehrenreich, Mark Hamill, Billy Dee Williams, Peter Mayhew, Ron Howard, J.J. Abrams, Lawrence Kasdan, Jonathan Kasdan, and more. To borrow a phrase from the man himself, Star Wars Icons: Han Solo has got it where it counts. StarWars.com caught up with author Gina McIntyre to discuss crafting Star Wars Icons: Han Solo, interviewing a staggering number of legends, and what the ol' pirate means to her.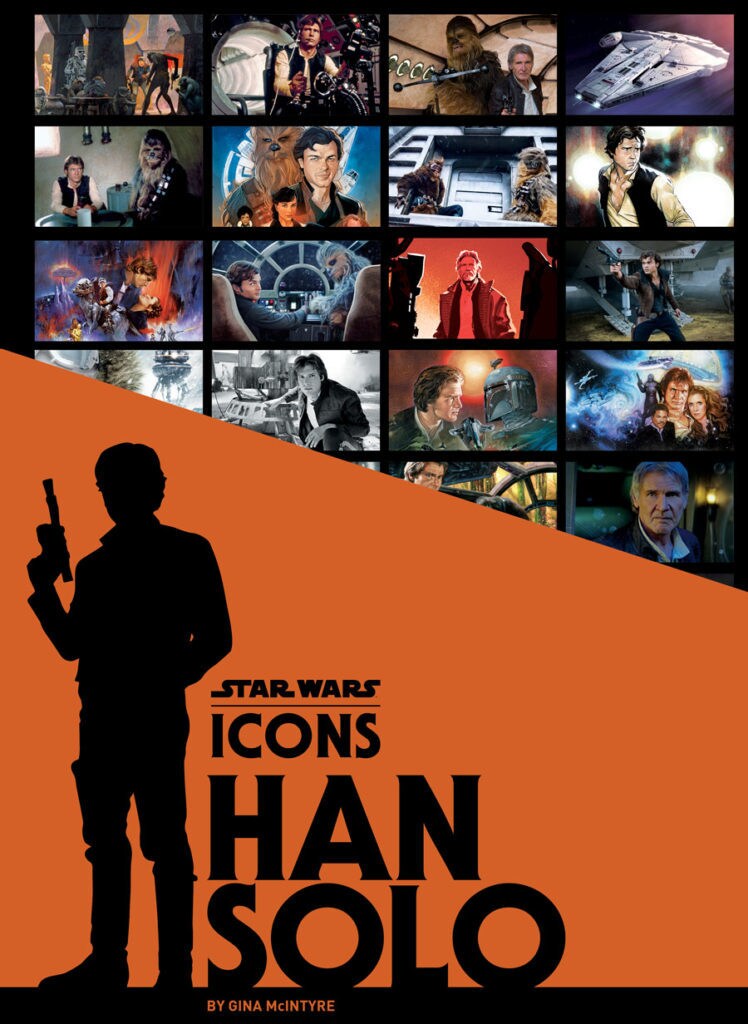 StarWars.com: Having been able to take an early look at the book, I was really surprised at how deep it goes in telling both the behind-the-scenes and in-universe stories of Han Solo. You start by exploring early scripts, concept art, and casting for A New Hope and go all the way to The Force Awakens and beyond. What were your goals for the book and how did you approach writing it?
Gina McIntyre: Setting out to write the book I really hoped to tell the most comprehensive story possible about the character. The approach was incremental -- I think if I had stopped to consider how much there was to review and analyze, I quickly would have become overwhelmed. The first steps involved watching all the movies again and listening to commentary tracks. I poured through archival magazines and biographies of George Lucas, in addition to previous books chronicling the making of the original trilogy. I read or re-read as many novels and comic books as possible, I fell down a few YouTube rabbit holes, and then finally, I dived into the interview process. Each conversation informed the next, and it was fascinating to hear first-hand about Han from so many of the influential creators who had played a role in shaping the course of his story over the decades.
I feel tremendously grateful that so many people were so generous with their time, especially Harrison Ford. Talking to him was just as thrilling as you might imagine. I'll never forget listening to him tell the story of how he arrived on the Norway set of The Empire Strikes Back with an empty bottle of scotch and a costume not built to withstand subzero temperatures -- it's one of my favorite anecdotes in the book. Honestly, though, there were so many highlights along the way, speaking with Star Wars authors and artists as well as people like J.J. Abrams, Lawrence Kasdan, Ron Howard, Alden Ehrenreich, Adam Driver, and of course, Mark Hamill. When it came time to sit down and begin writing, I felt a tremendous responsibility to do their stories justice and to try to honor the legacy of this character who remains so important to so many people, myself included. I wanted it to be the best possible tribute to Han, to capture what is so special about him. That sense of obligation to get things right never left me.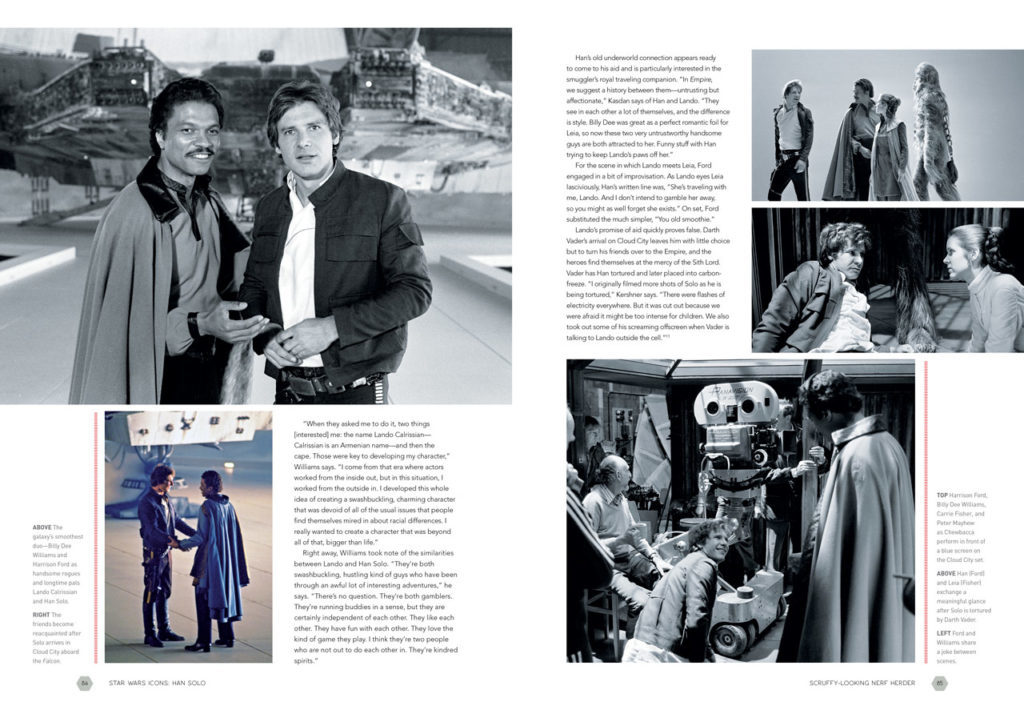 StarWars.com: There are details and photos in here that I've never seen before in my time working at Lucasfilm. With almost every turn of the page, there's a set photo or concept sketch that you want to just study. A) How did you work with Lucasfilm in acquiring and curating these, and B) As a fan, what would be your reaction as they'd come in? 
Gina McIntyre: Here, I must thank my editor, Chris Prince from Insight Editions, who played such a hands-on role in terms of the curation of the art and imagery that appears throughout the book. He and the team at Lucasfilm worked tirelessly to assemble a truly impressive array of images to illustrate Han's evolution. The first time I saw all the material put together in the layout, it took me a moment to take it all in. Some of the concept art featured throughout is just breathtaking, and I think it's impossible not to feel a little wistful looking at some of the behind-the-scenes shots from the original trilogy.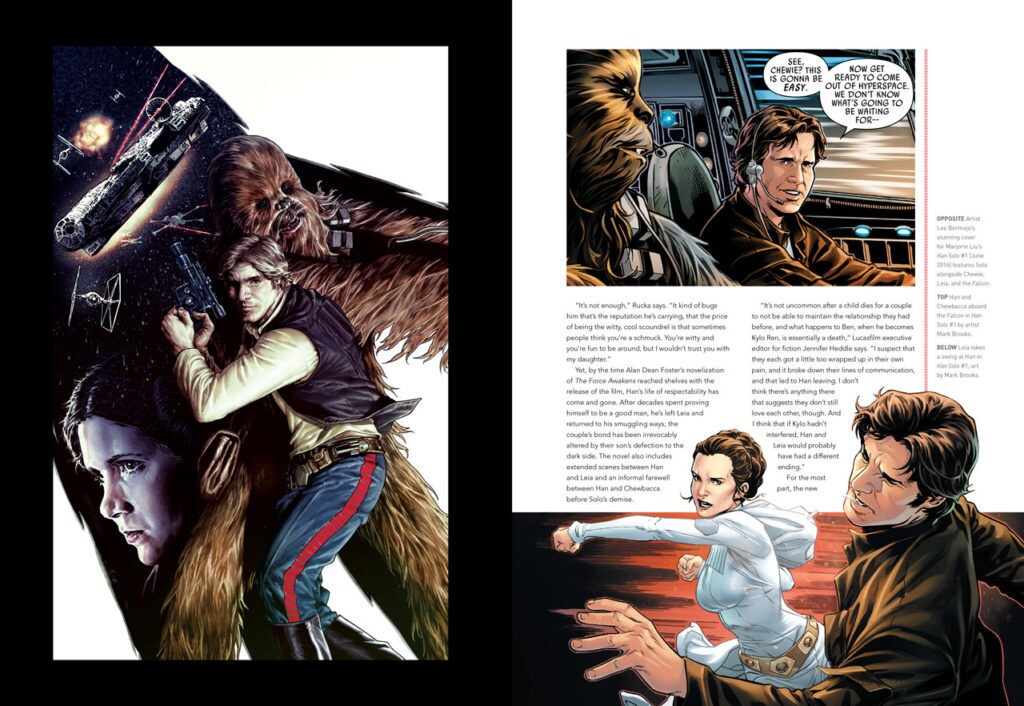 StarWars.com: Ultimately, I found this to be a beautiful love letter to Han Solo. What can you tell us about your own appreciation for the character and how it feels to write such a chronicle?
Gina McIntyre: That's so gratifying to hear. I think my feelings about the character are sort of inextricably bound up with the best memories of my childhood. I saw Star Wars at the age of five and immediately was captivated -- like so many other children of my generation -- and it's fair to say that Han made a lasting impression. He was my father's favorite, which automatically meant that he was mine, too. (My dad, the former Marine, the man of few words with the sly sense of humor who loved fast cars and old cowboy movies -- it wasn't hard to see why he'd like Han.) At this point, though, what I appreciate most is just how difficult Han is. He's funny and challenging and obnoxious and exhausting but also fearless and, at his core, utterly loyal. I love that this character who begins as a seemingly straightforward gunslinger archetype evolves into a hero who is markedly complex, who falls for someone as fiery and as noble as Leia, and then he meets with such a tragic end. It's incredibly poignant. In terms of writing this book, it was, from start to finish, an absolute labor of love. I honestly can't overstate how honored I am to have been given this opportunity.
Check out The Star Wars Show to see two additional spreads from Star Wars Icons: Han Solo!

Star Wars Icons: Han Solo
arrives November 13 and is available for pre-order now.
Dan Brooks is Lucasfilm's senior content strategist of online, the editor of StarWars.com, and a writer. He loves Star Wars, ELO, and the New York Rangers, Jets, and Yankees. Follow him on Twitter @dan_brooks where he rants about all these things.