The artist discusses his process and why his new Star Wars book, The Big Golden Book of Aliens, Creatures, and Beasts, might be his favorite.
Finding Star Wars books for all ages is easier than ever. Younglings have a variety of titles at their fingertips, including Penguin Random House's Little Golden Books Star Wars titles. The recognizable books with the gold foil spines explore the rich galaxy with retellings of the films and character collections with strikingly gorgeous illustrations.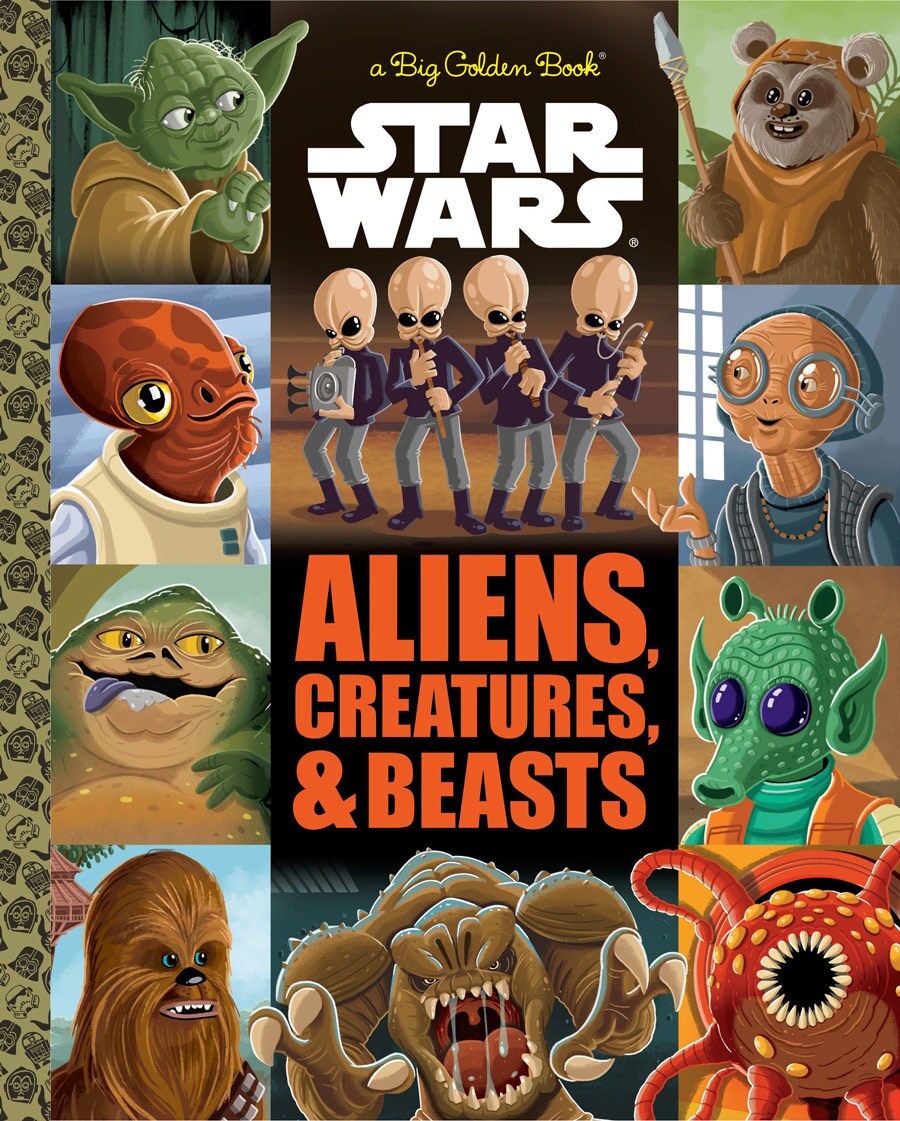 Chris Kennett is one of the illustrators filling the pages of the Golden Books with unique art. He's been a fan of Star Wars since he was eight years old. He first experienced the galaxy through seeing Return of the Jedi. He'd missed the Darth Vader reveal in The Empire Strikes Back, so he was kind of confused, but all the incredible creatures and aliens got him hooked. Watching the movies and playing with action figures all paid off years later when Kennett was contacted by Penguin Random House to work on the Star Wars Little Golden Books. StarWars.com spoke with him about landing the gig, Easter eggs, and his new release, The Big Golden Book of Aliens, Creatures, and Beasts.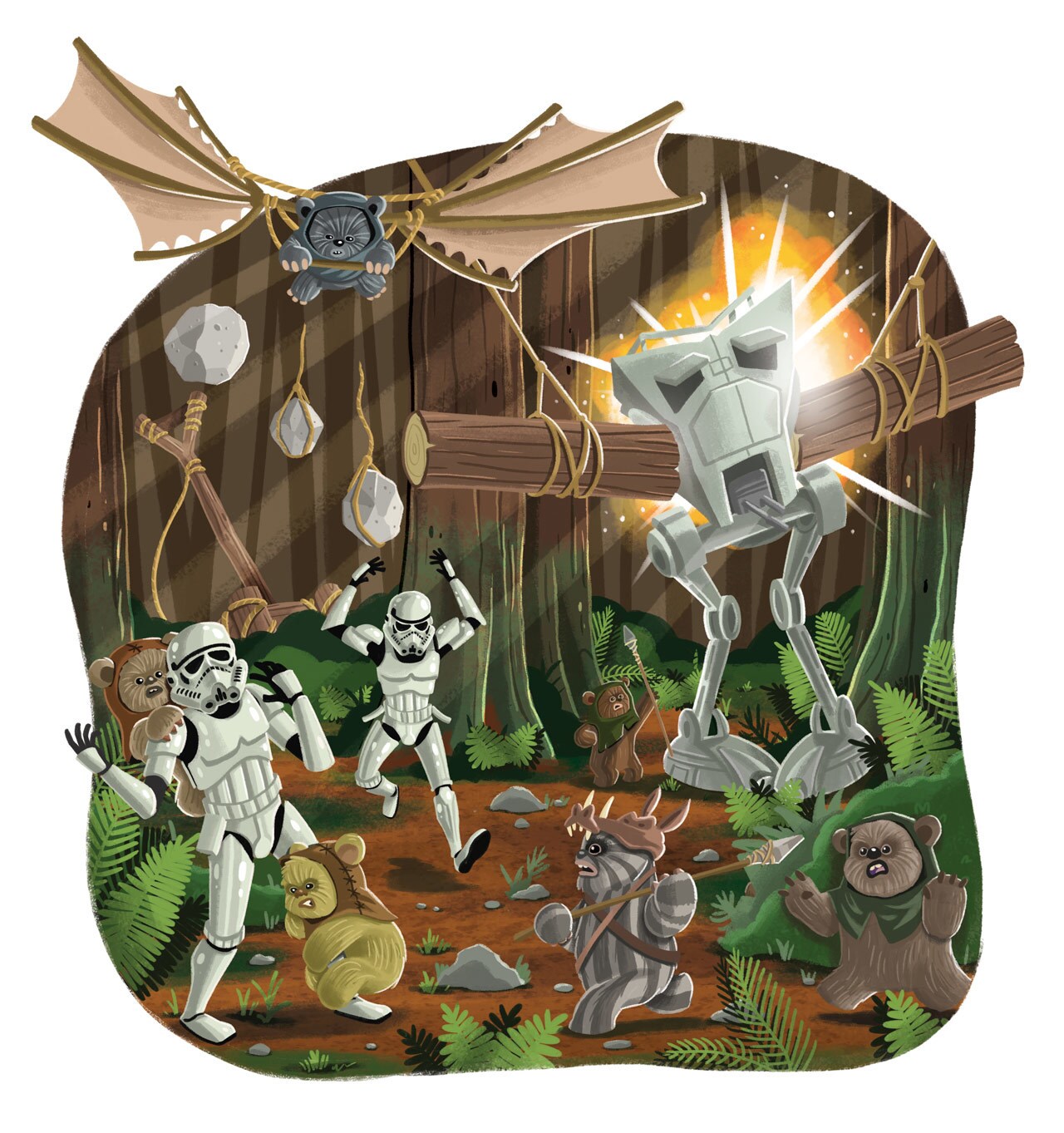 StarWars.com: How did your work on the Little Golden Books come about?
Chris Kennett: It was just a random e-mail, forgive the pun, from Random House. The title of the e-mail was "Star Wars Little Golden Books." I wasn't sure what to make of it at first, to be honest, because I thought it might be just some sort of advertising email, that these were coming out, and I thought, "Oh, now that's good, that sounds fun."
Then as I clicked and read further into it, they said they'd followed a number of artists online and that I was one of them, and asked if I would be interested in working on a Golden Book. That completely blew me out of the water. I know there are many, many fantastic artists around the world -- I follow lots of them myself -- so to be sort of chosen from a huge pool of talent was really exciting and really quite humbling as well.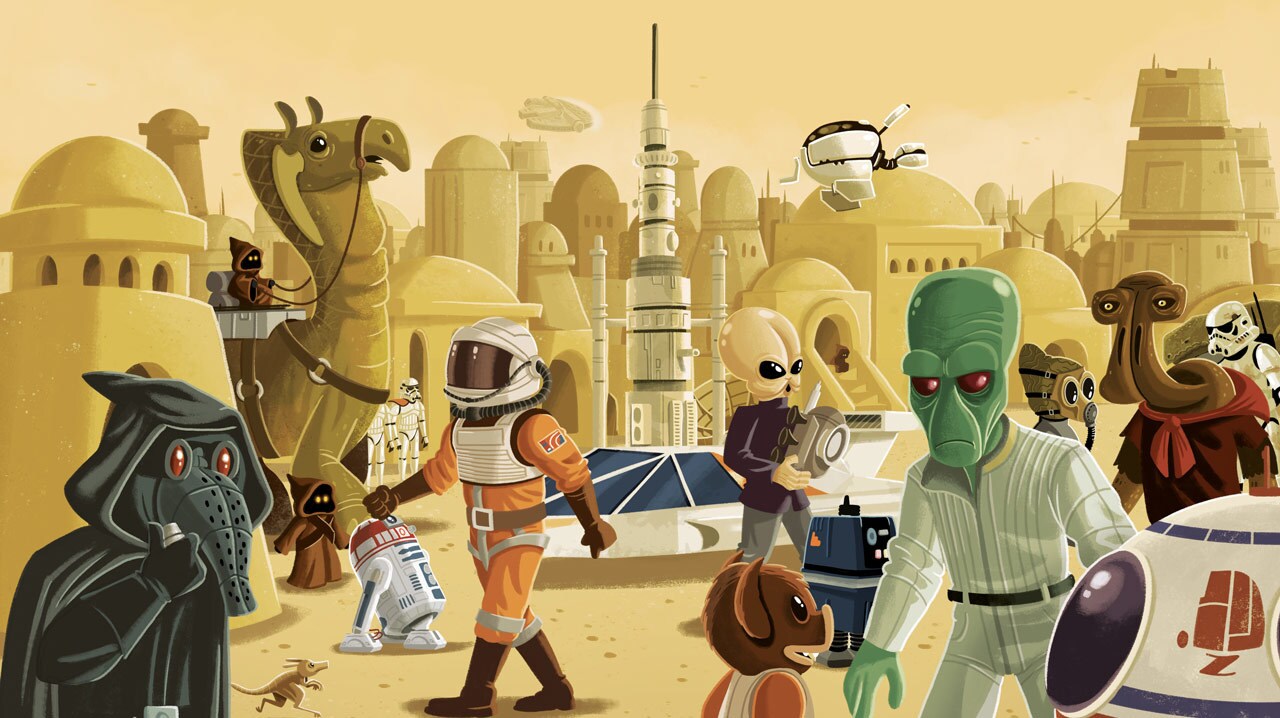 StarWars.com: You've illustrated a variety of characters and beings for Little Golden Books titles The Empire Strikes Back, I Am a Sith, and others. Did Random House have those titles in mind for you or did you get to choose?
Chris Kennett: I got a choice of doing two books at first, A New Hope or The Empire Strikes Back. I was very, very torn about which one to choose, because obviously A New Hope is the one that started it all, and it brought lots of other people into the universe so that was on the top of my list for a long time. But the more I thought about it, the more I sort of started to sway towards Empire, because it was my favorite movie of the three. 
StarWars.com: Did you have to adjust your style it all to match what they wanted for the books?
Chris Kennett: It took me a few attempts, actually. My natural style is very cartoony, big eyes and big expressions, so I had to tone that down quite a bit. The Little Golden Books are a little stylized, but not too stylized in a way. It did take a lot of experimentation on my part, but they were very patient with me. They worked through it with me and gave me guidance like, "pull this back" or "make the eyes smaller." They [the art direction team at Random House] approve from rough thumbnails that show the likenesses and page placement.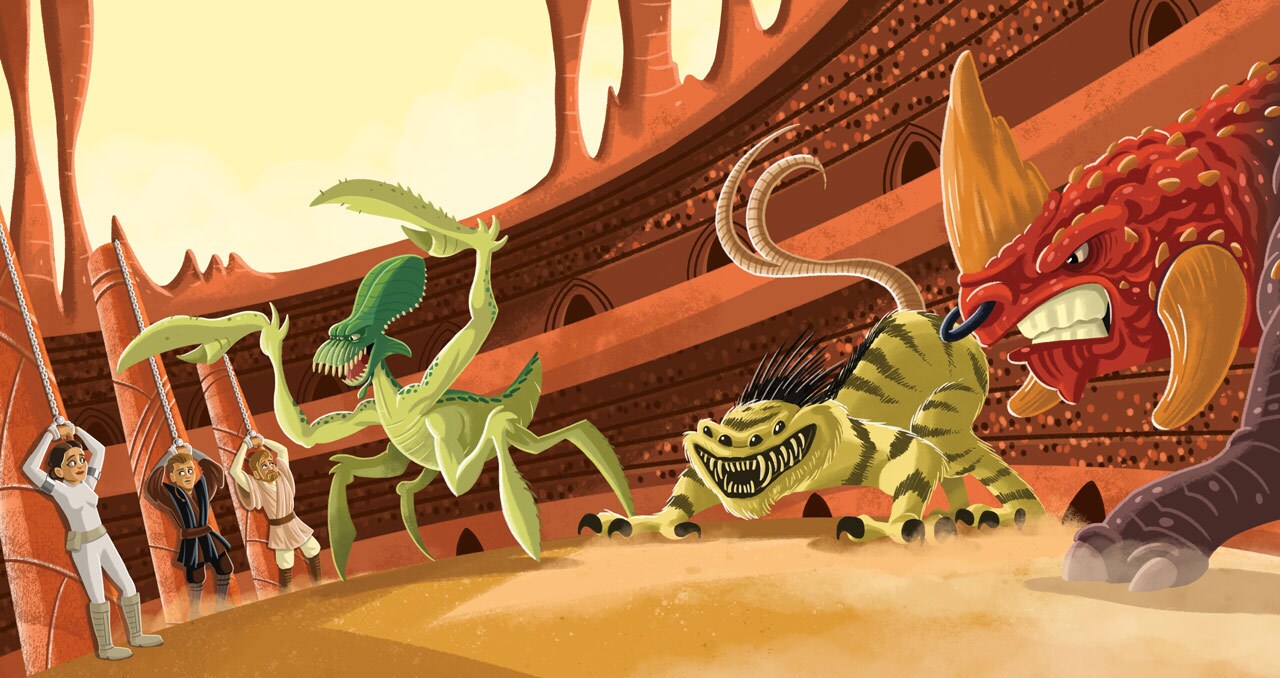 StarWars.com: Your new Golden Book project is The Big Golden Book of Aliens, Creatures, and Beasts. How has this project been different from the others?
Chris Kennett: It's double the size in every aspect, so in actual physical size and in length as well. There's lots of really great scenes in this. A thing I like about doing these sort of anthology kind of books if you like, you get to jump into all the areas of Star Wars. The only movie book I did was Empire Strikes Back, so what these books allow me to do is illustrate parts from other movies that I didn't get to do first time around. There's lots of really cool stuff like the arena scene in Attack of the Clones, like with the acklay. And the cantina scene, as well, that's something I didn't get to do in the original first round of books, so that's another thing checked off the list. There's lots of really good fun stuff in this one, so it's been possibly my favorite so far.
StarWars.com: We don't always spend a lot of time with the aliens and creatures in the films; they don't necessarily have a ton of screen time. What sort of images did you collect?
Chris Kennett: Most of them were really prominent in my mind, but I went back to the films and referenced images on the internet -- usually for costumes. That's the biggest help for me, is getting those costume details down. I definitely am conscious and aware of doing things that I would like to see as a fan, and I know those details are important to them.
One example of that is from the I Am a Droid book with a page with the two bounty hunters. I had a free rein on that page, which I don't often get because usually it's quite specifically what they want shown on every page, but that page was different. It was just [described as] two bounty hunters were arresting some aliens and so on. That was all that the brief was, so I actually made the two characters Dr. Evazan and Ponda Baba. I thought would be fun, to see them getting into trouble since they're wanted in so many systems.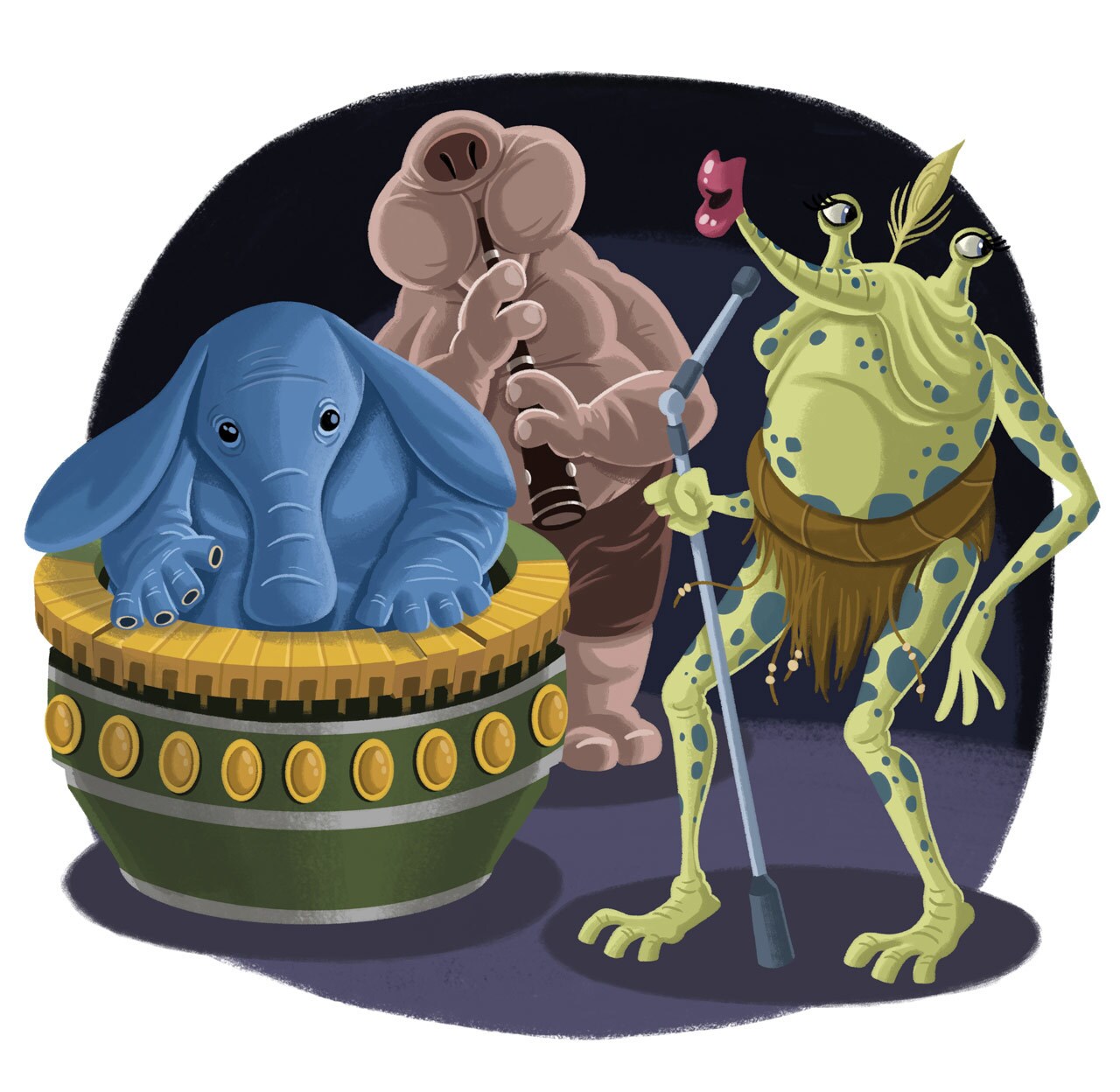 StarWars.com: It's nice that you can tip your hat to some of your favorites when you have a chance.
Chris Kennett: Yeah, it's nice to stick a few little characters in the background if you have time. With the power droid, I really, really liked it as a kid, but I never got the figure itself. So, I like to use him whenever I can.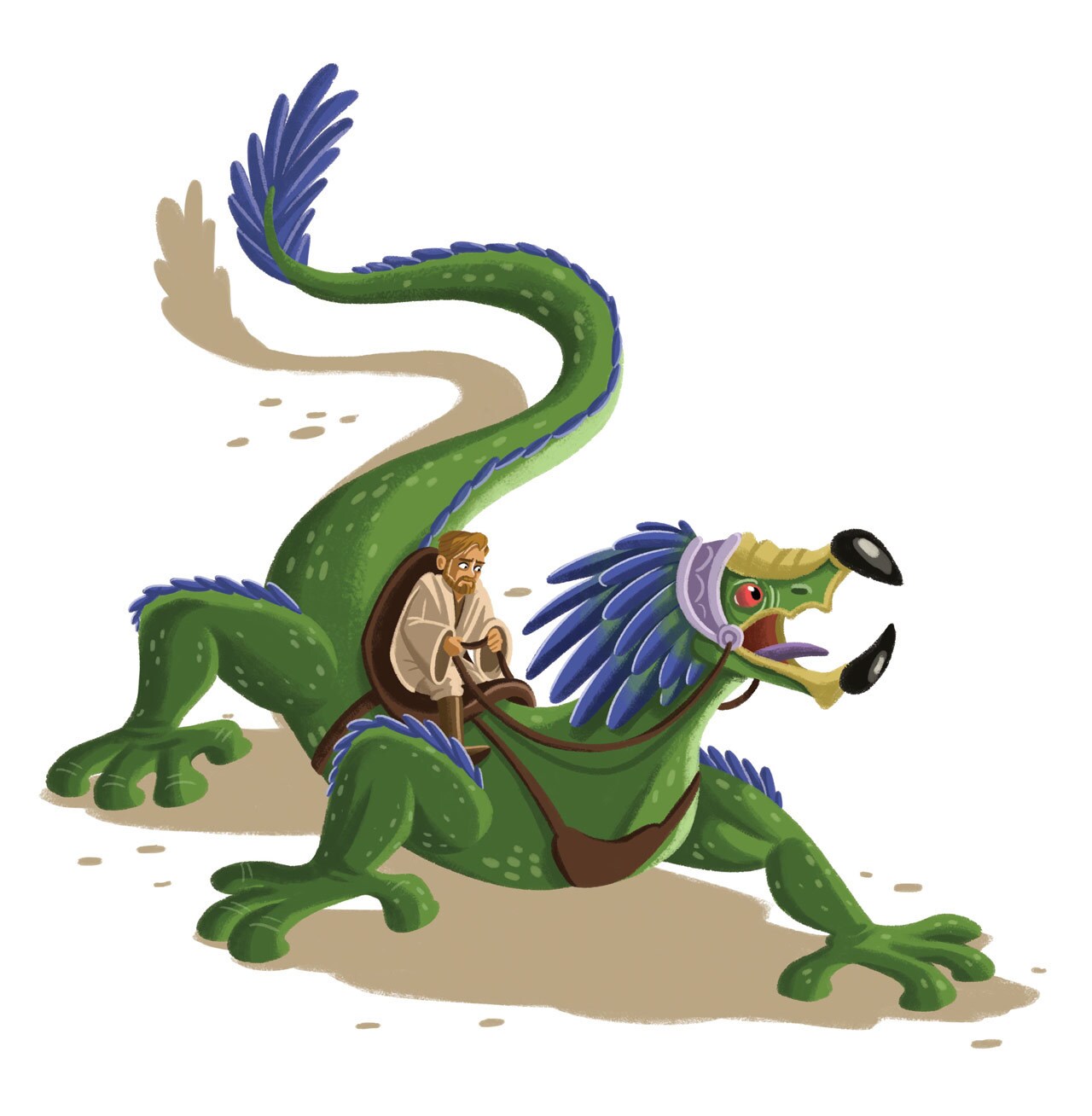 StarWars.com: Since you've illustrated droids, spaceships, creatures, and everything else, I'm curious what the most challenging subject has been?
Chris Kennett: I guess just getting the likenesses down for human characters probably is probably the biggest challenge. Aliens and spaceships, not a problem, but occasionally, one character will just kind of elude me a little bit. It's a tricky line to walk because of being stylized but not too cartoony. You still need to capture the character.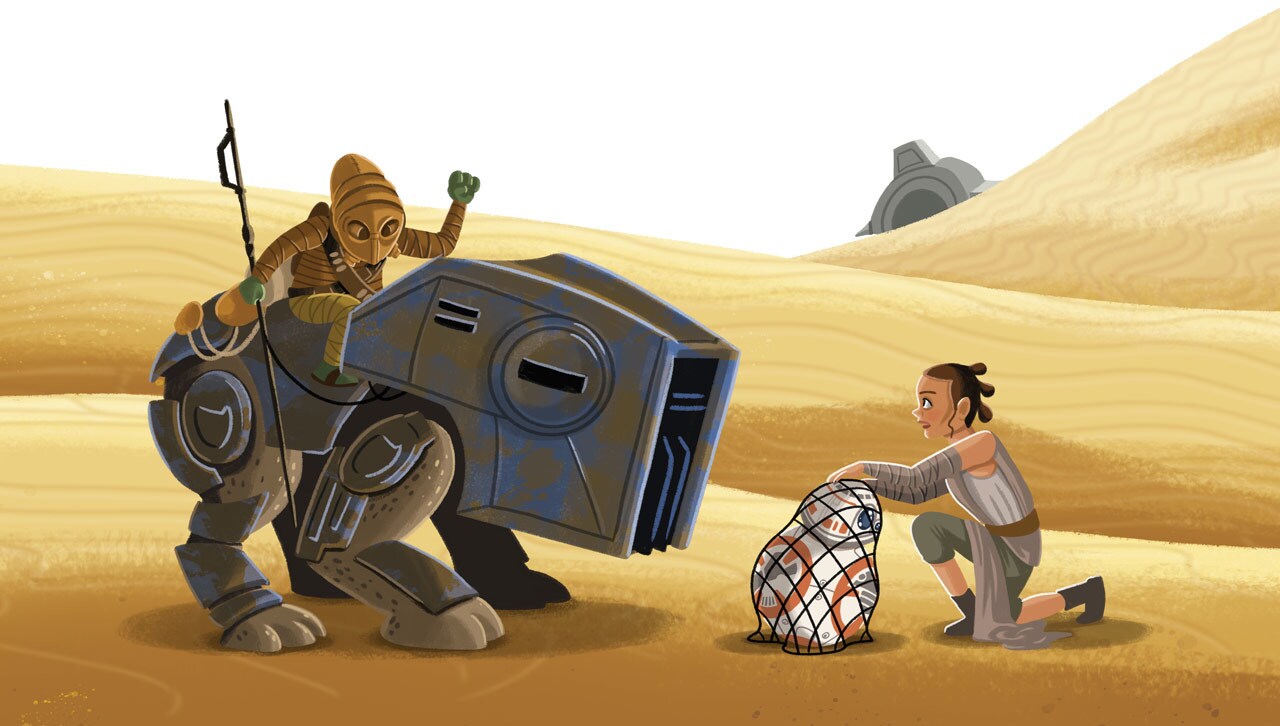 StarWars.com: As a fan of Star Wars, what have been the most "pinch me" type of moments for you with your work on the Golden Books?
Chris Kennett: That definitely happened when I got the job on the very first book. It was completely, "Why me, what's so special?" sort of thing. All the way through that entire process, and even just getting an email saying, "We're just sending this off to Lucasfilm."
Every now and then you sort of just take a step back, and when you actually pick up a book, or if you see it in the shop, that's when it sort of still really hits home again. That feeling of, "That's right, I'm doing this thing, and it's going into shops and people are buying it and getting excited about it." Particularly these books because new generations of kids are getting to get excited about Star Wars.
Amy Ratcliffe is a writer obsessed with Star Wars, Disney, and coffee. Follow her on Twitter at @amy_geek.