Lucasfilm executive James Waugh tells StarWars.com about the series of animated shorts and how they introduce classic characters and timeless themes to new fans.
Adventure awaits you and the younglings in your life in Star Wars Galaxy of Adventures, a new series of animated shorts that will introduce the classic themes, pivotal moments, and iconic characters from the Star Wars saga to the next generation.
Debuting on the all-new StarWarsKids.com and the Star Wars Kids YouTube channel on November 30, the first six shorts combine original dialogue, music, and sound effects with bold new animations, and fun and educational add-ons designed to help older fans, parents, and other mentors to welcome the kids in their lives to explore the galaxy far, far away. Additional shorts featuring fan-favorite characters will debut in December, with regular releases following in 2019.
"With Galaxy of Adventures, we wanted to craft something that allowed parents to help their kids take their first step into a much larger world whether they were ready to show their kids the films or wanted to find new ways to explore the content," James Waugh, Lucasfilm's vice president for franchise content and strategy, tells StarWars.com.
The dynamic animated adventures are only part of a multi-pronged initiative under the Star Wars Galaxy of Adventures banner, and the beginning of a year-long celebration of Star Wars storytelling, which will culminate with the final chapter in the Skywalker saga -- Star Wars: Episode IX -- in theaters December 2019.
Today you can get your first look at the official series trailer and key art, both featured below!

StarWars.com recently sat down with Waugh to talk about parenting Padawans, the educational aspects of teaching children about the saga, and how
Star Wars Galaxy of Adventures 
can put younglings on the path to becoming Jedi Knights.
Star Wars for families
The importance of family runs deep in Star Wars storytelling, both in the sense of bloodlines and the found families that help so many characters reach their full potential. More than four decades after the first film hit theaters, older Star Wars fans are always looking for ways to share their love of the galaxy with the next generation of Padawan learners.
"Over the years, I've had so many of my friends who are parents tell me how much they wanted to introduce their kids to Star Wars but didn't feel that their kids were quite ready for the movies yet," Waugh says. "They wanted a way to celebrate the universe they love."
Galaxy of Adventures does just that, providing a kid-friendly entry point into some of the greatest characters, moments, and themes from Star Wars at large. "With Episode IX coming in December, and being the conclusion of the Skywalker saga -- the long journey over 40 years of storytelling comes to its end -- Galaxy of Adventures walks through the great moments and themes of the stories that led us here and introduces a new generation to them, in time for many to see this finale."
Of course, Star Wars has long been accessible to kids of all ages, including adults who are still kids at heart, stretching beyond the boundaries of genre to revel in timeless mythological themes. "We're passionate about our fans, and passionate to develop content that continues the Star Wars story in a deeper way, filling in the story gaps around the movies, and expanding the universe and its characters in new and more mature directions," Waugh says. "But we're also passionate about what Star Wars can be for kids -- to light up those early imaginations. It's a fairy tale, a mythic landscape that was designed to inspire." Creating content that speaks directly to kids bridges the gap "and allows for Star Wars parents to pass back this love to their kids," Waugh says.
'Simple stories'
Children in particular respond to bite-sized content, but Waugh notes that with digital media at our fingertips, everyone today is engaging more and more with micro-content. That gives the creative team behind the new series -- director Barry Kelly and Titmouse Animation – the chance to play around in the Star Wars galaxy. "It allows us to really drill into moments, to tell simple stories, unencumbered by the needs of a traditional narrative structure -- it's allowing the creators to play more, experiment more," Waugh says.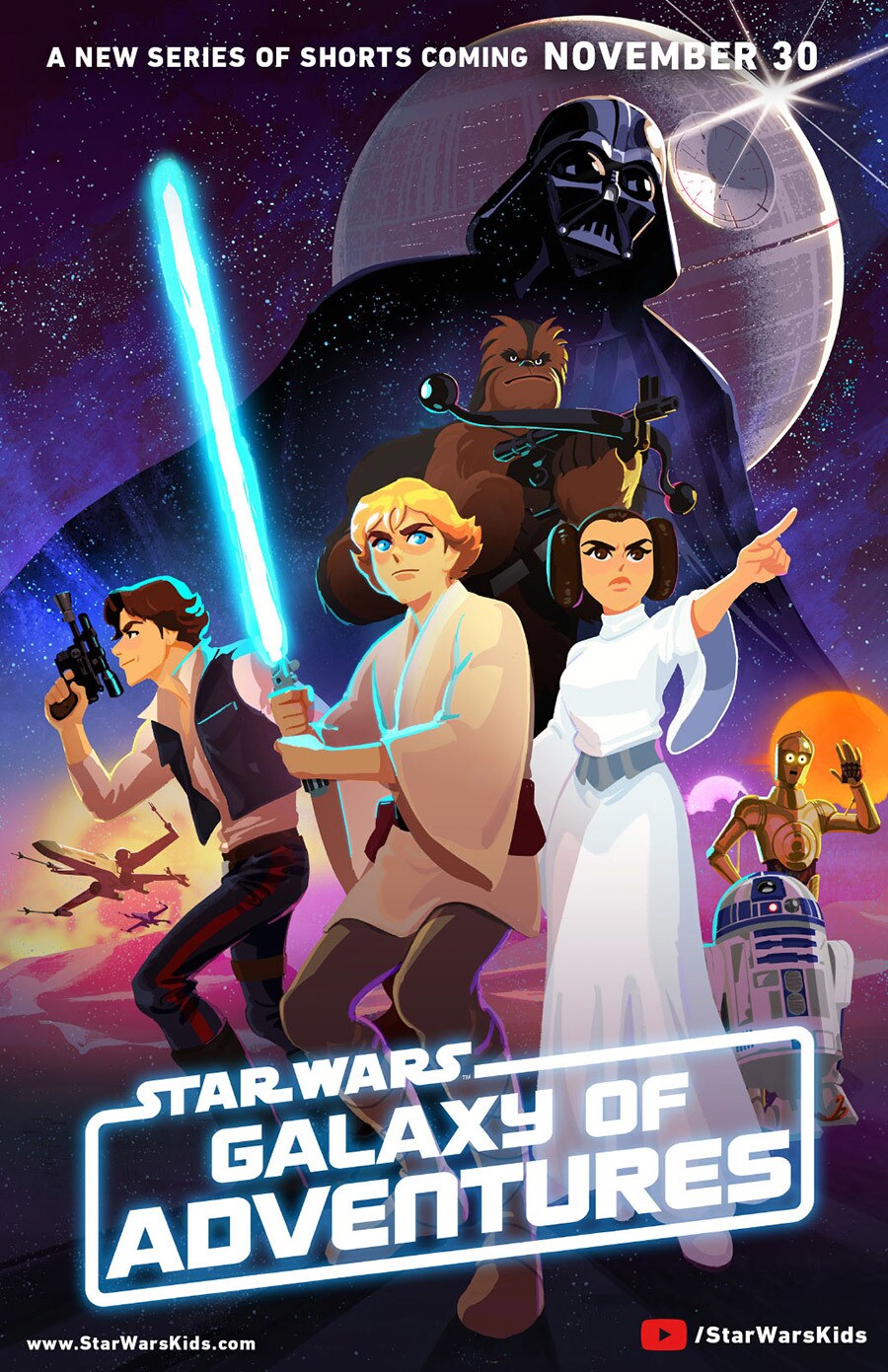 What could have been more direct retellings became a fresh perspective on some of the most beloved lines and scenes. "They took on the challenge, and embraced the opportunity to leverage the medium and target audience to breathe new life into scenes from the original trilogy, or create new scenes, new moments that exemplify the heroism of the characters; their key traits," Waugh says. "There were a lot of discussions around what were the right stories or moments to develop that would show these traits."
The series also includes a complementary piece of entertainment, mixed-media shorts on Star Wars Fun Facts, as well as guides to help older fans continue the conversation after the credits roll. "One of the wonderful aspects of the Star Wars universe is that you can always explore more and go deeper into the fiction." Luke receives his lightsaber in the introductory short, "and there's also a Fun Facts that focuses on all the cool elements and history of lightsabers in general," Waugh notes. In addition, a new line of Hasbro toys will be available on December 1, exclusively at Walmart and then nationwide in January 2019.
At its core, the series is celebratory of Star Wars. "Star Wars continues to evolve and grow over the years but it'll always be anchored in those original films that started it all," Waugh says. "Galaxy of Adventures is a fresh way to introduce an entirely new and younger generation to those concepts, characters, and themes." The new series aims to give children the first kernels of the story and allow the joy of their imaginations to take hold. "Creating content that is unabashedly for kids in this bite-sized, unique animated form, allowed new moments to evolve out of the old, new ways to look at the content, and ultimately expanded the potential of how Star Wars should look and feel. Hopefully it expands the horizons of younglings everywhere on their path to becoming Padawans and ultimately Jedi Knights," Waugh says.
"As for Star Wars Kids, I'm excited to tell new stories, to explore new talent and entertainment forms, unexpected forms of animation, a variety of tonal explorations, and get to look at this universe in a fresh way. I'm excited to share this content with my son and I'm excited to see where imagination takes us all!"
Associate Editor Kristin Baver is a writer and all-around sci-fi nerd who always has just one more question in an inexhaustible list of curiosities. Sometimes she blurts out "It's a trap!" even when it's not. Hop on Twitter and tell @KristinBaver what you love most about Star Wars!