Discover a galaxy of droids from the Star Wars films, animated series, and comics.
Where would our Star Wars heroes be without droids? BB-8 completed Poe Dameron's mission and delivered the map to Luke Skywalker. Plus, he drove an actual AT-ST and rescued Finn and Rose. Chopper saved the Ghost crew on numerous occasions, including some solid undercover work. R2-D2 managed to escape the stormtrooper-infested Tantive IV, find Obi-Wan Kenobi, and get the Death Star plans all the way to the Rebellion on Yavin 4. Because of that, the planet-destroying battle station was destroyed. (Also, without Artoo, Luke would've most likely followed in his uncle's footsteps and never even picked up a laser sword. He certainly wouldn't have gotten out of that trash compactor.)
So maybe the better question is: Where would Star Wars itself be without droids?
That's why Star Wars: Droidography, a new book coming November 6 from HarperFestival and revealed here for the first time, is so exciting. Written by Marc Sumerak and illustrated by Joel Hustak along with Massimo Travaglini and Arianna Sabella, Droidography is a deep dive into mechanical beings across Star Wars -- from icons like R2-D2 to new favorites Triple Zero and Bee Tee, i.e., Doctor Aphra's psychopathic droid pals introduced in Marvel's comics. And maybe best of all, it's all told from the point of view of Roger, the good-guy battle droid from LEGO Star Wars: The Freemaker Adventures. StarWars.com caught up with Sumerak over email to find out a little bit more, and also absconded with our own secret plans, as it were -- your first look at Droidography's cover and a few interiors.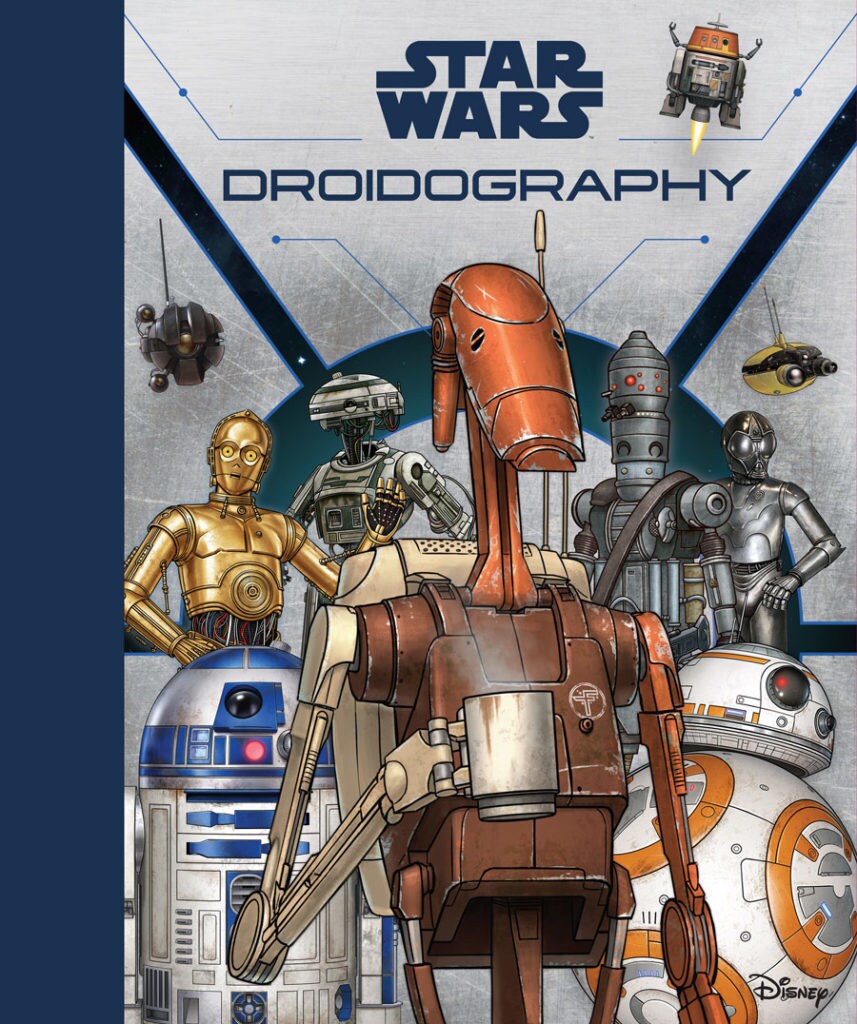 StarWars.com: I had a chance to look at an early copy of the book, and was really surprised at just how much information is packed inside. I mean, this is almost a droid encyclopedia. What can you tell us about the process of writing it?
Marc Sumerak: The process for writing this book actually began way back when I was around four years old. In the early '80s, my brother and I had a ton of the original Kenner Star Wars toys, but the one that I most vividly remember to this day was the Droid Factory, where you could mix and match parts to create customized, one-of-a-kind automated life forms that would probably make L3-37 proud. I played with that set until the little rubber tabs wore right off the droid parts, and my fascination with the mechanical inhabitants of the galaxy far, far away never waned.
Flash forward a few decades, and I found myself presented with the chance to write about virtually every known model of droid from the perspective of one of their own. It was a challenge and an honor I wasn't about to take lightly. As with any project, even ones where I am already deeply immersed in the mythology, it's all about the research. Re-watching all of the films and key episodes of the animated shows, brushing up on canon novels, and digging into visual encyclopedias were all a must. And then there was the extra added bonus of visiting the Lucasfilm offices in San Francisco to learn top-secret details about new droids who had not yet made their debut on screen at the time of writing the manuscript. That was a dream come true!
But the most critical piece of this particular book was making sure that it had its own unique voice, so that we could present the real story of droids from a completely different angle than any of the other informational guides out there. That was no easy task, but it all clicked together once we found our intrepid narrator: a lovable battle droid named Roger.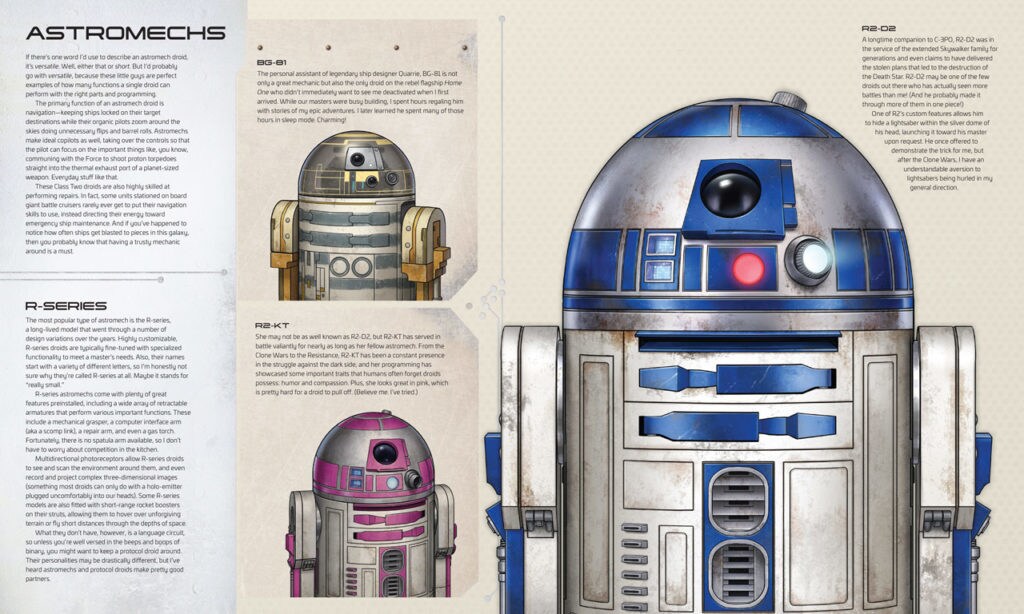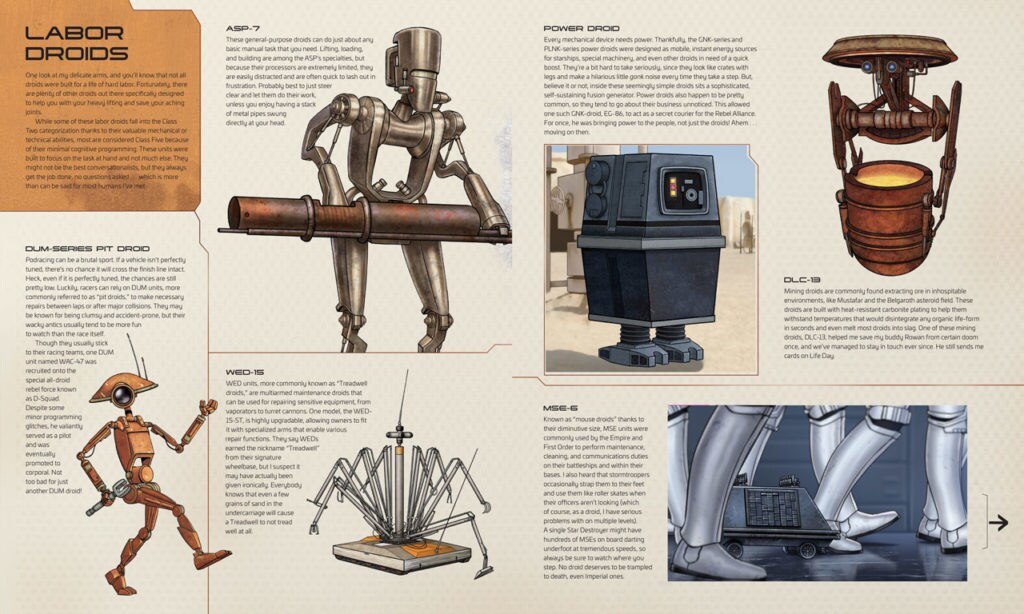 StarWars.com: Right! Roger's probably my favorite character on The Freemaker Adventures. How was it getting into his battle-droid head and writing in his voice?
Marc Sumerak: I'll be honest, before I wrote this book, I had only caught a few of the LEGO Star Wars animated projects, like The Yoda Chronicles and Droid Tales, but somehow The Freemaker Adventures had slipped under my radar. So when R0-GR was recommended as a potential narrator for the project, I found myself binge-watching both seasons of the show over the course of a weekend -- and loving every second of it!
Roger has such a strong and singular voice for a droid, perfectly mixing sarcasm, comedy, and genuine compassion. His experiences on The Freemaker Adventures had seen him cross paths with so many different droids along the way, giving him insider knowledge (as well as an abundance of inside jokes), making him an ideal candidate to chronicle their stories. And since he was a battle droid that was reprogrammed to aid in domestic chores and child raising duties, Roger really exemplified what we were trying to say about droids as a whole in the book -- that everyone, organic and mechanical alike, has the potential to grow beyond what they were original designed to be.
StarWars.com: When you step back and look at all the droids featured in Droidography, you can really see how important they are to Star Wars.
Marc Sumerak: Droids have always been an important part of the Star Wars universe, but this project really opened my eyes to how essential they are to the daily lives of the galaxy's organic inhabitants. Without droids to do the heavy lifting, it seems like society would instantly crumble. And yet, for all they do to keep things running smoothly, the respect they receive in return has never quite added up. We all know the classic line, "We don't serve their kind here," and I wanted to explore what that lack of reciprocity meant to a being who had dedicated their entire existence to serving others.
Of course, we also wanted to have plenty of fun along the way, too, and I think we managed to do that by including a wide assortment of droids ranging from fan favorites to deep cuts. There were even a few models I encountered for the very first time while preparing for this project, and now I can't imagine a galaxy without them! So whether you're a fan of BB-8 or BT-1, this project has got you covered.
And if that wasn't enough, the book will also be filled with all sort of enhanced features to really make these droids jump right off the page...and hopefully straight into readers' squishy organic hearts! I know these shiny little guys will definitely be in mine for a long, long time...
Star Wars: Droidography is available for pre-order now.
Dan Brooks is Lucasfilm's senior content strategist of online, the editor of StarWars.com, and a writer. He loves Star Wars, ELO, and the New York Rangers, Jets, and Yankees. Follow him on Twitter @dan_brooks where he rants about all these things.