The power of the Force came to LEGOLAND, and everything was awesome.
The Force came to LEGOLAND California earlier this month with the Carlsbad theme park's annual LEGO Star Wars Days celebration. Fans came to enjoy a variety of special activities and attractions just for this event, including a major presence by the Star Wars costume clubs, a huge collection of creations by fan builders, and world premiere screenings of LEGO Star Wars: The Freemaker Adventures.
Both Saturday, June 4, and Sunday, June 5, LEGOLAND California opened with special fanfare and a procession of 50 members of the local chapters of the 501st Legion, Rebel Legion, and Mandalorian Mercs costume clubs. The gathered crowds watched at the gates as stormtroopers, Rebel pilots, Mandalorian bounty hunters, Ewoks, Sith Lords, Tusken Raiders, and Jedi marched into the plaza just inside the main entrance, topped off with a visit from Princess Leia and Darth Vader. The terrace connecting the entry area to the adjoining lands was busy all day with photo ops with costumed characters in front of the main lagoon, or in front of a special Death Star wall backdrop, made by the Imperial Sands Garrison of the 501st Legion costuming group. But it was more than just the Empire present, with kids and adults lining up to take photos with characters with Rebels, Jedi, bounty hunters, and even an R4 astromech droid! There were also some favorites from The Force Awakens including Rey, Finn, Kylo Ren, Han Solo, Poe Dameron, First Order stormtroopers, and even pilot Jess Pava.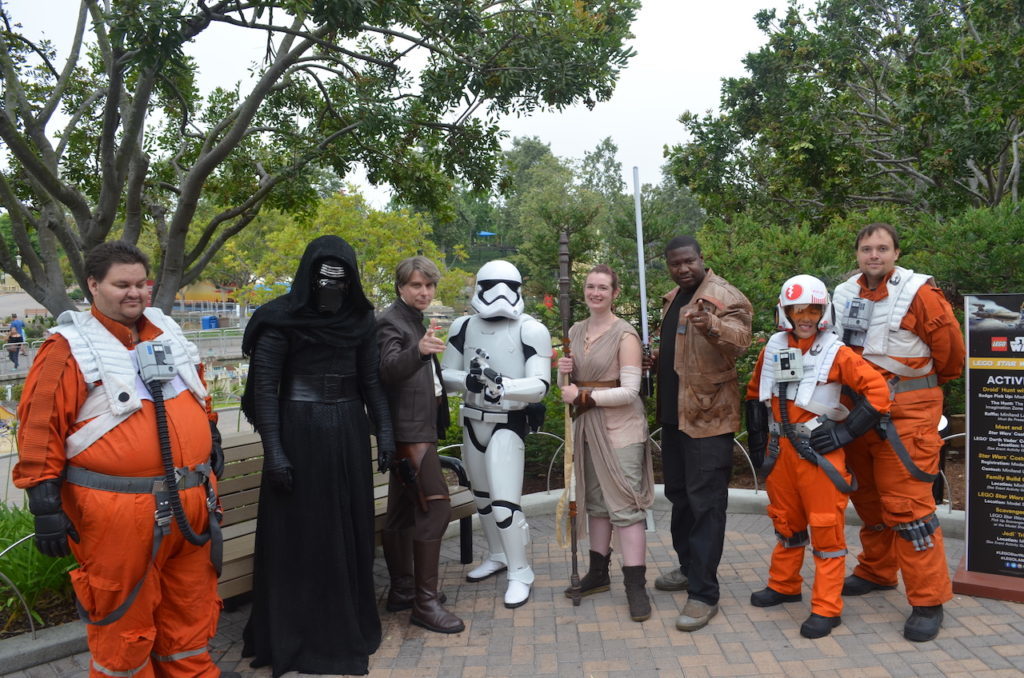 The fun with costumed folk continued over into LEGO Star Wars Miniland, where theme park goers could pose for photo ops with costumed fans in front of the cool dioramas from the saga. From standing with stormtroopers next to a 19,200-piece Millennium Falcon in Docking Bay 94 to encountering Qui-Gon Jinn near the plains of Naboo, to meeting Kanan, Sabine, and Ezra from Star Wars Rebels, there was a chance for everyone to find a favorite character. With plenty of members from the costume clubs present, you could return to LEGO Star Wars Miniland and discover an entirely new batch of costumed characters. Costumers came from all over Southern California to bring joy to the crowds at LEGOLAND.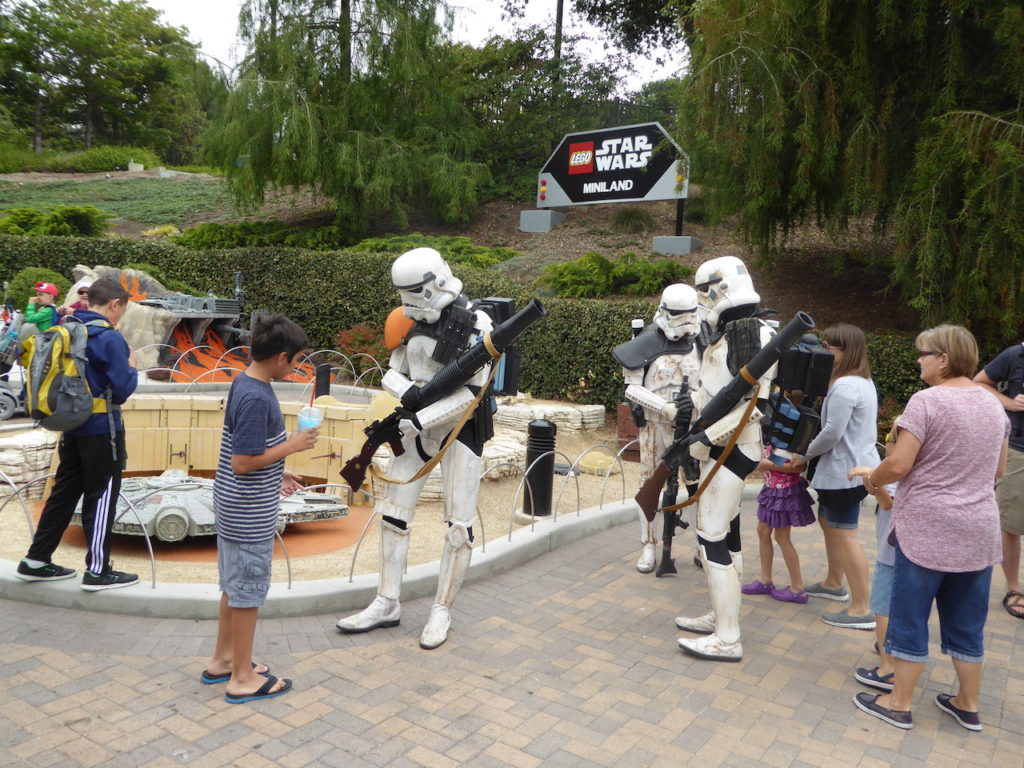 Not only were there fans in costume to ooh and ah over, there were fan-made LEGO creations to behold. On the patio on the roof of the Model Shop overlooking Miniland, fan LEGO models and photography were on display from almost 50 fan builders. Some model makers went to great length detailing faithful recreations of Star Wars locations and vessels like Maz Kanata's castle, by Mary Applegate and Max Philippe, with towers and the courtyard, and two stories of minifigure scenes.  A group project had a display of mini-scenes, built by different individuals, that told the story of The Force Awakens, including a scene of Kylo Ren throwing a tantrum, by Peter Abrahamson.