Take a look at new Star Wars comics available this week!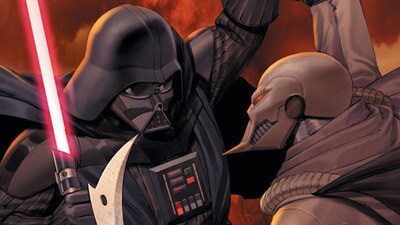 It's Wednesday, which means one thing: new comic books! Check out a preview of new Star Wars comics available today after the jump!
Star Wars: Dark Times #2, $3.50
The crew of the Uhumele have a plan to strike at the heart of the newly formed Galactic Empire -- Darth Vader himself! While they seek a certain Jedi to join their cause, secrets among the crew begin to form cracks in their alliance. Could their plan be over before it's begun? Elsewhere, Vader trains an assassin for Jedi hunting!

Creators
Writer: Randy Stradley
Artist: Douglas Wheatley
Colorist: Dan Jackson
Cover Artist: Benjamin Carré
Star Wars: Darth Vader and the Ninth Assassin #5, $3.50
Having stalked Darth Vader, the assassin is now ready to strike... It seems Vader, distracted by threats to the Emperor, could be taken. But the assassin has made one mistake -- believing that he has a chance against the most-feared man in the galaxy!

Creators
Writer: Tim Siedell
Artist: Iván Fernández
Inker: Denis Freitas
Colorist: Michael Atiyeh
Cover Artist: Ariel Olivetti