The Force is strong with Washington DC's growing con.
Some would-be Washingtonians may think to emulate Frank Underwood of House of Cards fame. But this year's Awesome Con celebration of popular culture provided ample evidence that Star Wars fandom is thriving in professional circles in the nation's capital and continuing to find venues for expression. "Star Wars pulls people together who are all ages and from all walks of life," said longtime fan Nancy Lutz, "That sounds trite, but it's still true."
Geek culture and cosplay are exploding in DC. Witness the exponential growth in this year's Awesome Con attendance figures over 2013, the convention's first. According to Emily Whitten, the program coordinator for Awesome Con DC 2014, in 2013 the con drew over 7,200 fans; this year, attendance quadrupled to over 30,000. Plans for 2015 now call for a three-day event that will run May 29-31 at the massive Washington Convention Center.
Professionals are very much the Awesome Con drivers and the attendees. By day, Whitten is an attorney with the office of the solicitor in the national office of a federal agency. (By night, she is also a columnist for the genre entertainment website ComicMix LLC. Nancy Lutz is a Ph.D. and program director for economics at the National Science Foundation. Fellow fan Tish Pahl is a practicing attorney with the Washington firm OFW Law. Said Pahl, "I hadn't been to a con in a long time, and so it was really fun to get back into it, to see old friends, to meet new ones, to wear the T-shirt and buttons, and reconnect with 'my people.'"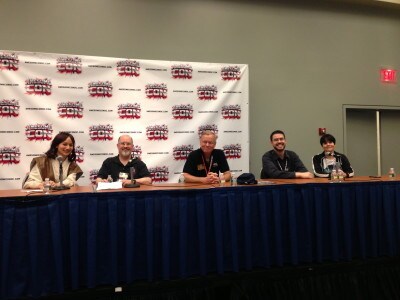 Based in the DC area, both Lutz and Pahl are "Star Ladies," the precursor organization to what is now Club Jade. As I reported in a previous post, Star Ladies has long had a presence in Star Wars fandom, one that Lucasfilm has always valued. With the pair was another Star Lady and DC resident, Diane Owen, an economist with a second federal agency. Enthusiastically observing the Awesome Con scene as related to women, Owen said,  "I saw dozens of girls and women walking around the con floor in Her Universe dresses and shirts. I hope Disney will note the success of Her Universe and realize that there is an under-served market available to them. The young girls they are raising on Mulan and other strong Disney heroines grow into women who yearn to see live-action heroines on screen."
All three women are very successful professionals who attribute some of their success to inspiration from Star Wars. Observed Pahl, "Being at Awesome Con reminded me of why [Star Wars] stories were and remain so vital and formative for me. Star Wars is a modern myth for our culture, and I expect our mythic stories to tell the heroine's story as much as the hero's. Star Wars, in all its incarnations, is and was hugely important to women, both as characters in the stories themselves, and as consumers and participants in the fan community."
Representing the next generation of Star Wars professional women was Bria LaVorgna, a security operations analyst in a third Federal agency. LaVorgna is also a contributor to the Web-based geek culture hub, Tosche Station. "As someone who attended Awesome Con in its first year, walking into the convention this year was just, well, 'awesome.' It was amazing to walk around the convention and see so many other people, both local and from far away, who were all there because they love geeky things, too."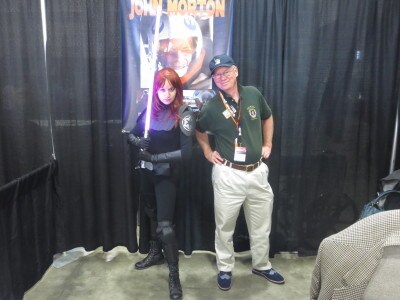 Excitement about all things Star Wars in DC was high. Emily Whitten had asked LaVorgna to moderate a well-attended Star Wars panel that featured author Tim Zahn, Rod, and Leanne Hannah of the webcomic Blue Milk Special, and Dak. Said Diane Owen, "I was struck and really heartened by the interest in the panel, which had fans lining up in the hallway for well over half an hour to be sure of getting in. The diversity of the audience stood out to me as well." LaVorgna agreed: "I was particularly thrilled to see such a strong presence from Star Wars fans, from the number of people who attended the panel, to those in costume, to those lining up outside Star Wars guests' booths, to those who instantly knew that I was dressed as Mara Jade and not Black Widow."
"Every conversation I had with a fellow Star Wars fan," LaVorgna continued, "was full of enthusiasm for the galaxy far, far away along with speculation about what the new movies and Rebels might bring us." Nancy Lutz agreed: "We're going to have a lot of fun over the next few years, with all the new 'metaphorical' toys that the new movies will bring us. And -- now that I'm not 17 any longer -- I'm personally really happy that I'll get to see a Leia, Luke, and Han on screen. They're all my age!"
Both LaVorgna and Lutz came away with positive reactions. "I can only hope that future Awesome Cons will not only enjoy the same level of enthusiasm for Star Wars but even higher and greater ones," said LaVorgna. "Who knows?  Maybe one day Awesome Con could become one of the conventions to hit for those who love Star Wars!" Concluded Lutz, "I had a terrific time and am looking forward to attending next year. I think DC's really needed an event like this."
Throughout the weekend, Dak liaised closely with the 501st which was present in force, represented by Maryland and DC's Old Line Garrison. Assisted by Virginia's Garrison Tyrannus http://va501st.com/intro.php, Old Line's Blast-a-Stormtrooper table raised several thousand dollars for the Travis Manion Foundation http://www.travismanion.org. The Foundation assists veterans and the families of fallen heroes by serving community and country and by fostering strength of mind and body to create a generation of future leaders.
John appeared as Dak, Luke Skywalker's back-seater in the Battle of Hoth in The Empire Strikes Back. He also appeared in the film substituting for Jeremy Bullloch as Boba Fett on Bespin when he utters his famous line to Darth Vader, "He's no good to me dead." Follow him on Twitter @tapcaf.