Check out the legendary artist's stunning wraparound cover to Star Wars #1, coming January 2015!
Lucasfilm and Marvel Entertainment are extremely proud to officially unveil Marvel CCO Joe Quesada's jaw-dropping wraparound variant cover to Star Wars #1, debuting in January 2015! The heroes of the Rebel Alliance prepare for battle against Darth Vader and the forces of the Empire -- all rendered in Quesada's signature style.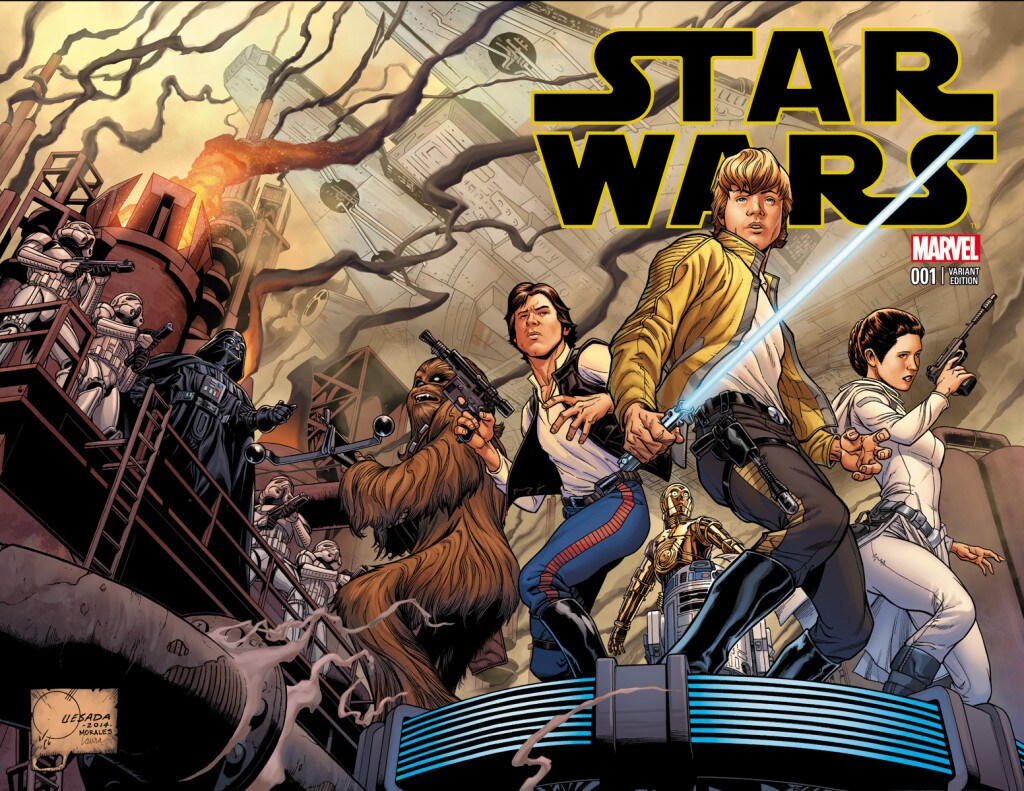 "I was asked to give a quote about this cover and to tell fans about the first time I saw Star Wars or how it completely changed my life, but it's a story I'm sure isn't all that interesting when compared to the countless others that have been told, much more eloquently, by so many before me," said Quesada. "While each of us has had our unique moments of discovery and love affair with the property there's nothing that I think I could say or add that hasn't been said before and truthfully it really isn't all that important because It's that love for Star Wars that binds all of us who share those unique moments like the Force itself. That's why when I was offered the opportunity to do this cover I was both thrilled beyond belief and as nervous as I was when I did my very first professional work over twenty years ago. To have the opportunity to illustrate the classic cast members in one piece has been by far one of the highlights of my career as an artist. I can only hope that it turned out okay and that maybe, just maybe, I get the chance to do it again someday."
From the star-studded creative team of writer Jason Aaron (Thor, Original Sin), artist John Cassaday (Astonishing X-Men) and colorist Laura Martin, Star Wars #1 takes place immediately following the events of Star Wars: Episode IV A New Hope, taking fans back to the days following the destruction of the first Death Star, as the beloved characters from the iconic trilogy forge ahead for brand new adventures!
However, January's Star Wars #1 is just the first step into a larger world. The galaxy far, far away expands in Feburary 2015 with the new ongoing series Star Wars: Darth Vader #1 and again in March 2015 with the new 5-issue limited series Star Wars: Princess Leia #1 as two of the most prominent figures in the galaxy take center stage.
Check out StarWars.com's exclusive interview with the writers of each title for more on these historic series, and stay tuned to StarWars.com and Marvel.com for news and information on Star Wars comics!
StarWars.com. All Star Wars, all the time.