The actor speaks with StarWars.com about taking on the role of the fan-favorite character.
For Rosario Dawson, there's only one way to explain her casting as Ahsoka Tano.
"I think it definitely was the Force at work," she tells StarWars.com.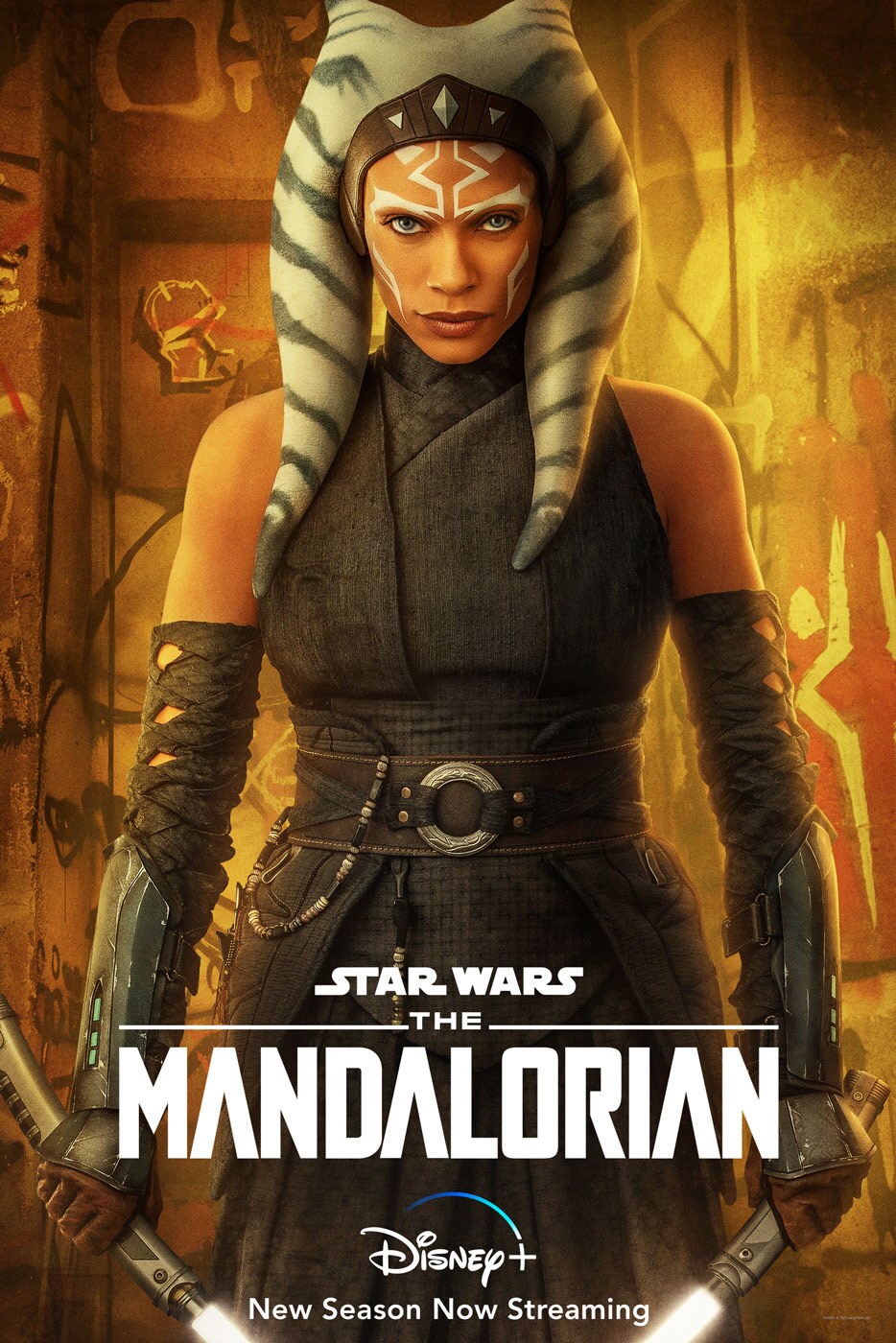 And she might be right. In February 2017, a Star Wars fan tweeted at Dawson, asking if she would ever want to play the fan-favorite Jedi, who, at that point, had only been seen in the animated series Star Wars: The Clone Wars and Star Wars Rebels. To the surprise of pretty much everyone, Dawson responded emphatically. "Ummmm… yes please?! #AhsokaLives #AhsokaTano #StarWars." The Internet noticed, causing a stir in the fan community about the possibility of Ahsoka making the jump to live-action; Dawson's enthusiasm only added to the excitement.
Well, Lucasfilm noticed, too.
"I think someone who always does the press for Star Wars saw it and forwarded it to [Ahsoka creator and The Mandalorian executive producer] Dave Filoni, who said, 'Interesting. Yeah. She looks like she could be her. That's cool,' and then followed me," Dawson says. "They ended up having the Star Wars account follow me. And that became a whole thing. Like, 'Wait, did something just happen?' And I got really excited. 'Wait, did something just happen?' And then nothing happened. [Laughs] Nothing happened for a very long time."
For a while, it seemed as if this bit of fan casting would go unfulfilled. But Lucasfilm and Filoni didn't forget.
"When I spoke with Dave about it and they started talking about doing this show and he did the math of what year it was, he kind of revisited that idea of me for the character, and with my age versus where she would be, and said, 'This is actually a feasible thing.'"
The Mandalorian creator and executive producer Jon Favreau knew Dawson a little, and regarded her work highly. But, according to Dawson, Favreau and Filoni did not want to bring Ahsoka in during Season 1. "But as it started going along, and it was always sort of sitting in the back of [Filoni's] mind, Dave had always wanted to continue her story and give her a chance at live-action."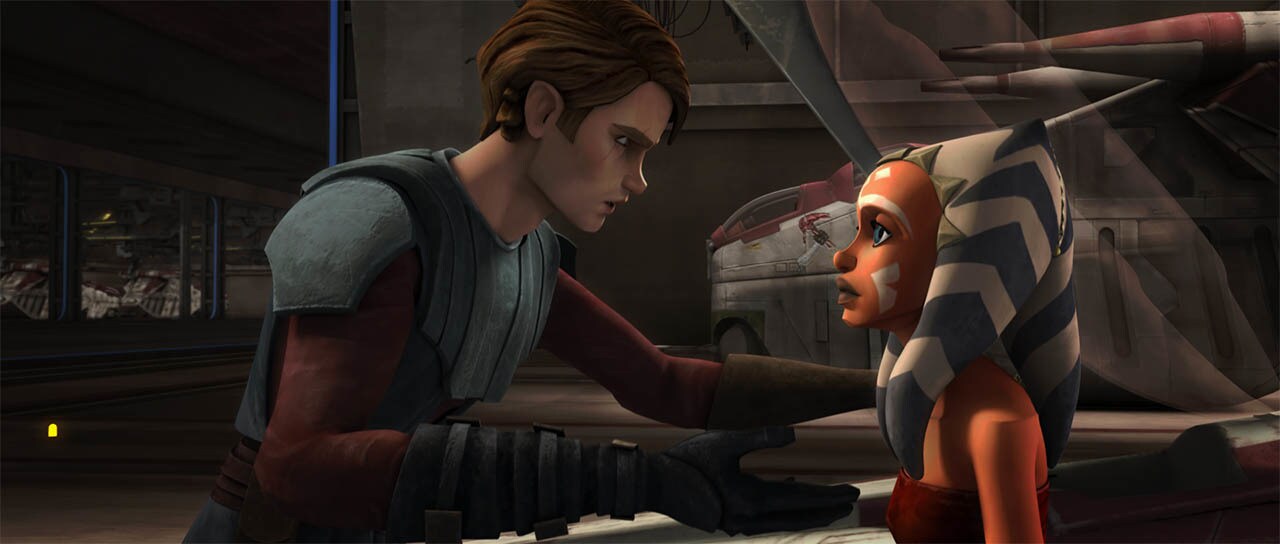 And there was one more bit of Force-related serendipity. Ahsoka Tano began her Jedi career as Anakin Skywalker's Padawan learner; as it turns out, Dawson attended the Lee Strasberg Theatre and Film Institute and later appeared in Shattered Glass with one Hayden Christensen, who played Anakin in the Star Wars prequels. "I have to say, for Dave, going online and looking up things -- when he came across a photo of the two of us hugging each other, he lost it. He said, 'How is this…? This was meant to be.'"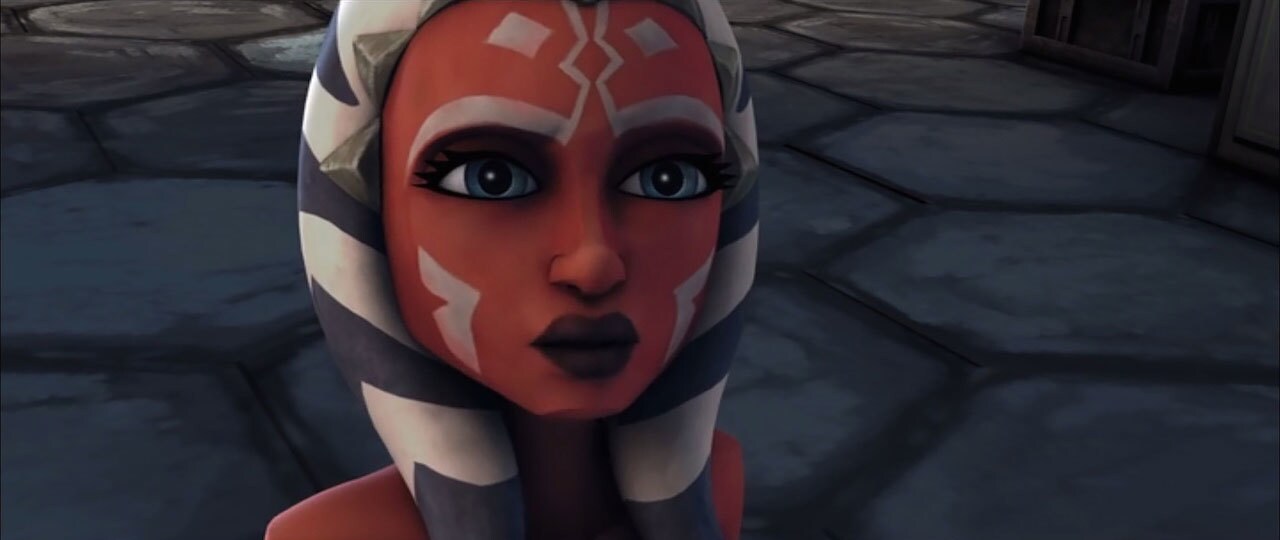 Ahsoka lives
Well before the character's appearance in The Mandalorian "Chapter 13: The Jedi," streaming now on Disney+, Ahsoka Tano first debuted in The Clone Wars animated movie in 2008, the kickoff to what would become a beloved series. Assigned as Anakin Skywalker's apprentice, Ahsoka was young and made mistakes, even losing her lightsaber in one memorable episode. But she learned and grew up over the course of the show; by the end, Ahsoka was teaching younglings to assemble their lightsabers, rescuing her master, and going saber-to-saber with Maul. It was an evolution that older fans enjoyed, and The Clone Wars' younger audience grew up with her. When the character eventually appeared in Star Wars Rebels in 2015, set closer to the time of the original trilogy, she meant as much to fans as any Star Wars hero from the movies. Through it all, Tano was voiced by actor Ashley Eckstein, herself a proud custodian of the character. Dawson, known for acclaimed performances in everything from Kids to Death Proof to a recurring part as Claire Temple in the Marvel Cinematic Universe, was well aware of the multi-layered legacy surrounding Ahsoka going into the role.
"Ashley did such an incredible job and I know how the fans feel about her, and I know how she feels about this character and how much she's given to it," Dawson says. "And I know that it's such a different feeling and space to bring this character that people have loved for so many years into live-action. I really, really, really wanted it to be something that people could enjoy and get into as another Ahsoka story."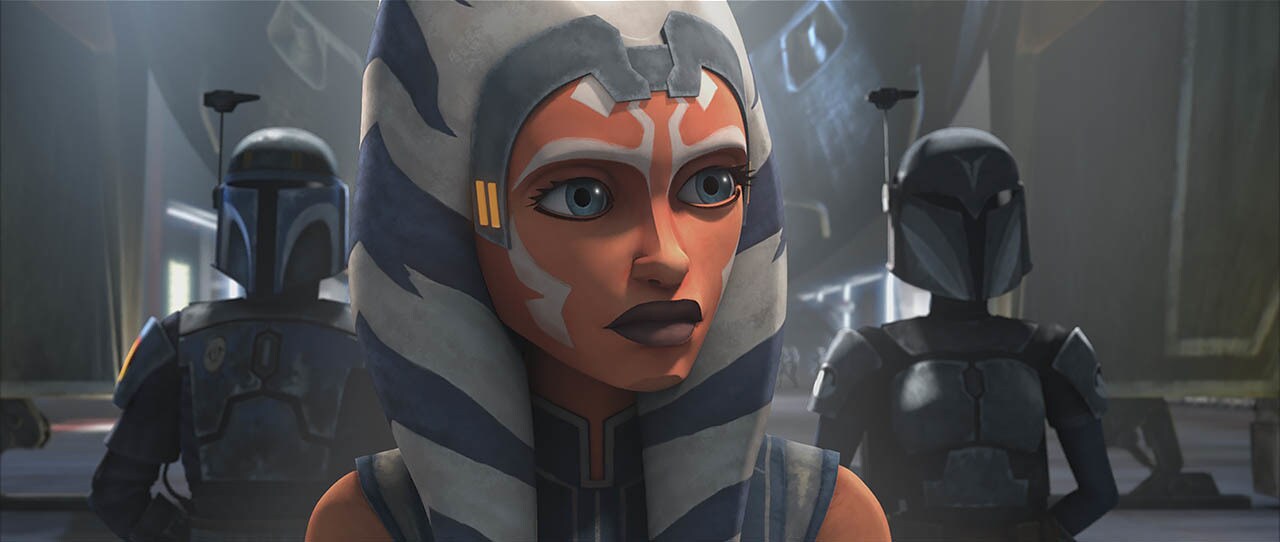 As revealed by her tweet confirming her interest in the role, Dawson had been a fan of The Clone Wars, watching it with her daughter. And once she was on board to play Ahsoka, the actor dove back in to The Clone Wars, Star Wars Rebels, and the saga at large to prepare.
"There was so much material to work from. I think that was definitely a huge benefit for me. I was marathoning the show from beginning to the end, putting in the movies," she says. "It was really fun to see how Ahsoka's physicality changed, and her facial expressions changed, and her voice and her tenor changed as she just evolved."
All of this would play into Dawson's take on Ahsoka, in addition to some surprising guidance from Filoni, who pointed to The Lord of the Rings' Gandalf as a touchpoint for the character.
"It was just interesting playing with an amalgamation of all that," Dawson says. "I wanted to kind of have some her playfulness and her fun -- the cocky eyebrow thing that she does. You know that she's got that feistiness. You know that she's willing to push the rules a little bit in order to get what needs to get done. But I also really like that she does have that wisdom. She's gone through a lot. She's really gone through a lot of things. And she's grounded, more than when you first meet her as a young teen. It was really fun to find moments to throw homages to the different aspects to Ahsoka that I've always loved."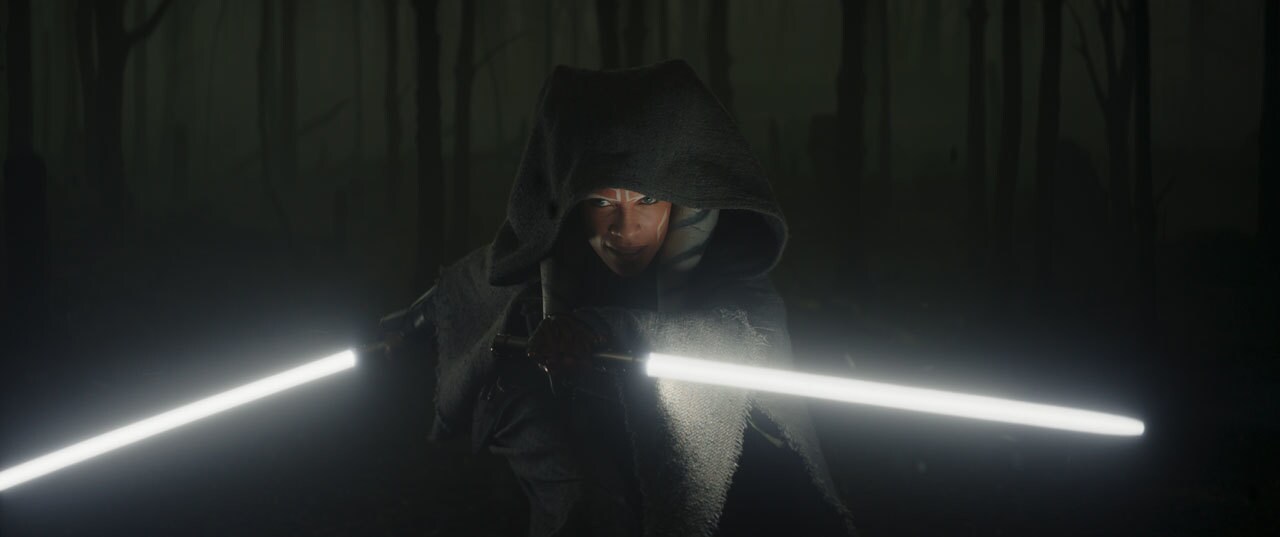 Filoni wrote and directed "The Jedi," clearly a personal effort for him, as he has shepherded Ahsoka from the beginning. As Filoni told Dawson, "She's sort of been wandering. If you know Dave, then you know he's got a lot of classic samurai references. He was talking about films like Yojimbo. She's wandering the galaxy helping those in need." To the actor, that fits with her interpretation of the character. "She always, for me, was a true Jedi, even if she technically wasn't a Jedi anymore. She represented the best of what the Jedi Order could be."
For Dawson, one of the most memorable moments was when the part truly became real: costume fitting. "I've got pictures and video. I was jumping up and down as if I was using a jump rope," she says. "I was so excited."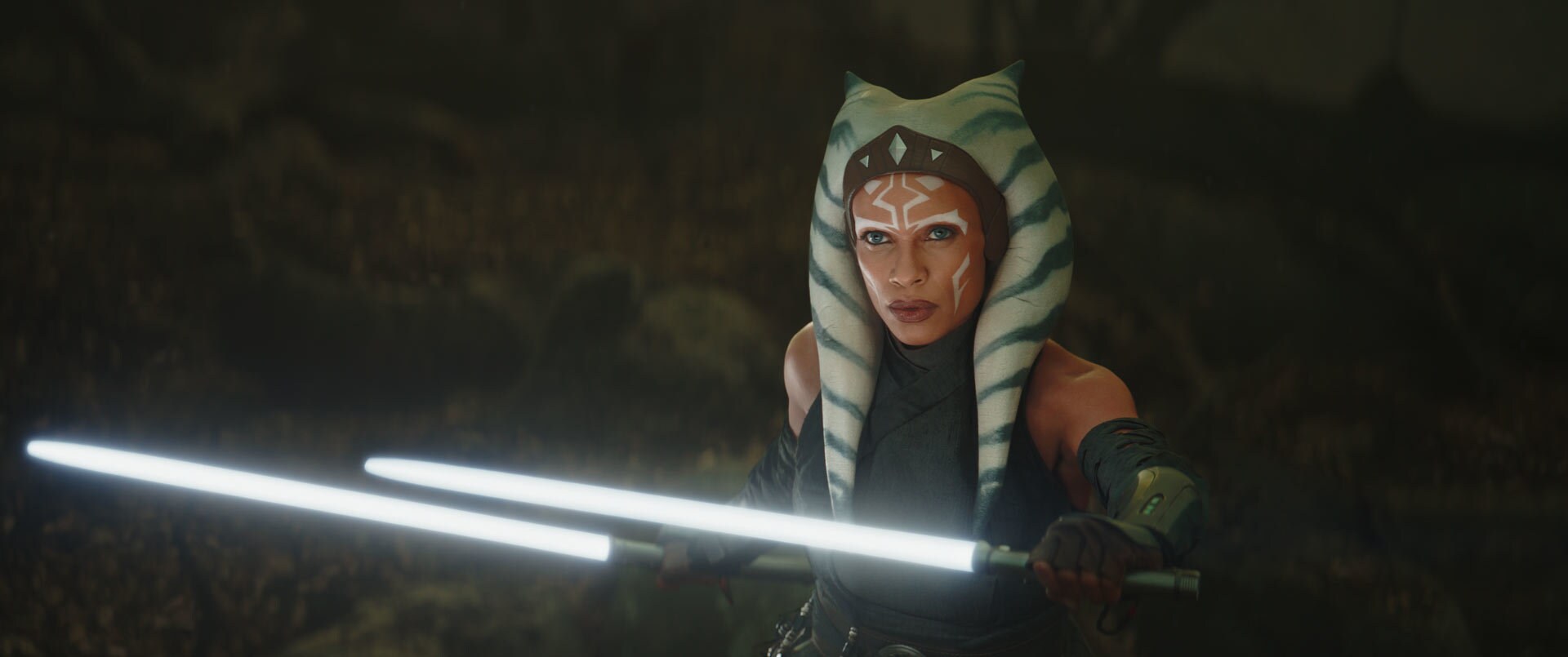 Dawson was determined to be as authentic to Ahsoka's animated look as possible, and to her mind, it came together with one distinct feature. "There was one point, actually, where Dave was curious whether I should wear the contacts or not. I had tried them on so I knew what a difference it made. Also, in talking about the fans, I was like, 'You can't do this to me. I can't not have blue eyes. That will just not be okay.' [Laughs] And it really made all the difference. Because, you know, you have the whole headpiece, and the costume, and the whole world because we're there on this set -- it's incredible, with these huge screens, you feel all of it there. You've got lightsabers. But the contacts would go in and it just dropped you into this character. I wasn't Rosario playing dress-up cosplay. I was Ahsoka."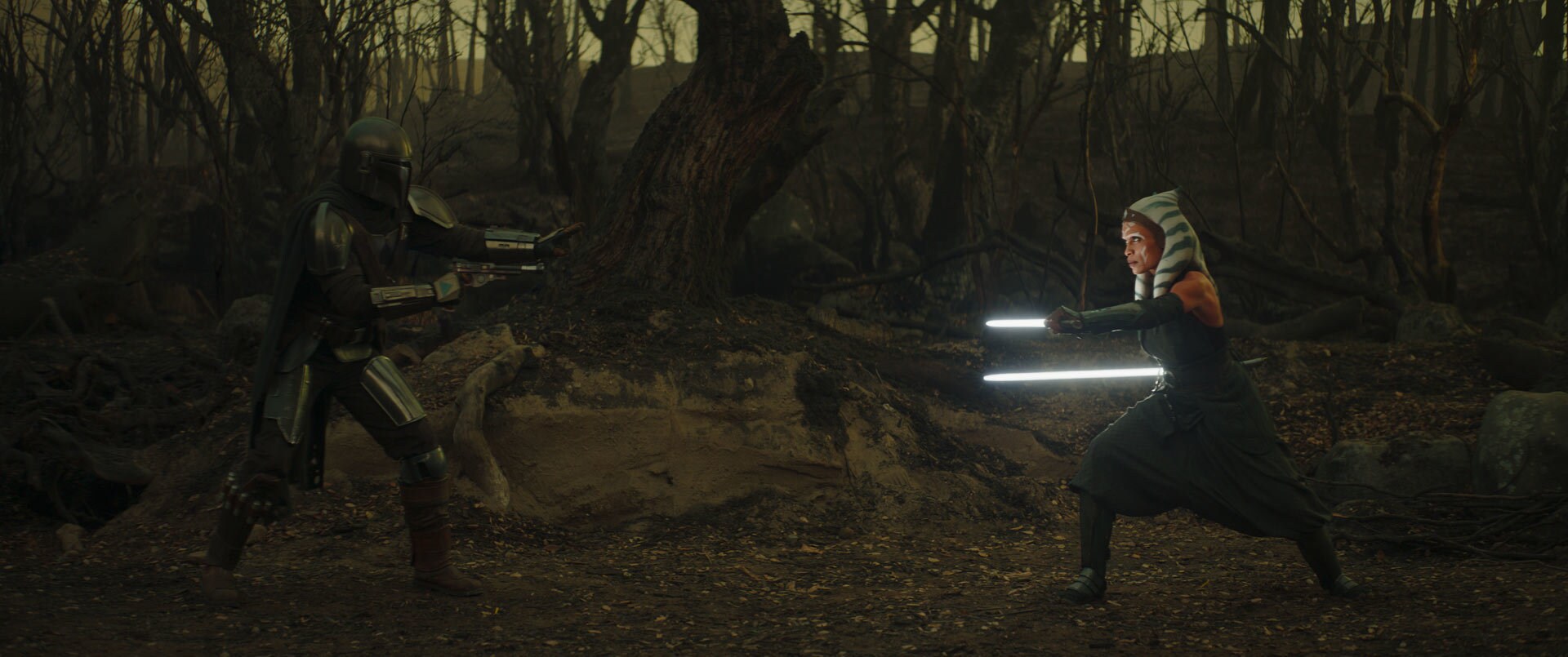 The wandering Jedi
In "The Jedi," the Mandalorian tracks down Ahsoka on the misty forest planet Corvus, where he hopes she'll take custody of the Child and train him in the ways of the Force. Ahsoka, however, is there to confront the brutal Magistrate, seeking information that seems to tie back into the ending of Rebels. The two join forces, but Ahsoka ultimately sends the bounty hunter in another direction -- not before revealing that Mando's adorable young charge is actually named "Grogu" -- and it appears as though her wandering will continue. Throughout, Dawson's Ahsoka bounces between calm sage and ferocious warrior in a memorable, arresting performance; for her part, the actor is down for picking up the dual white lightsabers once more.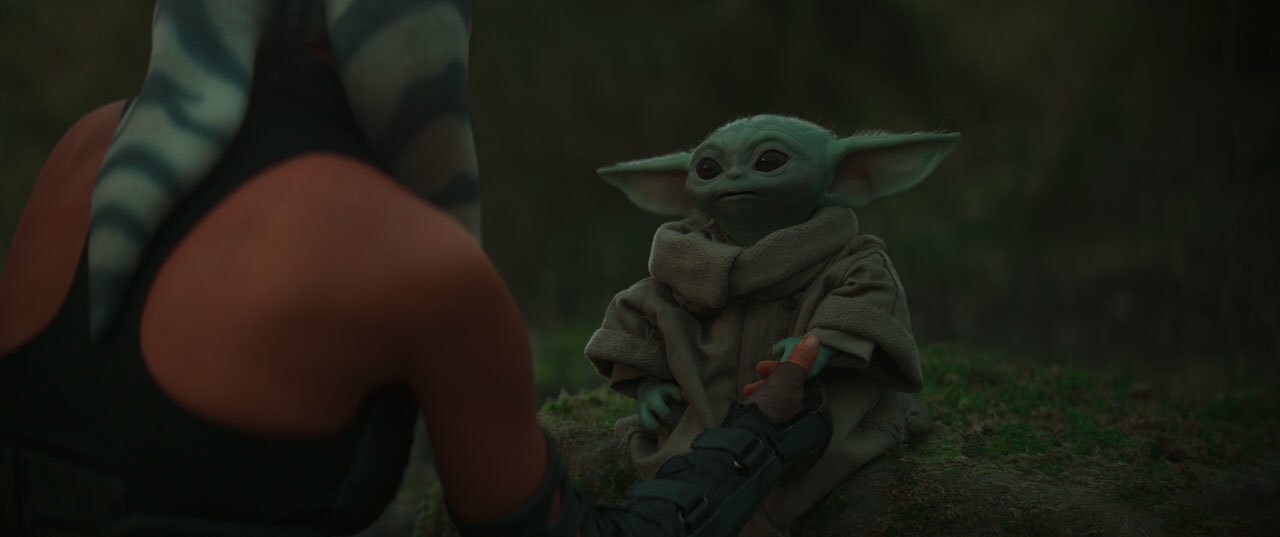 "I mean, I would love that opportunity," she says. "I think it's so cool that this show exists. I think it's so cool that I got to show up and give information about this character, the Child, that everyone's loved so much. You know, that she was not so much showing up as a cameo, but really being a storytelling device for new fans that have fallen in love with yet another new character that we're getting to see grow. Little Grogu is just amazing.
"It's interesting watching The Mandalorian, realizing you're not seeing lightsabers, you're not seeing a lot of what we love about Star Wars. It was really amazing to be able to have that gift of being able to bring that into this series and into this space, and I'm really grateful for that opportunity."
When Dawson speaks with StarWars.com, it's two days before the premiere of "The Jedi." She admits to being "anxious" about her performance and its reception, and maybe that's because Dawson, in the end, is still an Ahsoka fan -- the same person who answered a random tweet about somehow taking on the role.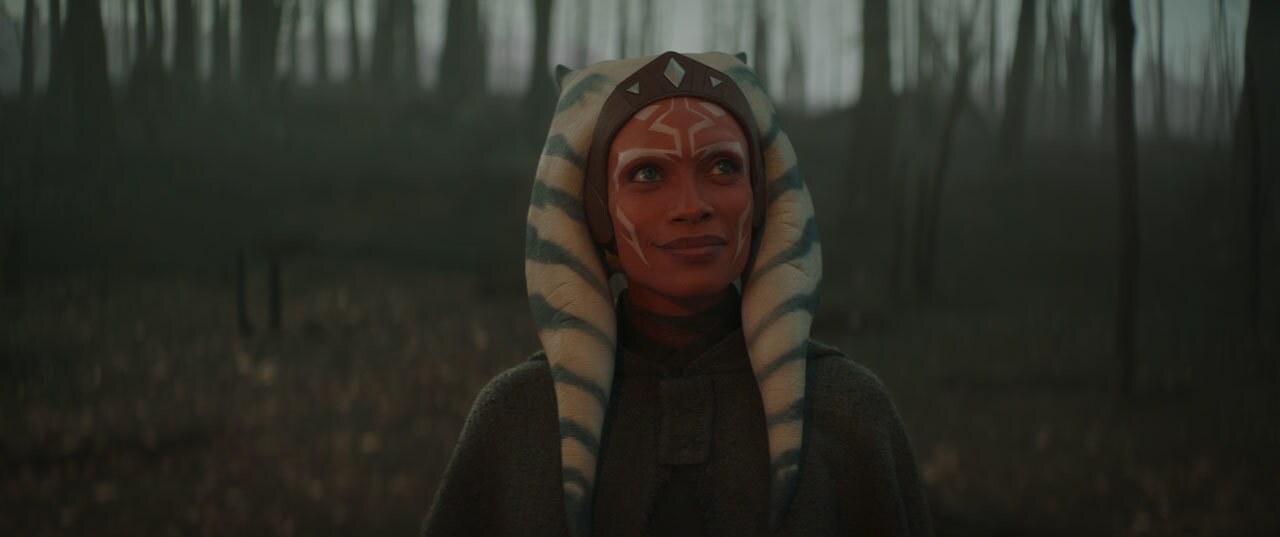 "I'm just really glad that she lived, that we've been able to continue growing with her. I think that she's so special," she says. "So many of the wonderful, awesome Jedi that we love and have gotten their stories told, are male, and you saw them older. When you got to see Anakin grow up it made such a huge difference. I think as people grew with her and aged with her and the story, they grew themselves, and evolved. I think it gives complexity to good and bad and right and wrong in a way that we don't always get to have story-wise. It's just fantasy. And I think she represents something stronger than that, about will and determination and audacity and tenacity. She really has pushed herself and evolved in a way that I think her heroine story is one that is not easy to find in other spaces. It's really cool to see her still out there on quests and having things teased about that world still being very much alive."
Those aren't the only reasons that Dawson loves Ahsoka, however.
"On top of that, she's got two lightsabers. There's that."