Vintage American Library Association poster art, original book covers, and all-new socks to inspire this National Library Week.
Inside the ancient tree on Ahch-To, Luke Skywalker protected a rare and powerful treasure – the ancient Jedi scriptures, relics of a forgotten time when wisdom was committed to printed paper.
In our own galaxy, even before Star Wars: A New Hope hit theaters, readers were discovering the adventures of Luke and the Rebel Alliance in a novelization based on the soon-to-be-released motion picture.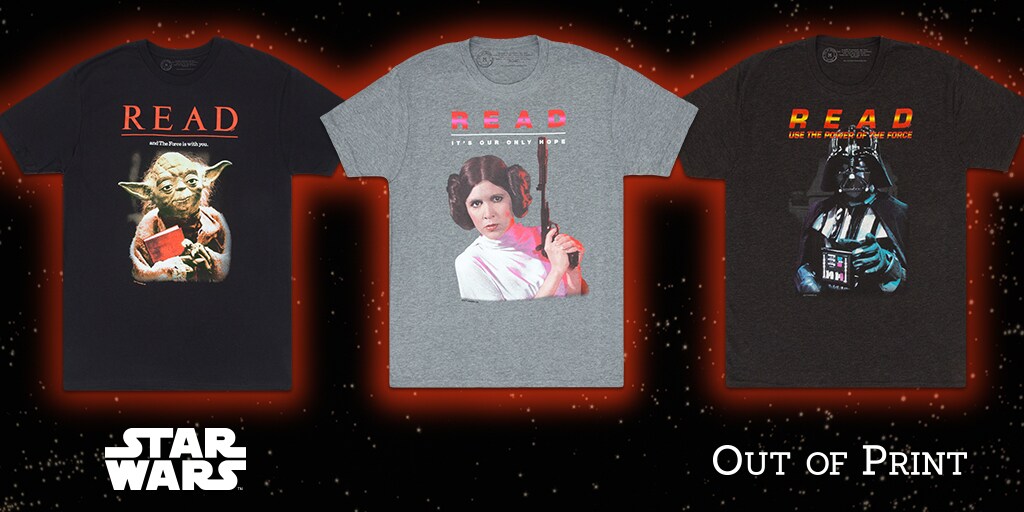 Soon, a new line from the "all things bookish" brand Out of Print Clothing will resurrect these iconic first-edition covers in time for May the Fourth, with an exclusive line of T-shirts for adults and children created in homage to posters from the American Library Association available now.
StarWars.com recently caught up with Todd Lawton, who co-founded the company with his childhood friend, Jeff LeBlanc (who, we must note, once told his mother he wanted to be R2-D2 when he grew up,) to talk about how Star Wars films and books both made him a fan, and why he wants to inspire readers during National Library Week and all year long.
Growing up Star Wars
For Lawton, his earliest movie-going memory was crawling in the back of his parents' Toyota station wagon to see the original Star Wars at a drive-in. "My parents thought that I would just go to sleep, but it was Star Wars." The film so captured his imagination that Lawton kept peeking out until he was finally "invited up to the front seat for a better view."
At home, Star Wars books kept the story going. Before he could read, Lawton remembers owning Star Wars pop-up books. "I was flipping through these books and R2-D2 and C-3PO would pop out. You'd pull a tab and a sand person would do something. I definitely experienced Star Wars through books that way."
There were books with records complete with voices and sound effects and a larger picture book when Star Wars: Return of the Jedi came around that had pictures of scenes from the movies. "So Star Wars, for me, was definitely cinematic but also a very tactile experience and books delivered that. The toys delivered it. It was a pretty big part of my upbringing."
Poster perfect
If you were a kid around the era of the original trilogy, you may remember back in 1983, when a poster showing Yoda holding a red book in one arm was part of a library series intended to get children interested in literature with the help of pop culture characters and contemporary celebrities.
"Star Wars is a vehicle to help support and excite young readers," Lawton says. "That's perfectly in line with our mission and we feel that the world's a better place if people are reading more books. So when you see a character like Yoda or Darth Vader presented in a way that's supporting this love of reading and the importance of reading, we want to show that and celebrate that as well."