Pre-orders are now live for these exclusive Artist Alley prints, which can be picked up when you meet the artists during the event this spring.
At Star Wars Celebration Chicago, Artist Alley is home to a line of exclusive art that's truly by the fans, for the fans. Professional artists from our world have paid homage to the galaxy far, far away with tributes to Princess Leia, celebrations of the 20th anniversary of The Phantom Menace, and so much more.
As we countdown to five days of panels, sneak peeks, big reveals, and big fun, we caught up with the denizens of Artist Alley, home to some familiar creators and new faces, to give you a glimpse at the exclusive artwork that will be available only at Star Wars Celebration Chicago. And starting today, you can head over to Dark Ink where pre-orders for the Acme Archives editions are now live, ending March 15 at noon, as well as official art from other individual artists!
In their own words, this year's official Star Wars Celebration artists talk about what inspired them to create each piece...

Brian Miller, "A Galaxy Far, Far Away"
"My inspiration came from vintage railway and airline luggage tags. I began by dreaming up a few Star Wars-themed luggage tags for passengers visiting planets like Endor or Hoth. That's when I had the idea to illustrate the story of the original trilogy with Star Wars luggage tags, starting with Tatooine and ending with a tag for the Death Star that is ripped in half to symbolize its destruction."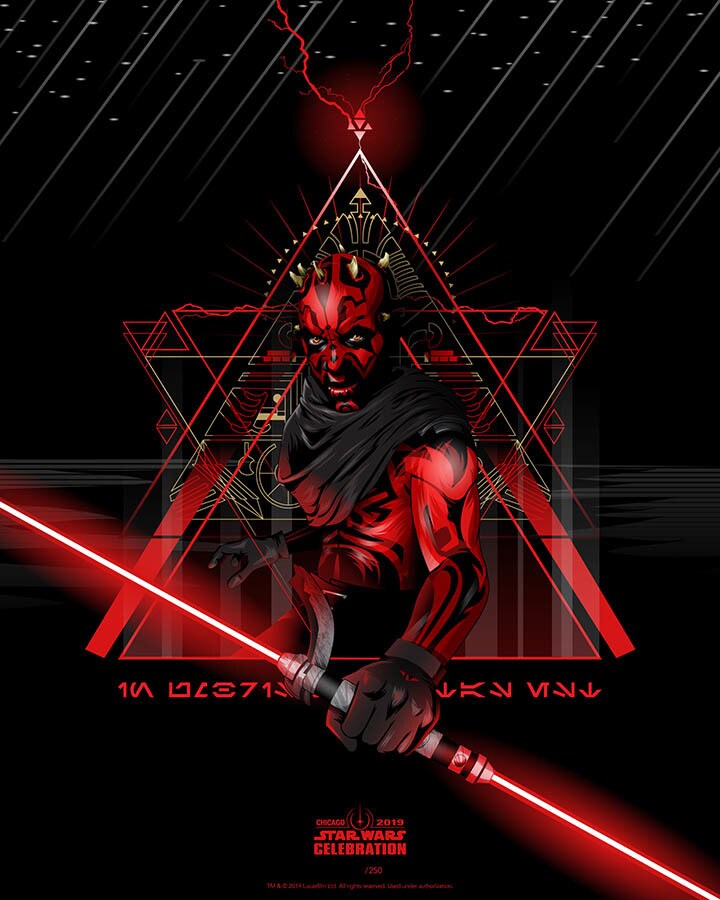 Cryssy Cheung, "In Umbris Potestas Est"
"To get ideas for what I wanted to do for my Celebration print this year, I binge-watched Star Wars Rebels.  The art direction was inspiring and the storyline was captivating; I didn't expect to see Maul, but there he was! From that moment, I knew I wanted to create a piece centered around Maul's quest to find and open the Sith Holocron."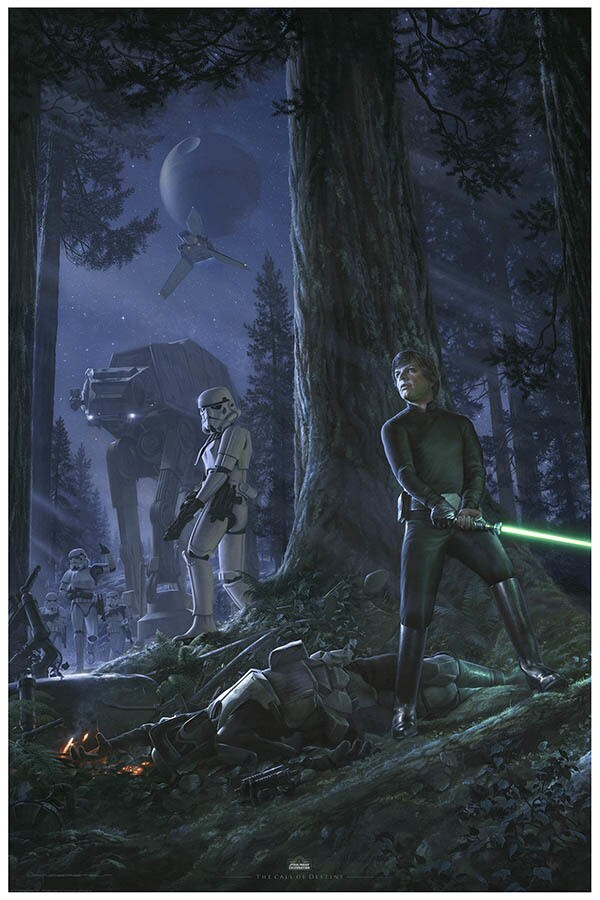 Jerry Vanderstelt, "The Call of Destiny"
"Shortly after Luke Skywalker revealed to Princess Leia that they were in fact siblings, Luke departed to seek out his father, Darth Vader. Although not captured on film, we know Luke made his way through the Endor forest to give himself up to the Imperial forces."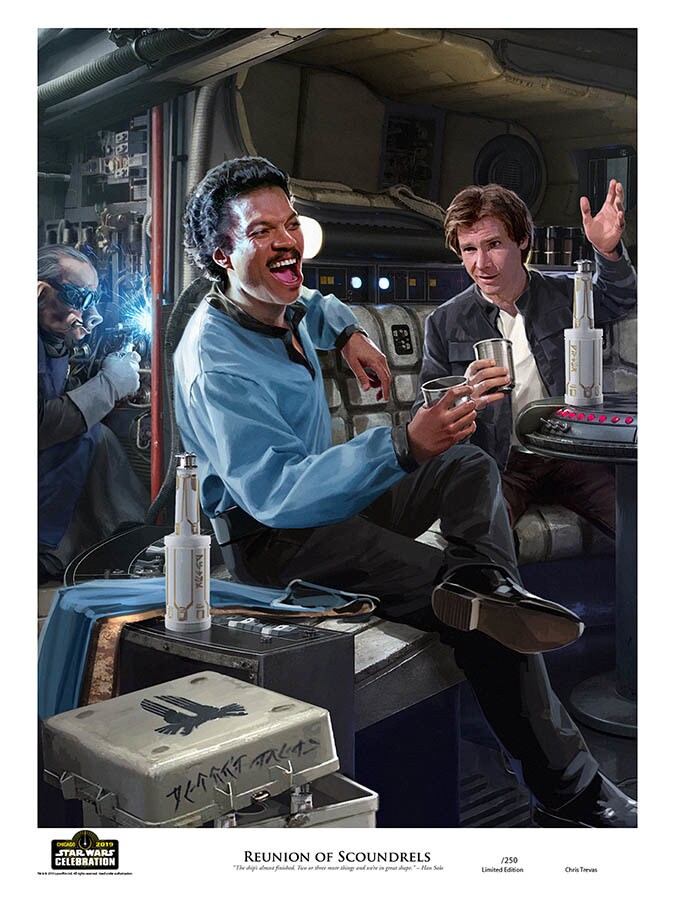 Chris Trevas, "Reunion of Scoundrels"
"Continuing my series of unseen scenes from the classic trilogy, I really wanted to tie-in to Solo: A Star Wars Story and the relationship between Lando and Han. They're reminiscing about old times and catching up during the repairs on Cloud City (while also dipping into Lando's reserves from the old wet bar that Han had stashed away). Seeing them together like this makes Lando's betrayal sting a little more but also their history is why Lando comes through in the end when the deal with the Empire gets worse."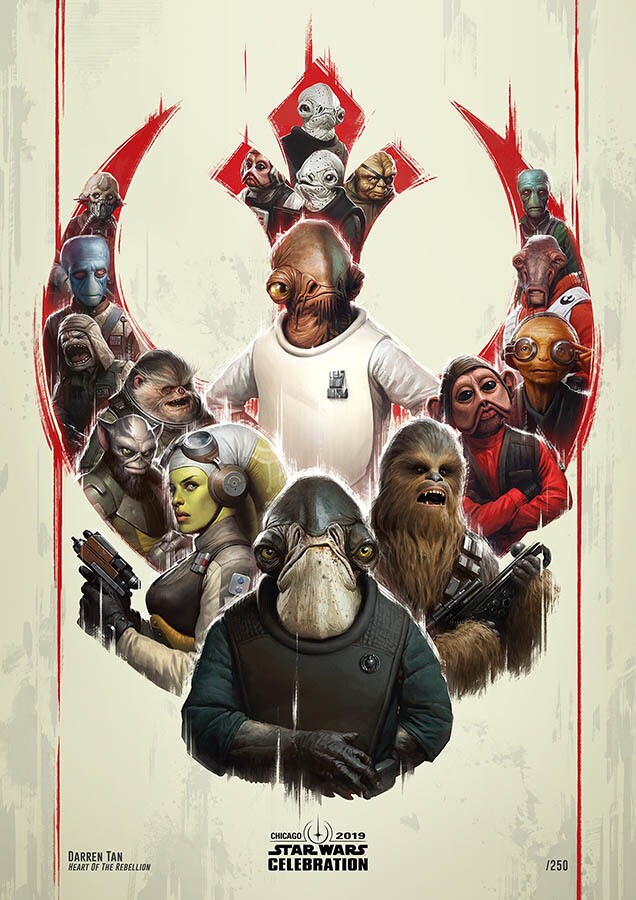 Darren Tan, "Heart of the Rebellion"
"I love the many diverse aliens species in Star Wars and what they represent in the context of our real world. They populate every known corner of the galaxy and every level of society; they are scum, politicians, traders, explorers and everyday citizens, but those individuals who fought and died for freedom and peace against the tyranny of the Empire and The First Order hold a special place in my heart. This piece is a tribute to those alien characters who are often overlooked but are nevertheless heroes in their own right. As a fan of the Mon Calamari, I also wanted to give special honor to Admiral Ackbar and Admiral Raddus, who along with the rest of their people were integral in the downfall of the Empire and in fulfilling the dream of a free galaxy."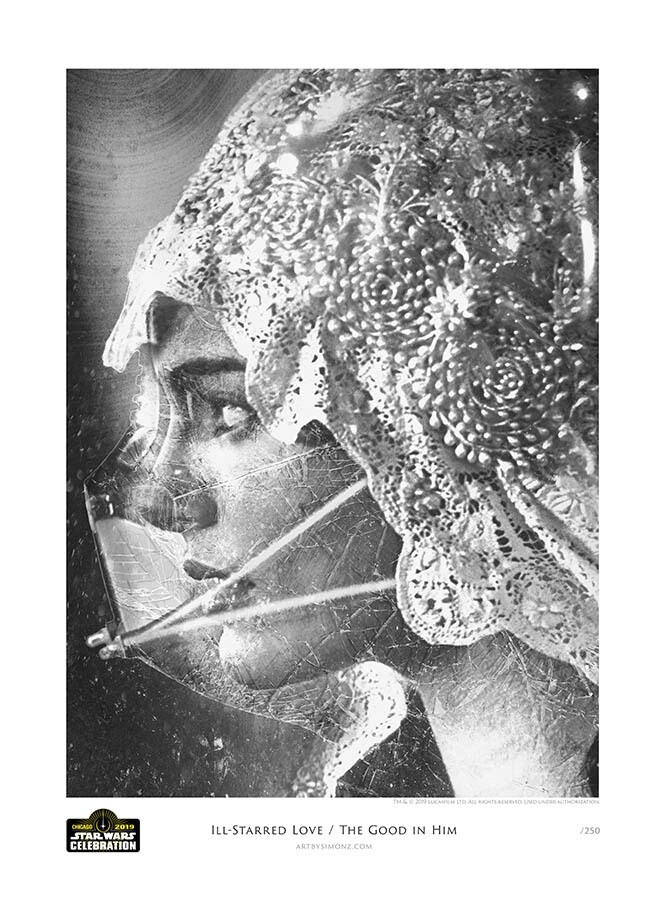 Zoltan Simon, "Ill-Starred Love / The Good in Him"
"Star Wars has so many strong motifs and archetypes, I always find inspiration in them. The idea of this image came into my mind when I was standing in a beautiful garden at Lake Como last September, at the shooting location of the wedding scene from Attack of the Clones. The picture catches the dark and inevitable future in a beautiful and happy moment: Darth Vader's mask building up like a cracked glass coffin around Padmé's face. From the opposite point of view, if we try to see through Vader's mask, we can see the love and the good in him -- the good that never left him."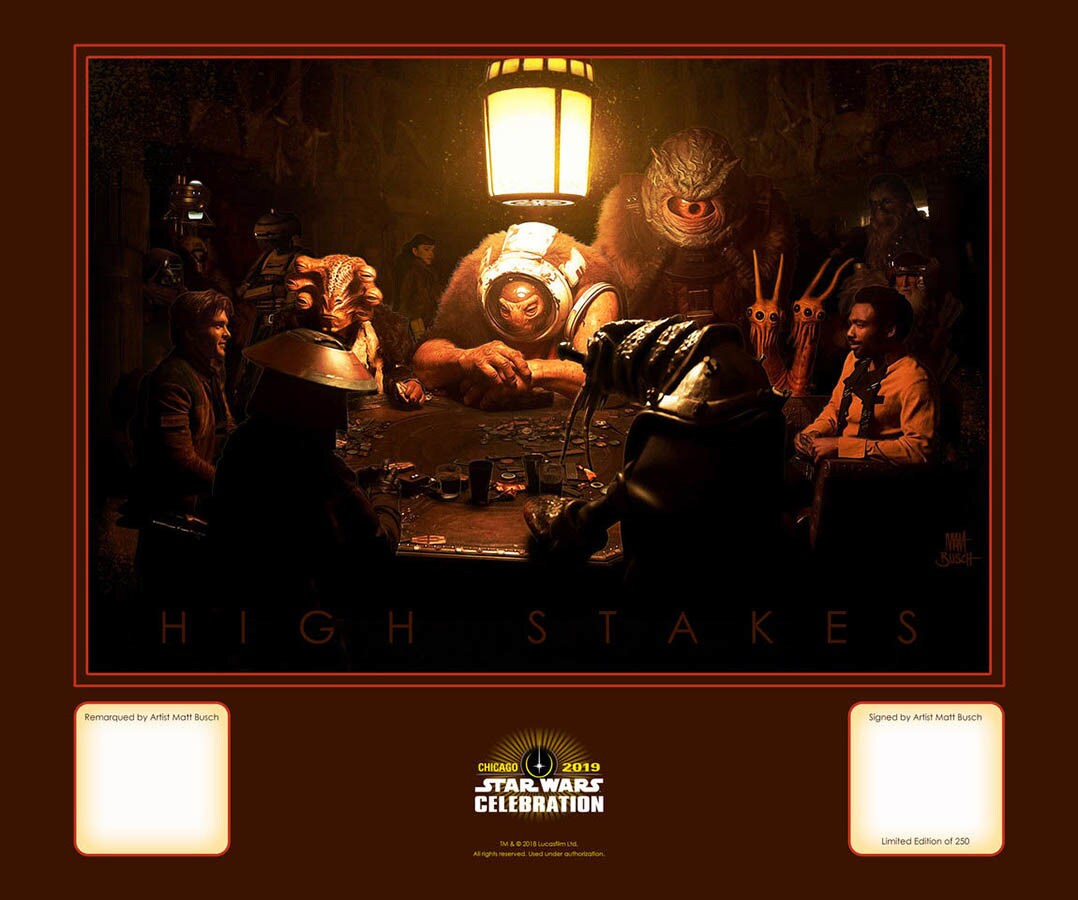 Matt Busch, "High Stakes"
"It's a case of life imitating art, and then art imitating life once again. In the film Solo: A Star Wars Story, the lighting and staging of the scene where Han Solo and Lando Calrissian play an intense game of sabacc was inspired by classic Caravaggio paintings. Here, I've reversed the inspiration by depicting the scene using the same chiaroscuro light and shadow to create a new stylized Baroque work of art. I wanted to create a piece that would be perfect to frame and hang anywhere you play cards."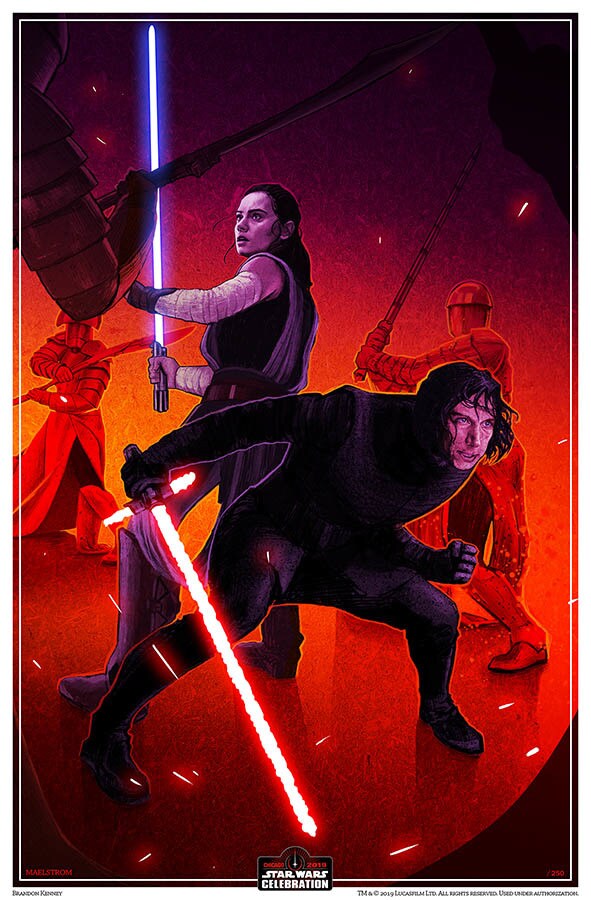 Brandon Kenney, "Maelstrom"
"I wanted to convey the excitement and chaos of this scene from The Last Jedi. So much is happening at this point in the movie that it feels like a whirlwind. Rey and Kylo are teaming up even though they stand at odds with each other. They represent opposite sides of the Force, but have a common ground and try to reach each other through it."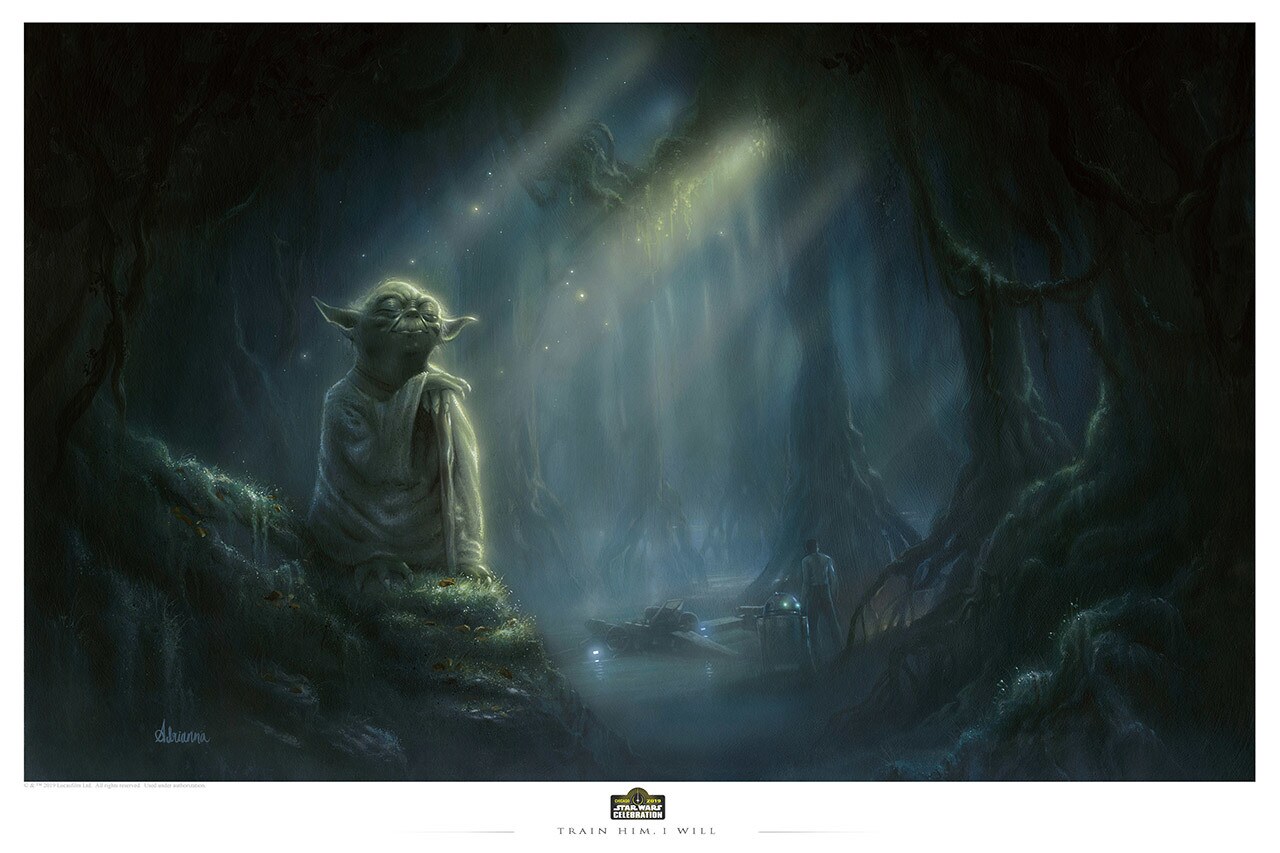 Adrianna Vanderstelt, "Train Him, I Will"
"I wanted to capture an in-between moment before Yoda finds Luke at his camp. A serene moment where we maybe find Yoda connecting with the Force prior to training Luke. A scene we didn't quite see in Empire."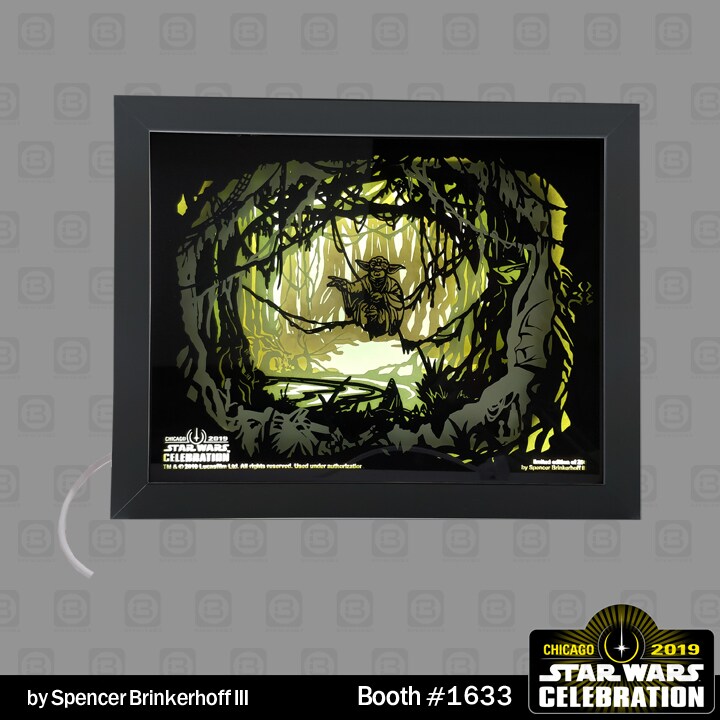 Spencer Brinkerhoff III, "Luminous Beings"
"I have been making one-of-a-kind shadow box art since my very first Star Wars Celebration in Japan, and I'm thrilled to be able to offer them as my official limited edition art. I wanted to take advantage of the cut-paper medium to add small details to the art and felt that the Dagobah Swamp would be the perfect place to hide some extra Yoda moments."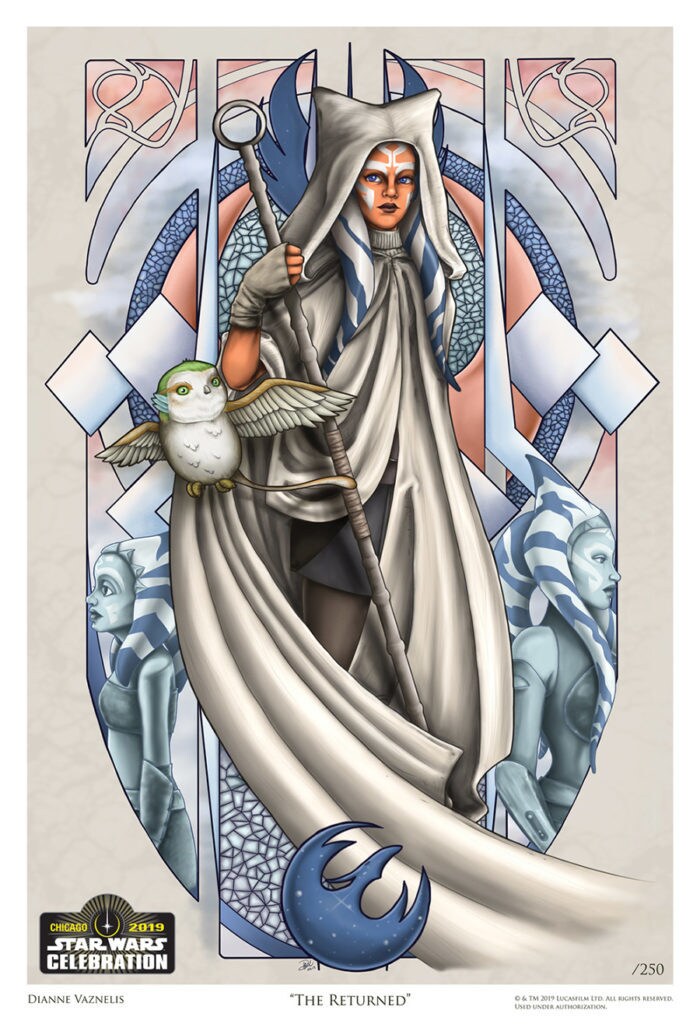 Dianne Vaznelis, "The Returned"
"I love the way Ahsoka's life bridges different eras and storylines across the Star Wars universe -- and she's super fun to draw! I'm inspired by the color palette and style of art nouveau posters, and wanted to impart a little of that pastel prettiness onto Ahsoka, to highlight the grace and hope behind the powerful warrior."
Russell Walks, "Faith"
"I absolutely love the original trilogy. I prefer people over machines, and while I work in a variety of media, for me, it all comes down to this: I love to draw. A companion to the 'Hope' piece I had at the last Celebration, this piece celebrates the 'Faith' demonstrated by another character in the Star Wars universe."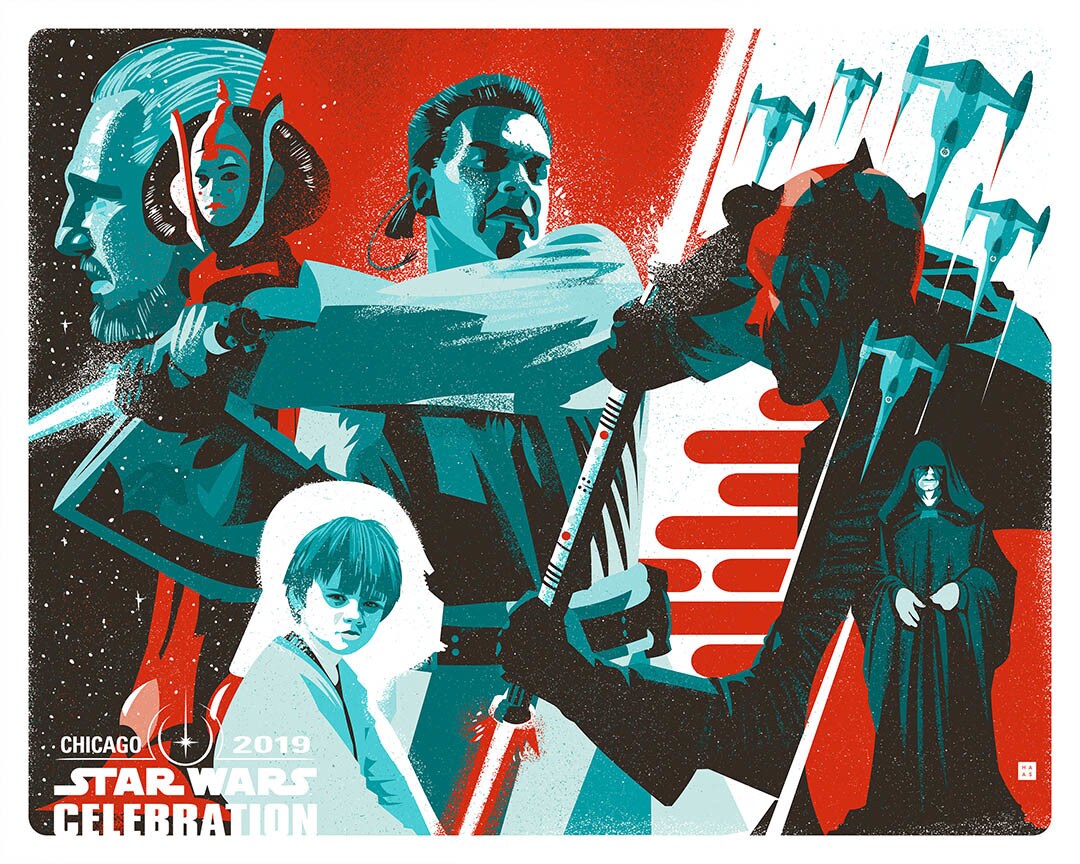 Danny Haas, "The Phantom Menace"
"My Celebration Chicago piece celebrates the 20th anniversary of The Phantom Menace. I like to think of it as the 20th anniversary of my love of Star Wars."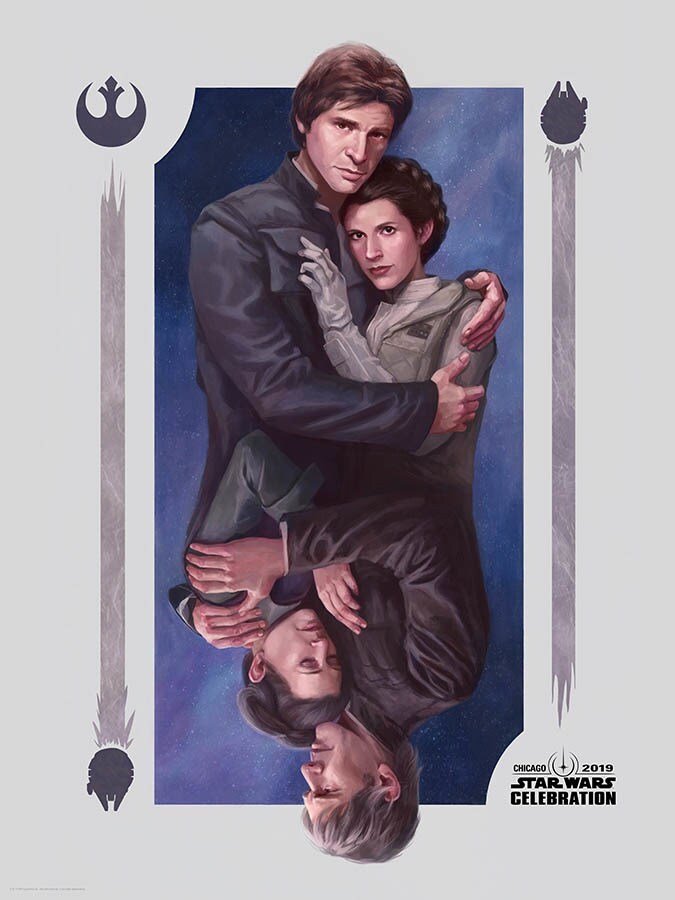 Kayla Woodside, "I Know"
"I love that Star Wars is a generation-spanning story. My concept was to do a painting that embraced time and change in two of my favorite characters."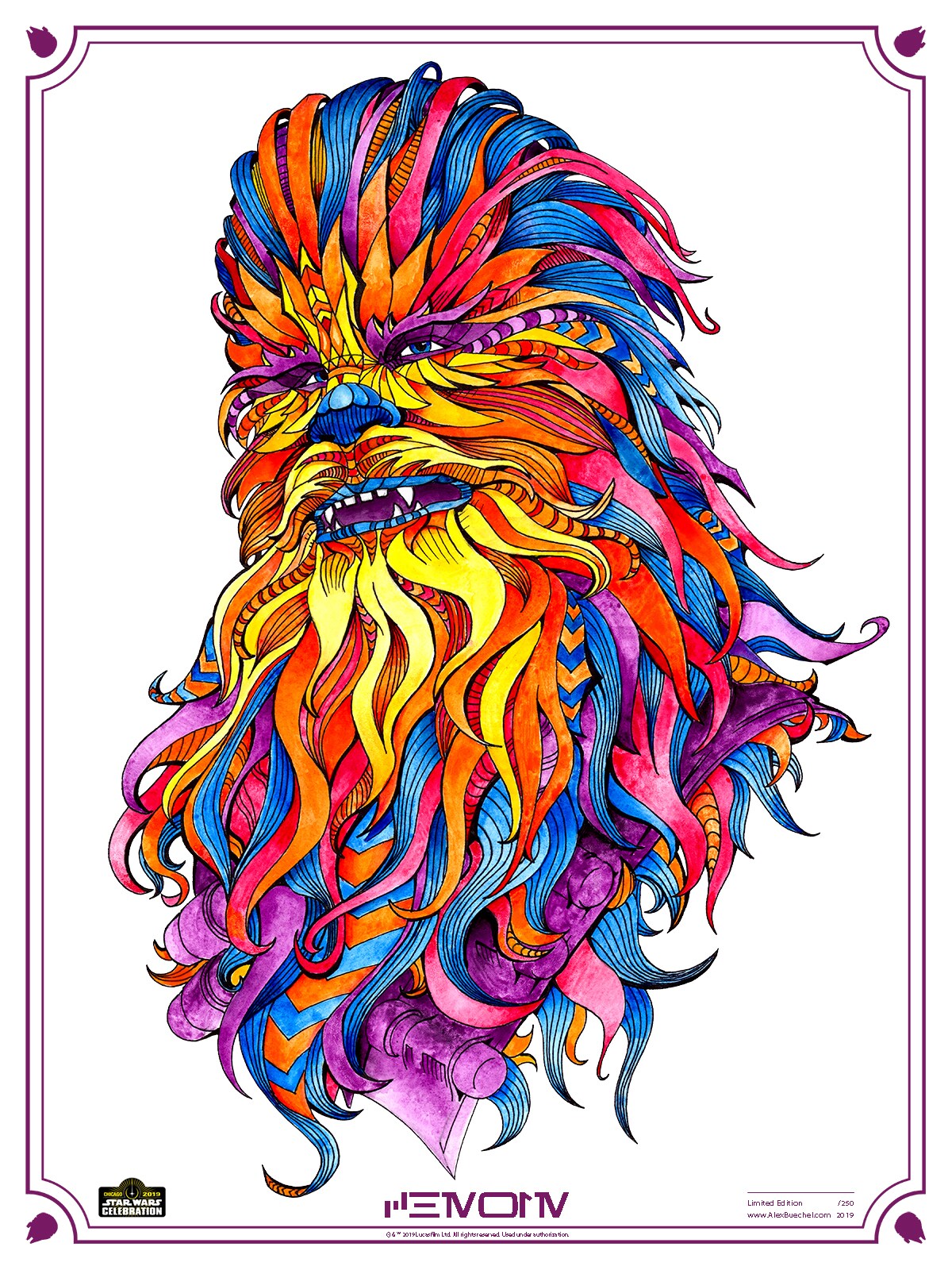 Alex Buechel, "Chewie"
"For my latest piece. I wanted to try something new and explore a few different styles, inspired by a mix of trends and cultures. It started by adapting the hard lines and clear geometric shapes of a trending street art look and finally adding the whimsical coloring of Mexican folk art, Alebrijes."
Brian DeGuire, "Celebrating 20 years of Podracing"
"My piece this year was inspired by the 20th anniversary of The Phantom Menace.  Twenty years ago, Star Wars movies came back into our lives with memorable scenes and new characters.  I think we can all agree that one of the most iconic scenes in that movie was the Boonta Eve Podrace.  I knew I couldn't miss the chance to draw some of the great alien characters in that scene."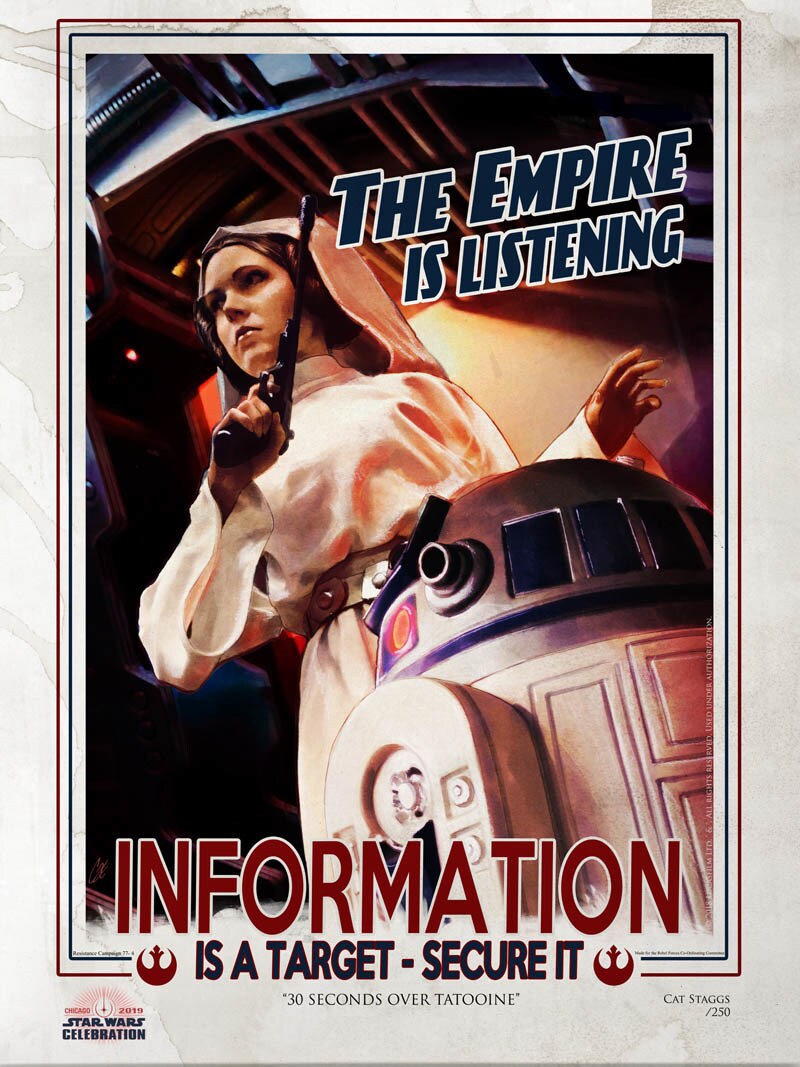 Cat Staggs, "30 Seconds Over Tatooine"
"Continuing the fan-favorite propaganda series, I chose to do a 'Loose Lips' theme this time featuring Princess Leia and R2-D2. Information security is a big part of the success of the rebellion, and this scene is an iconic moment from the saga, the moment Leia sets the fall of the Empire in motion."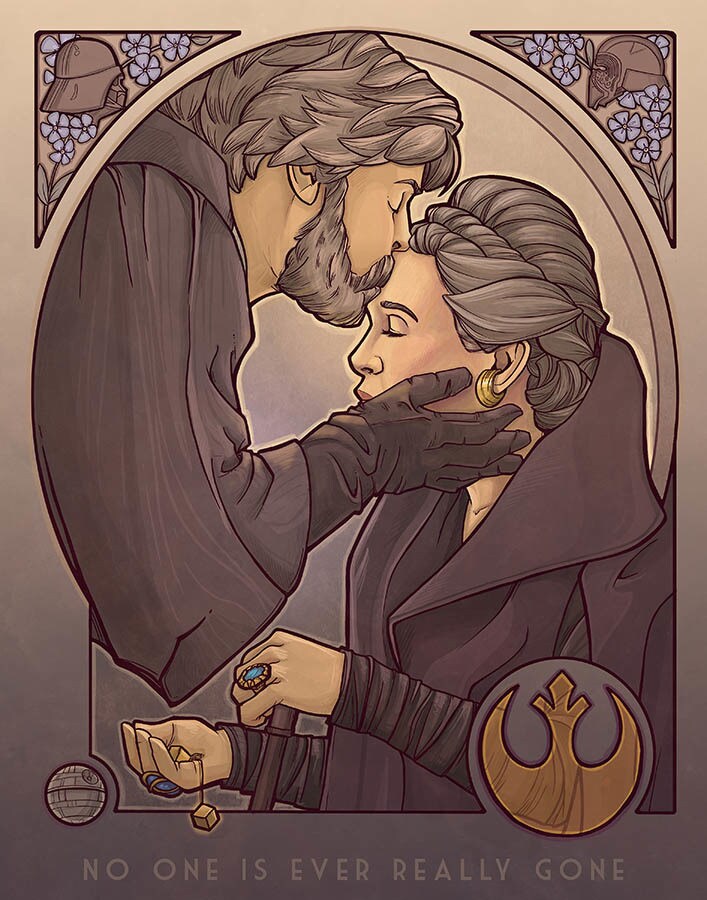 Karen Hallion, "No One is Ever Really Gone"
"I was heartbroken when Carrie Fisher passed away, so my illustration not only captures a beautiful moment in the movie between two characters I adore, but it's also a tribute to Carrie herself. As a lifelong Star Wars fan, this scene was one of my all-time favorites. Princess Leia has been an inspiration for a very long time because growing up, there were not a lot of strong female characters like Leia. Now, as an adult, getting to see her story all the way through and see her become a General is just incredible."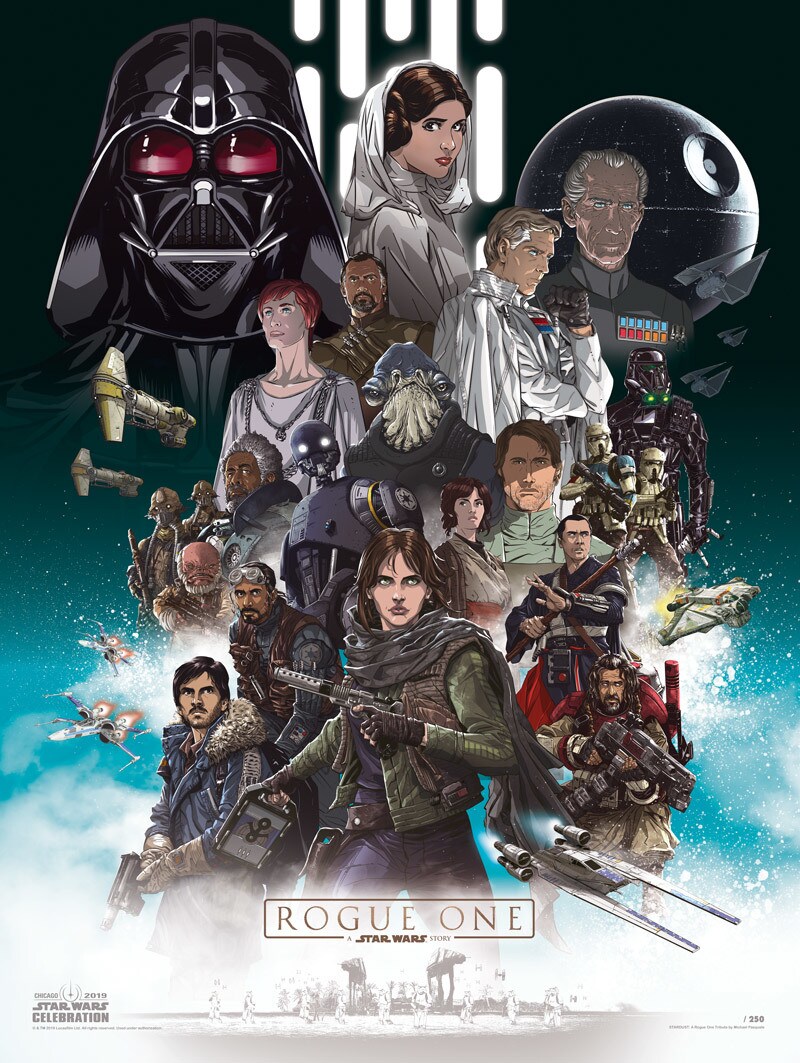 Michael Pasquale, "STARDUST: A Rogue One Tribute"
"I instantly fell in love with all of the characters in Rogue One and have wanted to do a tribute piece ever since. I was really excited to see this diverse ensemble work together, not entirely trusting each other at first but in the end sacrificing themselves for the greater good."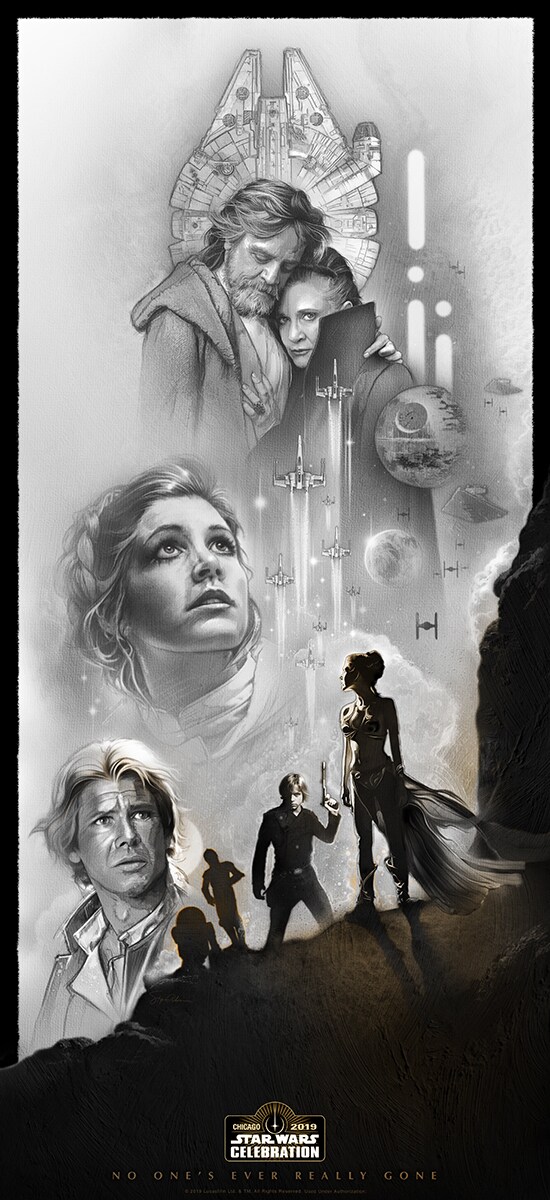 Steve Anderson, "No One's Ever Really Gone"
"I love Carrie Fisher as a person, and I wanted to do a tribute piece. I didn't want to do an action piece, but rather an emotional piece I felt a connection with. It's about the overall saga and family."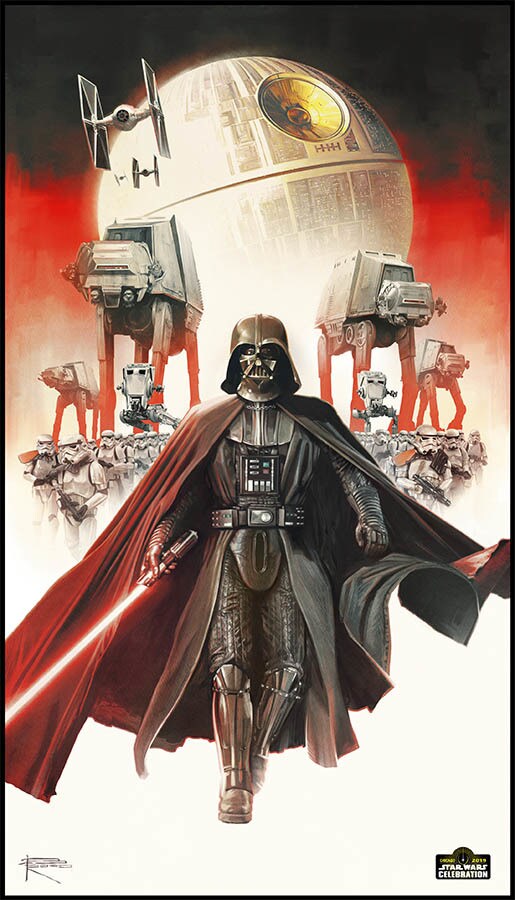 Brian Rood, "Tyranny of the Empire"
"After creating so many montage compositions over the past years for the Celebration events, I wanted to create something new and different for this show. I've always had a fondness for the bad guys and couldn't wait to devote an entire piece to Darth Vader and the Empire."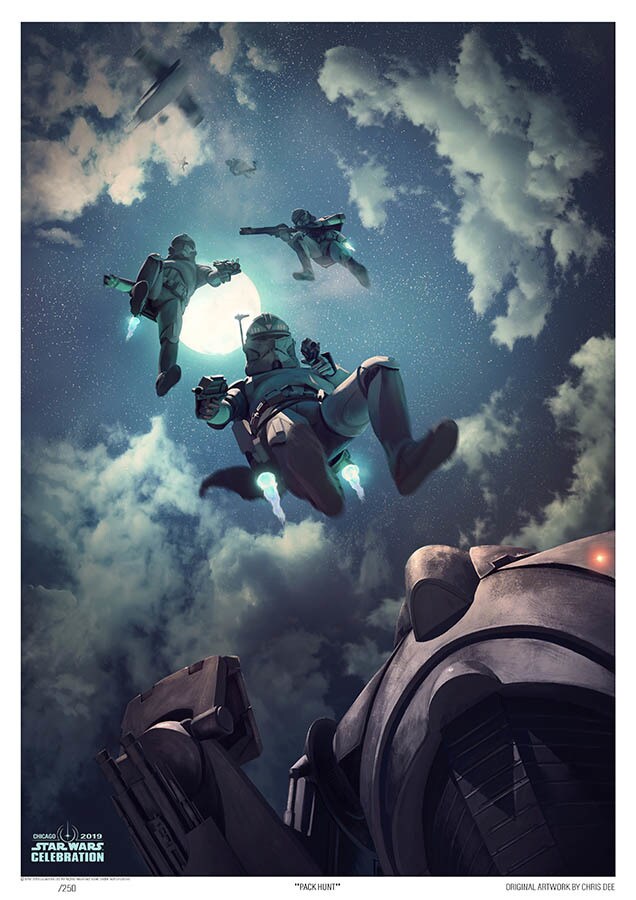 Chris Dee, "Pack Hunt"
"I knew from the start that I wanted to do a Clone Trooper piece. I set myself the challenge to come up with a new kind of composition, something fresh that clone trooper fans would appreciate! I quickly found inspiration from photographs of Navy SEAL paratroopers."

Jason Christman, "Cantina"
"Ever since my father took me to see A New Hope when I was 6 years old in 1977, it has become an endless source of inspiration for me on a daily basis in one way or another. The cantina scene is extremely special to me for so many reasons and this print is my way of being able to share that experience with others."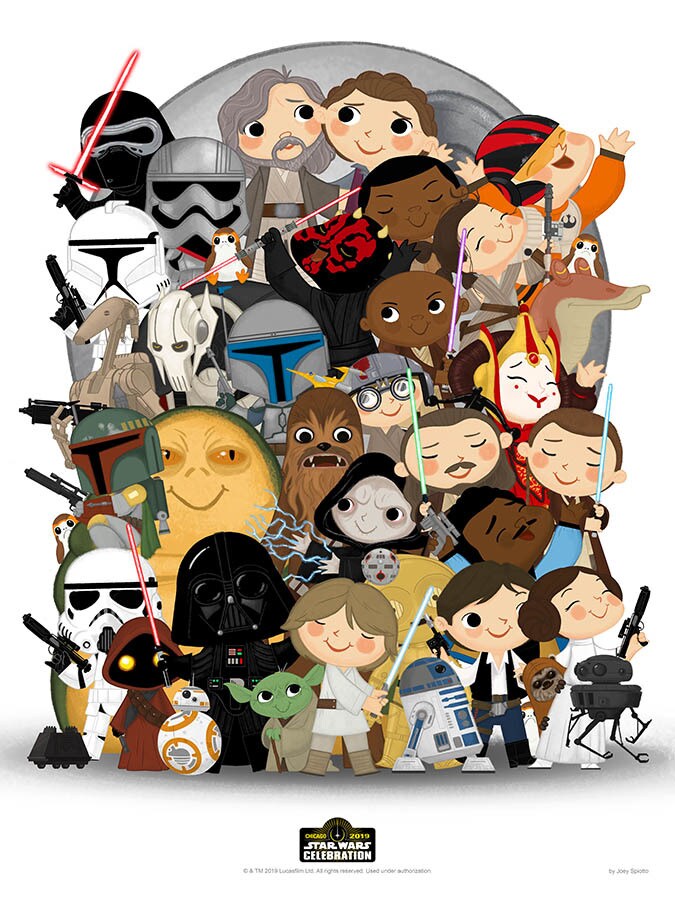 Joey Spiotto, "The Force Unites Us"
"For my Star Wars celebration piece I wanted to bring all of my favorite characters from the three trilogies together in one image. The world of Star Wars has inspired me since I was a child and I've channeled that childhood love with this storybook-inspired illustration."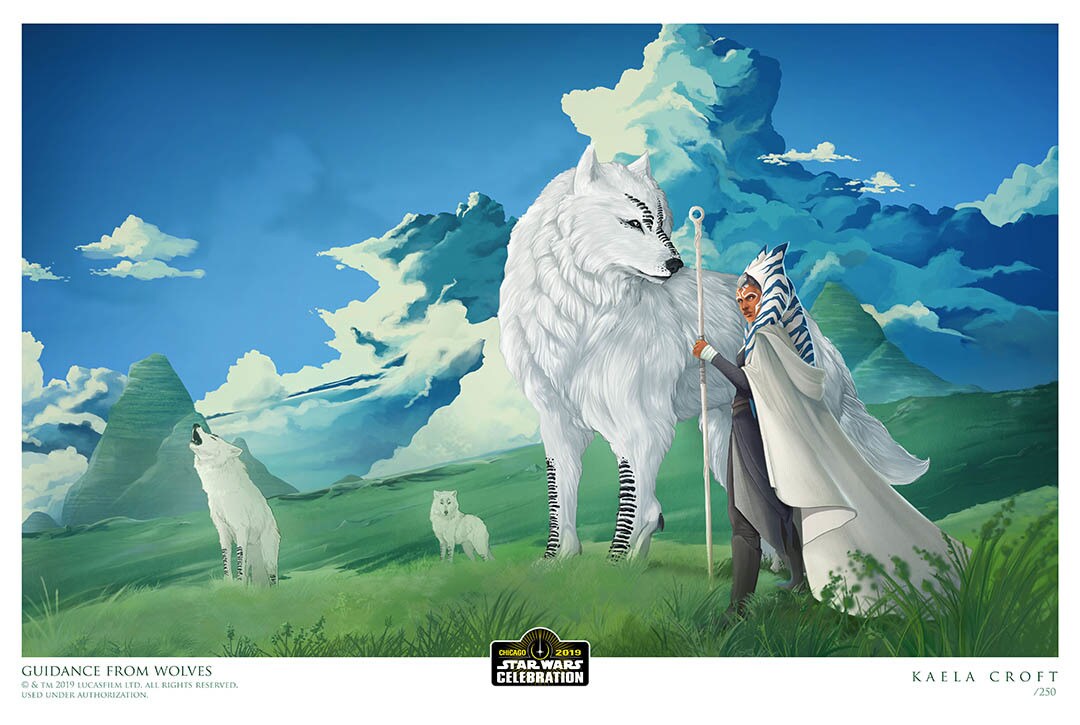 Kaela Croft, "Guidance from Wolves"
"This was inspired by my love of the mountains and the breathtaking views you can find in Colorado. I've always loved wolves and their domesticated counterparts. I wanted to showcase Ahsoka Tano post-Rebels Season Four with the white wolves, possibly in search of Ezra."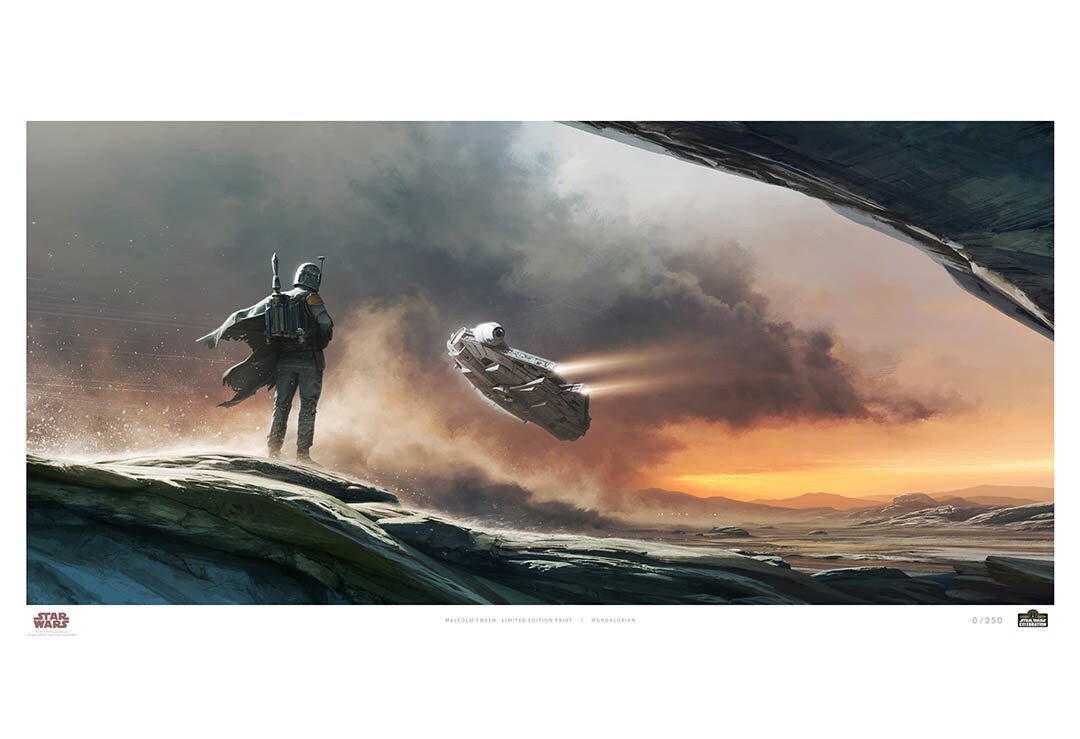 Malcolm Tween, "Mandalorian"
"I love to see images that aren't directly taken from the films, but help to fill in the gaps and background around those events. It's also always nice to focus a little on the ships and environments of the Star Wars universe to help tell a story too, and of course it's great to finally do a print featuring Boba Fett. He's on the hunt!"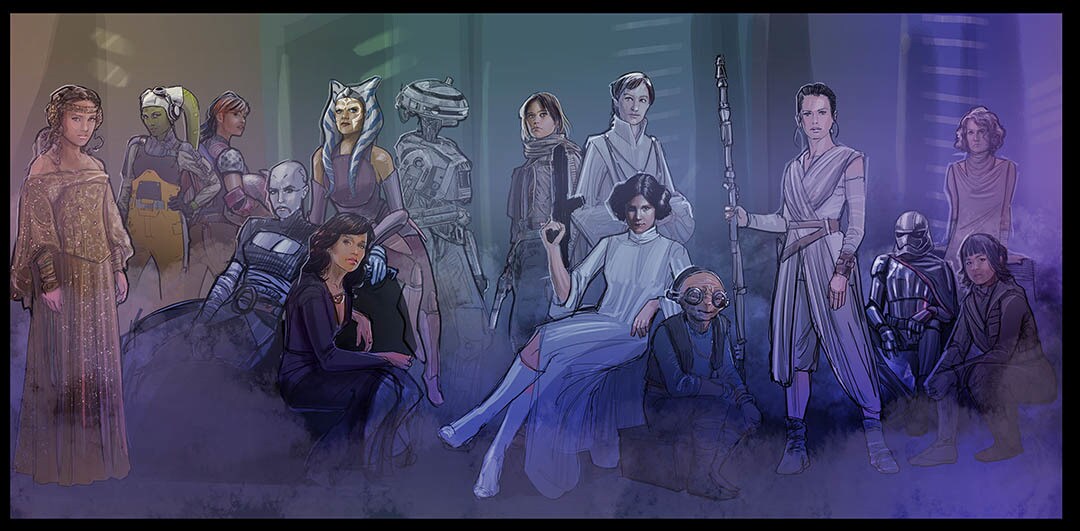 Jason Palmer, "There is Another"

"I was just drawing a blank, but hoping my muse would show up. I started to think about how, to my great relief, women were playing a greater role in the world around us, as well as in the galaxy far, far away.   In my mind's eye, I saw them all in a room together; they were smiling, chatting amongst themselves, laughing.  They were getting ready for a group portrait.  Boom. There it was."
Check back on 
StarWars.com
 for more 
Star Wars
 Celebration Chicago updates!
Star Wars
 Celebration Chicago will take place April 11-15 at McCormick Place. Visit 
StarWarsCelebration.com
 for tickets and more info!
StarWars.com All Star Wars, all the time.
Site tags: #StarWarsCelebrationChicago2019, #ComingToSWCC