Lucasfilm's Daniel Kennedy on how the Star Wars Resistance ship was brought to life and fan reaction in New York.
We're only one day away until the debut of Star Wars Resistance -- this Sunday, October 7, at 10 p.m. on Disney Channel -- and at New York Comic Con, the hype is real. Then again, so is the Fireball ship.
A life-size version of Kaz Xiono's starfighter, the Fireball, is currently on display and available for photo opportunities at booth 436 -- and if you're stopping by at the right time, you'll maybe get a chance to take a picture with the one and only BB-8. StarWars.com caught up with Lucasfilm Event Coordinator Daniel Kennedy to chat about how the activation came to be, fan reaction, and more. (And, yes, we even took a few pictures in the super-cool ship for ourselves.)
StarWars.com: How has the response been to the setup so far?
Daniel Kennedy: It's been phenomenal. Everyone just loves that we came again this year. We've had a constant line pretty much nonstop from opening to close. It does peak a little bit when BB-8 takes time out of his busy schedule to stop by.
StarWars.com: What is the ship made out of?
Daniel Kennedy: I partnered with a company called MC2 and we took the 3D files from the actual animation team. They gave us a little spin-around video. We took that and their designers came up with this design and we built it out of foam. I'm going to let you in on a little secret: those [points to front] are actually gas station cups. It's made out of every day items. They cut the foam in layers and then used an adhesive and then we sprayed truck bedliner over it. That's what allowed us to protect it, because I knew if we did it out of just foam and painted it, it would have been destroyed by the end of the Miramar Airshow. Kids were trying to climb over it. I was having a heart attack every day. It's helped us really make this thing last.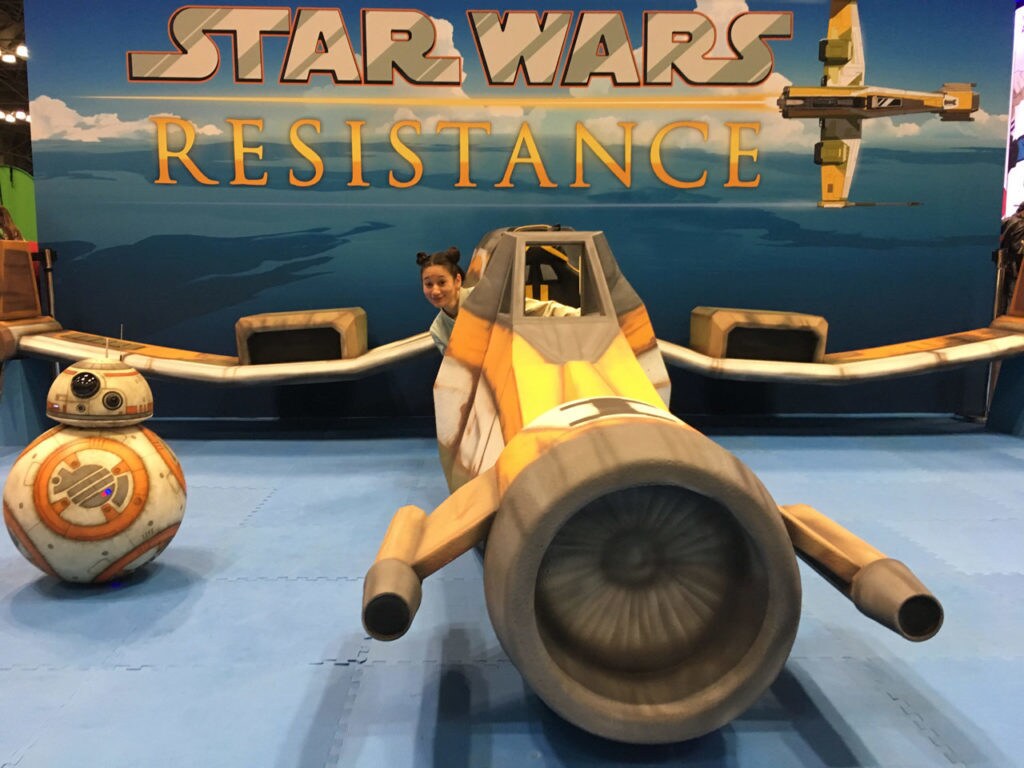 StarWars.com: You've had to take it across the country. How do you do that?
Daniel Kennedy: It's got two crates. The wings come apart. Obviously the front is one piece and then the back is one piece and then the wings are each a piece. I had some crates custom made and we flew it. Not literally. We left the Miramar Airshow Sunday and we came right here.
StarWars.com: Any particularly good anecdotes from the weekend you'd like to share? Any special visitors?
Daniel Kennedy: We had Donald Faison and Bobby Moynihan [Hype Fazon and Orka on Star Wars Resistance] here. They came by Thursday and took photos with fans. We even had Freya [Mary Elizabeth McGlynn] here, too. I'm hoping Steve Blum comes by, fingers crossed)! And then of course, BB-8. He's the real star of the show. He's here twice a day doing photos with people at 11 a.m. and 3 p.m.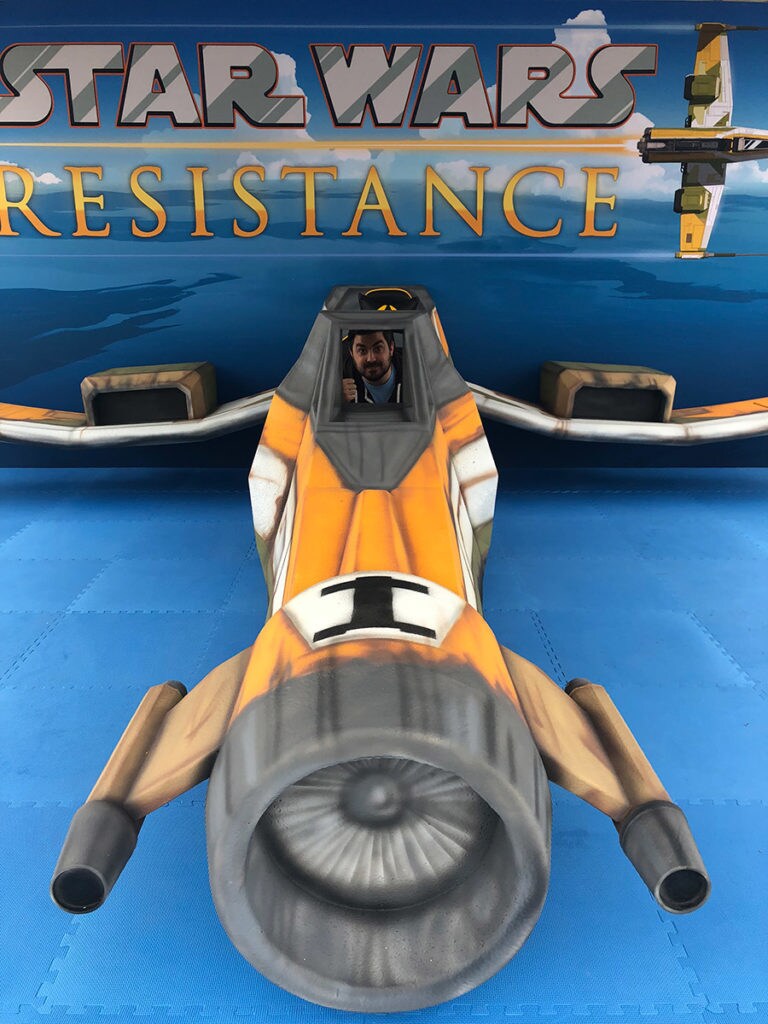 StarWars.com: Any last thoughts?
Daniel Kennedy: Kids love this activation and I'm so excited for people to actually see Star Wars Resistance on Sunday. The way kids have walked up -- you see the backdrop we have and it's so bright and colorful -- I think it's unique from anything we've done before. You've watched the trailer a thousand times: it's got a fun, bubbly sense to it, but it's still grounded in Star Wars lore. I think it's the perfect balance of fun and seriousness. Kids are going to love it and parents, while they're watching with their kids, will get a lot out of it, too, because it's a layered show.
The one-hour series premiere of Star Wars Resistance debuts on October 7 on Disney Channel (10 p.m. ET/PT) and DisneyNOW. Two additional new episodes will be available via the DisneyNOW app and Disney Channel VOD earlier the same day.
Bria LaVorgna is a writer who doesn't remember a time when she didn't love Star Wars. She also really loves Alderaan, Doctor Aphra, and Inferno Squad. You can follow her on Twitter @chaosbria.