Speeding in from Tosche Station to your collectibles shelf this May.
Gliding across the sands of Tatooine, Luke's landspeeder had clearly seen some better days when it first came into view in Star Wars: A New Hope. A trusty workhorse vehicle used on errands for the Lars' farm operation -- and wasting time with friends at Tosche Station, of course -- the battered speeder could still easily traverse the rough terrain of the Jundland Wastes and beyond with young Skywalker at the controls.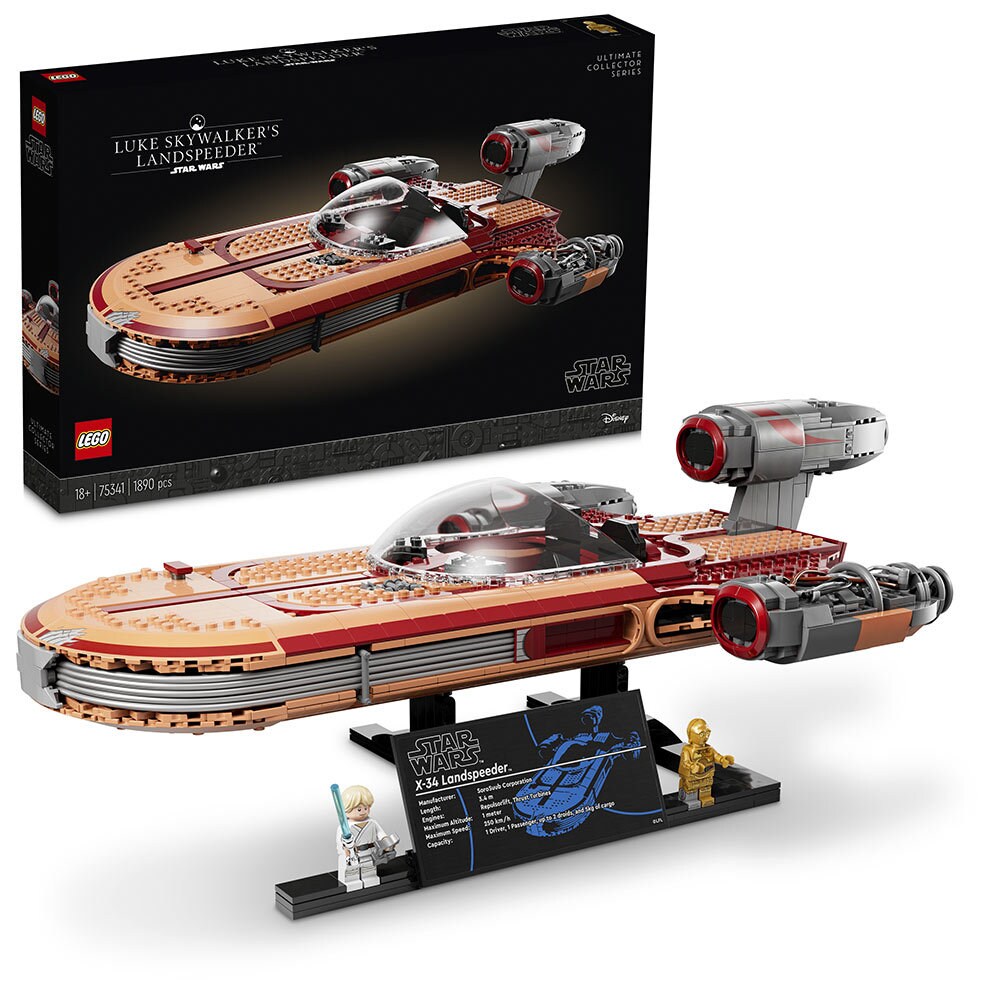 Today, StarWars.com is excited to reveal a faithful recreation of the rugged X-34 Landspeeder is joining the ranks of the LEGO Ultimate Collector Series with the new LEGO Star Wars Luke Skywalker Landspeeder set.
The 1,890-piece LEGO brick model features a new molded cockpit element, a  plaque with vehicle facts, and two minifigures for display: Luke Skywalker and an exclusive minifigure of C-3PO one gold and silver molded leg and a new side printing to arms and legs. 
Expertly created by LEGO set designer César Carvalhosa Soares, the finished build measures 49 centimeters long and features the two-seater cockpit, the turbine engine without a cover, and the iconic curved cockpit windscreen to maintain screen-accuracy. "It's been an amazing adventure creating Luke Skywalker's Landspeeder in LEGO brick form," says Soares. "We've ensured no detail has been forgotten and have even included some of the scratches. It is such an iconic vehicle in the Star Wars saga."

Although LEGO has modeled the vehicle for other sets, this marks the first time that Luke's landspeeder gets this higher level of detail and accuracy. "The final model is a great display piece where fans can also get the chance to have lots of fun while building it," says Soares.
In defining the model, Soares found the color palette -- evocative of the harsh desert world and the gritty used-future aesthetic seen in the film -- particularly appealing. "I think the color scheme is striking," he says. "The combination of nougat and dark red alongside the chrome grill works particularly well." And just like the prop that inspired it, the trio of engines are all unique, "so you can avoid some repetition during building and at the same time make the model a bit more visually interesting," Soares notes. "I especially like the open cowl one with all the wires and thrusters bits exposed!"
Launching this May, the 
LEGO Star Wars Luke Skywalker Landspeeder set is geared for adult fans and collectors 18 and up, alongside other
 LEGO
Star Wars
Ultimate Collector Series sets, including the
Millennium Falcon
, the Republic Gunship, and the AT-AT.
The LEGO Star Wars Luke Skywalker Landspeeder set is available for LEGO VIPs starting May 1, 2022, then on-sale on Star Wars Day, beginning May 4, 2022, at LEGO Stores and LEGO.com.