StarWars.com examines concept art and inspirations behind the new comic book series to celebrate the arrival of issue #1.
They call him Ren, but that wasn't always his name.
"Born out of the flames," as artist Will Sliney puts it, the leader of the Knights of Ren in the opening pages of the new comic Star Wars: The Rise of Kylo Ren #1, arrives battle-scarred and wearing a fearsome, featureless mask -- a blank expression save for a smattering of claw-like gouges. Concealed within is a charismatic leader, the exact type of person who would be able to seduce young Ben Solo away from the path of the Jedi.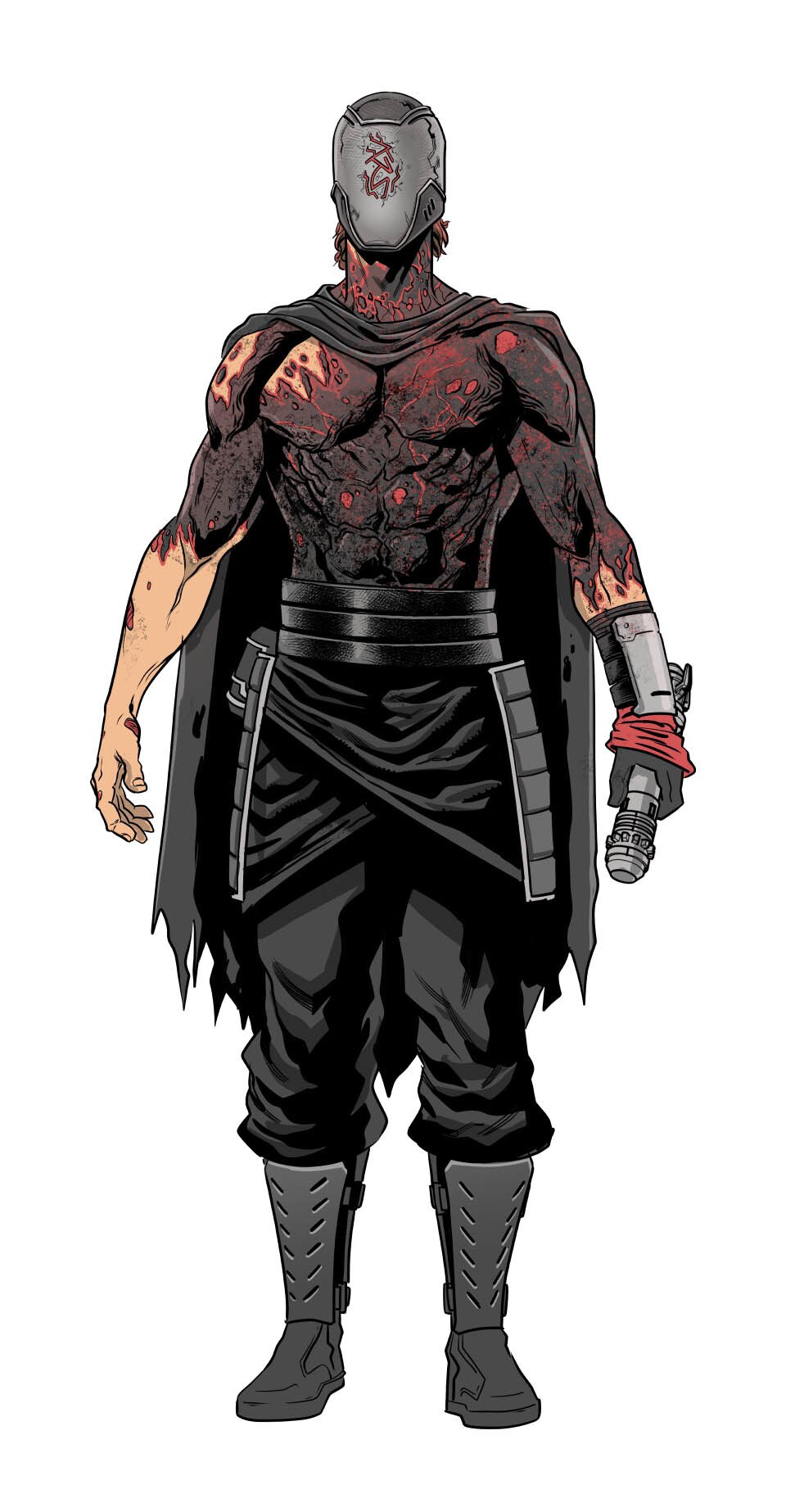 "I wanted him to read like a charming Darth Vader," says writer Charles Soule. "A Vader who is charismatic and who is appealing. That's why [Ren's] skin is burned and he sort of looks the way that he does. He's embracing the seductiveness and the damage that the dark side does. Darth Vader, as impressive and imposing and terrifying as he is, is remote and cold and distant because he has the suit surrounding him. Whereas Ren isn't hiding behind it. He's someone you could have a beer with, in theory."
Designed purposefully for the new comic series, with issue #1 out now, Ren feeds the evolution of Kylo Ren. "The entire seductiveness of the dark side poured into one character engineered for Ben Solo is Ren," Soule says. "He's sort of a charming evil rascal that can be really fun to write and I really like where he goes in the series. But if Kylo Ren is going to take over the Knights of Ren, which we know that's what happens, there should be some transition."
The creative team engineered some surprises for this charming dark sider, a foil in many ways to Darth Vader hiding beneath his protective covering. "You expect the dude hiding his face under a mask like that to be all messed up, particularly with his body looking the way it does," Soule says. But in issue #2 we'll see what he's truly concealing, a reveal that speaks to Ben on a whole other level.
"I think the key to writing Ben Solo is to write him as a lost teenager who is deeply in touch with emotions that teenagers often feel," Soule says. "He feels like no one understands him, no one sees him the way he actually is, he's utterly alone and there's no one else out there in the universe. So when he sees Ren, he's like, 'Wait a minute -- maybe there is somebody like me in the universe. Maybe there is a path for a guy like me. Look at the choices he's made. I could make those choices, too, and I could be cool.'"
Raising Snoke
The story also calls for the re-introduction of a younger, seemingly kinder Snoke, wearing a little cap, no less. When we meet him in the series, the future Supreme Leader of the First Order is essentially a gardener. "When we were in the design process, Snoke is someone that you know is going to defy expectations and it's not going to be the Snoke that you know," Sliney says. "And it's important because we're going to see a very, very different relationship that Snoke and Ben have. It establishes that this is not the Snoke that's going to Force-choke Hux and slam him into the ground. He's playing the long game…so it was important to portray Snoke differently."
And true to his festering nature, Snoke inhabits a place that on the surface seems serene and beautiful, but is rotten at its core, a script note that spurred Sliney to google "rotting fruit" for artistic inspiration.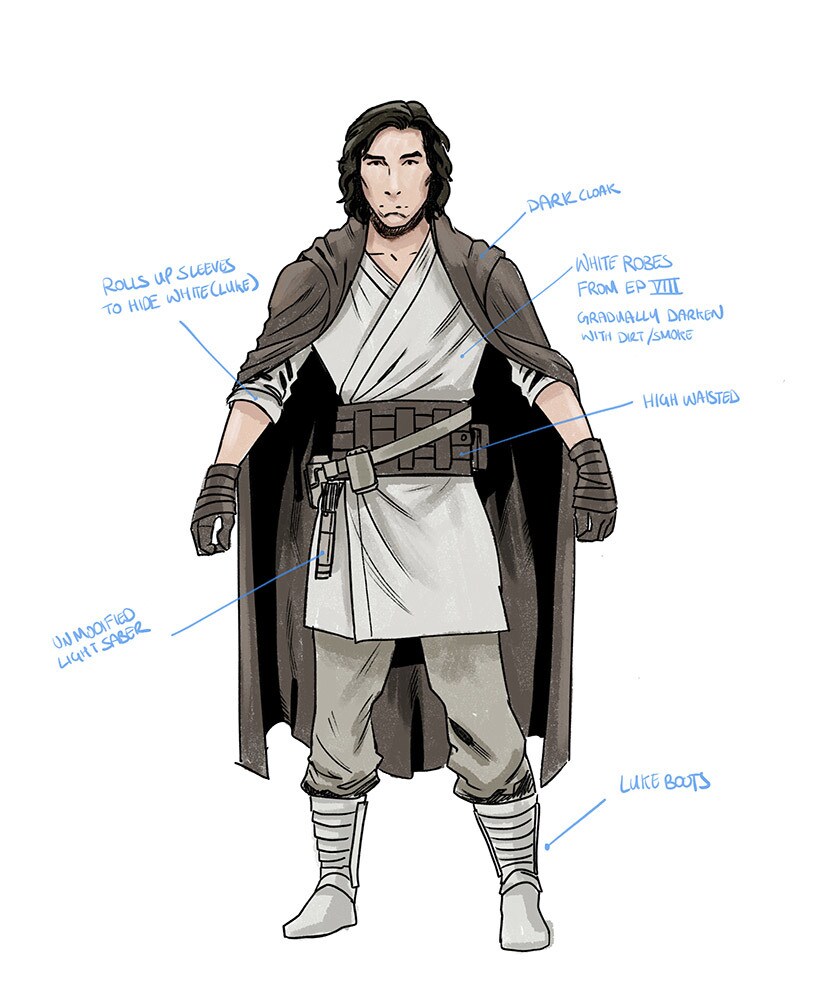 Like Sheev Palpatine, the once humble senator of Naboo, "Snoke is someone who knows the playbook," Soule says. "It's a similar play in terms of, 'I'm a nice guy who's just trying to help you,' which is kind of what Palpatine did. But Snoke's path to power, Snoke's seduction technique, Snoke's message and teachings are, I think, pretty different from the way Palpatine did it…. His job is not so much to corrupt as it's to represent an alternative to the legacy [Ben has] been presented." In concert with Ren presenting an alternate path, Snoke's suggestive philosophy is appealing to a young boy who feels lost. "Everyone's telling you you're X, but what if you're Y? What feels correct to you? Are you Obi-Wan Kenobi or maybe you're something else?" Soule says. "All you need to be is whoever you are and no one's letting you do that…and maybe, shouldn't you go someplace where you can be who you are?"
Concepts and Celtic stories
To bring these characters alive on the page, Sliney pulled reference material from Celtic myths and poured over books featuring the art of Star Wars. "I don't think I've ever studied as much as I have," he says. "Everything Star Wars. I have all those art books, whether it's the modern ones or the ones from the original movies or the prequels. I love the art…I think it's important to pay respects to the amazing concept art that have made these movies along the way."
Those artists, of course, famously took their inspiration from earlier works, so Sliney went back even further. "I'm going backwards as much as I can in terms of the feel of it," he says. "It needed to feel epic and it needed to feel powerful. It's bringing it back to that mythological kind of feeling. I have a big influence from a lot of old ancient Celtic stories that date back thousands and thousands of years. These stories of lone warriors who died on the hill…. Those ancient books, they carry that gravitas."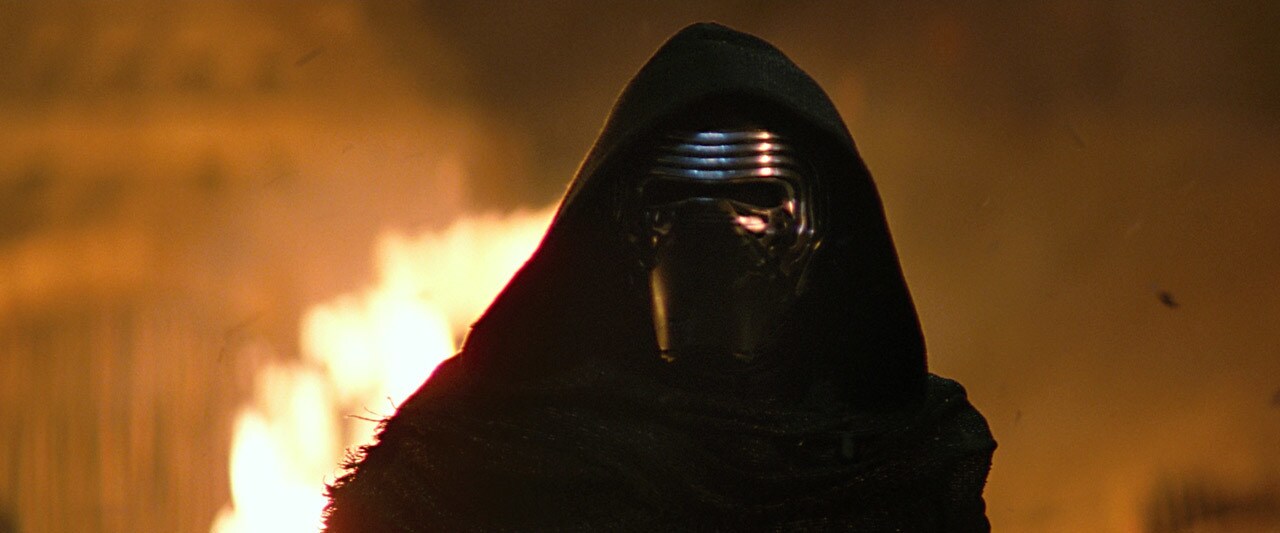 Meanwhile, Soule pulled much of his writing inspiration from the Skywalker saga itself, save for Star Wars: The Rise of Skywalker, which was still in production at the time. Soule went back and studied the first time we see Kylo Ren on screen, wondering to himself about the implication that Ben Solo had met Lor San Tekka in their younger days. "There's a lot of data hidden between the subtext and text," Soule says. "It's about doing the research on that level just to see what connections might be made, but it's also the feel of it."
After all, Ben Solo's bloodline makes him Star Wars royalty. "This is a story about legacy," he says. "It's a story about family and expectations and the fact that Ben Solo is part of a vast network of galaxy-changing individuals from his mom and his dad, to his uncle, to his adopted uncle, Lando, to his namesake Ben Kenobi, to his grandfather, Darth Vader…Within one step of him are arguably some of the most important people in the galaxy. So his story is their story and you can't tell Ben Solo's story without knowing all the other ones backwards and forwards."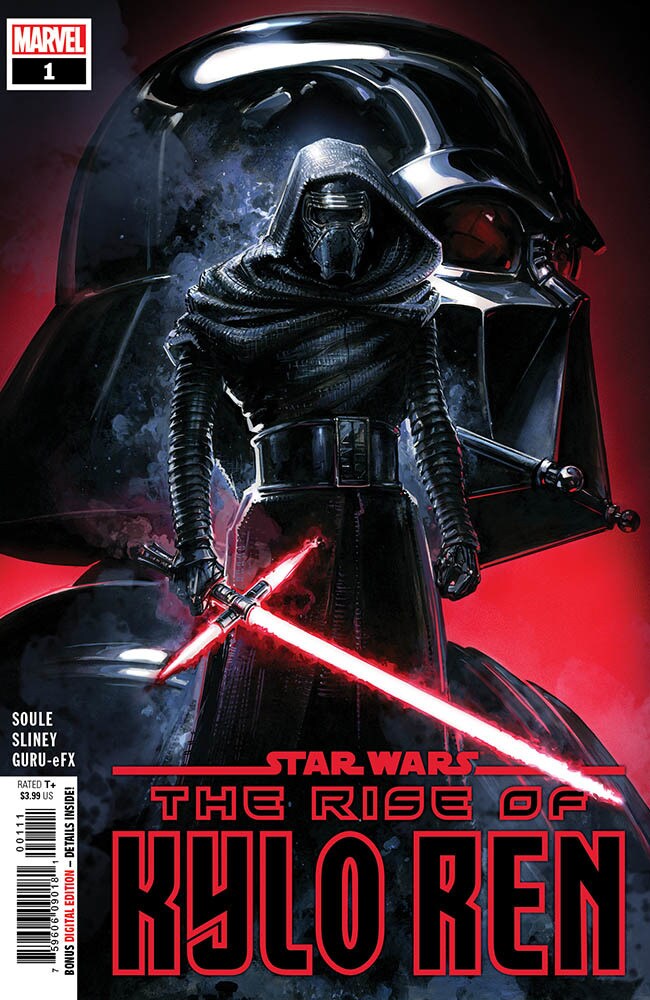 Pick up the first issue of Marvel's Star Wars: The Rise of Kylo Ren now.
Associate Editor Kristin Baver is a writer and all-around sci-fi nerd who always has just one more question in an inexhaustible list of curiosities. Sometimes she blurts out "It's a trap!" even when it's not. Do you know a fan who's most impressive? Hop on Twitter and tell @KristinBaver all about them.
Site tags: #StarWarsBlog