We have a mission for you -- in a groundbreaking hyper-reality experience.
Ready to be a rebel?
Lucasfilm, ILMxLAB, and The VOID have pulled back the curtain on Star Wars: Secrets of the Empire, a groundbreaking hyper-reality experience that promises to immerse fans in a galaxy far, far away. An official trailer (check it out below!) made its debut today, offering a first look at what to expect, and story details have also been revealed -- the rebellion needs you, your family, and your friends for a secret mission.

Star Wars
: Secrets of the Empire will send teams of four, under the orders of the budding rebellion, to the lava planet Mustafar. The mission: to recover Imperial intelligence vital to the rebellion's survival. You and your squad must navigate an enemy facility disguised as stormtroopers, with 
Rogue One
's K-2SO at your side. You'll grab your blaster, solve puzzles, and fight giant lava monsters in an effort to fulfill the rebellion's orders.
The VOID also announced that Star Wars: Secrets of the Empire will debut at Disney Springs at Walt Disney World Resort in Orlando on December 16 and Downtown Disney at Disneyland Resort in Anaheim on January 5. Tickets are on sale now at thevoid.com; admission for both the Anaheim and Orlando locations is $29.95 per person plus applicable fees, and Parks admission is not required.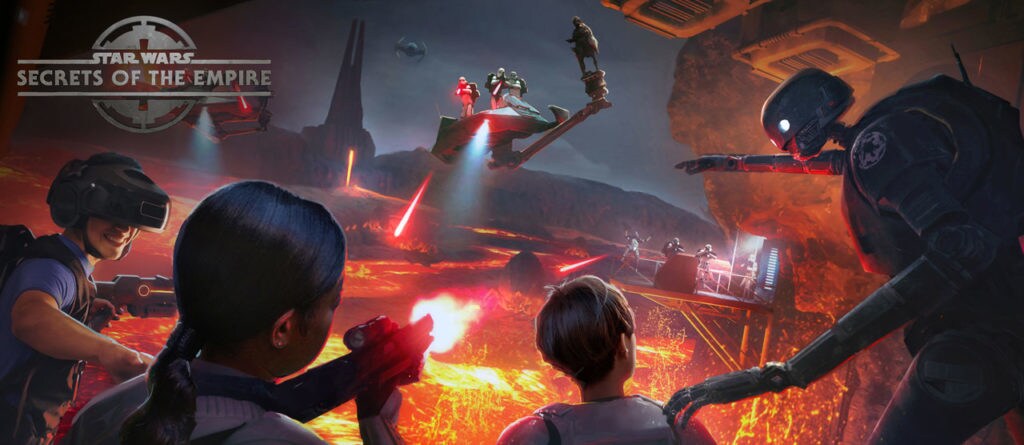 "We are so excited about this magical collaboration between three first-to-market companies in the burgeoning out-of-home VR entertainment sector," said Curtis Hickman, co-founder and chief creative officer at The VOID. "We can't wait to share the experience of hyper-reality with everyone." 
"People have longed for a chance to step into the Star Wars universe and this incredible new hyper-reality experience will allow them to do just that in a totally unique way," said Vicki Dobbs Beck, executive in charge ILMxLAB. "It's a group experience that evokes the senses in bold new ways."
StarWars.com. All Star Wars, all the time.