Immerse yourself in a galaxy far, far away next year when the fully enhanced ILMxLAB experience comes to PlayStation VR2.
Pull up a stool at Seezelslak's Cantina and settle in for an unforgettable adventure.
Announced at Sony's State of Play event earlier today, Star Wars: Tales from the Galaxy's Edge – Enhanced Edition will arrive exclusively on PlayStation VR2 in 2023. The newest incarnation of the award-winning VR experience from Lucasfilm's ILMxLAB has been rebuilt for greater immersion using the latest state-of-the-art virtual reality hardware. The high-fidelity visual experience will include headset-based controller tracking, eye tracking, rich 3D audio and haptics built into the PS VR2 Sense controller and headset.
In a series of extraordinary events that test your mettle and ultimately prove that anyone in the galaxy can become a hero, you'll begin your Star Wars story as a droid repair technician who crash-lands on the planet Batuu following an attack by the Guavian Death Gang. Along the way, you'll meet fan-favorite characters like R2-D2, C-3PO (Anthony Daniels), Jedi Master Yoda (Frank Oz), and Hondo Ohnaka (Jim Cummings) as well as newcomers like the boisterous barkeep Seezelslak (Bobby Moynihan), treasure hunter Lens Kamo (Karla Crome), and Guavian Death Gang leader Tara Rashin (Debra Wilson).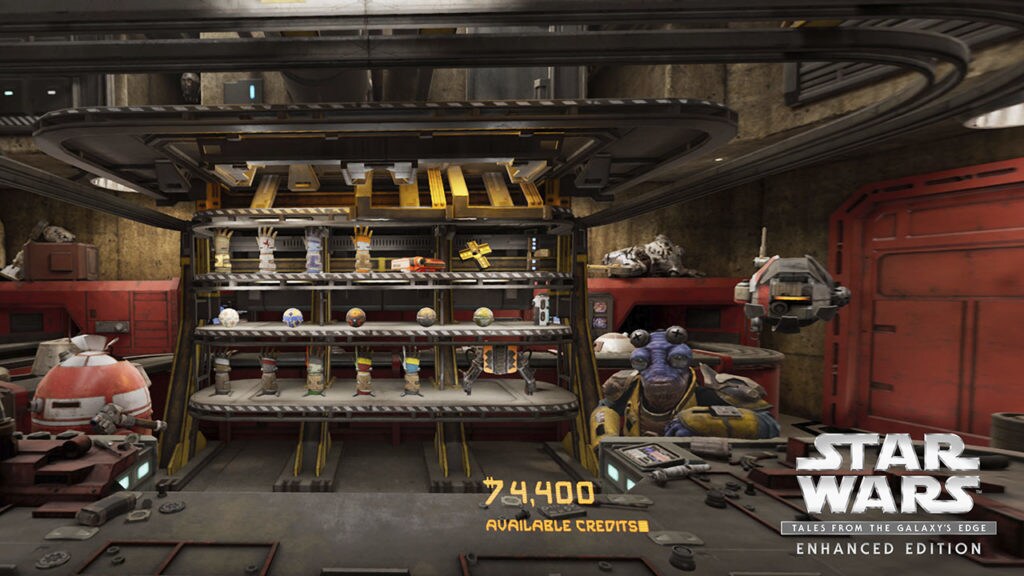 Anchored in the outskirts of Black Spire Outpost at Star Wars: Galaxy's Edge, inside Disneyland Resort in California and Walt Disney World Resort in Florida, the tale also includes encounters with the owner of Black Spire Outpost's Droid Depot, Mubo (Matthew Wood) and the Ithorian shopkeeper Dok-Ondar (Cory Rouse).
Through the power of storytelling, Seezelslak's Tales will invite you to join the Jedi Order through the story of Ady Sun'Zee (Ellie Araiza) in "The Temple of Darkness" and "The Sacred Garden" and chase a peculiar bounty as the assassin droid IG-88 (Rhys Darby) in "The Bounty of Boggs Triff."
Star Wars: Tales from the Galaxy's Edge – Enhanced Edition will be released as the complete experience next year. Watch the new announce trailer below!