The artists of ILM salute our healthcare and essential workers -- with a Star Wars twist.
At StarWars.com, we're accustomed to heroic stories of Jedi Knights and hotshot pilots and rebel princesses. But lately, we've seen inspiring examples of real heroism in our own galaxy -- those sacrificing their own health and safety for the rest of us as we battle coronavirus.
The talented artists at Industrial Light & Magic, Lucasfilm's visual effects house, have recently been paying tribute to these real-world heroes. Through "Heroes of the Pandemic: ILM Art Jam," these artists have created their own illustrations and paintings as a thank you to the doctors, nurses, grocery-store workers, and all those on the front lines that are saving lives and providing us with essential goods and services.
ILM has published these works on its Twitter and Instagram channels, and StarWars.com is honored to reveal several new images and feature the entire collection below. In addition, we asked each artist to share their own commentary and thoughts on these moving images.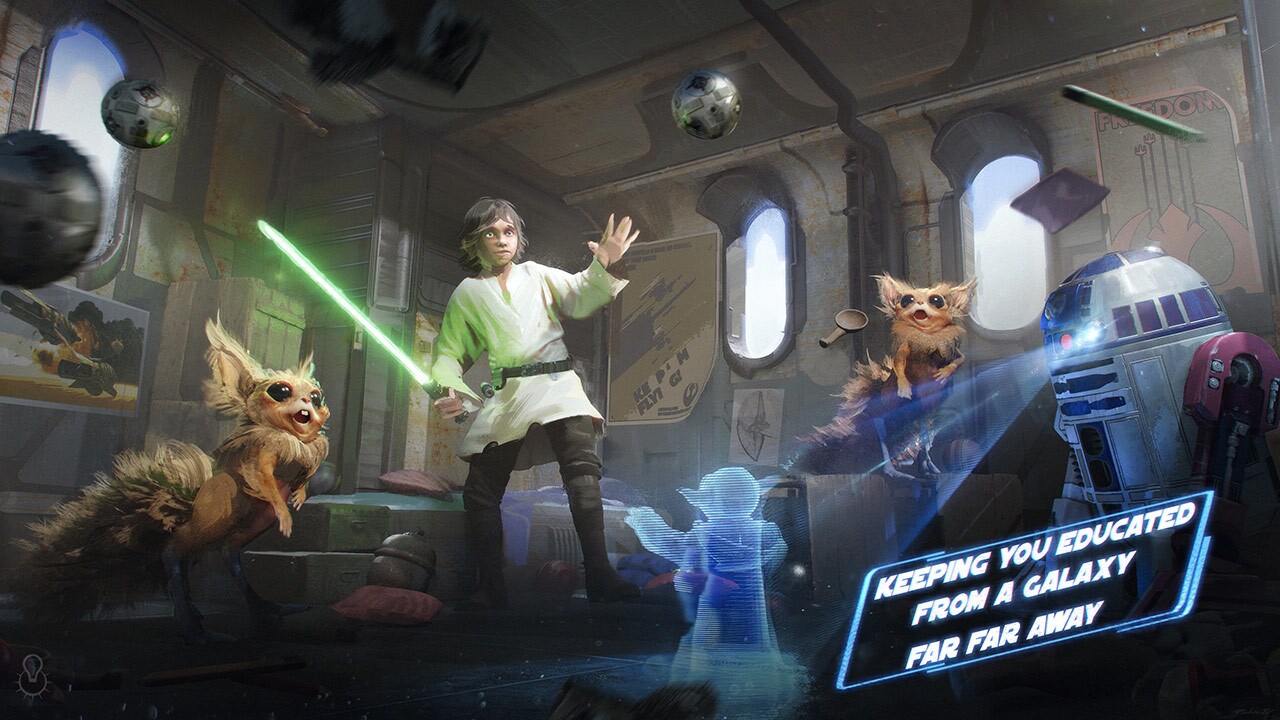 "My inspiration for this one comes from the hard work teachers need to do these days to keep all their students educated. I think they are doing such a great job. Also, I do mostly visual effects -- realistic and scary monsters or scenes for the movies -- and it was a great opportunity to do something more cute!" - Pablo Dominguez Aguilar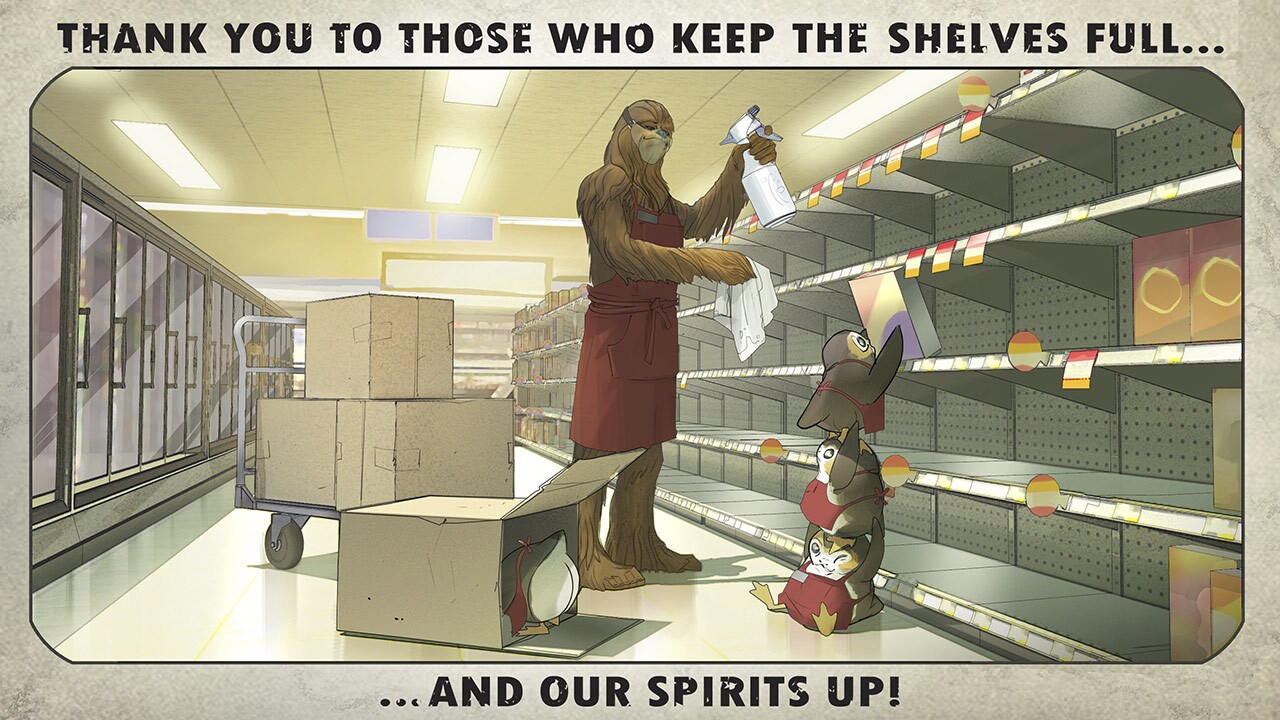 "I wanted to thank everyone that is involved with restocking the stores, especially since it's so stressful to be short on some supplies right now. It's been very heartwarming and inspirational to see these professionals calming the customers, keeping queues orderly (and friendly!), and being extra helpful to those that need it most. Thank you so much!" - Amy Beth Christenson
"Staying home as much as possible has been made easier by the food delivery drivers that still working hard on the road. Not only we can reduce the frequency of us going out, we can also send food to our loved ones that are living in a different household. So don't forget to say thank you to them, share whenever it's possible (safely!) and ensure that it is a contactless delivery!" - Ignatia Dwiastuti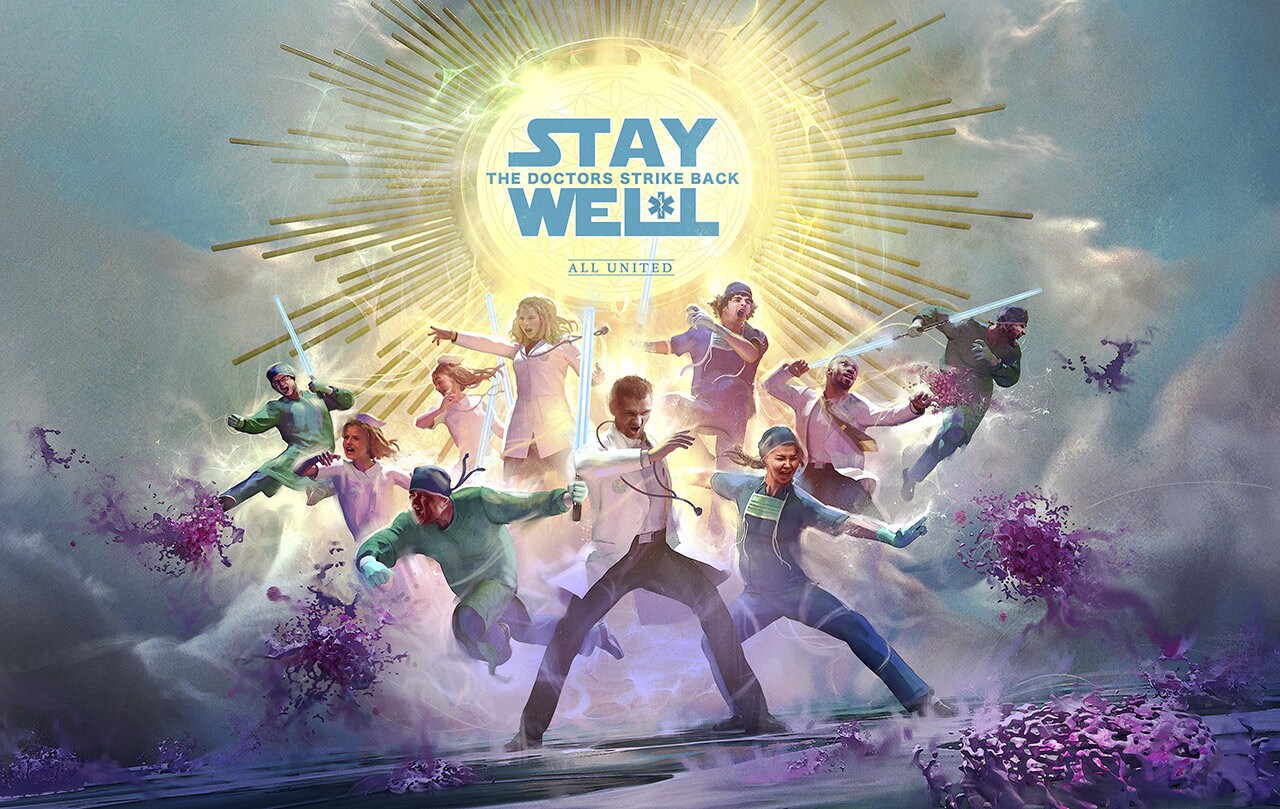 "Mostly inspired by the ones in the front lines, I chose the healthcare system. Friends and family members are in this hand-to-hand combat. I hope our works boost and deliver magic to these heroes." - Eduardo Pena Garzon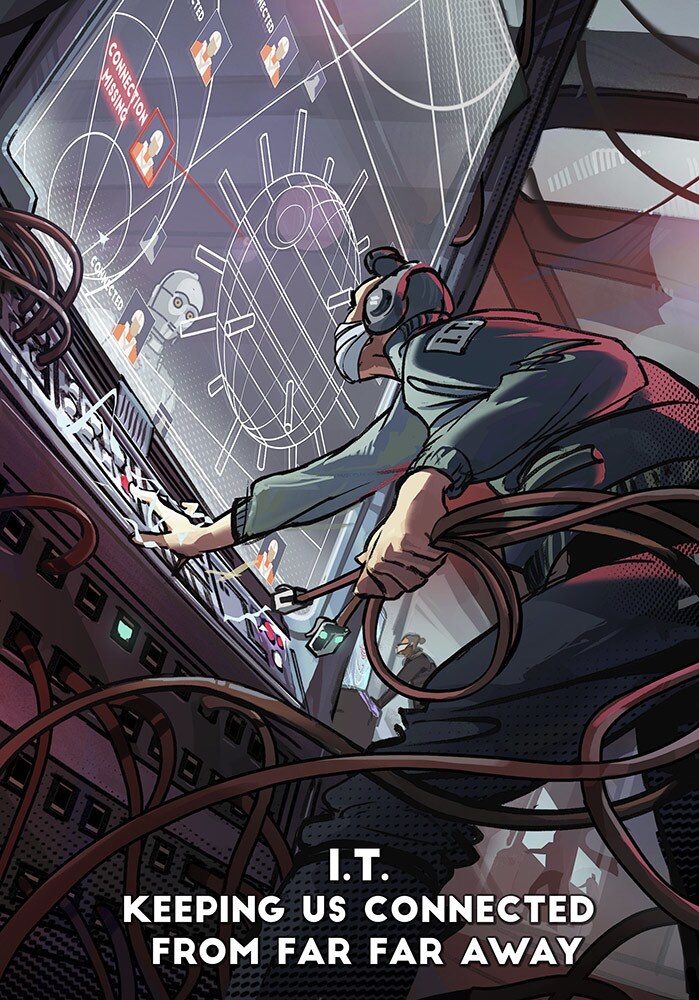 "I was impressed by how easy the transition to work from home was, thanks to the hard work of the I.T. team." - Julien Gauthier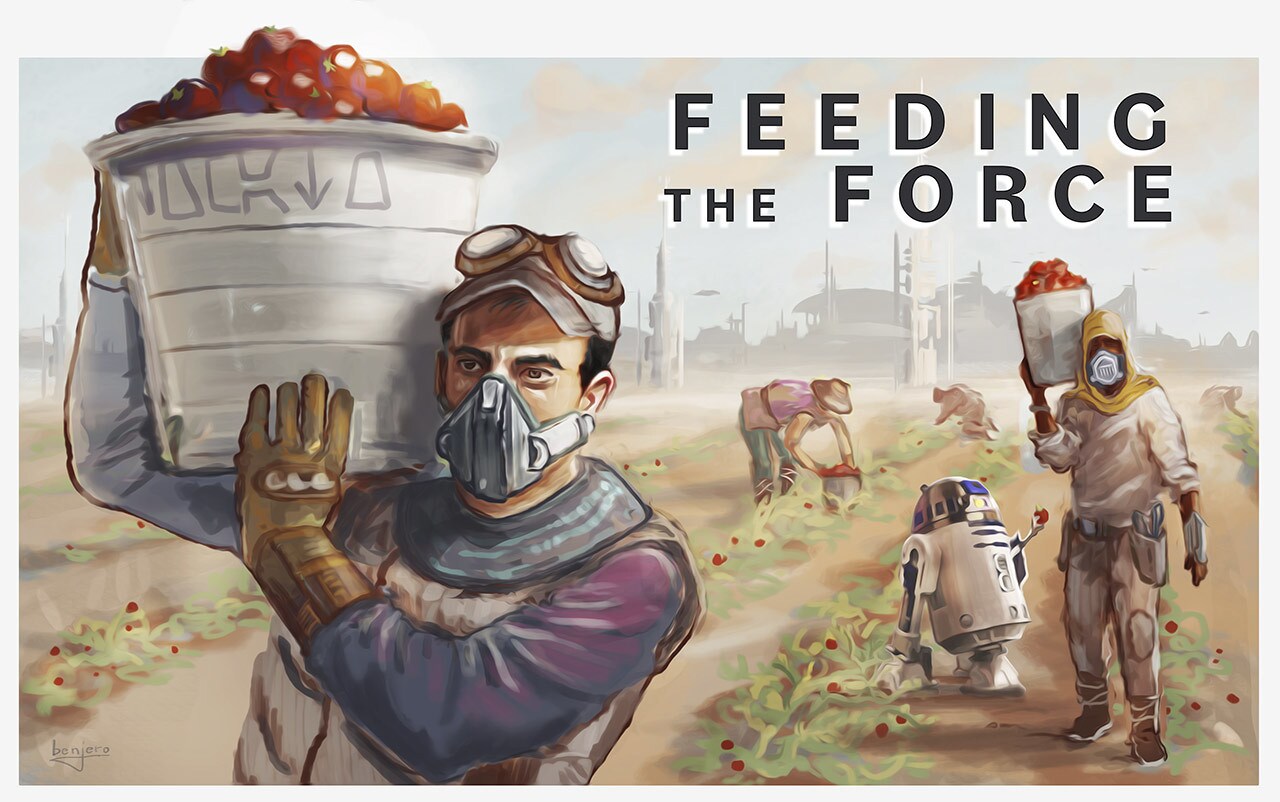 "'Feeding the Force' recognizes those who continue to labor in the fields despite the danger this poses to them. Their work is deemed essential to the functioning of our country, yet many of these workers are undocumented and run the risk of deportation. Thank you for keeping our shelves stocked and our bellies full." - Ben Grangereau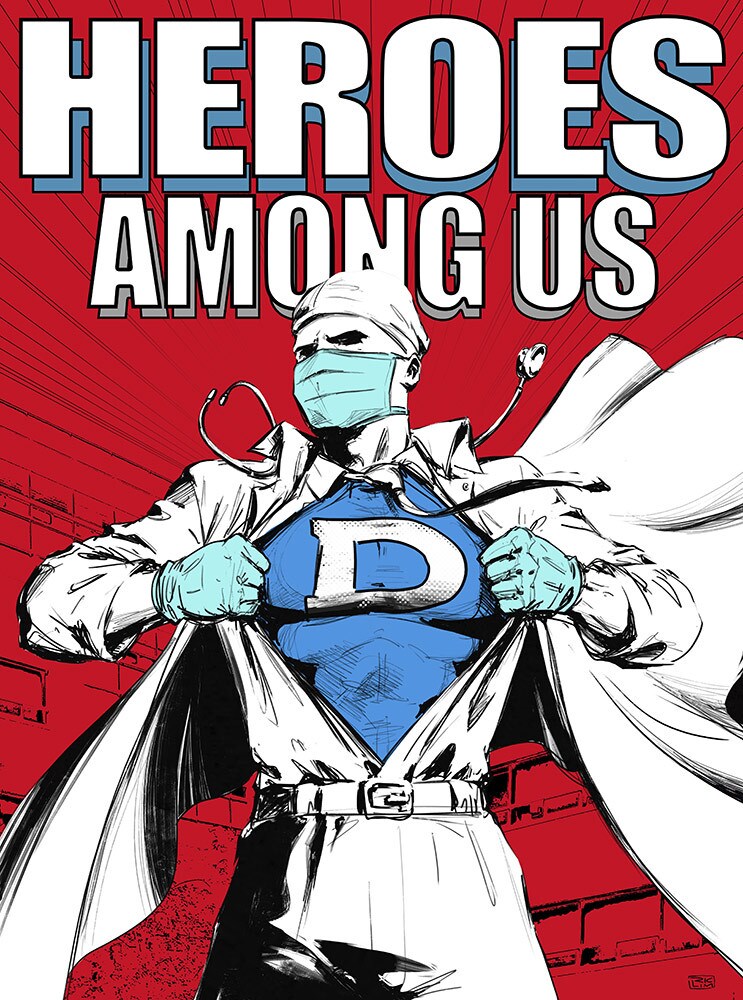 "I was inspired by doctors' extraordinary efforts around the world to help, heal, and save in our moment of crisis. To me, they are real superheroes. So, in comic book fashion, I'd like to show that every doctor can be proud of their 'D' emblem, which stands for 'doctor,' and revealing it to save the world!" - Richard Lim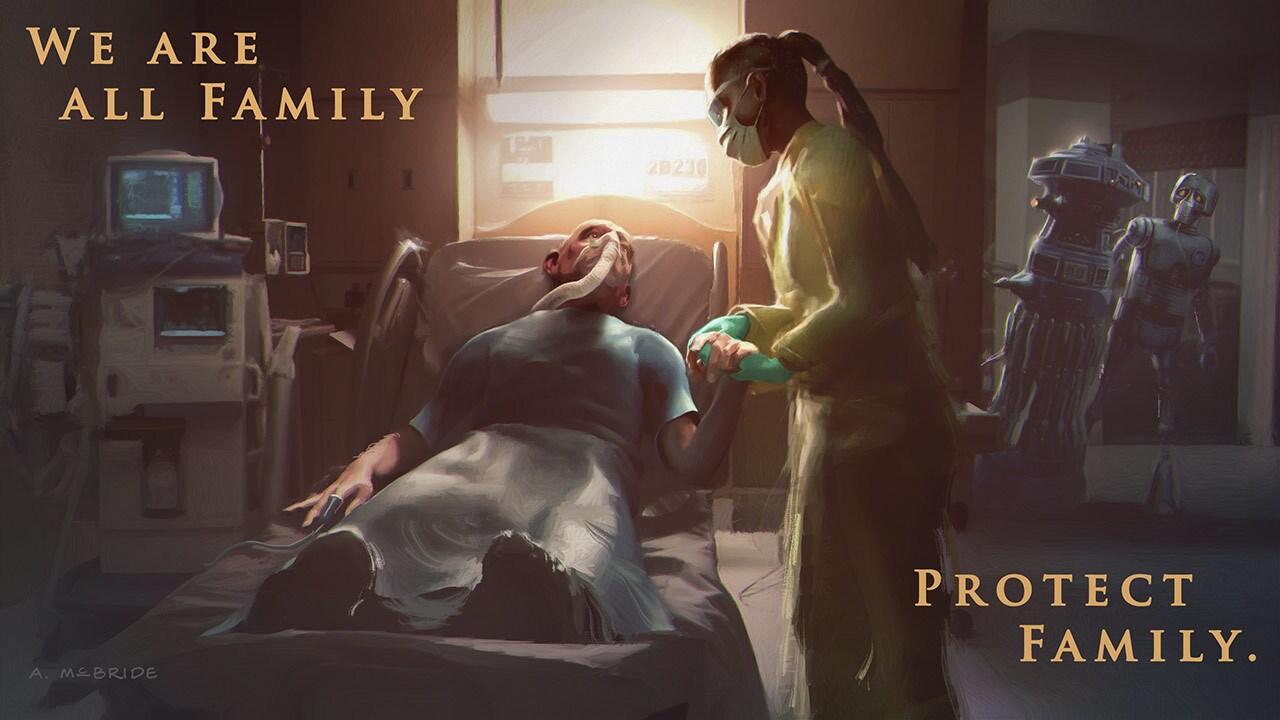 "My sister is a doctor and my cousin is a nurse at hospitals in Boston. My sister has mentioned that hospitals cannot let visitors see these critically-ill patients, so these patients are intubated, ventilated, and sometimes die without any family or friends at their side. She said that is a very hard thing for medical providers to witness and so different from what they are used to arranging at end of life. So, the images she had seen where medical providers in full-protective equipment are holding the hand of a patient who is lying in bed, alone, and critically-ill has been on her mind a lot lately. I thought about how medical workers and patients become family under these circumstances." - Aaron McBride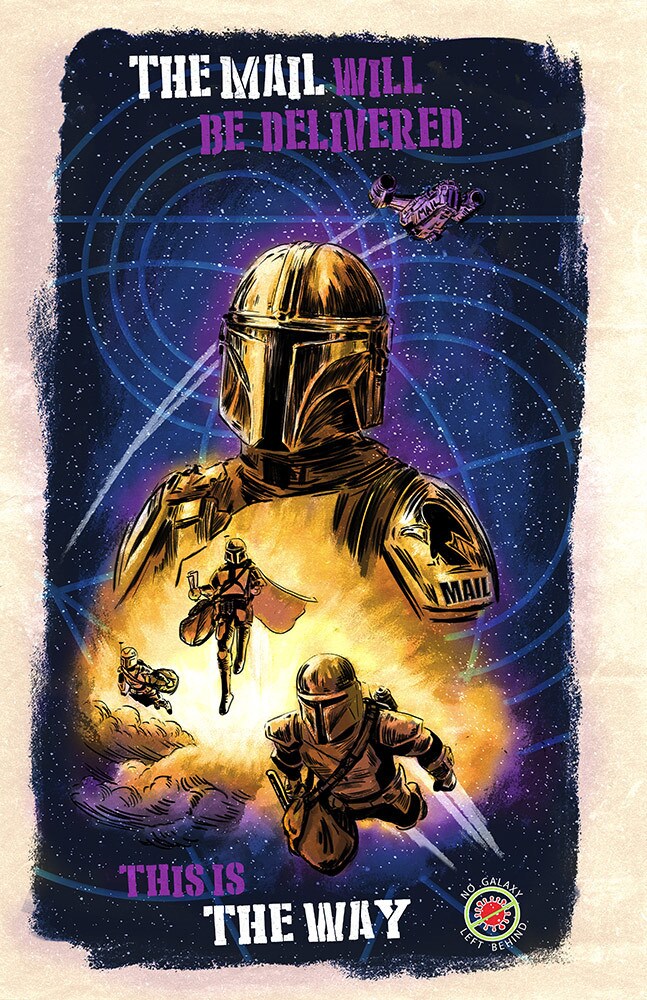 "This piece is for all our postal workers out there who, much like the Mandalorians, practice discipline and strength to achieve their mission --  making sure we get our mail day after day! This digital painting is stylistically inspired by the boldly colored, iconic Star Wars film posters done by Drew Struzan." - Hannah Puente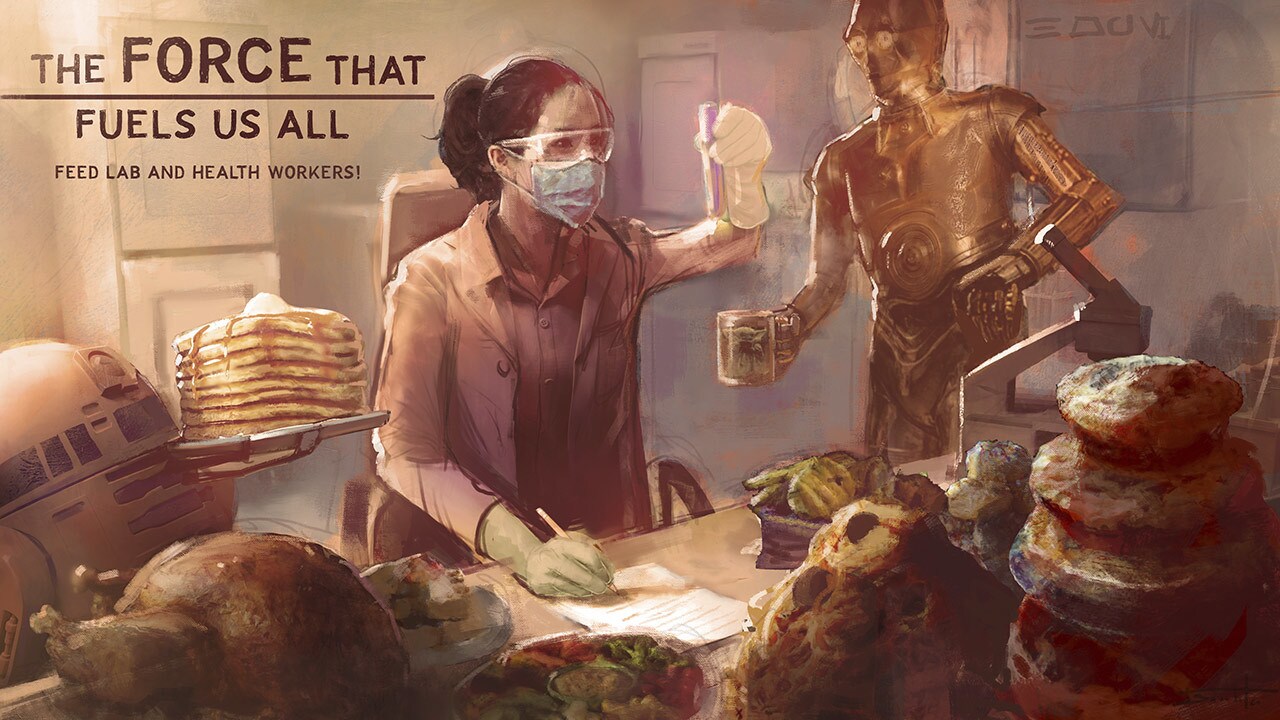 "Lab and health workers are tirelessly fighting to advance our knowledge on the virus, advance testing, and fight for a cure. I wanted to do a piece to show my thanks for all that they do and encourage others to do the same." - Tyler Scarlet

"My piece is inspired by grocery store workers everywhere, including members of my own family, working on the front lines to make sure we're fed and have access to our medication during this pandemic. They deserve our respect, protection, and fair pay for being essential to all our lives; then, now, and always! Thank you, all!" - Casey Straka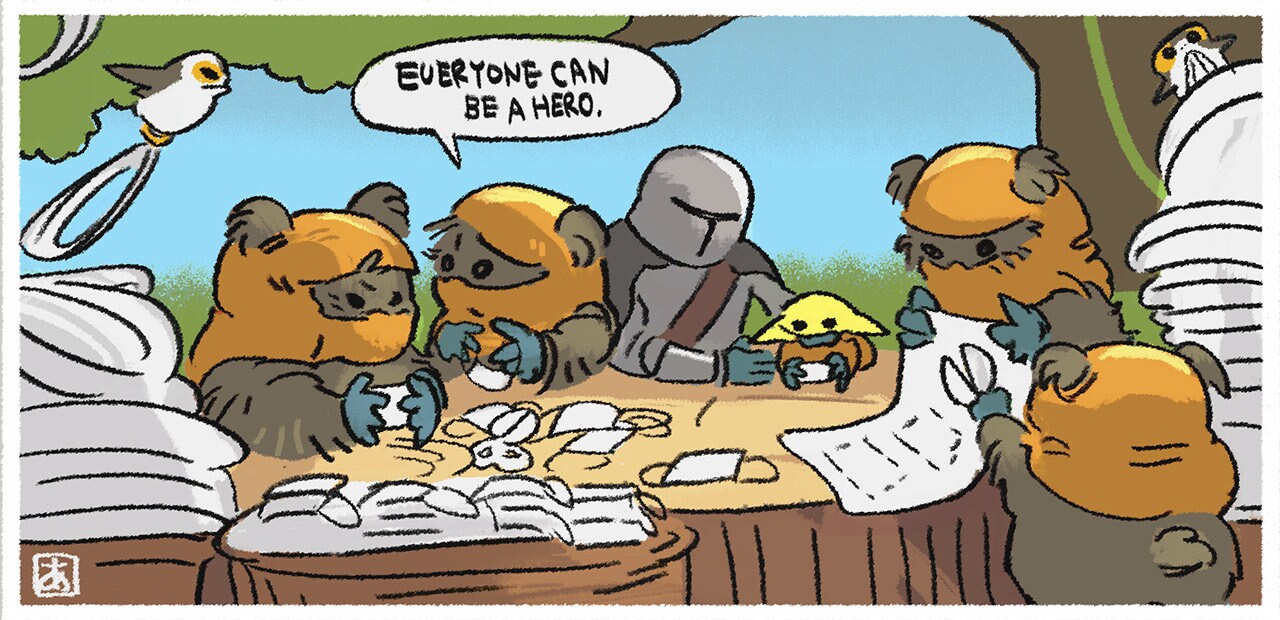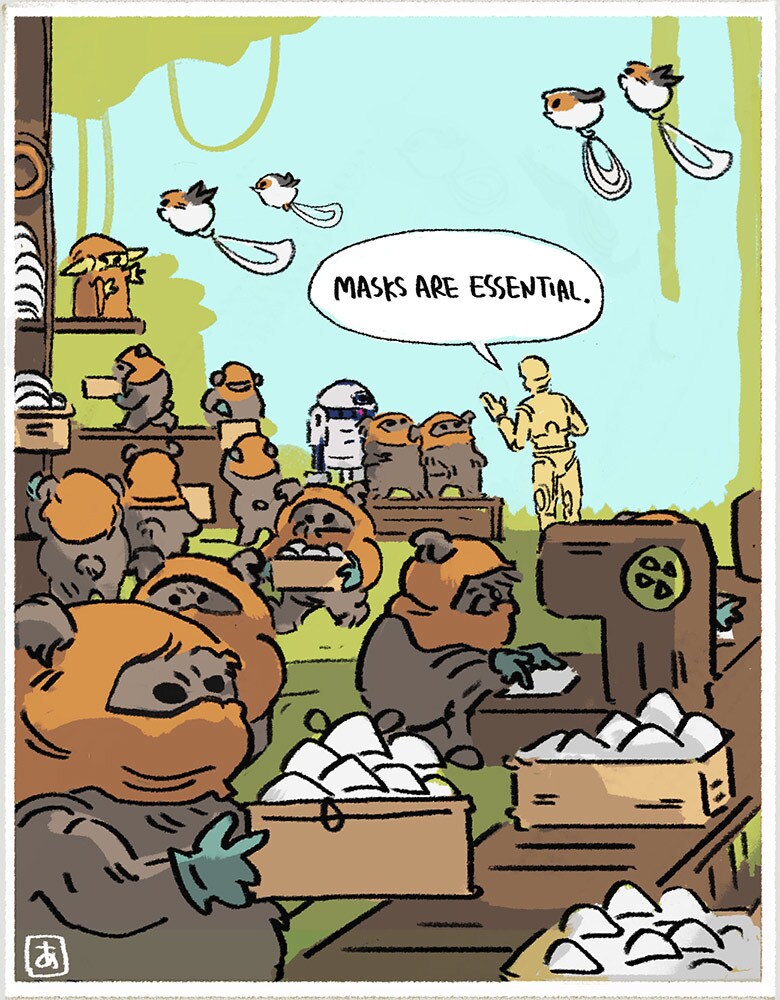 "I heard that people were making masks to donate to hospitals or cooking meals for healthcare workers. Everyone is doing what they can do to get through this situation. Even staying home is also what we can do! So I put 'Everyone can be a hero' as a caption. I made these images cute, hoping to make people smile." - Azusa Tojo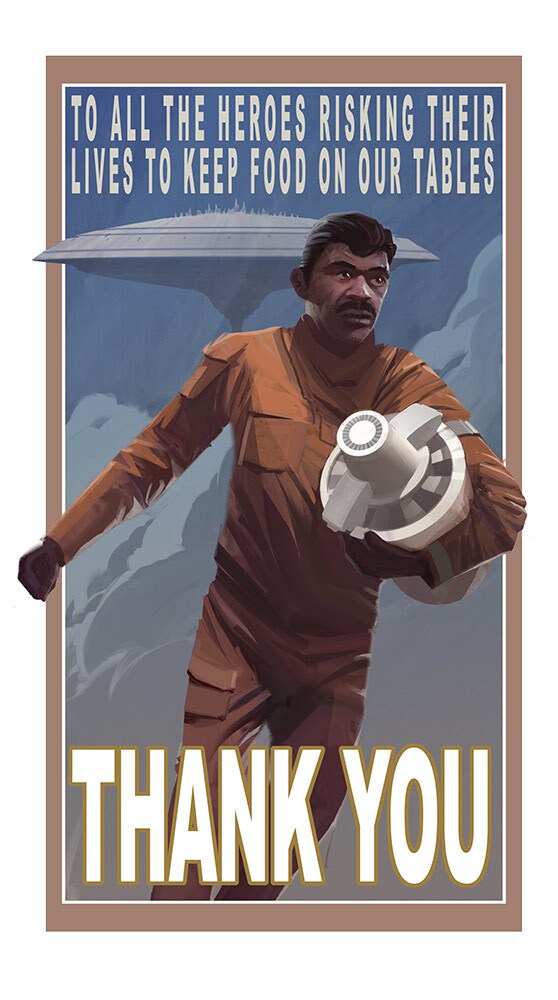 "This poster is about all of the heroic characters working hard in the background to make food available during this pandemic. In the Star Wars universe, Willrow Hood, the guy with the 'ice-cream maker,' is known by few but is seen putting his life on the line to help others." - Chris Voy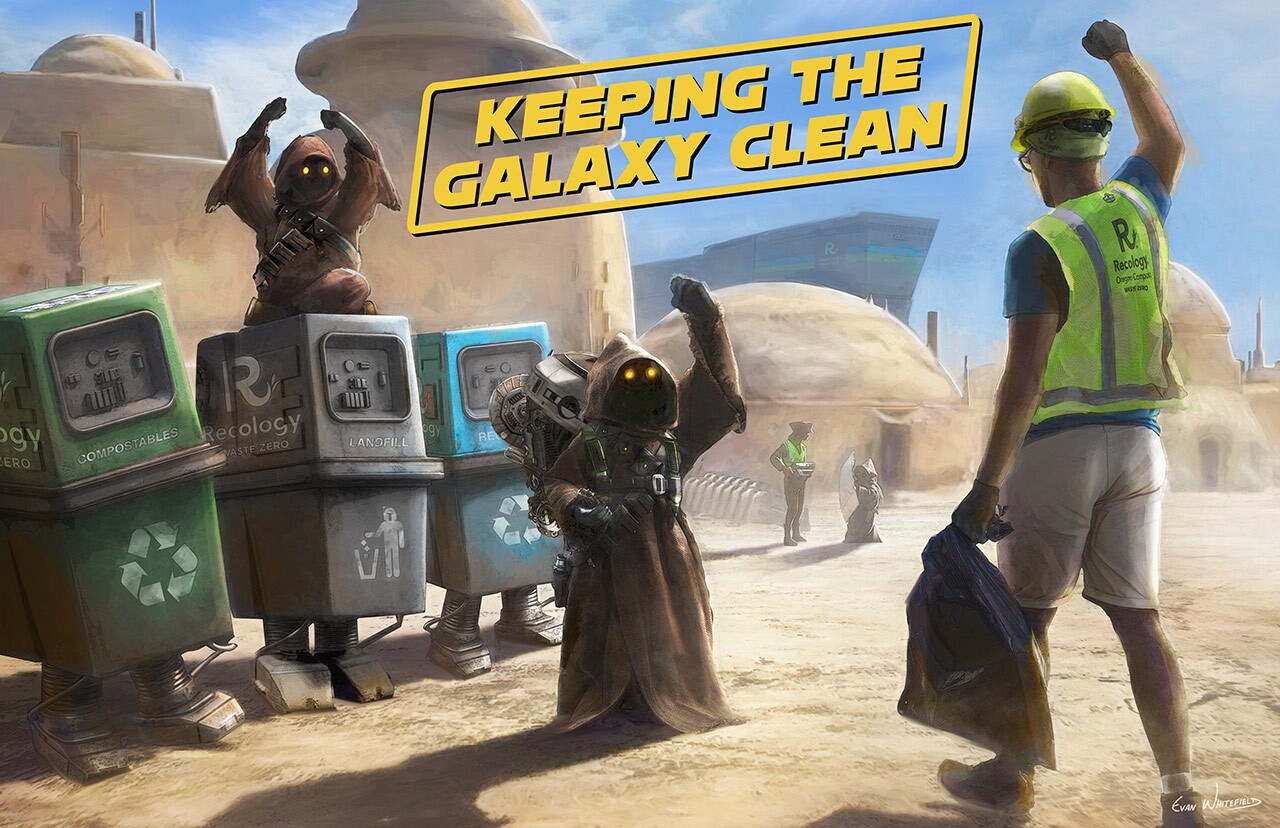 "This is inspired by those who clean, transport, and organize what we throw out everyday. It's a Jawas' field day." - Evan Whitefield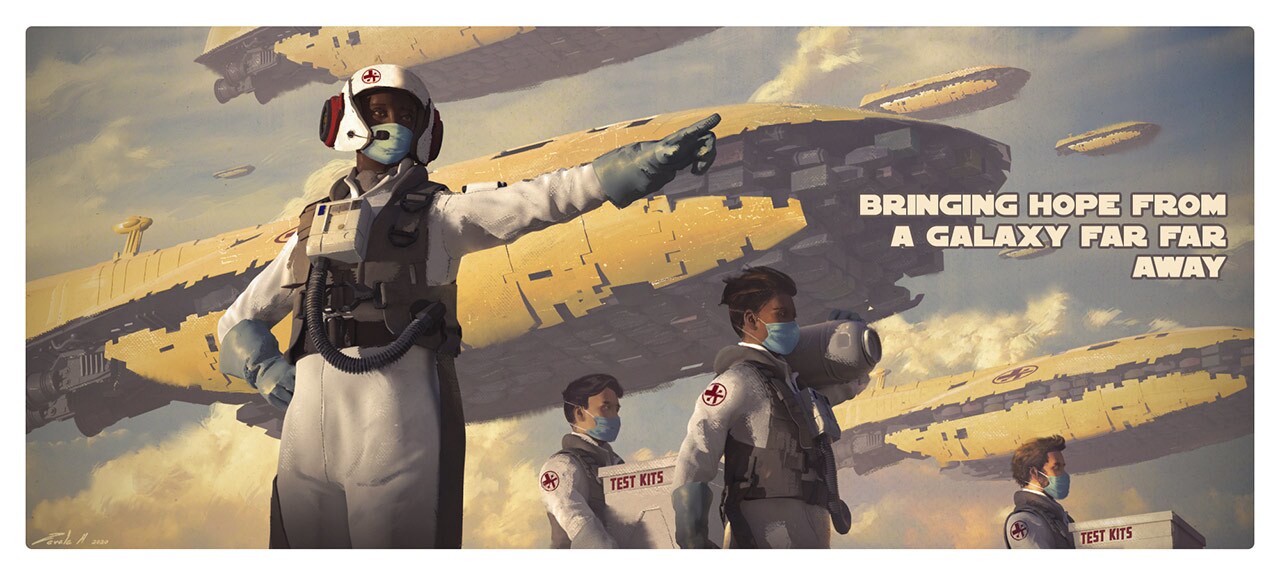 "Like many of us, I wanted to show the heroes fighting the current pandemic and at the same time depict there's still hope even in these times of uncertainty. I also made sure to depict this piece in a style we all love -- the timeless work of Ralph McQuarrie." - Stephen Zavala
Dan Brooks is Lucasfilm's senior content strategist of online, the editor of StarWars.com, and a writer. He loves Star Wars, ELO, and the New York Rangers, Jets, and Yankees. Follow him on Twitter @dan_brooks where he rants about all these things.
Site tags: #StarWarsBlog