Get a first look at a new figure based on a classic Sideshow statue.
Sideshow Collectibles' long-sold-out Star Wars Mythos Obi-Wan Kenobi statue -- imagining the Jedi Knight between trilogies on Tatooine, complete with desert-traveling gear and some cool surprises -- was an instant hit with fans and remains a highly sought-after item. Well, Mythos Obi-Wan is ready to strike back.
StarWars.com is excited to reveal the 1:6 scale Star Wars Mythos Obi-Wan Kenobi figure, a beautiful adaptation of Sideshow's classic statue into figure form, which kicks off the return of the Mythos line. It's filled with the same smart details as the statue, from Clone Wars armor atop Obi-Wan's backpack to Anakin and Qui-Gon's lightsabers dangling below, and is just as impressive a design. You'll be able to see it in person at New York Comic Con, October 5-8, at the Sideshow booth, #1912, and can pre-order beginning September 21 at sideshow.com/obimythos. StarWars.com e-mailed with Kevin Ellis, project manager for Sideshow's 1:6 scale series, to discuss how the figure differs from the statue, telling a story in figure design, and the clever way they approached this new head sculpt.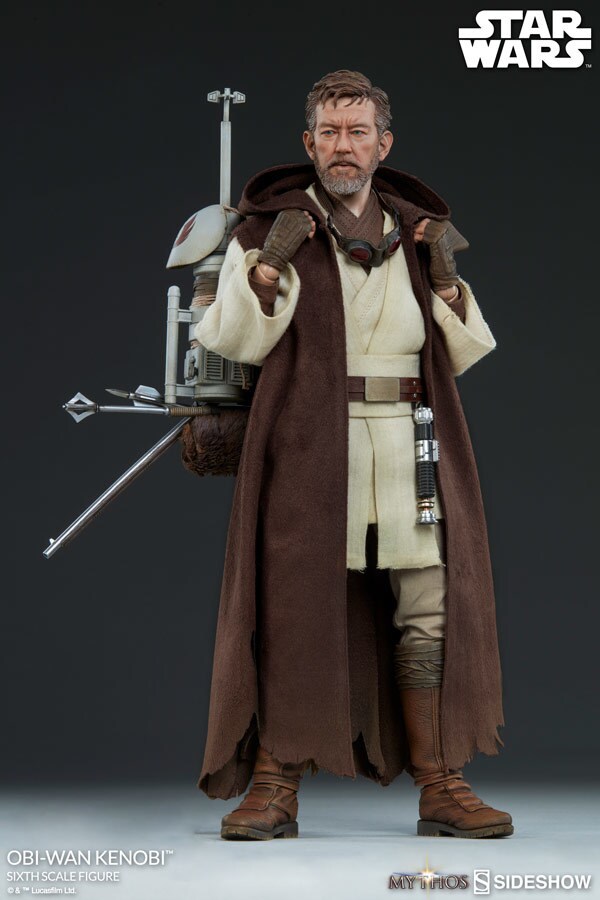 StarWars.com: Sideshow previously released a Mythos Obi-Wan statue, but this is the first time we're getting this version of Obi-Wan in figure form. What inspiration did you take from the statue, and where did you make tweaks and improvements?
Kevin Ellis: I'd say we stayed pretty true to the original statue. It became such an iconic Sideshow Star Wars piece, and the original design was so appreciated by the fans, it really didn't need much in the way of improvement. We had this unique opportunity, working with Lucasfilm to create a whole new moment in Obi-Wan's life. There's a huge responsibility there for us as artists, but also as fellow fans, to do that justice, and I think we did.
For the new, smaller, 1:6 scale Mythos Obi-Wan, we made a few tweaks to the design here and there, but the most significant change came with a different medium. You can actually get a lot more clarity and fine detail when you're working with plastics, so you'll see that we ramped up the details a lot. Even though this figure is smaller in scale, the level of detail is much, much higher.