This will be a day long remembered for LEGO Star Wars fans.
Say what you will about the tyrannical government of a galaxy far, far away, but one thing's for sure: the Empire had style. And the LEGO Group is bringing that Imperial flair for design home with three new sets made for adult collectors and intended for display.
Coming April 26 and available for pre-order now, devotees of the Empire can look forward to striking new busts of Darth Vader and the Scout Trooper, as well as a model of the Imperial Probe Droid, complete with movable tentacles and Hoth-inspired base. The LEGO Group sent finished builds of each set to StarWars.com for an early look -- we also got to assemble the Probe Droid, a challenging but rewarding build that only took a few hours -- and we're pleased to report that even the Emperor would be a fan. With a modest footprint (Vader, for example, measures 8 inches high, 5.5 inches wide, and 5.5 inches deep), they take up little space and fit well together visually -- ideal for those who want to add some tasteful Star Wars décor to their home, apartment, or office. StarWars.com caught up with some of the team behind the three releases, including LEGO Star Wars design director Jens Kronvold Frederiksen, senior designer Jan Neergaard Olesen, and designers Hans Burkhard Schlömer and César Carvalhosa Soares to discuss creating LEGO Star Wars sets for adults, which car part served as reference for an element of the Scout Trooper helmet, and the "very non-LEGO-friendly angles" of the Probe Droid.
StarWars.com: These are really quite beautiful display pieces. Is your design approach different for an adult/home decor release as opposed to something for kids?
Jens Kronvold Frederiksen: When we design adult or home decor sets, the focus is mainly on making the model as accurate as possible -- beautiful for display and with a lot of detail; often more than in a standard LEGO Star Wars set for the younger audience. The only other difference is that we focus less on play features and functions, as these models are more intended for display than play. Where there is no difference between play and display models is the building experience, though these models are typically more advanced. However, we also do our best to ensure that the models are fun to build, even if they are more complicated and challenging.
StarWars.com: With Vader and the scout trooper, you have some really interesting and odd angles and shapes in their helmet designs. How difficult was it to adapt those features to LEGO form? 
César Carvalhosa Soares: In the Darth Vader helmet, the outer shell was fairly straight forward -- basically sculpting with different plates. The hardest part was indeed the nose and eyes area. To achieve the necessary angles and shapes, different sub-builds were made and attached to the model in all kinds of directions and odd ways. For example, the eyes have a clip on the back that connects to a vertical bar, and this allows for them to be positioned in the correct way -- slightly angled to the outside. Another interesting and challenging part was the nose, where again several clips and bars are used to get a Z shape sub-build that fits snugly between the eyes.
Hans Burkhard Schlömer: When designing a helmet, it involves the use of more "sculpting" techniques than creating a play set of, for example, a spaceship would. This means we get to use more basic elements to create a shape, instead of using a larger element that already has a specific shape. For the "nose" of the scout trooper helmet, however, I had to use a car mudguard [a.k.a. fender] to match the reference!
StarWars.com: The probe droid is my favorite of the bunch, which I was lucky enough to receive and build. What really amazed me is how it replicates the kit-bashed look of the original prop. How challenging was that to accomplish?
Jan Neergaard Olesen: I am very glad that you like it, it is also my favorite! But to give you a "short" answer: Very challenging! Especially all the sensors on the head that have some very non-LEGO-friendly angles and in very tight space, which gave me quite a bit of headache during the development. Also, the arms were very challenging. To achieve the right look of the arms in different sizes and shapes and still ensure the right quality and stability was not easy at all. But generally we are always aiming to build in as much detail in the models as possible, and getting as close as possible to the original reference material we receive from Lucasfilm.
StarWars.com: The probe droid also has a great sense of depth to it and a lot of detail that you don't catch from a photo. 
Jan Neergaard Olesen: Yes, and on normal grayscale LEGO models, which we have a few of in LEGO Star Wars, we try to use darker colors on the deeper levels and brighter colors on the outside. So as an example, to add more depth to a light gray model, we could use dark gray and black color to add more of a "shadow" feeling to it.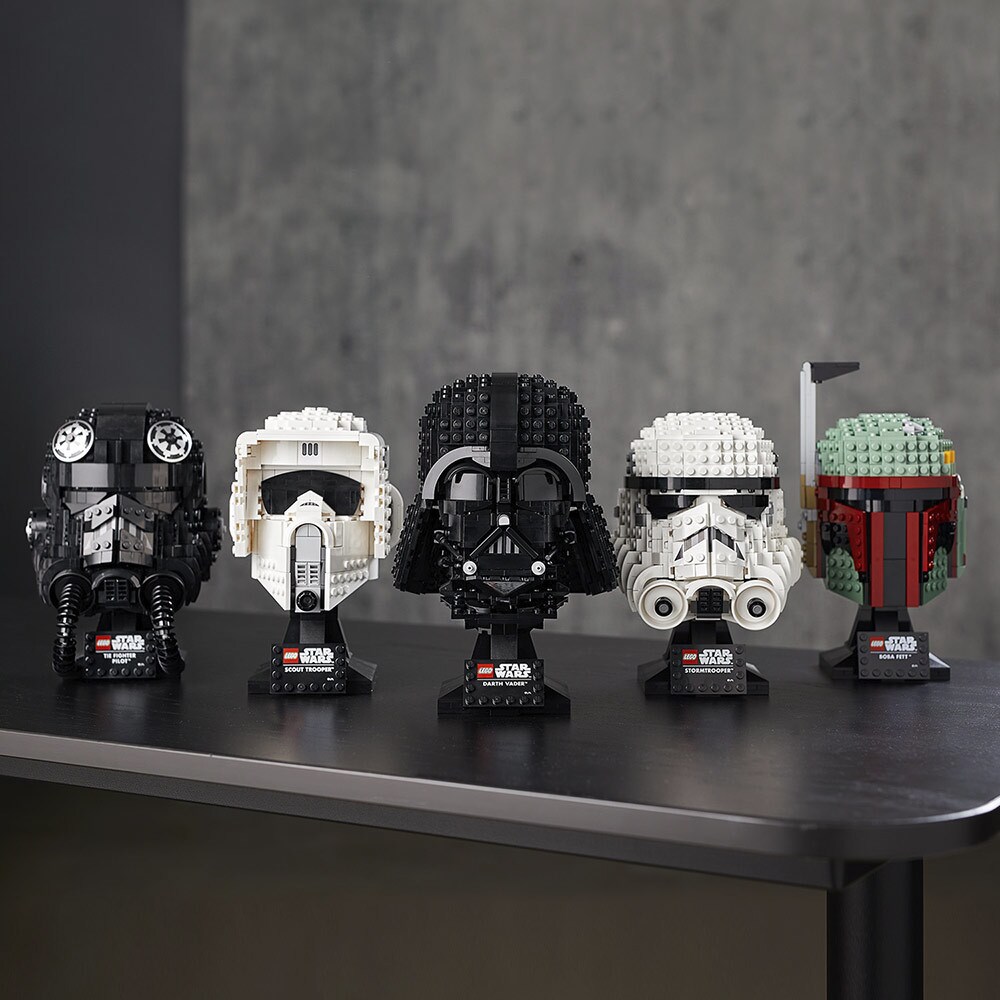 StarWars.com: I know a lot of people who have discovered LEGO as adults thanks to sets like these. What do you want to say to those who've never built a LEGO set before, but see these releases and might consider jumping in?
Jens Kronvold Frederiksen: Give it a try! I am sure it will be fun. No matter If you were playing and building with LEGO as a child, I am sure you will enjoy it now as a grown up. Building these adult-focused sets is almost like solving a three-dimensional puzzle. It is fun and relaxing, and when you are done, you will end up with something to display in your home or office, that for sure will become a topic of conversation!
The LEGO Star Wars Darth Vader helmet, Scout Trooper helmet, and the Imperial Probe Droid are available for pre-order now.