StarWars.com investigates the Rebel Cappuccino, Han Solo's Frozen Carbonite Sundae, and more. It's a tough job, but someone has to do it.
Star Wars Day at Sea aboard the Disney Fantasy is a celebration. In fact, it was like attending a bite-sized version of Celebration. The event surrounds cruisegoers with touches from the galaxy far, far way: characters from all eras of the saga wander the ship, exclusive merchandise lines shelves in the ship's stores, activities from Rogue One viewings to classes on how to draw Yoda fill the schedule, and specially-themed food and beverages satisfy galactic cravings. (They had me at themed food.)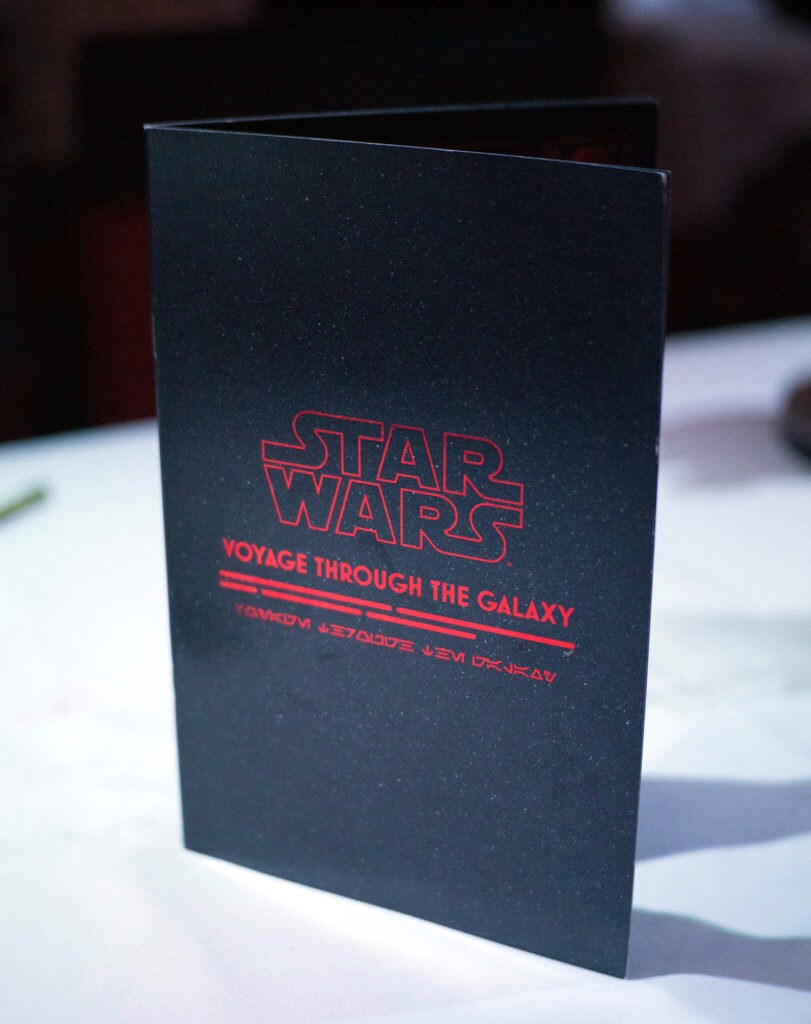 Disney Fantasy hotel director Lisa Picket, an employee of Disney Cruise Line for nine years, told me that thought and care goes into choosing unique menu items for Star Wars Day at Sea. She admitted she was a novice and Padawan learner when the special sailings debuted in 2016, but she's fallen in love with the saga because of Star Wars Day at Sea and the fans on the cruise. "Our guests teach me so much. That's the most amazing part about this experience," she enthused. "To see families dress up together as their favorite Star Wars characters, it's just so much fun."
In her role as hotel director, Picket's involved in a few facets of bringing the event to life, but she has a favorite. "The menu offering is the most exciting part of my day, " she said. The holographic dinner menu is, pardon the pun, out of this world. It pulls from all corners of Star Wars stories, including names from Obi-Wan Kenobi to Queen Breha -- Picket calls the name drops in the menu items "character synergy."
"This was such a great undertaking for our culinary team shore side, who worked with Lucasfilm and truly looked at the synergy of bringing a wonderful Star Wars-themed menu on board. They came up with Voyage Through the Galaxy. The menu is divided by planets," Picket said. "When I first saw it, not only did I notice what a beautiful menu it was but once I saw the planets, I knew I had to study my Star Wars."
The dinner menu travels from Tatooine, to Naboo, to Coruscant, and the Death Star. Desserts hail from Cloud City and Alderaan. It really is a voyage around the galaxy.
Deciding what to order for dinner on Star Wars Day at Sea wasn't simple, but I eventually placed an order with my server -- who, by the way, was donning an Imperial uniform. I was tempted by the Marinated Opee Sea Killer but landed on an appetizer of Bantha Steak Empanadas and a main course of Obi-Wan Shroom Steak. I think the Jedi would go for some katsu with rice and curry, don't you?