Funko's Amanda Brock and Mark Robben discuss the new Han and tauntaun deluxe Pop! set -- included in this month's Smuggler's Bounty subscription box.
For years, designers at Funko have been reimagining classic Star Wars heroes and villains with the wide-eyed, mouthless faces and petite bodies of the Pop! line's stylized vinyl figures.
The format relies heavily on signature costumes and iconic hairstyles to make each one unmistakably recognizable and later this month, they'll test the boundaries of bobblehead design with a new deluxe edition of Han in Hoth gear astride a tauntaun, available exclusively in the Smuggler's Bounty subscription box.
For this particular build, one of designer and sculptor Amanda Brock's biggest challenges was making the pint-sized Funko Han appear to be riding his majestic snow lizard.
"There was a fair bit of discussion about making sure Han was sitting correctly," says Mark Robben, Funko's director of marketing. "You wanted to make it look like he was really riding this thing and not just attached to it. We sometimes want them to do certain things and their little arms aren't long enough."
Brock played around with the proportions of the Hoth pair, until the beast's body was big enough to appear to support the Pop! on top. "Anytime you want to move their legs or arms around it's challenging. They're so short!" Brock adds.
Then there was the matter of depicting the creature itself. "They kind of have a dumb look on their face and I really wanted to capture that with the tongue sticking out," Brock says.
"I looked at a lot of tauntaun images. A lot. I definitely consulted the movie and looked at the stills."
That research helped her hone in on important details not immediately obvious to the casual viewer. "They have like four nostrils and I thought that was really interesting. The tail has a pointed end. I know you might think that they have a regular furry tail, but they don't."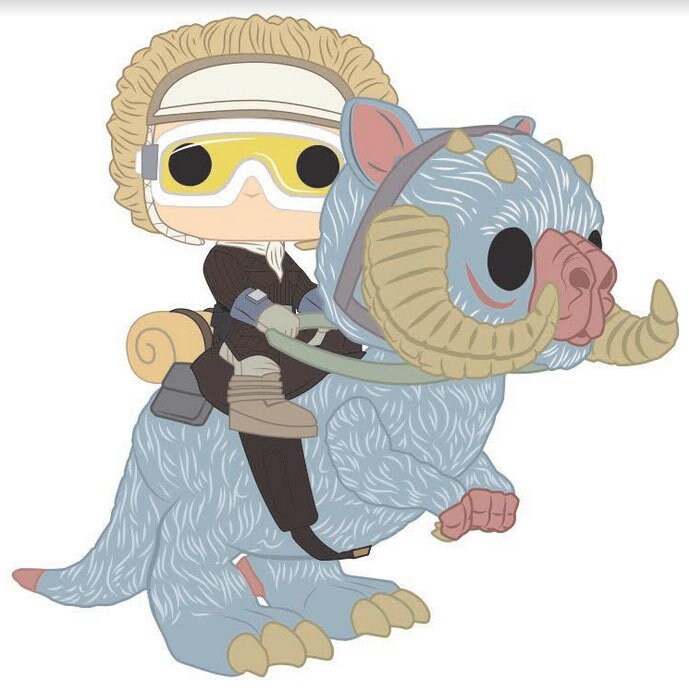 The creature's full body of blue fur was another problem. "When you make people it's not as hard to capture who they are," Brock says. "Especially because Han's Hoth outfit is recognizable with the big furry hood and the quilting. Fur is always a challenge."
Little, tiny details
The six-inch tall deluxe model represents the first in a new foray for Star Wars Funko Pop! design for 2017, which has previously seen stand-alone oversized beasts like the wampa and rancor.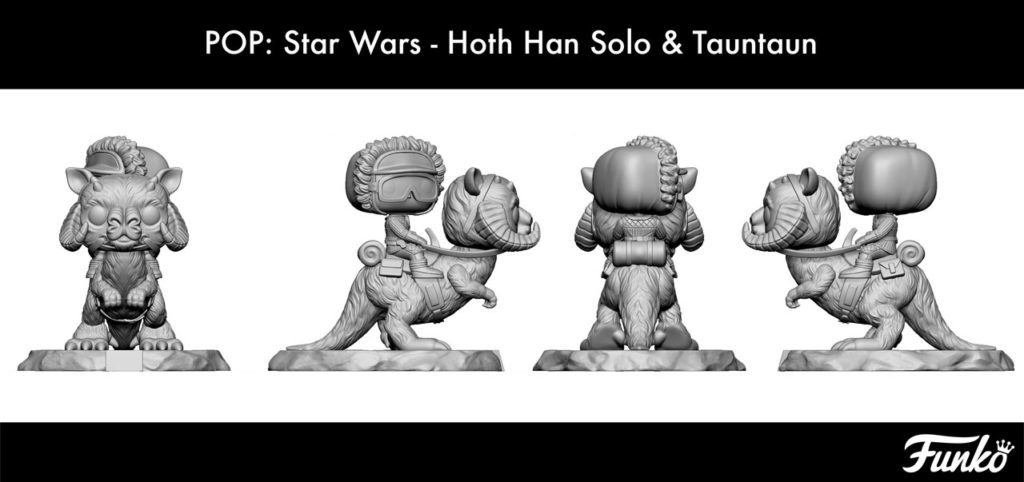 The sculptors at Funko have long relied on key details to capture the essence of a character. Signature costumes and hairstyles, like Princess Leia's double buns, can make or break a design, says Robben. "You don't have this idea of creating a realistic sculpt to match Harrison Ford. But how do you make sure that someone is able to look at that figure and say, 'I know that that's Rey.' A lot of it's in the hair, honestly, or those little, tiny details. Sometimes an added wrinkle around the eye. When I look at this [figure], is it that character or not?"
Research suggests about half of Funko's collectors prefer to display their bounty mint-in-box, but Robben falls on the side of those who open their figures. The different approaches to collecting has spawned a joke among the designers at Funko's Everett, Washington, headquarters, just north of Seattle: "They work hard on the backs of the figures, too!" Robben jests.
No more 'hero pose'
After launching at San Diego Comic-Con in 2010, the Star Wars Pop! line alone now boasts dozens of bobble-headed characters from across the galaxy. Back then, the figures were sculpted by hand and the majority were cast in the same stance -- fists clenched, shoulders puffed up -- Robben says. "Everybody used to be in the same pose. We call it the 'hero pose.'"
Technology has come a long way to help designers make their figures more dynamic, like a special Funko Vader that's in the middle of Force choking a disappointing officer, with the help of 3D sculpting software that can replicate finer details. Still, "it doesn't necessarily have to be photo-realistic," Robben says. The figures are, after all, oversized heads on petite bodies and executives at Lucasfilm weigh in to ensure that the mini models are just right.
Recently, the two teams went back and forth on the correct shade of beige for a character's pants. But the secrecy surrounding upcoming releases prevented Robben from finishing the story. "He's a Jedi that we've never done before," he hints.
Fan's opinions matter
After recreating most of the iconic creatures, rebels, and Imperials from the original trilogy, designers started to consider other poses, costumes, and special editions. "I suppose it's a more challenging process," Robben says.
In 2015 the bi-monthly Smuggler's Bounty boxes launched with exclusive gear heralding Star Wars: The Force Awakens. A more staggered production schedule gives the creative team more time to work on perfecting the select figures, including a Chewbacca with flocked fur or a chrome-plated Captain Phasma, and makes it less expensive for fans, Robben says.
The company also looks to those collectors to impact future Funko products by participating in polls and on social media. "This box pretty much happened because we ran a poll. We have our opinions about the boxes we would like to create, then we also talk to fans and we listen to what fans are saying on social media. What are you looking for? What content would be fun? It matters to us."
When the team settled on a The Empire Strikes Back-themed box to kick off 2017, they wanted to create a showcase piece that exemplified the film. "Clearly we've done Han, but how haven't we presented Han? It's not just checking characters off the list. You're looking at the movies, looking at ways to produce the characters. We've made [Hoth Han] before but we haven't made him riding a tauntaun. There were a couple of different ideas floating around, but everyone kept coming back to this one."
Robben promises more Funko Deluxe creations this year that follow the same thought process. "It's a really exciting way to showcase not only Funko's art style but Lucasfilm's content," Robben says. "I know you'll see more of it in 2017…. There's no way the Han on tauntaun is a one off. There's no shortage of people at Funko saying, 'What can we do next? Can we take it to the next level?"
And fans have been clamoring for prequel figures, including more Jedi.
"We did Kit Fisto last year and we're going to be doing more this year," Rodden says. "We never made Count Dooku, who's one of my personal favorites. We've never made Mace Windu, which seems like kind of a shame." The Star Wars Rebels characters just recently got the Pop! treatment, and the company often puts out variant paint jobs and poses for key characters. "There's still a lot of content that we have yet to cover. There will be no shortage."
Could there be a variation with the tauntaun sliced open ready to keep Luke warm? "I would love to do that," Brock adds. "I would definitely volunteer to do that."
For now, sign up by January 15 to bring your own Han and tauntaun galloping through the snow to your home by going to smugglersbounty.com. In addition to the exclusive vinyl figure, boxes typically include a piece of themed apparel, pins and patches, and other unique items and surprises. Boxes begin shipping January 16.
Kristin Baver is a writer and all-around sci-fi nerd who always has just one more question in an inexhaustible list of curiosities. Sometimes she blurts out "It's a trap!" even when it's not. Follow her on Twitter @KristinBaver.