The Star Wars fan, now featured on the digital series Our Star Wars Stories, talks to StarWars.com about his most-impressive work behind the lens.
When the pandemic hit earlier this year and much of the country went into lockdown, Brandon Jackson decided to make the most of the situation. Meaning, of course, he broke out his Star Wars action figures.
But not to play with.
"One thing I'd missed doing is taking photos of my figures," Brandon, the focus of a new episode of Our Star Wars Stories, tells StarWars.com. "I set up the full studio in my garage. I broke out all the lights, backdrops, and got the smoke going, and tried to pose them as lifelike as possible." The result is an atmospheric shot of Supreme Leader Snoke's praetorian guards from Star Wars: The Last Jedi, and as a return to one of his favorite hobbies, it stands as a personal favorite of the photographer. "It hits home."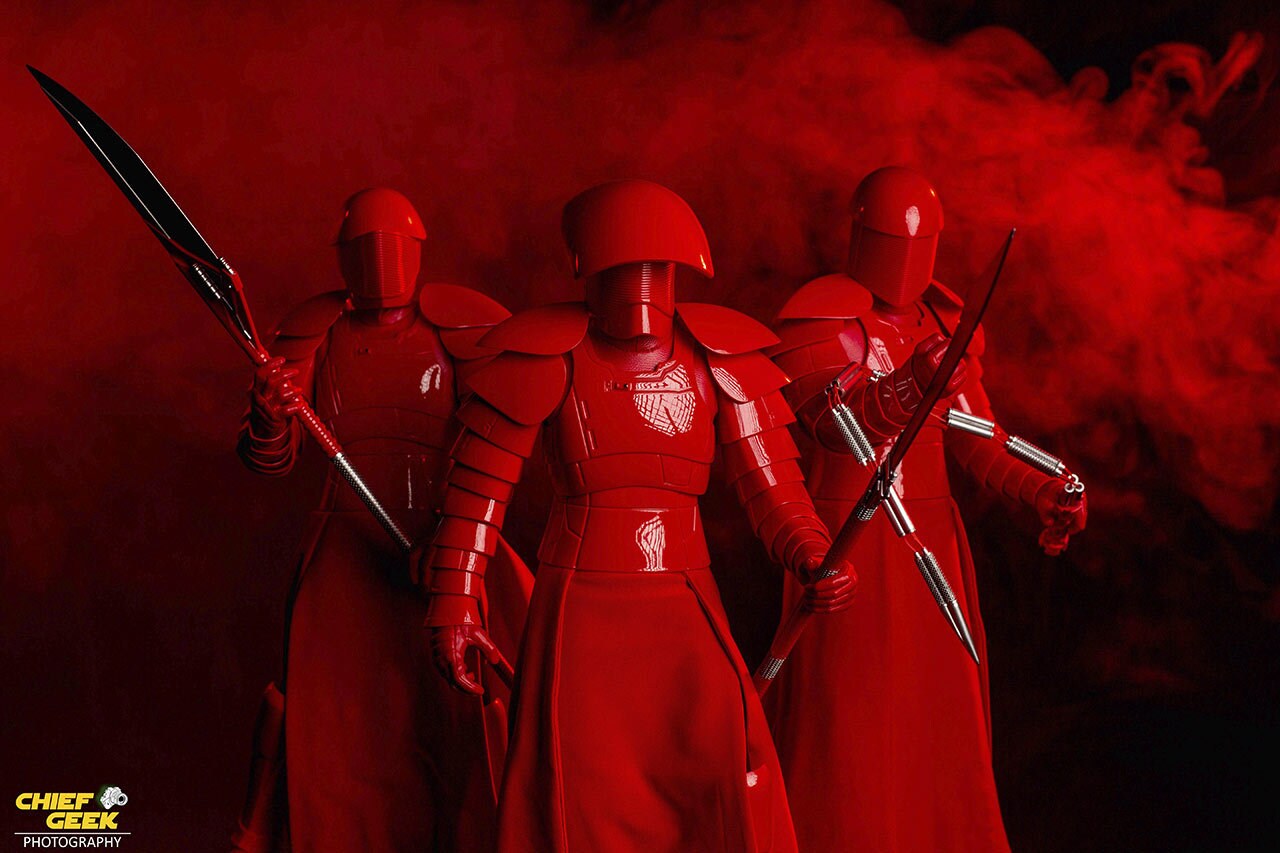 The truth is, Brandon never expected to be a photographer -- amateur or professional. He picked up the hobby on a whim, simply by testing out a camera he bought for his wife. But Brandon enjoyed it so much that he soon invested in one for himself, shooting his Star Wars action figures and then moving onto cosplay portraiture. In the middle of his career in the Navy at the time, however, Brandon found that photography was more than just a creative outlet.
"Photography had started inspiring some real positive change in me, and the way I looked at life. Battling with PTSD for a very long time, everything was dark and gray and drab to me. I felt like I couldn't see things in color anymore," he says. "And as my photography evolved, my outlook on life had changed. Everything became a picture to me."
That literal new look on life is reflected in his often colorful, very much alive work. One can see it in his image of a stalking scout trooper figure, depicted as if in a forest, as the sun sets; and it's there in his arresting portrait of fan Taylor Bailey, costuming as Rey, a blue glow everywhere.
Today, Brandon has even begun shooting weddings, taking his hobby some place he never dreamed. But Star Wars photography still forms the heart of his work.
"I absolutely love Star Wars and I feel it should be shared to the world. Being able to create art through my photography makes me feel so a part of the Star Wars universe and fan community," Brandon says. "My photography is one way I can bring joy to my community -- through the love of Star Wars."
Discover Brandon's complete story on Our Star Wars Stories.

Dan Brooks is Lucasfilm's senior content strategist of online, the editor of StarWars.com, and a writer. He loves 
Star Wars
, ELO, and the New York Rangers, Jets, and Yankees. Follow him on Twitter @dan_brooks where he rants about all these things.
Site tags: #StarWarsBlog, #OSWS