These are the desserts you're looking for.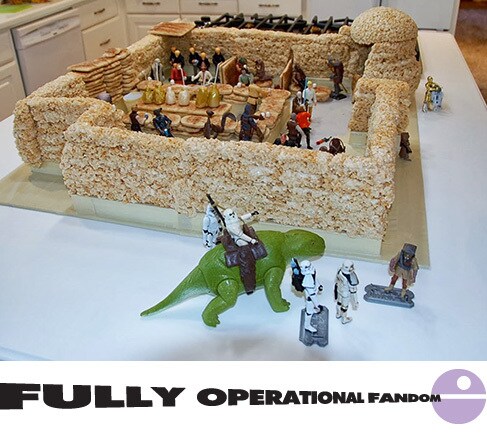 Star Wars fans continually impress me with the ways they incorporate the saga into their lives. It's a testament to the lasting power of the films that people spend time and resources to create their own space in fandom. Sometimes it's costumes, sometimes it's dioramas, and sometimes it's baked goods. Peggy Eisenhauer, a.k.a. TK Peggy, has created several Star Wars inspired treats over the years from easy to complex. From an awesome R2-D2 cake to a Rice Krispie version of Mos Eisley Cantina, she's used her baking skills and creativity to make the galaxy far, far away look delicious.
Even if we don't get to devour the desserts, Peggy has posted detailed instructions for her recipes so that they can be replicated at home. Like she says, anyone can do it!
Peggy has been hooked on Star Wars since she first saw A New Hope in 1977. She began baking about 15 years ago and after making her niece a The Little Mermaid-themed cake as a birthday present, she decided that would be her gift to all the children in her family. Her son Daniel loves Star Wars but isn't the biggest fan of cake, so she figured out cookie treat options. They work together on his birthday dessert each year. Lucky kid!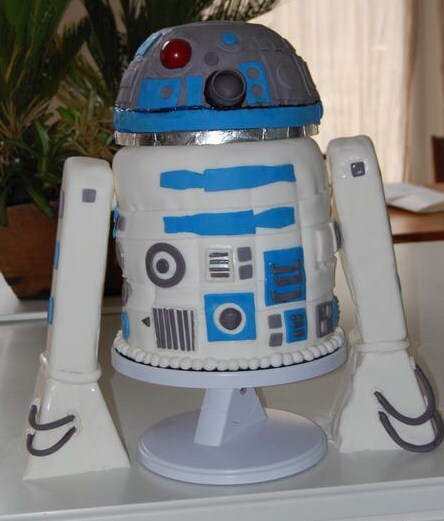 As far as she can remember, the R2-D2 cake was one of the first Star Wars-inspired cakes she baked. You may have seen it around the Internet. She said she wasn't very skilled at the time, but I don't know if I believe her -- the droid looks so good. But as she points out, "The beauty of baking is that even the ones that didn't turn out still tasted good! Over the years, I've learned so much, all by trial and error. But anyone can make these cakes if they practice a little bit! The fun is in the decorating, and if you make a mistake, it's just icing. Scrape it off and try again!"
Though R2-D2 was tricky, she found greater challenges in making the Millennium Falcon. That hunk of junk has a ton of intricate details and a weird shape! She had to overcome hurdles with getting the design just right and with the fondant. She wasn't pleased, but kids flipped when they saw the cake. That's the only reward you need and something to keep in mind if you're sweating over a pile of cake pieces and stressing.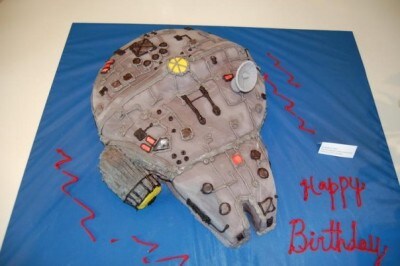 The Millennium Falcon and R2-D2 are wonderful projects, but if they intimidate you, start smaller! The number of simple modifications you can utilize to add Star Wars treats to your baked goods is practically endless -- especially when you change the way you see items in your pantry. For example, after justJENN made Princess Leia cupcakes, I never think of Oreos as cookies anymore. They're Leia buns. Peggy makes the same point with her blog. She makes it easy with her tutorials and difficulty ratings:
"Anyone can make these treats! I have a blog with several different sets of instructions -- how to get started, shaped cakes, working with fondant, etc. There are blog entries for most of my Star Wars cakes too, along with other treats, such as the Rice Krispies Cantina and my personal favorite, the Snickerdoodle Petranaki Arena. For each one, I've got detailed instructions. The Star Wars desserts do tend to be pretty complicated, so there are other "starter cakes" listed too, including sailboats and a geode, which are super easy. You can also get shaped pans for Darth Vader, Boba Fett, and R2-D2 -- look for these on eBay or at garage sales -- and truly anyone can make these just by following the decorating instructions online."
It's tempting to give up before you even start blaming lack of equipment or not wanting to working with fondant, but I promise it can be simple. Companies such as Williams-Sonoma make it a breeze with their cookie cutters and pancake molds. And if nothing else? Just clean up some action figures and make them cake centerpieces. Peggy gives the best possible advice about starting baking: "I really do try to encourage everyone who has an interest to try Star Wars baking. Don't be a perfectionist. Let your kids help. Incorporate action figures or [LEGO] minifigs if you don't have time for fondant. Even if the treats don't look quite right on the plate, you'll have fun, eat the mess, and I promise that the treats all look perfect in your memories!"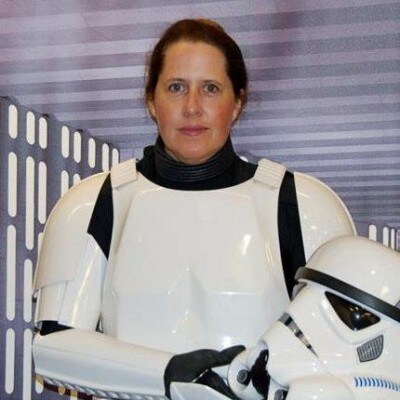 And Peggy doesn't limit her involvement with Star Wars to baking; she's also a member of the 501st Legion. She was admitted to the Georgia Garrison last June as TK-6197. Hmm, I wonder how easy it would be to bake while wearing Stormtrooper armor...?
Amy Ratcliffe is addicted to Star Wars, coffee, and writing. You can follow her on Twitter at @amy_geek and keep up with all things geeky at her blog.