Go behind the scenes to discover how the most terrifying Star Wars villains were brought to the screen in a new collection of in-depth interviews.
Played by Gwendoline Christie in Star Wars: The Force Awakens and Star Wars: The Last Jedi, Captain Phasma is the cruel commander of the First Order's stormtroopers. In an exclusive excerpt from Star Wars: The Galaxy's Greatest Villains, a special edition of Star Wars: Insider arriving next week, Christie and author Kelly Thompson, who penned Marvel's Star Wars: Captain Phasma, discuss their love of the stylish chrome-plated soldier.
Christie's first day on set proved to be phenomenally exciting.
Gwendoline Christie: I walked onto set in the costume. It was a dream come true! I was greeted by such a warm group of people that had been working together for months on this really thrilling project. J.J. [Abrams] and I went through the scene. My heart was racing. I was so overexcited. But nothing prepared me for when I saw the entire set behind me, lit up, and full of characters I recognized from the Star Wars films that I was shown as a little girl.
While Captain Phasma's chromium armor was clearly a type of stormtrooper costume, it had a style all of its own.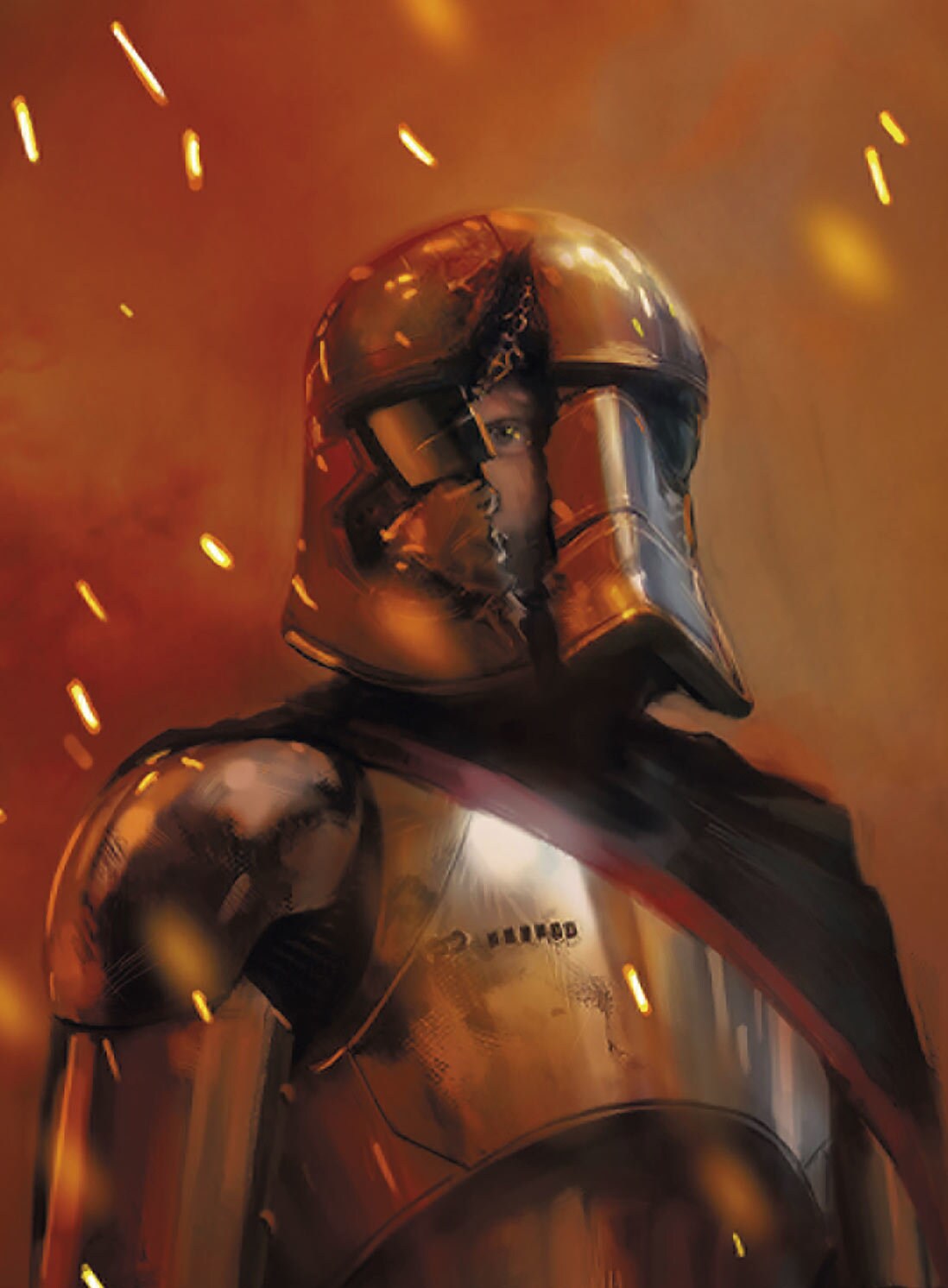 Gwendoline Christie: The costume was absolutely sensational. It was restrictive, but I think it gives us an insight into Captain Phasma. This is a woman who is wearing armor, but her femininity is still displayed. She doesn't try to hide it; it only empowers her further.
The costume took around 45 minutes to put on. It certainly made me stand up straight. I had a really fantastic pair of boots underneath it all, which I think gives the foundation of Captain Phasma. They were incredibly well-made and very hard-wearing -- sensible but stylish.
When I was a teenager, I used to do a lot of Lecoq mime and physical theatre work, and I also did it at my drama school, Drama Centre London. We had a fantastic movement teacher who, with the use of masks, would release the actor. So, I feel as if I can get away with a lot more than when my own dear face is exposed.
The first on-screen female stormtrooper, Captain Phasma was one of a number of strong female characters in the sequel trilogy.
Gwendoline Christie: I was incredibly lucky to be playing the part of a female character that was well-rounded. [It's important] that we see women, not just strong and good, but strong and evil, so we get to see all those aspects of human nature. They are all represented and we can enjoy them. There is something faintly irresistible about Captain Phasma. I think it might be in the costume rather than me. Again, I think it's forward-thinking and modern for Star Wars to have that kind of character archetype and to investigate that side of femininity.
I find it very exciting that Star Wars has continued the tradition of strong female characters and that the legacy of Princess Leia lives on in Daisy Ridley as Rey. She is a source of good and the power of good. Captain Phasma is the opposite of that. Captain Phasma is when someone chooses the dark side of human nature and chooses to be self-serving. I find that quite exciting…What interests me is the fact that women are represented more than ever. They are represented with strength and positivity, and strength and negativity. It's that forward vision, coupled with all these elements that we're familiar with, that we've all grown up with, that excites us so much.
---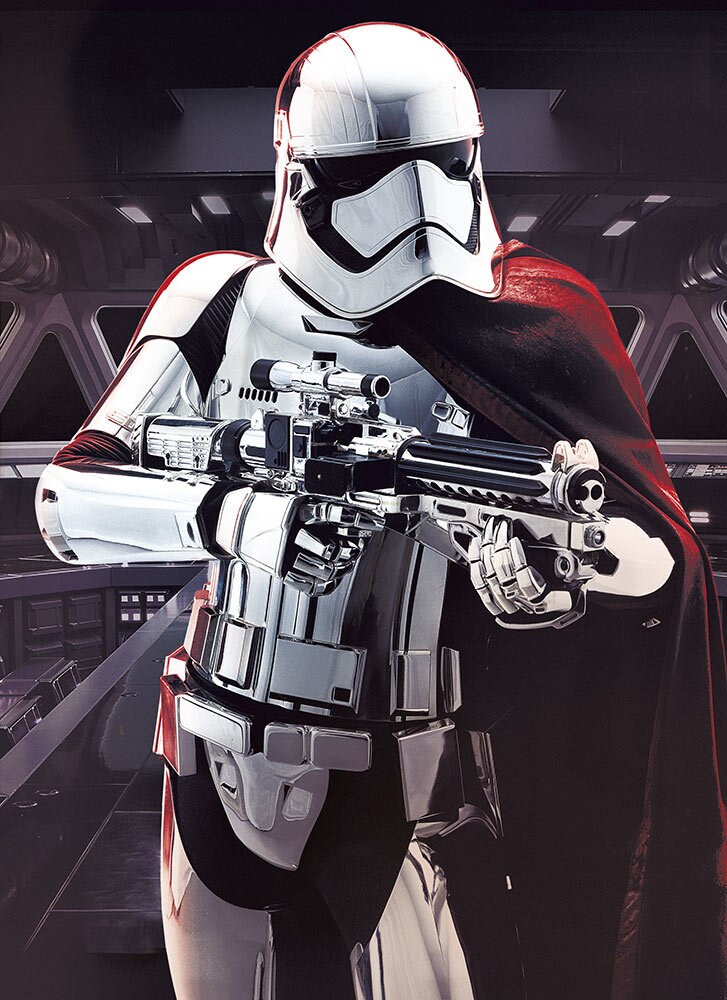 In the four-issue Star Wars: Captain Phasma from Marvel Comics, the titular character rescues herself from the refuse of Starkiller Base and retakes her command. At the time of its release, series writer Kelly Thompson was already known for her strong female characters.
Kelly Thompson: I've definitely gotten a bit of a reputation for writing complex women in comics, and Phasma is definitely complex. But in all other ways she's different from most of my other licensed work, in that she's much darker, more serious, and completely laconic.
My "voice" in comics has relied a lot on sense of humor and tone, so this was a total departure and the challenge really excited me. Phasma is a woman of action, not words, and that was a tough line to walk. But fortunately I had great partners in Marco and our colorist, Andres Mossa, so I was able to trust them to help me get Phasma right, even with far fewer words than I'm used to.
There was one theme in particular that Thompson wanted to explore in the Captain Phasma comics: survival.
Kelly Thompson: Phasma is all about survival and doing whatever it takes to make sure that she's the last one standing. She doesn't fit neatly into the First Order's traditional themes, which I think makes her an even more interesting character. She's a chameleon.
Unlike a lot of other Imperial and First Order characters, she's a villain not so much because of her belief in their ideology, but simply because she's a survivor. She's fascinating because she will survive at all costs, and that often includes picking the side that she believes is the strongest. It also means that everyone who's not her is vulnerable. She's a very dangerous and powerful woman to be around.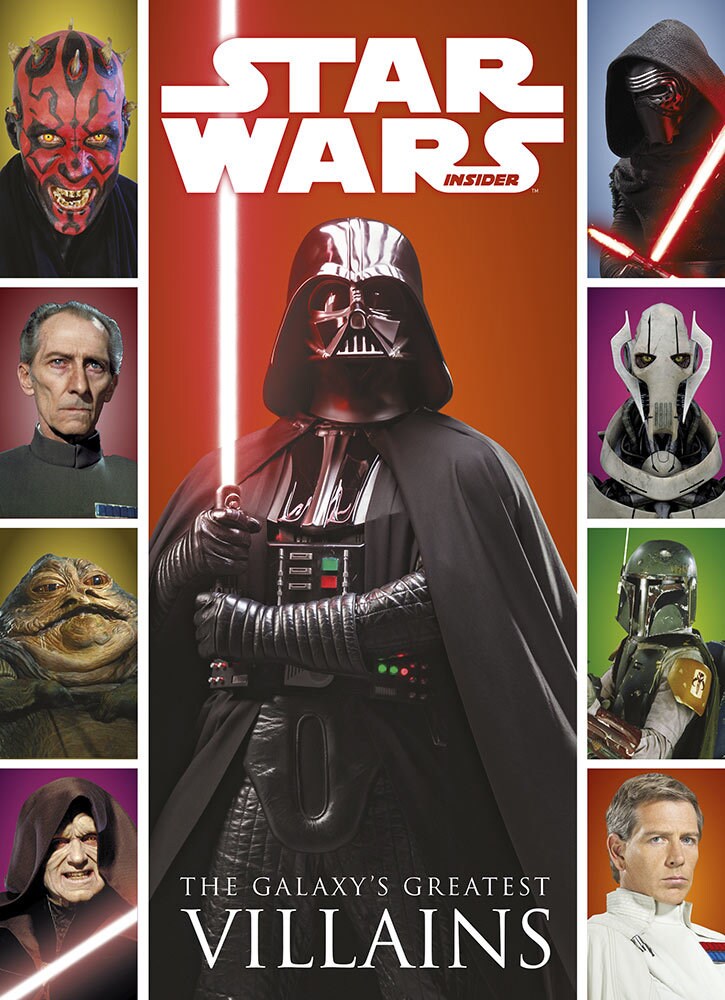 Read the full feature in Star Wars: The Galaxy's Greatest Villains -- an illustrated special edition including interviews with Ian McDiarmid (Palpatine), Ray Park (Darth Maul), Jeremy Bulloch (Boba Fett), Peter Cushing (Grand Moff Tarkin), Christopher Lee (Count Dooku), and David Prowse and James Earl Jones (Darth Vader), and more --arriving September 13, 2022 and available for pre-order from Amazon.com and Forbidden Planet  now!