Learn all about Jakku's giant beasts from The Force Awakens.
Creature Feature explores the ins and outs of monsters and beasts in the Star Wars universe, from in-universe facts to behind-the-scenes secrets. While you'll learn a lot here, we still suggest caution when checking out meteorites on ice planets or landing on large asteroids.
If you're desperate for water on Jakku, you might find yourself drinking from a trough alongside a happabore. The giant pig-like creature was introduced in The Force Awakens at Niima Outpost, in which Finn had an up-close-and-personal encounter with one -- all while he shared what was surely some very healthy water with it. But what went into making the creature? Let's discuss that and other happabore facts.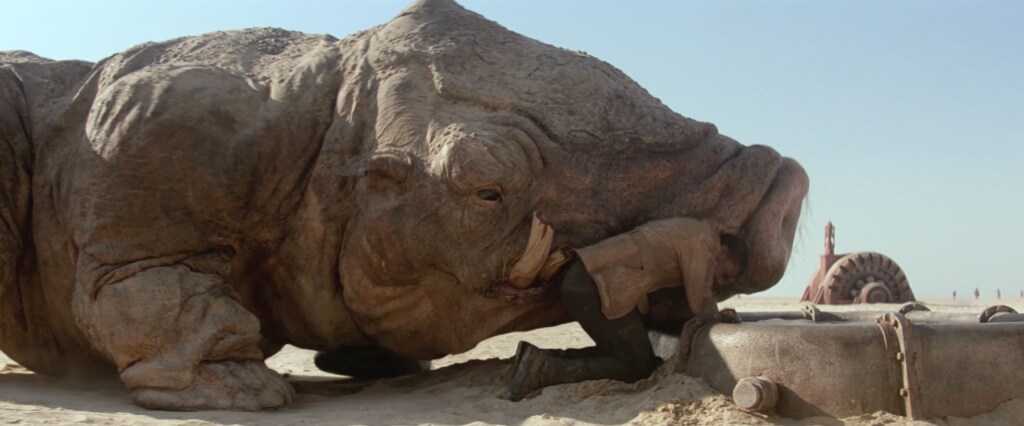 1. Teamwork.
The massive happabore was a practical puppet, and five puppeteers were required for operation. Creature creative supervisor Neal Scanlan said the challenge of that was to make the giant beast look practical. He told Tribute, "So the challenge was to say, 'Could we bring these big creatures to life in a similar way that they had in A New Hope, using an elephant, for instance? What's our homage to that, how do we recreate that?' So they were big challenges because they were really just human beings wearing incredibly large suits. They had to bring those suits to life and perform them in a way that engaged the audience."
2. A big surprise.
When director J.J. Abrams visited the creature shop for the first time, they used the happabore to add some excitement. Creature concept designer Jake Lunt Davies said, "J.J. did his first tour of our workshop, and we rounded it off by having this enormous thing charge out of a side door into the main warehouse. It was a risk. Fortunately, he loved it." The enormous thing was the happabore, then called the "big beast elephant" in art.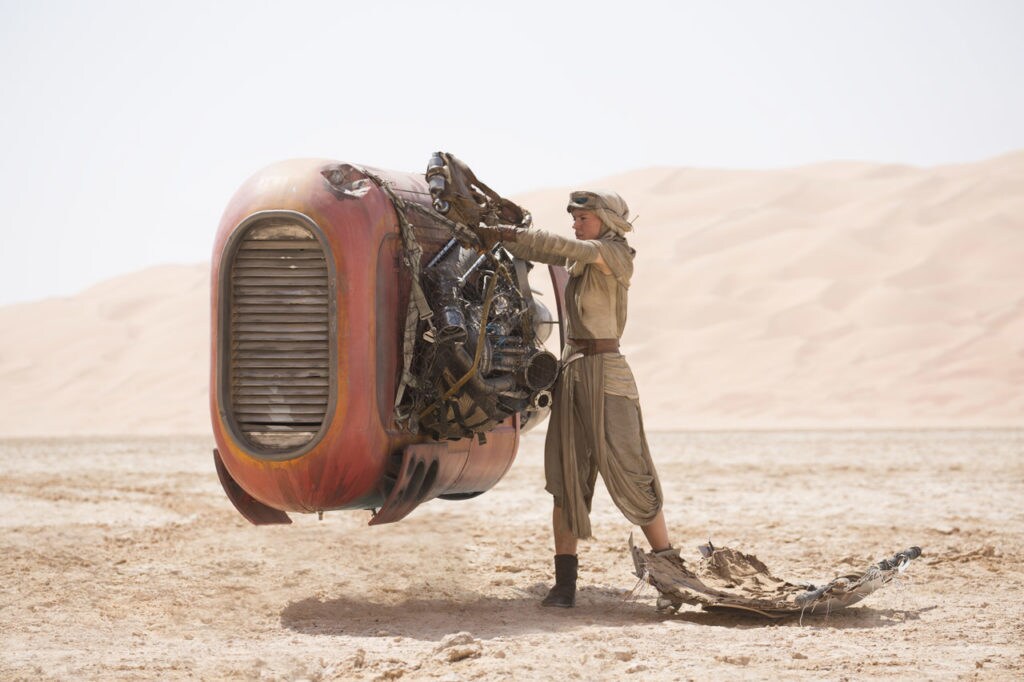 3. Material goods.
I'm not sure if happabore meat is considered edible, but their skin can be used for various purposes. Rey's scavenging equipment includes a happabore leather wallet to hold the cleaning brushes she uses for salvage.
4. Authentic flies!
Given the happabore's appearance, it's not unreasonable to think it would attract flies. Scanlan decided to guarantee flies on screen while filming in Abu Dhabi by applying honey to the happabore suit. It didn't go exactly as planned. He told Star Wars Interviews, "Indeed the flies were attracted, however, not to the beast, but to me, and I spent the rest of the day fighting off swarms of very small, but very persistent sand flies."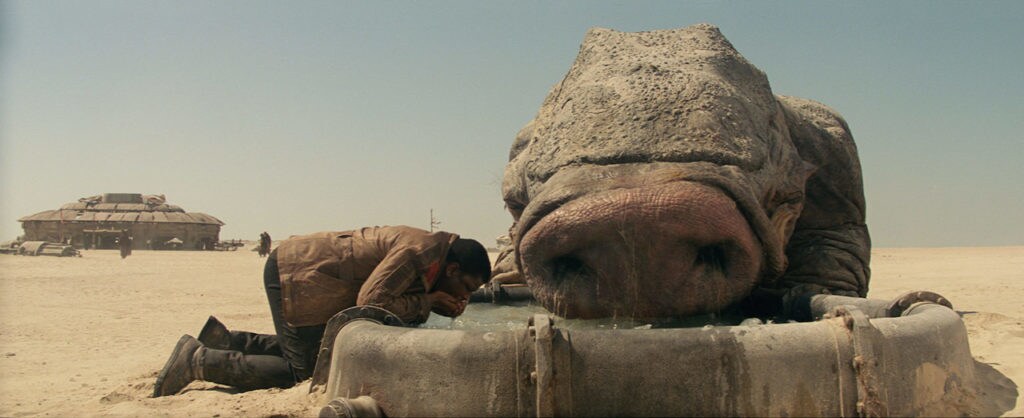 5. Beasts of burden.
The build of the happabore makes them suited for bearing weight. They're able to store water, so they can resist heat and stay hydrated as they move cargo and/or people. Happabores call multiple worlds in the galaxy home besides Jakku, including Devaron (as revealed in The Weapon of a Jedi: A Luke Skywalker Adventure).
6. Own a happabore.
Thanks to merchandising, the happabore was one of the first creatures (if not the first) revealed for The Force Awakens. It was available as a squishy, latex toy at Disney Parks months before the film was released.
Now that you know about happabores, why not investigate wampas!
Sources: Star Wars: The Force Awakens audio commentary, Tribute, The Art of Star Wars: The Force Awakens, Star Wars: The Force Awakens - The Visual Dictionary, Star Wars Interviews
Amy Ratcliffe is a writer obsessed with Star Wars, Disney, and coffee. Follow her on Twitter at @amy_geek.