The official magazine sits down with the acclaimed artist to talk about his inspirations and his time working at Skywalker Ranch on Star Wars: The Phantom Menace.
Concept artist Iain McCaig's fertile imagination was once deemed too scary for George Lucas. McCaig, whose career includes accolades as a storyteller and filmmaker, was hired on by Lucasfilm in the late 1990s. Part of the esteemed art department shaping the design of the prequel trilogy, McCaig mined his deepest fears and scariest nightmares to come up with ideas for the beastly Darth Maul.
In an exclusive excerpt from Star Wars Insider #210, writer Brandon Wainerdi sits down with McCaig to learn about what inspired the artist on the road to creating "Space Nouveau" and why he went back to the drawing board after his first attempt at designing Maul.
Star Wars Insider: What were your earliest childhood inspirations?
Iain McCaig: My family were all storytellers, full of tales and never-ending bedtime stories. I grew up amidst a dragon's hoard of books and comics, television and movies, stacks of Famous Monsters, National Geographic magazines, and the Holy Grail: a complete set of the World Book Encyclopedia. In the beginning, I never separated pictures from words. My biggest inspiration was Ray Bradbury, who filled my head with so many images that I had to either run to the drawing board to empty them out, or watch my head explode.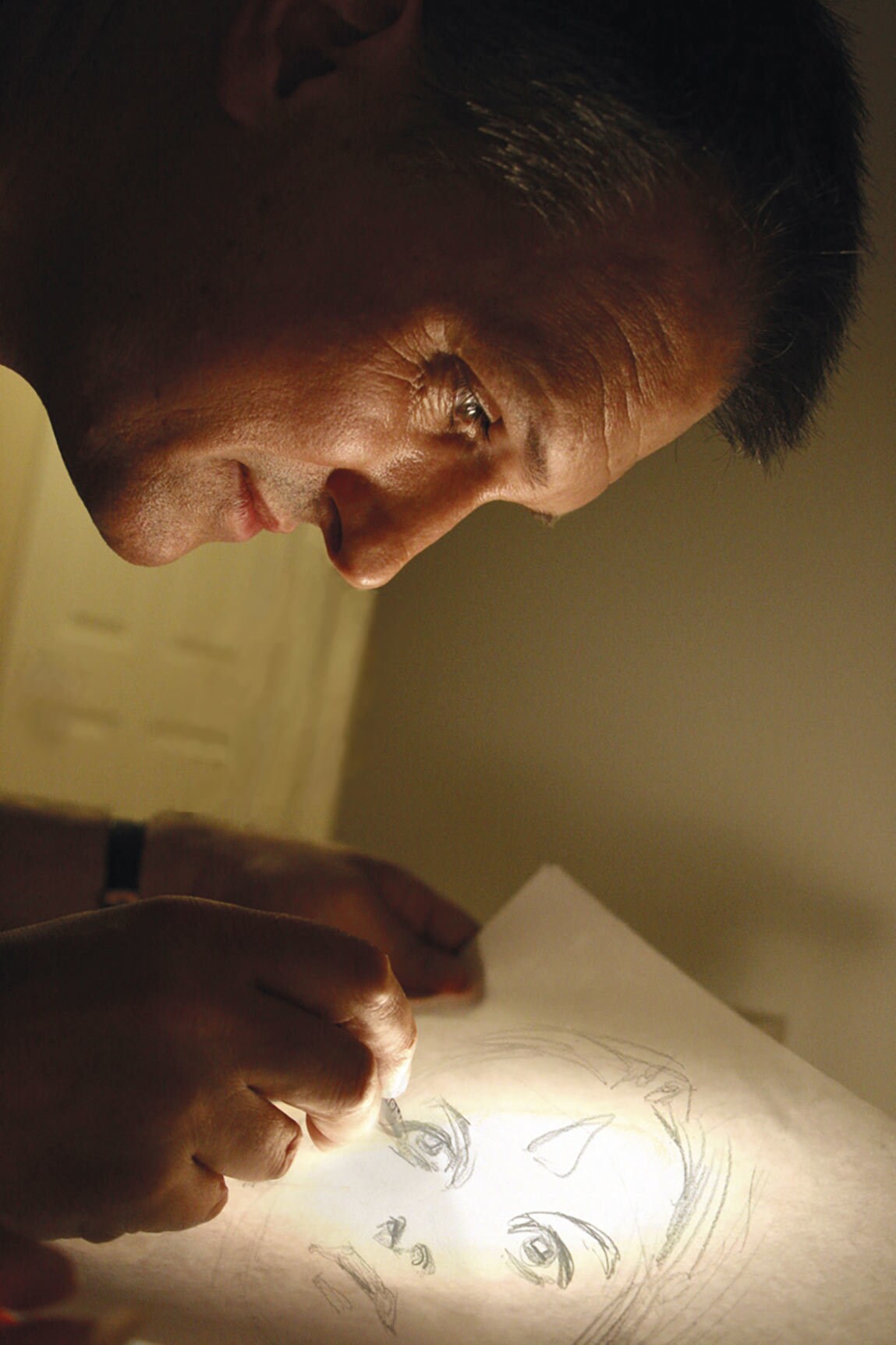 Star Wars Insider: How did you go about redefining the look of the Star Wars galaxy for an era prior to the original trilogy?
Iain McCaig: George posed the question: "What makes it Star Wars, and not any number of other science fiction movies?" Our answer lay in the opening crawl. The story happened "A long time ago," so that meant it wasn't an imagined future, or an extrapolation of science or technology. Star Wars came from the time of legends and wasn't really science fiction at all -- Star Wars was mythology. And we were going back even further in time.
One way to make something feel mythic is to draw inspiration from before the Industrial Revolution. It was a time when most things were still handmade, created with human skill. Searching for a style for the costumes and characters, I studied Alphonse Mucha and the romantic visions of the Pre-Raphaelites, the Orientalists, and Art Nouveau. I emulated their love of nature by roaming Skywalker Ranch, sketchbook in hand, studying the sinuous shapes of the natural world. The result was "Space Nouveau."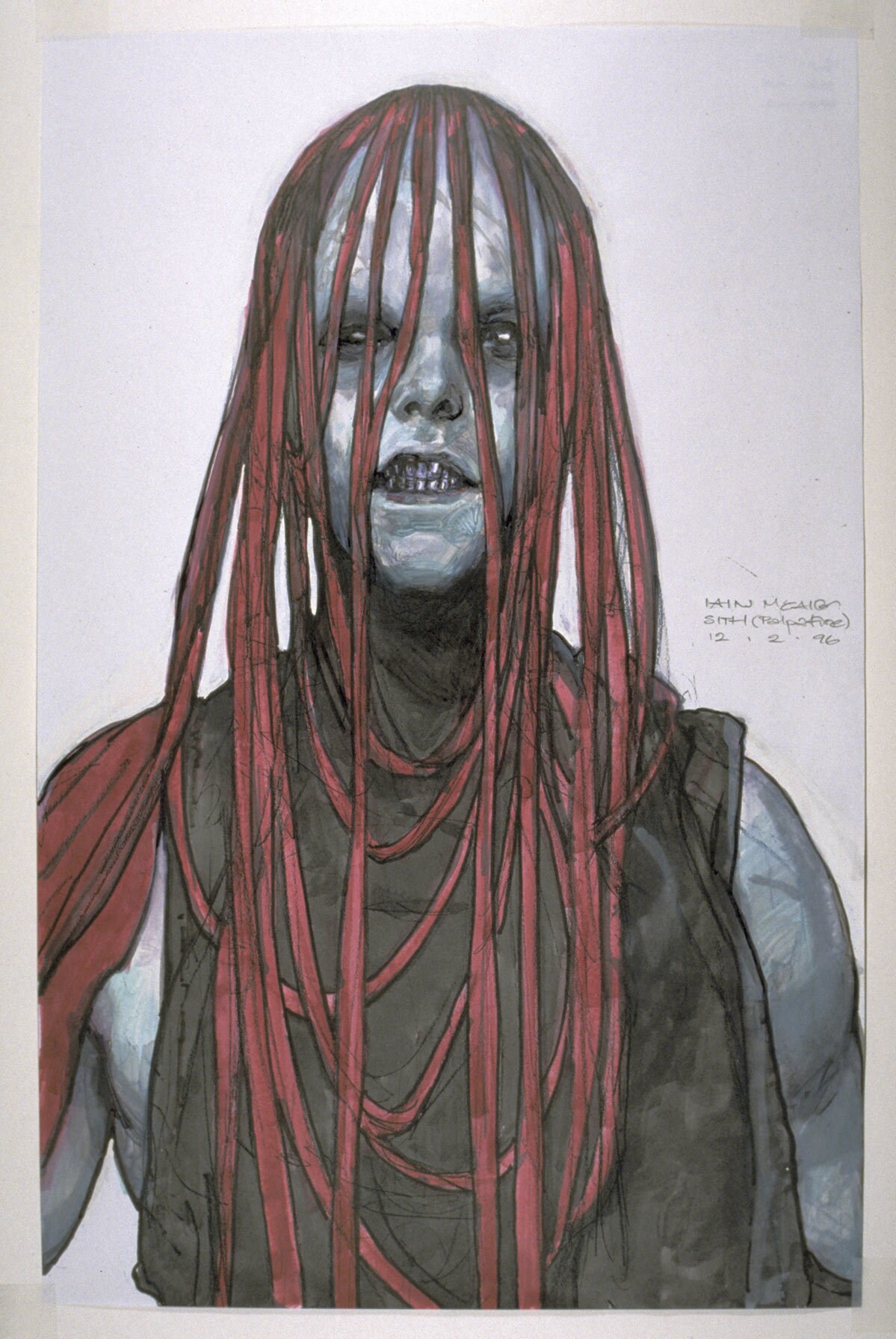 Star Wars Insider: Did you have someone in mind when you were working on the design for Darth Maul? 
Iain McCaig:  I like to use the essence of a real person to inspire my designs. So, I started enlisting everyone in the art department to pose for me: the head of digital pre-visualization became a sleek Sith Lord with a stylized circuit board on his face, and our production designer emerged with a tattoo-like ink blot across his.
In the first draft of the script, George described Darth Maul as, "A vision from your worst nightmare." I've had a lot of worst nightmares, but my worst back then was of a lifeless face with glittering dead eyes and glistening metal teeth peering at me through the rain-streaked window of my third-floor studio. I drew a stylized version of that image, using red ribbons across the face instead of runnels of rain, and presented it inside a white folder at the next meeting with George. He opened the folder, screamed, then slapped it closed and passed it back to me. "Okay," he said, "Give me your second worst nightmare."
Read more in Star Wars Insider issue #210 and subscribe to Star Wars Insider now for more of the latest news, in-depth articles, and exclusive interviews in every issue!