Read an exclusive excerpt from Star Wars Insider to step inside Lucasfilm's Archives.
Madlyn Burkert has the enviable task of being the guardian of Lucasfilm's ever-growing archive of Star Wars screen-used props, costumes, and other ephemera. In this exclusive extract from Star Wars Insider issue 196, we discover just how expansive her unique role can be.
Words: Kristin Baver
Caring for the props and costumes inside the Lucasfilm Archive takes on a literal meaning when collections and exhibitions archivist Madlyn Burkert has to lug Chewbacca's furry suit to the LDAC locker room for a cleansing shampoo and deep conditioner. The layers of real yak hair tend to get grimy while traveling the galaxy on set, and it's up to Burkert to ensure the costume remains pristine. "We didn't have an outdoor hose spray-down setup like they did at Pinewood Studios," Burkert explains. "But we did our best. We washed him in the shower and then we hung him up to dry." The whole process took a week, with the suit draped carefully over an air vent and a collection of fans blowing cool air at it from different angles. "Then we literally curled his hair and styled it," she smiles.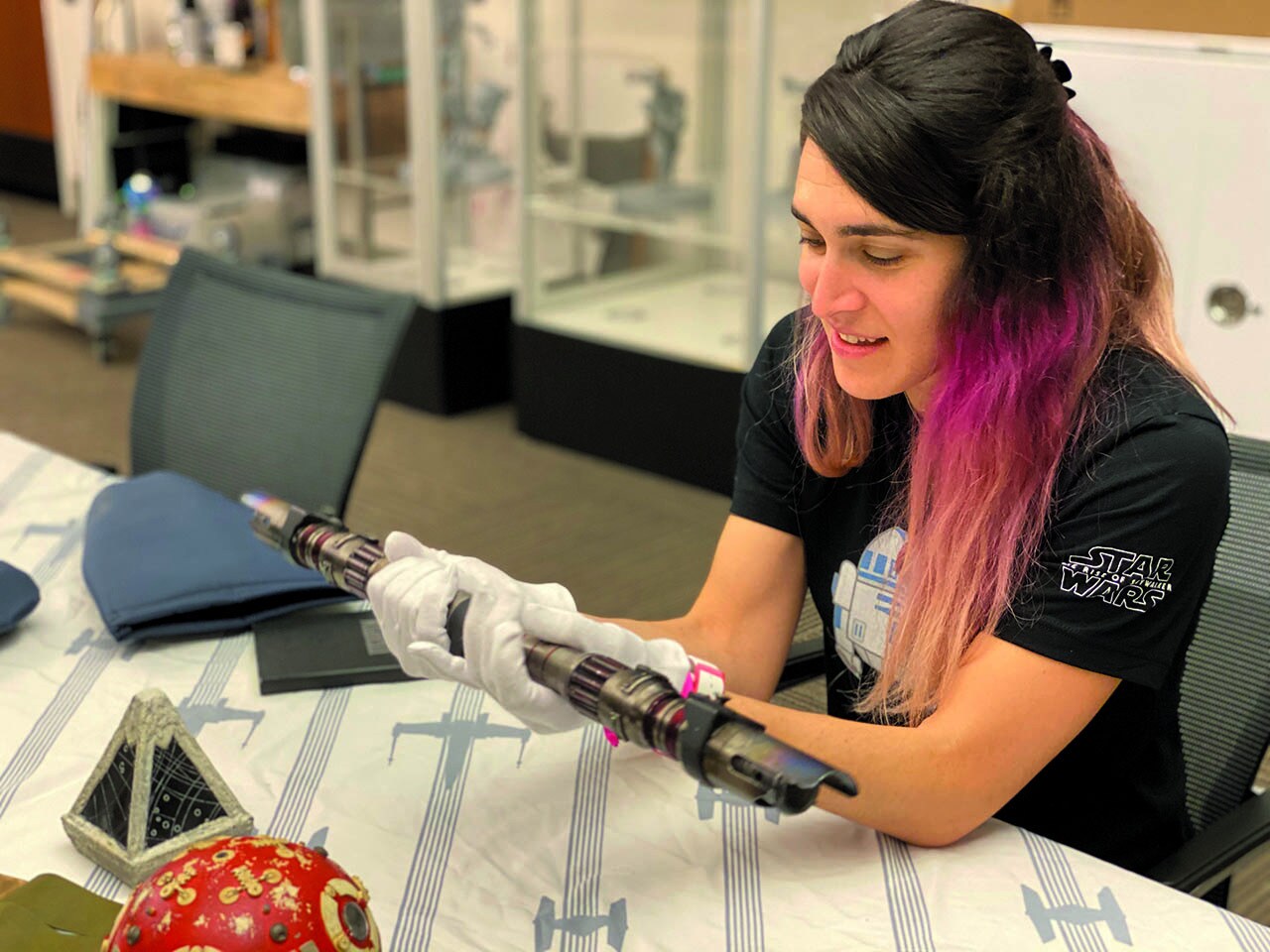 Like a real-life Jocasta Nu, Burkert's job is to protect and preserve some of the most unique artifacts that have made modern Star Wars filmmaking possible—the thousands of individual costumes and props that have been used for everything from Star Wars: The Force Awakens (2015) through to Star Wars: The Rise of Skywalker (2019), and each film and live-action series in between, plus a wealth of maquettes and other prototypes created for animated projects like Star Wars Rebels (2014-2018).
A wall of boxes and crates lines the entryway to the space—deceptively simple gray and black boxes that hold untold treasures, from the massive Solo: A Star Wars Story (2018) sabacc table to handheld trinkets like Rose Tico's pendant. But unlike most archives, where items are preserved for posterity, Burkert's team is an active part of ongoing productions and asset management. At any given time the archivist might be preparing screen-used costumes for a press junket or a world premiere, hiring costumers to help properly fit a squadron of stormtroopers for a commercial shoot, assisting prop replica makers to gather detailed measurements and reference material, and trying to convince the Transportation Security Administration that the lightsaber she's carrying is definitely an approved carry-on item. (Since the opening of Star Wars: Galaxy's Edge, TSA actually has a public policy about the preferred weapons of the Jedi.)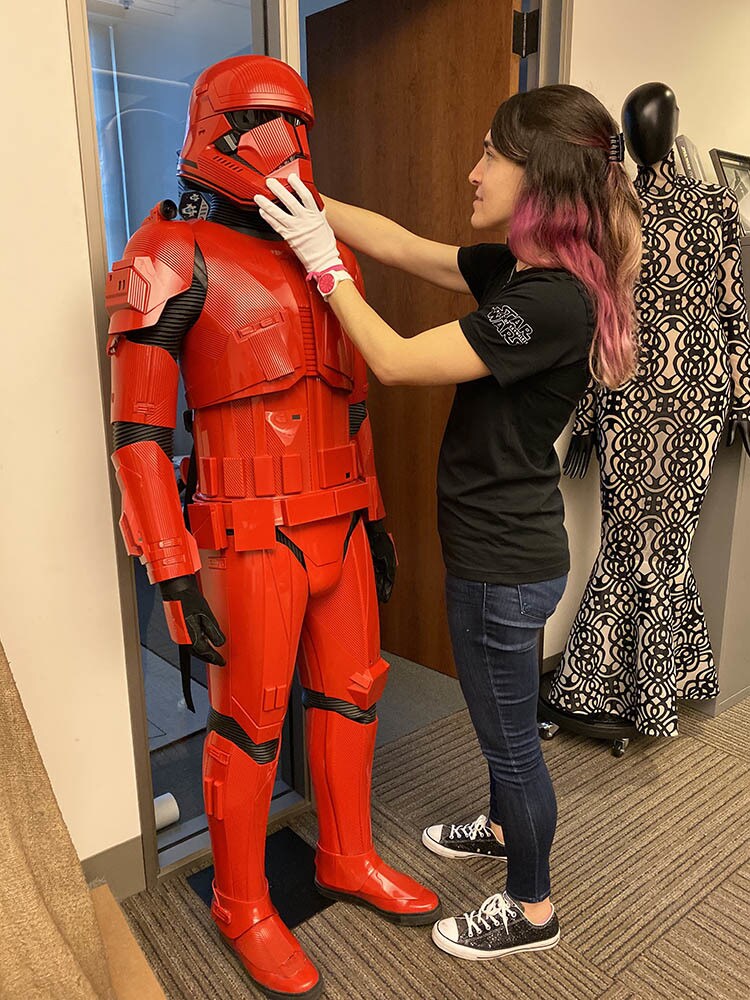 "There's a lot of problem solving and ingenuity," Burkert says. "A lot of on-the-ground thinking. A lot of, 'Oh no, R2-D2's crate doesn't fit in the green room they assigned us!' Little things like that come up all the time."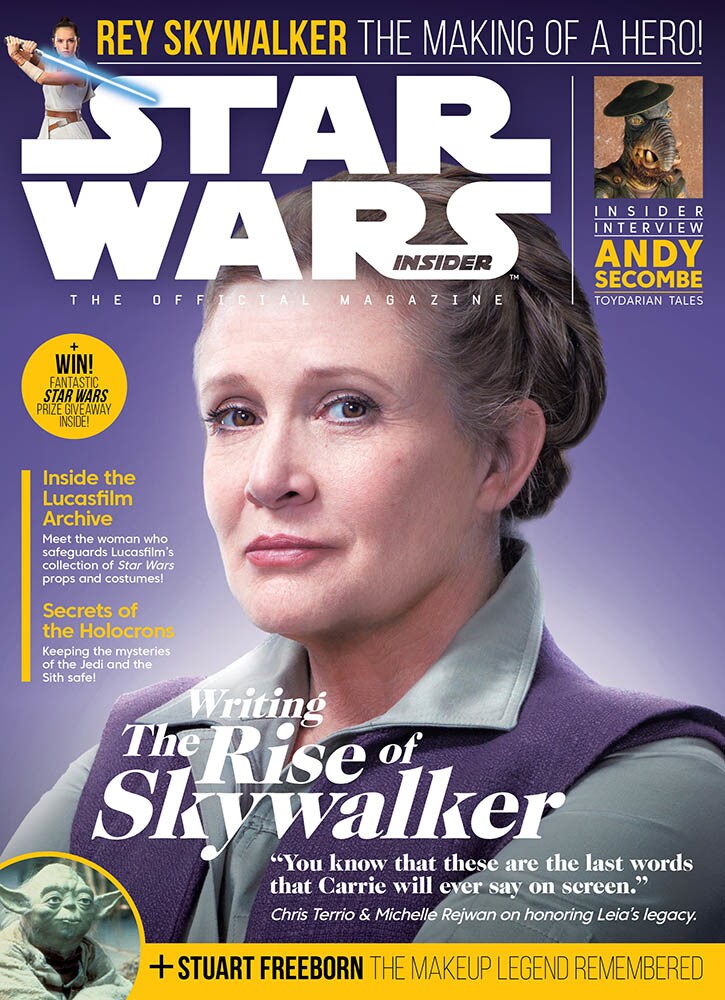 Subscribe to Star Wars Insider now for more of the latest news, in-depth articles, and exclusive interviews in every issue!
StarWars.com. All Star Wars, all the time.
Site tags: #StarWarsBlog